Michael Cohen's Road Map for Democrats
After the former Trump attorney's testimony last week, House Oversight Chairman Elijah Cummings says that "all you have to do is follow the transcript."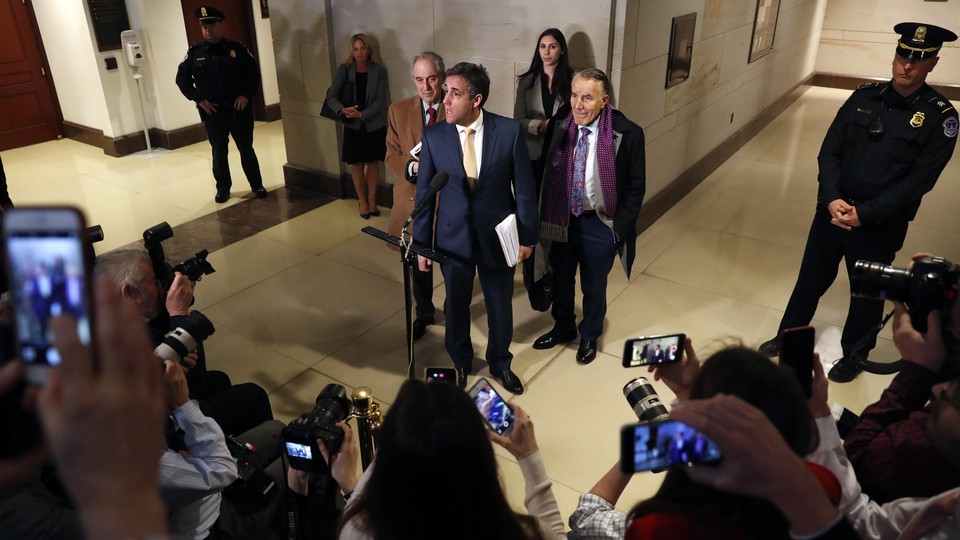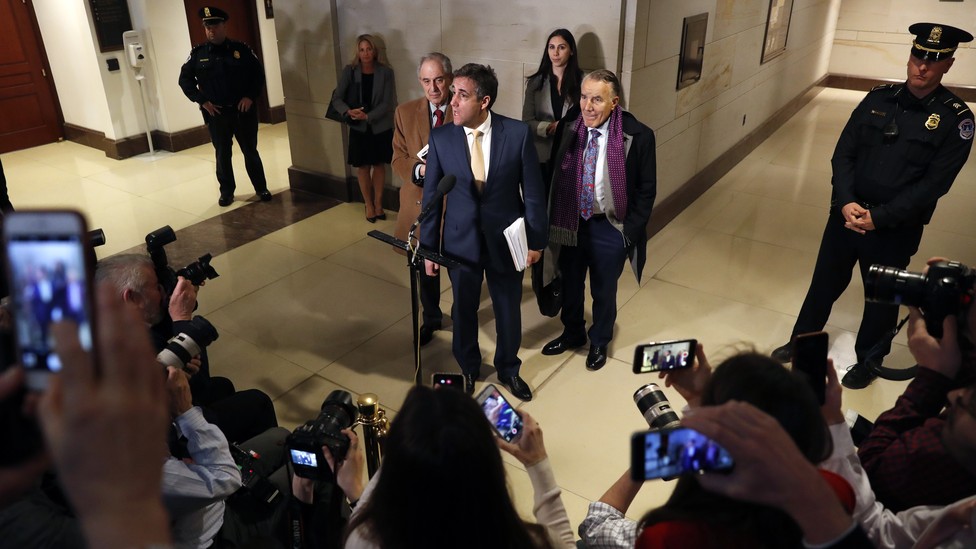 The frenzy over the reportedly imminent release of Special Counsel Robert Mueller's final report—a rumor shot down within days by the Justice Department—had barely subsided when House Democrats announced that they'd snagged the witness of the year to testify in public: President Donald Trump's former personal lawyer Michael Cohen.
His appearance on Wednesday before the House Oversight Committee was a day-long spectacle that didn't disappoint—Cohen testified that Trump had foreknowledge of WikiLeaks' plans to release embarrassing Democratic emails in 2016; that Trump implicitly asked Cohen to mislead Congress about the Trump Tower Moscow negotiations that continued throughout the election; and that Trump, while president, reimbursed the hush-money payments Cohen made to a porn star on Trump's behalf just days before his election victory in violation of campaign-finance laws.
Republicans attacked Cohen's credibility, asking why they should believe someone who has already lied to them once. (Cohen was indicted late last year for making false statements to Congress about the Trump Tower Moscow deal.) Democrats used Cohen as a Rolodex for additional witnesses and corroborating evidence that could help them in their investigations of the president. Most importantly, though, the hearing was a sign of what's to come: exhaustive congressional probes of Trump's business dealings that are likely to outlast Mueller.
While Mueller has reportedly been winding down his nearly two-year-old probe into Trump's campaign and Russia, the newly empowered House Democrats have been gearing up for intense scrutiny of the Trump Organization and Deutsche Bank—the Trump family's bank of choice for decades, which was recently involved in a massive Russian money-laundering scheme. Meanwhile, the Senate has kept up a steady pace of questioning witnesses with knowledge of Trump's trips to Russia to scope out real-estate deals. The president complained on Friday about Congress investigating his finances, which he has called a "red line" in the past. "Now that the 2 year Russian Collusion case has fallen apart, there was no Collusion except bye Crooked Hillary and the Democrats, they say, 'gee, I have an idea, let's look at Trump's finances and every deal he has ever done,'" he tweeted.
House Oversight Committee Democrats are now poring over Cohen's transcript for new names and leads, according to a committee spokeswoman, and the chairman, Elijah Cummings, has indicated that anyone Cohen mentioned can expect to be asked for an interview. "All you have to do is follow the transcript," Cummings told reporters when asked who would be brought in to testify. Asked who could corroborate some of his claims about the Trump Organization's alleged misconduct over the years, Cohen brought up names both familiar—including Allen Weisselberg, the longtime chief financial officer of the Trump Organization—and unfamiliar, including the former Trump bodyguard Matthew Calamari, and Ron Lieberman, the Trump Organization's executive vice president in charge of management and development.
The House Intelligence Committee, meanwhile, plans to have Cohen back for a second closed-door interview on March 6. To say the panel learned something new from the president's longtime personal lawyer behind closed doors "would be an understatement," Democratic Representative Eric Swalwell of California, who sits on the committee, told CNN on Thursday, adding that "there's very valuable new leads that we learned." And Senator Mark Warner of Virginia, the vice-chairman of the Senate Intelligence Committee, told reporters following Cohen's closed-door testimony earlier this week that the Russia investigation "may be the most important thing I'm involved in in my public life in the Senate. Nothing I heard today dissuades me from that view."
Democrats have always considered Trump's decades-long real-estate career—and, in particular, his pursuit of massive building projects in Russia—to be fundamental to any serious investigation of whether the president has been compromised by a foreign entity. The Senate Intelligence Committee, despite being under Republican control, evidently does too; the panel has in recent weeks homed in on Trump's 1996 visit to Russia, where he scoped out potential construction sites and announced his plans to invest $250 million in two high-rise towers.
Cohen, who pursued a multimillion-dollar Trump Tower Moscow deal during the 2016 election on Trump's behalf, has been able to shed some light on the president's longtime desire to do business in Russia. But he's not the only one. The Senate Intelligence Committee recently interviewed the architect Ted Liebman, who sketched a proposed Trump International Hotel for Trump to present to Moscow city officials during his 1996 trip, according to two sources familiar with the matter. Senate investigators have also been particularly interested in David Geovanis, an American businessman who reportedly helped organize the 1996 Russia trip and worked for the Russian oligarch Oleg Deripaska in the early 2000s.
Cohen said earlier this week that he believed it possible that Trump was compromised during the election because of the Trump Tower Moscow negotiations. On Tuesday, Cohen named Calamari as someone familiar with Trump's alleged illicit business dealings, including potential tax and insurance fraud.
The focus on Trump's business dealings isn't arbitrary, veteran investigators have explained. Rather, it's "essential" to any real understanding of an individual's network, Andrew McCabe, the former deputy director of the FBI, told me in a recent interview. "I think people think of following the money simply as a way of uncovering whether somebody's been involved in money laundering, or a financial crime, which is of course important," McCabe said. "But on a much more fundamental level, it's a way of understanding relationships and networks, to understand who the person that I'm interested in is connected to, who they're communicating with, and who they're receiving money from or giving money to."
"That is all association evidence," McCabe continued. "And it goes to proving the existence of an organization—or, as RICO [the Racketeer Influenced and Corrupt Organizations Act] would say, an enterprise."