How One AIPAC Speech Exemplified the Democrats' Israel Challenge
A House leader declared that he stands with Israel "unapologetically." A day later, he felt compelled to clarify a stray remark to avoid inflaming divisions in his caucus.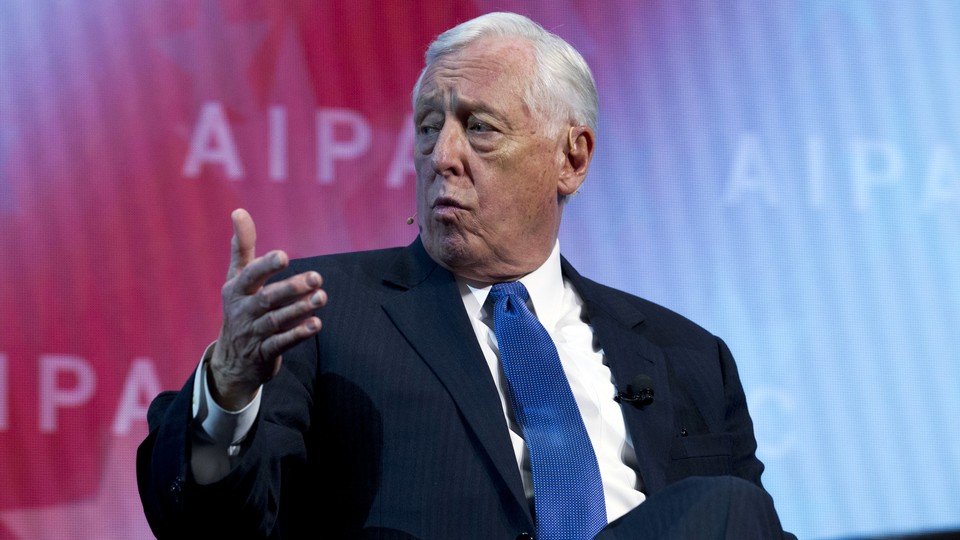 To appreciate the predicament the Democratic Party finds itself in with respect to Israel, look no further than the speech that House Majority Leader Steny Hoyer delivered this week to the AIPAC conference in Washington, D.C.
It was an impassioned and enthusiastically received defense of the U.S.-Israel alliance, punctuated repeatedly with rousing ovations and betraying not a sliver of daylight between the House's second-ranking Democrat and the hawkish lobbying group. Hoyer framed his address as a barely veiled rebuttal to a freshman member of his own caucus, Representative Ilhan Omar of Minnesota, and her comments early this month that suggested supporters of Israel were pushing "for allegiance to a foreign country."
"When someone accuses American supporters of Israel of dual loyalty, I say: Accuse me," Hoyer thundered on Sunday evening to a crowd that organizers say numbered 18,000 people. "I am part of a large, bipartisan coalition in Congress supporting Israel—an overwhelming majority of the United States Congress. I tell Israel's accusers and detractors: Accuse me."
Hoyer was one of several top congressional Democrats to speak at AIPAC's sprawling annual conference, even as the party's leading presidential contenders stayed away from the event in apparent deference to a boycott pushed by MoveOn.org. Senate Minority Leader Chuck Schumer spoke on Monday afternoon, while House Speaker Nancy Pelosi addressed the event on Tuesday afternoon. Like Hoyer, Pelosi also spoke out forcefully in support of Israel and against anti-Semitism, although her speech was more low-key in tone. "In our democratic societies, we should welcome legitimate debate about how best to honor our values and to advance our priorities without questioning loyalty or patriotism," she said, before touting the resolution the House passed that rejected "the pernicious myth of dual loyalty and foreign allegiance."
Coming just weeks after the Omar controversy, the conference allowed Democrats to reaffirm their support for Israel but also provided Republicans with an opportunity to needle them over the divisions that burst into public view in its aftermath. Omar, along with Representatives Rashida Tlaib of Minnesota and Alexandria Ocasio-Cortez of New York, represents a new generation of liberal House Democrats who won competitive primaries and challenged the party's history of staunch support for Israel. Omar and Tlaib are the first two Muslim women to win election to the House, and both have criticized Israel for human-rights abuses toward Palestinians in their campaigns and since taking office. Both also back the Boycott, Divestment, and Sanctions movement that Democratic and Republican leaders assailed repeatedly during speeches at AIPAC. Ocasio-Cortez has not been quite as hostile in her public comments toward Israel since her election, but last May she accused its military of "a massacre" of Palestinians in Gaza, and she referred to Israel's "occupation" of the West Bank during an interview later in the year. Broader criticism from liberals of Israeli Prime Minister Benjamin Netanyahu's government, including from more senior Democrats, has further complicated U.S.-Israel relations.
House Democrats spent days internally debating the wording of a resolution condemning Omar's comments, eventually settling on a version that did not name her and that rejected not only anti-Semitism but all forms of bigotry. Vice President Mike Pence, while extolling the Trump administration's support for Israel in his speech at AIPAC, lamented that "the party of Harry Truman"—who first recognized Israel as the Jewish state in 1948—"has been co-opted by rank anti-Semitic rhetoric."
President Donald Trump, who did not attend AIPAC, has gone further, calling Democrats "anti-Israel" and "anti-Jewish." The administration is clearly trying to drive a wedge between Jewish voters and Democrats ahead of the 2020 election, but despite the recent controversies, it seems a questionable ploy: Nearly 80 percent of American Jews voted Democratic in 2018, and 32 of 34 Jewish members of Congress are Democrats.
Hoyer's unambiguous defense of Israel at AIPAC was aimed, at least in part, at blunting the GOP's attempt to undermine Jewish support for Democrats and create the perception of a deep intra-party divide on the issue.
"I stand with Israel, proudly and unapologetically," Hoyer said at another point.
By the next afternoon, however, the Maryland Democrat had issued a written statement clarifying a portion of his remarks, saying that they were "unfortunately misinterpreted." It read almost like, well, an apology.
He was referring to an ad-libbed line late in his speech that alluded to Omar, along with her like-minded freshman colleagues, Ocasio-Cortez and Tlaib. He was boasting of the 15 official trips to Israel he's taken over nearly four decades in Congress, during which he's brought more than 150 fellow Democrats to visit the Jewish state. "This August, I will travel with what I expect will be our largest delegation ever—probably more than 30 Democratic members of Congress, including many freshmen," he said. Then, departing from his prepared remarks, he added: "By the way, there are 62 freshman Democrats. You hear me? 62. Not three." The line drew knowing laughs and applause from the audience.
There are actually 63 freshman Democrats after the 2018 wave, but that's not what Hoyer tried to clarify in his statement the next day:
Last night, I made a comment during my remarks that was, unfortunately, misinterpreted, and I want to make sure there is no ambiguity about what I said. Our caucus has a dynamic freshman class of sixty-three new members, all of whom are doing a great job and bringing unique perspectives and backgrounds to their work in the House. In pointing out that much of the press attention has been on a few new members in particular, I was lamenting that the media does not appear to be paying enough attention to other excellent new members who are also bringing important new energy and diverse perspectives to our caucus and to the Congress. I am proud and excited to serve with all of our new Democratic members, who reflect the diversity of our country better than any freshman class in our history.
What was noteworthy about Hoyer's cleanup job was not the substance of his relatively anodyne observation at AIPAC but the fact that he felt compelled to clarify it at all. It did not cause an uproar on Sunday evening, when Washington was far more focused on the findings of Robert Mueller's report than on the AIPAC conference. It's not even clear that Omar saw the speech—she didn't tweet about it, and a spokesman did not return a request for comment on Monday. And Hoyer's comment wasn't new: He said the same thing three weeks ago to Fox News, in response to a question about Omar, Tlaib, and Ocasio-Cortez's support for impeaching President Trump.
The difference here was the context, and the sensitivities that were laid bare inside the Democratic caucus during its debate over the wording of the resolution condemning anti-Semitism and all forms of bigotry following Omar's widely criticized comments. An aide to Hoyer told me that the majority leader decided to issue a clarification in response only to media coverage in which his comments about the caucus were "mischaracterized as an attack when they were not." And, the aide made clear, Hoyer was not walking back his much more forceful denunciation of the "dual loyalty" charge, which was unmistakably a reference to Omar.
Hoyer is the longest-serving Democrat in the House and, among non-Jewish members, perhaps the party's staunchest supporter of Israel. He is among the most aggressive advocates of a bipartisan consensus behind the U.S.-Israel alliance and has regularly partnered on resolutions with—and appeared at AIPAC alongside—top Republicans such as Minority Leader Kevin McCarthy and former Majority Leader Eric Cantor. That consensus is now threatened by a range of factors, including the polarizing political views of Trump and Netanyahu, AIPAC's own lobbying against the Obama administration's nuclear agreement with Iran, and the emergence of a younger and more diverse set of Democrats who campaigned on challenging the status quo across the board, including on U.S. policy toward Israel.
Hoyer came to AIPAC intent on bolstering that consensus by issuing a defense of Israel free of equivocation and joining other top Democrats in recommitting the party to the U.S.-Israel alliance. He left, however, with another reminder that the politics around Israel, in his caucus and beyond, are more complicated than they once were.