Cory Booker Is Happy to Be Under the Radar—For Now
The senator from New Jersey thinks a solid ground game will sustain him until the flashier candidates falter.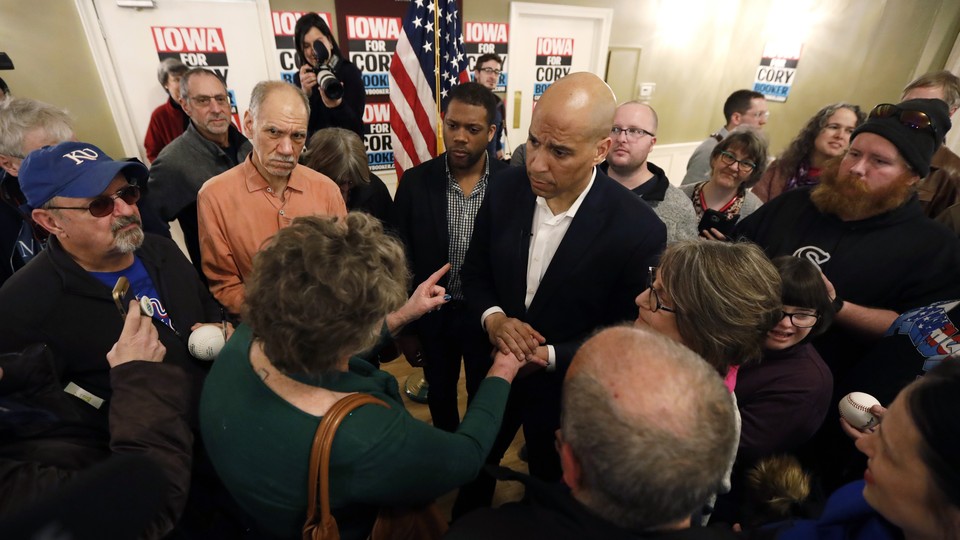 AMES, Iowa—Cory Booker drew the second-biggest crowd of the weekend in Iowa at the Prairie Moon Winery here earlier this month. Then he attracted the biggest crowd—more than 300 people, similarly diverse—a few hours later in Davenport. Few reporters went to either.
Booker and his campaign say that's all part of the plan. Check back with them in seven or eight months. The other 2020 Democrats will have their media moments, Booker and his campaign people believe, and the voters will cycle through them. And as that happens, he'll keep reaching out to voters in small venues, such as these in Ames and Davenport, and building out an organization to hold on to them. Others will flare up and falter, according to the Booker campaign's plan, and the New Jersey senator will be there to pick up the pieces.
In early thinking about the race last year, Booker was the candidate talking unity and uplift. He would be the one identified with summoning connections across racial lines and drawing on the history of America with a hopeful vision of what it could get back to.
As the early months of the race have actually played out, Kamala Harris, Elizabeth Warren, Amy Klobuchar, Bernie Sanders, and, most recently, Beto O'Rourke have risen up and have seemed to leave Booker in the dust. Despite starting out with some of the highest name recognition in the field, he's stayed in the single digits. His fundraising hasn't been breaking any records. The most coverage he's gotten was on the day he launched, February 1, which was quickly overtaken, first by the yearbook-photo scandal of Virginia Governor Ralph Northam. That should change Wednesday night, when he goes back to South Carolina to record a CNN town hall.
But while opposing campaigns snicker that he's already become an also-ran, several top Democrats look at him and see a potential sleeper—if he can raise enough money to keep his campaign together, and hold on to nervous supporters who see other candidates seeming to leap ahead while he insists he's the tortoise.
In Iowa and the other early-primary states, Booker's people are among the more experienced and respected on-the-ground operatives—so far matched only by Warren's staff and, to a slightly lesser extent, by Harris's.
Others are confused by how, given the little attention he's gotten compared with other candidates, he still has as much confidence as he insists he has. "This is not an air campaign," he told me after the event at the Prairie Moon Winery, referring to TV and radio ads. (Yes, they actually make red wine in central Iowa.) "Don't listen to the media and what they're reporting. Just get on the ground, knock on doors, talk to people, and try to make real connections."
Booker can come off as trying to be a little weird, but often the key to understanding Booker is that he just is a little weird. He's a former college tight end and a bald vegan who doesn't drink, and he's nearing 50 without ever having been married. He loves talking about love and explains how much more admirable love is than "tolerance"—try going home at night, he says in one of his standard campaign bits, and seeing how it goes over if you tell your family that you tolerate them.
His heat-seeking ambition has put his friends on edge for 15 years, but he also sits at home and reads about the history of the Know-Nothings. And he's spent several weekends over the past few years slipping away quietly to do rural poverty tours of struggling farms and environmental degradation.
Up onstage, delivering a big speech, he can be a compelling, earnest preacher, but he can also seem like a drone who's going on too long and working too hard.
In the six weeks since he launched his campaign, Booker's staff has kept him away from big events at which those things might happen. While others have invested time and resources in rallies, his kickoff was a press conference in front of his home in Newark. Since then, he's kept to small meetings and town halls, which his organizers diligently promote, and where they make sure they track everyone who attends. The preaching still comes, but often as codas at the end, as when he finished the Ames town hall by linking the Bible story of Joseph to the plaque on the spot where Martin Luther King Jr. was shot with the quote "Behold here cometh the dreamer. Let us slay him, see what becomes of his dream." Booker added, "What will become of our dream?"
Though he's not looking likely to raise anywhere near the money of Sanders, O'Rourke, or, probably, Harris, he has been scaling up his campaign, insisting that his team is sticking to the budget it built as he was in his final deliberations on whether to run and that it hasn't yet diverged far from the plan.
In 2008, Barack Obama won the nomination not because he was an amazing speaker or a historic candidate, but because his team built an operation, rooted in turning out new voters, that made a bet on a primary fight that would go on for months. No one knows which theory of the race is going to prove right this time around—a quick thinning of the field or a slow, crowded grind—but Booker and his team believe that going more conventionally will still be what wins, even as other campaigns believe he's letting the race pass him by.
Booker's team is building off groundwork that was laid for years, with Booker and his staff offering help to candidates and then checking back in with them around the country, particularly in the states that vote early. They asked for nothing particular in return as they and the people they were talking to knew all along that this was almost certainly going to lead to a presidential campaign in which he'd want their support.
He pitched in with fundraising—$375,000 to various players in Iowa, $170,000 in New Hampshire, $100,000 in South Carolina. Along the way, he used the work to connect with operatives, such as Mike Frosolone, now his Iowa state director. Frosolone first met Booker in a diner in northern New Jersey last year, after the Democratic state-assembly leader he was working for flew in for a meeting. Now he's leading a team of 17 staffers in Iowa.
"We're of the firm belief that this is going to be a race in which every candidate is thoroughly examined, and we think people are going to like Cory more and more as they get to know him," a top Booker adviser told me on Tuesday morning. "This is going to be a long year. There are 316 days to the caucuses."
The most obvious contrast to Booker right now is O'Rourke, and not just because the former Texas congressman was getting the political-celebrity treatment in the same parts of Iowa, on the same weekend that Booker was drawing bigger crowds but being largely ignored by the press. O'Rourke has yet to lay out almost any specific policy position, but he talks nonstop about bringing people together and his conviction that he can do it just because of who he is.
After an event in Waterloo, I asked O'Rourke whether he still felt, as he told Vanity Fair in his prelaunch cover spread, "born to be in it."
O'Rourke didn't pause.
"I feel like this is my purpose, being with people, being where people are coming together with the common purpose of getting things done. When I say I'm born to do it, I think that's—we were just talking about Joseph Campbell," he said. "He talks about following your bliss. My bliss is in service, is in working with people, is in trying to find the commonality in the midst of great division. I feel like I have something to contribute in this way."
O'Rourke will officially launch his campaign on Saturday with three Texas rallies, in El Paso, Houston, and Austin. Thousands of people are expected at each, for stadium-style speeches.
Booker, meanwhile, also talked about "the divisions in our country that we've never seen before," and he had a riff about how "patriotism is love of country, and you cannot love your country unless you love your countrymen."
But then he talked about how to flex the earned-income tax credit, and the centers he set up in Newark when he was mayor to help poor people file their returns to claim it. He spoke about paid family leave, and how American law should be at least as good as the policies in Afghanistan and the Democratic Republic of Congo. He said teachers should be paid more and child care should cost less. He argued that free college tuition is the wrong answer to an emerging workforce that needs more skills training, and said that as president, he would make sure that existing federal student loans are refinanced so the government is no longer making money off college graduates' debt.
He didn't grow up or represent anywhere near the border, but much like he did with a challenge, while he was mayor, to live on food stamps for a week, he took a trip to Mexico and tried to cross the border to see what talking to the agents would be like. Booker said he has a vision of how he fits into political history that he's living out in his White House run.
"I hate to tell you this, because you might not hear it from any other presidential candidates, but if you elect me your president, I'm going to ask for more of you," Booker told the crowd in Iowa, slipping into voices as he mocked people. "There's too many candidates who say, 'Elect me, and I will solve all your problems. Only I can do this.' 'Elect me and there will be rainbows and sunshine. Don't forget the unicorns.' … How do things happen? Strom Thurmond didn't come to the Senate floor and say, 'Those Negro people deserve some rights. Let's do it.' No, it was activists."
After the speech, I asked Booker what he made of people, such as O'Rourke, who are focusing on the uplifting message and leaving the specifics TBD.
"You can tell a lot about a person by the politics that they came up through. I came up through urban politics, and I campaigned in a lot of communities where people are struggling and looking for messages of hope," Booker said. "People want a reason to believe. You've got to give people substantive ideas, but you've also got to speak to their heart."