Beto Wants to Be Obama—But Came Off Like Trump
The former congressman from Texas timed his announcement for president with a Vanity Fair cover.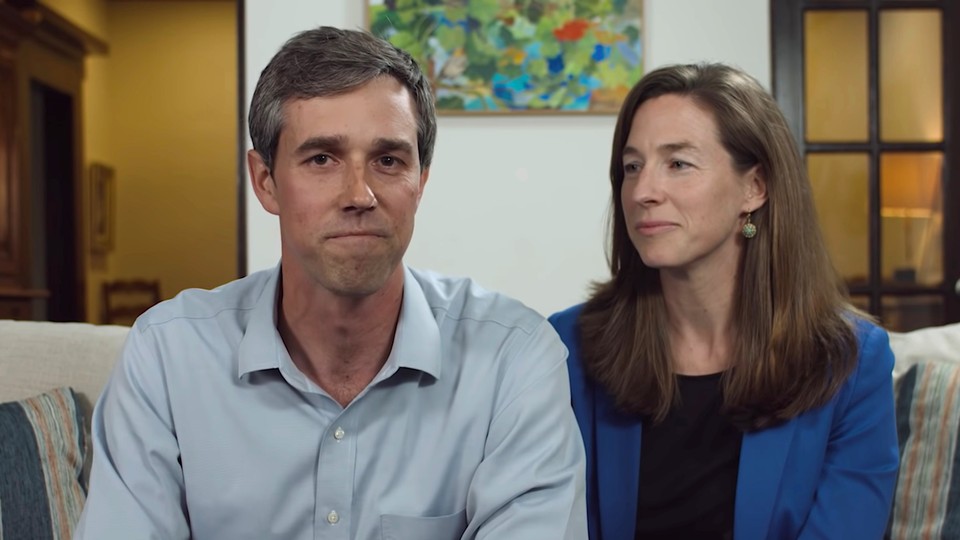 Beto O'Rourke wants to be the next Barack Obama, but he launched his campaign more like Donald Trump.
Celebrity can go a long way in America. O'Rourke timed his White House announcement to the release of a Vanity Fair cover that has him, tousled hair and hands on hips, with a black Lab and the open road behind him.
Four years ago, Trump came down that escalator, waving to the crowd, his wife silently a few steps ahead of him, out of the shot by the time he started speaking. O'Rourke announced Thursday morning via a video shot from his couch, his hand gesturing up and down to punctuate his script, his wife sitting beside him, half smiling but not speaking for three and a half minutes.
He gave no specifics on how he'd do anything he wants to do, or even exactly what that might be, in his announcement, other than a long pledge to uplift people and bring the country together, instead of tearing it apart, as Trump has. Nor did he give specifics at his first event, in Iowa later in the morning and carried live on cable—he talked about health care but didn't mention "Medicare for all" or any alternative. He was asked about the Green New Deal but talked generally about the climate as he addressed "the spirit of the question." There are T-shirts and hats for sale online, with just his first name. It's not up on hotels or towers anywhere, but no other Democrat running is famous enough to be quite such a brand.
Most of the other Democrats aren't big on policy themselves, but none of the other announced candidates have spent as much time as O'Rourke describing his search to discover if being president was right for him. To his fans, O'Rourke is the new candidate who can speak about what his party wants more believably and relatably. "I alone can fix it," Trump famously said in his speech at the Republican convention. "I want to be in it. Man, I'm just born to be in it," O'Rourke is quoted as saying on the Vanity Fair cover.
Nonetheless, his tone on Thursday morning couldn't have been more different than Trump's, even though the crowd that showed up at a coffee shop in Keokuk, Iowa, was as white as the lobby that afternoon in Trump Tower almost four years ago. Trump had talked about how Mexicans are rapists; O'Rourke gave thoughtful answers about how the brown and black people who weren't represented in the room are the ones who suffer most because of the country's drug laws. In the most anti-Trump thing he could have said, he promised not to "denigrate or demean" any of his opponents.
The political world is left wondering what this will amount to. His rivals, at varying levels of anxiety, make jokes that go from mocking him to gallows humor. Reporters, most of them ignored by O'Rourke's skeleton staff and left chasing rumors from Iowa Democrats about where he would be on this first Iowa trip, are still flooding out to gawk. Many of them are wary of another candidacy that seems high on pizzazz and short on substance, but just as conscious of what O'Rourke means for ratings and clicks.
Trump's own response was having White House Deputy Press Secretary Hogan Gidley go on Fox and refer to Beto by his full name, Robert Francis. When asked if that's what Trump will do himself, Gidley replied, "Why wouldn't he? That's his name." A little while later in the Oval Office, Trump was focused on O'Rourke's gesticulating hands.
"I've never seen so much hand movement. I said, 'Is he crazy or is that just the way he acts?'" he said, centering his criticism entirely on how O'Rourke came across on TV.
Some Democrats are impressed. "You can make a strong argument that Beto is the only candidate in the race so far who has demonstrated the ability to tell a story and command media oxygen in a way that could rival Trump's," said one top Democratic operative, eager to discuss O'Rourke but wary of singling him out for praise.
"In 12 hours, he has already bragged about being 'born' for this, made his wife sit quietly next to him, and talked about how he 'sometimes' helps raising his children," said an aide to one of the other Democratic candidates. "If his goal was to soften the blow of white man's privilege, he has failed spectacularly."
O'Rourke, however, did score immediate endorsements from three House members, all women: Kathleen Rice of New York, Stephanie Murphy of Florida, and Veronica Escobar of Texas.
In August 2015, a few months after Trump announced his campaign, he had Time magazine bring in a live bald eagle for a photo shoot. O'Rourke's Vanity Fair profile came with Annie Leibowitz photos of him making pancakes for his children in his fancy and somehow immaculate kitchen, butter pats in place while they were still on the griddle.
Trump has had Fox & Friends swooning whenever he'd call in, even as they interviewed other guests. O'Rourke has the hosts of Pod Save America, the former Obama aides who produced the movie about his campaign that premiered over the weekend and has been sold to HBO, speaking openly about their ties. They say they will try to be neutral commentators on the race. Tommy Vietor, one of the hosts and producers, after initially saying that there would be no profits from the movie going forward, on Thursday wrote on Twitter that if any profits do come in, they will be donated to the group Vote.org.
Meanwhile, O'Rourke is already complaining about his press coverage, griping to his Vanity Fair profiler about a New York Times article documenting those years playing music and nannying after college, for which he gave an hour-long interview while on his way to a stage appearance with Oprah.
O'Rourke's White House run is already veering away from some of the most identifiable principles of his Senate campaign. He's been reaching out to hire consultants and pollsters. On Wednesday, hours before he went public with a call for small donations, he called Robert Wolf, a major Democratic donor who works in New York. Inherent in all these moves is an acknowledgment about the Senate race that made him famous: He lost. The margin was so close that it shocked everyone. But many political professionals who've studied the race argue he could have won, if he'd listened to more than his own gut to guide the campaign.
"I think there'll be some differences. I think we're lucky to have some of the same people who were involved in the Senate campaign, but we're also very lucky to have some new people who bring different perspectives, different life experiences, different backgrounds to bear on this," O'Rourke said on Thursday, speaking to reporters after finishing his first event.
At this stage, putting candidates in one "tier" or another is a media creation. Polls show one of the supposed "leading" candidates is Joe Biden, who may not run, and that support for other "leading" candidates, O'Rourke included, is just a few points over 0. There's no full picture of anyone's fundraising. But there is no doubt that O'Rourke poses problems for his chief 2020 rivals.
He would be a challenge to Joe Biden, the other 2020 Democrat who's spent months singing arias. Biden is so old and has been in politics so long that his record includes being against school busing—and yet also includes writing major legislation that helped define decades of American government at home and overseas.
O'Rourke, by contrast, was a back-bencher whose leadership in Congress peaked at being the ranking member of the Veterans Affairs Committee's Subcommittee on Economic Opportunity, for his last term.
O'Rourke is a challenge to Bernie Sanders, describing to the Vanity Fair author at length how the structure and sensibility of his Senate campaign were inspired by the Vermont senator's upstart 2016 presidential run. He's gambling he can do it better than a socialist with a Brooklyn accent, and by speaking off the cuff, rather than the 40-minute script Sanders sticks to nearly verbatim at every event.
O'Rourke is a challenge to the younger candidates in the race, including South Bend, Indiana, Mayor Pete Buttigieg, almost 10 years younger but with seven more years of executive experience, who had been enjoying a breakout few days this week in the race before O'Rourke announced.
O'Rourke is a challenge to Cory Booker, whose entire political existence is a call for unity and hope, and to Kamala Harris. She talks in her stump speech of "speaking some truths," while O'Rourke says in his video that this is "a defining moment of truth for this country and for every single one of us." And O'Rourke is a challenge to Washington Governor Jay Inslee, who said that climate change is a "time of great peril, but it is also a time of great promise" months before O'Rourke said in the video that "this moment of peril produces perhaps the greatest moment of promise for this country and for everyone inside it."
Julián Castro, a former San Antonio mayor, responded to O'Rourke's entry by announcing that 30 more elected officials were endorsing his own campaign. Harris has her team ramping up a rally for next weekend in Houston, a week before O'Rourke holds one of his own in El Paso on March 30.
Most of all, O'Rourke is a challenge to how Democrats go back and think about Obama. Thanks to Trump, Obama has never been more beloved by his party. He was calm, and he was collected, and not every day felt like a constant crisis. What people now remember was the guy who'd gone gray by the end of eight years, signed health-care legislation, presided over the raid that killed Osama bin Laden, restored good relations with people around the world, and pushed for the Paris climate accords, all while telling dad jokes, filling out his March Madness bracket, and doing interviews with book authors.
A long time ago already, Obama became a celebrity himself, propelled to run for president mostly because of one amazing convention speech, and awarded the Nobel Peace Prize without seeming to have done all that much to earn it other than win the Electoral College and not be George W. Bush. Hillary Clinton and John McCain agreed that Obama was pitching aimless dreams, propped up by a gushing media that was obsessed with every little thing he'd do. But in the meantime, Obama built a movement, and he beat both of them, and Mitt Romney four years later even with the economy still in trouble.
Some Obama alumni have gotten frustrated with the comparisons to O'Rourke. They point out that while Obama might have been searching for himself in high school and in college, he graduated from Columbia University and then moved to the South Side of Chicago to be a community organizer in a tough neighborhood, while O'Rourke graduated from Columbia and then nannied for a family living in one of the fanciest buildings on the Upper West Side.
But then there are Obama alumni like David Plouffe and Paul Tewes, who flew to Texas to talk O'Rourke through a run. And they're not alone.
Neera Tanden, the Center for American Progress president who worked on Clinton's 2008 campaign, worked on health-care policy for Obama, and then backed Clinton's 2016 run, sounded out a thought on Twitter on Thursday morning as she watched the early criticism of his lack of experience unfold.
"I know another person folks could have said the precise same things about in 2007. And he turned out to be a pretty excellent president," Tanden wrote. "They are two different people of course. And it's a different time. But still."