O'Rourke Mostly Gets a Pass for His Lack of Specifics
The former Texas congressman is confident in his savant understanding of tactics in the time of Trump and social-media celebrity.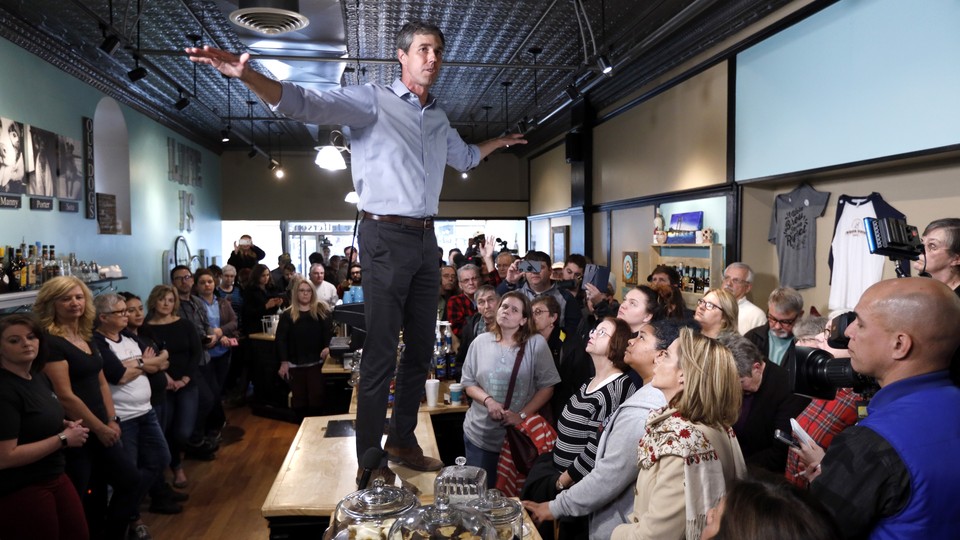 MOUNT VERNON, Iowa—The first woman who asked a question wanted to know about ethanol. E10 or E15?
This is more than an academic question. The E number is the percentage of the corn-based fuel that can legally be mixed in with gasoline. More ethanol, which President Donald Trump said in October he wants to make the year-round standard, means more corn being used and so more money in the pockets of Iowa farmers, and more jobs for Iowans at processing plants. But more ethanol also means more federal subsidies to pump money in to cover the costs of making the biofuel, and more environmental risks from what would be released by corroding engines.
Beto O'Rourke's full answer went on for a bit.
"How do we free ourselves from a commodity market over which we have no control? We do so by adding value to what we grow at the same time that we meet our energy needs, renewable standards that we have in this country and the crisis of climate change," he said. "The farmers in Iowa are able to do that. We visited an ethanol facility today: 50 jobs in a community that wants to have high-wage, high-skill, high-investment industry in their hometowns—drawing young people back or keeping them there in the first place. Owned not by some gigantic corporation in another place; owned cooperatively by the farmers that are growing the corn there in the first place. In other words, we're addressing not just a fuel standard, not just environmental concerns, but we're reviving rural America in the process. So let's stand behind and with those farmers. Iowa is showing us the way."
Not included: E10 or E15, or an alternative, or what any of the answers would entail.
That's all right, said Mirt Bowers, a retired former vice president of patient services at a local hospital, who asked the question. "I'm not sure he answered," she said. "I think his position is yes, we need to look at it. I'm not quite sure where he is firmly with the E15."
Bowers said she is willing to give O'Rourke a pass. He's from oil country, she said. He can't take a clear position, because he has to be careful of the politics back home in Texas, she figured.
She said this as she waited in a line at the bar afterward, eager to take a photo with O'Rourke on her phone. Bowers said she would expect more of other candidates. Bernie Sanders, Elizabeth Warren, and Kamala Harris, for example, aren't from oil country, so she'd want a clear answer.
Earlier in the day, leaving an art gallery in Washington, Iowa, O'Rourke was asked about impeaching Donald Trump. He'd been in favor of it, a reporter pointed out. Was he still?
"To be clear, I didn't say that. You asked me one time if I would vote, and I said yes. So I wasn't out there calling for it, so I think the distinction's important in this case," O'Rourke said. "Beyond the shadow of a doubt that the president sought to collude with a foreign power against the United States to undermine our democracy. Beyond a shadow of a doubt the president sought to obstruct justice in the investigation into what happened in 2016."
He said that he thinks Trump's fate will be decided by the 2020 election, and that's what he's focused on as a presidential candidate while staying out of the debate in Washington now that he's no longer a congressman. Was he saying there isn't time to pursue impeachment before the election, the reporter asked him, or was he saying that he isn't in favor of impeachment at all?
"I'm not asking Congress to do one thing or the other," he said. "You're asking me, 'Has the president committed impeachable offenses?' Yes. Period."
He turned, trying to get to his rental car and drive to the next event. Another reporter stopped him and read him a quotation from when he was running for the Senate, long after he came around to opposing Obamacare when he was first running for Congress. Then, he said that a single-payer, Medicare-for-all sort of program was the best way to ensure that all Americans got the health care they needed. Was he still for that?
"I think that's one of the ways to ensure that we get to guaranteed high-quality health care for every single American. I'm no longer sure that that's the fastest way for us to get there," O'Rourke said.
He said, as he's been saying at every event, that he's for good health care. He's interested in a bill that Representative Jan Schakowsky of Illinois has that would keep employer-based insurance, but reinvest in Medicare and have that as an option for whoever wants it. A public option, but not single payer.
Later in the day, at a podcast taping in Cedar Rapids, he was pressed on more. What about the criticism he's faced for saying that he helps out with raising his children, but that most of it is on his wife?
"We have a long way to go. I have got to do everything within my power to do my part. And there's much more that we can do. Much of it will be guided by the women in my life and the women that I meet," he said, later adding that on women's issues overall, he's glad to see a lot of women running in the primary with him. So there's "a lot of work left to do, but all of those issues—important. And I'm grateful for a lot of the leadership that a lot of these women are providing right now."
Pushed on specifics about reproductive rights by one of the people in the audience, he thanked the woman who'd asked the question for working for Planned Parenthood, condemned the moves of the Texas state legislature and the Trump administration to scale back rights, and reminded people that Roe v. Wade is in the balance, depending on the Supreme Court appointments that are on the line in the next election.
"When I talk to people across the state of Texas who may not agree with me on every position," O'Rourke said, "when I talk about the lives that we are losing, and the health care we are losing out on, I begin to find the common ground."
Asked how he'd address gerrymandering as president, O'Rourke spoke about how bad the voter laws are in Texas and how he wants to address "systemic racism." Then he invoked his success in drawing people out in his own Senate race last year.
All the answers drew applause.
As he headed back to his car after the event with the woman who'd asked about ethanol on Friday afternoon, I asked him whether he thought it was unfair for people to be pressing him on specifics two days into his race.
"I leave it up to them to decide. All I can do is answer the questions that are posed, introduce myself, describe what I think this country can do, and I'm trying to do that," he said.
He got in the driver's seat of the rental and buckled in. He's driving himself between events, eating submarine sandwiches. He said he was reading two books as he goes: the just released The Uninhabitable Earth, which describes how climate change will destroy the planet if concrete steps aren't taken quickly, and Joseph Campbell's classic The Power of Myth.
There were no lines around the block, like there have been for Elizabeth Warren, Kamala Harris, and Bernie Sanders. The crowds for O'Rourke could be measured by the dozens, not the hundreds, about the same number of voters who showed up for Senator Michael Bennet of Colorado and New York City Mayor Bill de Blasio when they came to Iowa a few weeks ago to tease runs of their own—but he had a clump of reporters and photographers tracking him that Bennet, de Blasio, and most of the others in the race could only dream of.
Events look packed in part because they've been in small spaces—coffee shops, a small-town art gallery. O'Rourke doesn't have the staff to fully plan the events he's doing, let alone build anything bigger.
But over his first 48 hours, and with the schedule through the Midwest that's been released for the days ahead, O'Rourke is running with confidence in his savant understanding of political tactics in the time of Trump and social-media celebrity, and as a sort of endurance test. No other candidate has done as many events on a full Iowa swing as he's tried to squeeze in. He's looking to replicate his Senate campaign of last year and to put himself forward as a vessel for what he likes to call the "genius of our democracy": Pour your hopes and aspirations into him, and he will carry them forward with his spirit of positivity and the level of drive that had him schedule a 5K run on the morning of his third day in the race. Believe in him, because he believes in you, and together, believe in what more America can be.
Asked earlier on Friday what he thought his challenge would be in this race, he said it was about impressing himself personally on enough voters to win.
"It's a big country," he said, "and traveling to be with everyone—it's a function of geography and time. But I will work with everything I've got."
One question that looms over his entry: How much money has he raised online, given how much of a juggernaut he proved to be in his Senate race and the enthusiasm he's thought to generate online? O'Rourke set that standard himself, writing in one of the emails that he sent to his list on Thursday, "Our momentum right out of the gate will determine whether or not we are competitive."
As pretty much all the other candidates have, he announced that he had raised money from all 50 states shortly after jumping in. But while most of the other candidates have released their fundraising totals for the first day or two—Sanders raised nearly $6 million online without specifically asking for a donation—O'Rourke has so far left his own total unspecified.
"I can't right now," he said when a reporter asked him whether he would release the number.
Well, he could, I pointed out to him.
"You're right. I could," he said. "Let me answer the question better: I choose not to."
He has repeated over and over that he won't knock his competition, that they're all great, and the number of people running is a credit to the Democratic Party. But he thinks he's better than all of them, I pointed out to him, since that's inherent in jumping in late himself.
His explanation for why is rooted in the Senate race and how he proved able to bring people together, increase turnout, and become a sensation.
That may be, but along the way, he also lost. His campaign made him a celebrity and an inspiration to many people. It did not make him a senator.
"We lost by 2.6, but we also, in some larger sense, transformed politics for the better in Texas. You saw people win races that were thought before to be unwinnable," he said. "In part our campaign in part contributed to those successes and the successes you see down the road."
Preparing for O'Rourke's visit to that bar in Mount Vernon, the owner's son Joe Jennison looked through his catalog for a good song for the player piano up front so he could get an autograph on the perforated paper.
"Happy Days Are Here Again" seemed like the obvious choice. O'Rourke took the red-and-white box of paper and a marker as he walked in and signed one word: Beto, scrawled in his loose script.
"I feel that he was sincere and genuine," Jennison said after.
Asked whether he'd heard anything that could help him pin down exactly what O'Rourke stood for or what he'd do as president, Jennison grimaced. "I don't know how to answer that," he said, but waved his hands to say no when asked whether that didn't matter. "Of course it matters," he said.
There are 11 months to go, he said. He didn't know who O'Rourke was until two days earlier, when an aide reached out and asked to book the bar for half an hour. Now he's hoping he can get the rest of the candidates in, and he's already thinking about what songs he'll try to get them to autograph.
But, Jennison said, "if the caucuses were tomorrow, he'd have my vote."