Is Beto the Front-Runner or Already a Flop?
The former congressman from Texas is late to enter the 2020 presidential race but still might be able to blow everyone else away.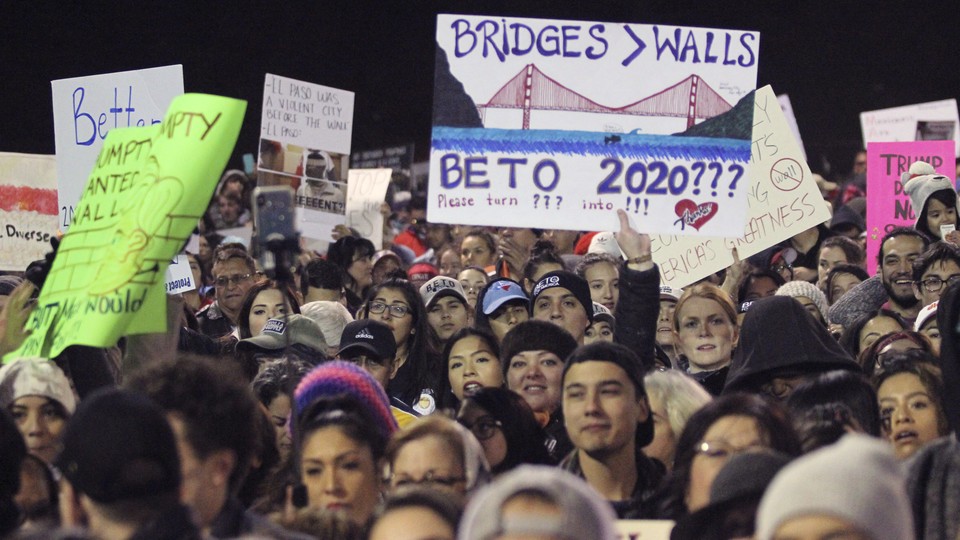 In between the road trips and the Facebook Live posts, Beto O'Rourke seems to have made up his mind. Barack Obama told him back in December to get in touch with David Plouffe, who ran his 2008 campaign, and Paul Tewes, who directed the Iowa operation that scored a surging victory and propelled him to the White House. Both have now become O'Rourke advisers, along with other top Democratic operatives.
While his staff was signaling to potential hires that he will likely announce his presidential run this week, O'Rourke was still having conversations about who would be his campaign manager as recently as the past few days in El Paso, Texas. But he's also let emails and phone calls from a number of interested operatives go unanswered, cautious about expanding his circle of trust and showing his hand.
Some professionals who have watched his decision making from afar have started to think of him as a dilettante, roaming the country on road trips searching for epiphanies. They have walked away from interactions with him and his team thinking that after a Senate race that almost overnight took him from being a no-chance nobody to the most famous 2018 candidate in the country, he's somewhere between confused and conceited.
"It used to be about missing cycles—now with Beto, it's about whether he missed his moment," said one Democratic strategist watching the race closely who, like others I spoke with, was reluctant to go public with O'Rourke skepticism.
Even some friends have struggled to explain what his delay has been about and how, if he's had to agonize so long over whether to run, he could actually be ready for the campaign ahead, let alone the presidency.
But numerous other donors, operatives, and informal advisers are more convinced than ever of his potential, confident that he'll reset a race that so far has not had a breakout candidate. And he and his team are counting on the attention that comes from shaking things up, especially with most voters still far from tuned in.
With expectations so high, fans and rivals alike suspect that it won't take long to see whether this works. He probably has only a week or two to be tagged as a front-runner or a flop.
In his handful of public appearances, interviews, and messages to supporters, O'Rourke has made very clear why he doesn't want Donald Trump to be president. But he's made no clear argument, in public or private, for why he might want to be president himself. According to people who have spoken with him, he is preparing to pitch himself as offering hope that America can be better than its current partisan and hate-filled politics, and that the country can come together. So far he hasn't landed on how he'll propose to actually make that happen.
"This is an artist at work, and we haven't seen it before, and it's exciting," says Representative Sean Patrick Maloney of New York, a friend of O'Rourke's, arguing that it's precisely because O'Rourke will run a different kind of campaign that the process of getting to it has been so unlike anyone else's in the field.
Instead of defining the race by jumping in back in December, when interest in him was at its height, he let the race take shape without him and gambled that he'd still have time to reshape it. Instead of scooping up operatives and donors eager to sign on with a front-runner, he let months of indecision tick by as they signed up elsewhere, tired of waiting.
"I hadn't planned on losing," is how O'Rourke repeatedly put it to people, including Chuck Schumer, when the New York Democrat, in some frustration, tried and failed to recruit him to run next year for the other Senate seat in Texas.
Last year, of course, O'Rourke was running a Senate campaign that had every Democrat in the country (as well as some Republicans who can't stand Ted Cruz) rooting for him. He was able to slowly ramp up, building his argument, his team, and his comfort level on the campaign trail. Now he will start with a dozen other campaigns out to take him down, as well as voters who already have other interesting and inspiring options, and he'll do it with the spotlight of a superstar on him from the moment he begins.
None of the candidates who have announced has been able to match the virtuosity as a social-media storyteller that made him a star. None, other than perhaps Bernie Sanders and to a lesser extent Kamala Harris, has become such celebrities as to be talked about only by first name. None has retained the aura among insiders for having as much potential to upend the race.
But in the meantime, expectations have been set by others. O'Rourke became a sensation in his Senate race because of his massive crowds and unheard-of online fundraising. A presidential race is a completely different level of competition. Kamala Harris drew 22,000 people to her Oakland, California, kickoff rally—almost twice what Bernie Sanders had turn out for him in Brooklyn last week. Sanders raised $6 million in his first day as a candidate—nearly four times as much as what had a few weeks earlier seemed like a massive first-day haul by Harris.
O'Rourke and his advisers have been watching. They were impressed by the strength of Harris's week-long rollout, leading up to the big rally. When he planned his counterrally to Trump's border-wall event last month in El Paso, he and his advisers scrambled for days beforehand to boost attendance, realizing how important it was to have a crowd that would be hard for Trump to mock. They've spent the past few weeks testing and refining their email list with long notes about marijuana legalization and other issues, priming it in the hopes of lighting up huge dollars when he sends out his announcement that he's running. However, unlike Sanders's list, which is full of people who want him to be president, O'Rourke's is full of people who wanted him to be senator, and includes a number of major donors and employees of other 2020 campaigns. It's unclear how much money he will be able to raise. He amassed $38 million during the final months of his Senate campaign, which defines his potential. He almost certainly can't match that level of fundraising right away, but will inevitably be measured against it.
"He has a lot of catching up to do. Beto had all the heat closing 2018, but he allowed that momentum to dissipate while he went on that adolescent soul journey and showed America his gums," said an operative working on another campaign, referring to a now infamous livestream from a dental cleaning in January, when he was interviewing his hygienist about her own experience growing up near the border. "Now he's got to apply jumper cables to a cold engine and catch up to others who have zoomed by him on the road."
The perceived ambivalence played out over just a few hours on Saturday afternoon. Those on his email list of supporters  received a long note purportedly written by his former deputy campaign manager, Cynthia Cano. She urged the Beto faithful to sign up on a new list to find out his decision, and not so subtly teased, "I'm ready for us to bring our movement to the rest of the country. It's the exact kind of campaign that America needs right now, and it's why so many of us are hoping that Beto has decided to launch a campaign for President of the United States." A few hours later, O'Rourke popped into a screening at South by Southwest, in Austin, Texas, of a new documentary about his Senate campaign that shows how stressful running was for him, his staff, and his family. He ducked a question in an onstage Q&A about a possible campaign for president, and told reporters afterward that he needed to make the announcement "in the right way," adding, "I've got to be on the timeline that works for my family and for the country."
People who have been talking to O'Rourke stress that he was genuinely exhausted from the Senate campaign and sincerely searching for what to do. He had come off a nonstop, two-year campaign, and then had to finish his final weeks in the House, working both in Washington and back in his El Paso district.
"It's a good thing that you have people who really put the thought into what they can do for the country, what they can offer, whether they have a role to play," said one person close to O'Rourke. "A traditional politician who's only looking out for their career and their next election is thinking, What's the next election I can seek? or Can I get an appointment? or Who can I do a favor for? For him, it was really, Let me process what just happened."
"You don't want to just stumble into it—you want to really have a clear mind about what you're doing," the person said.
"He's an emotionally bound candidate following his heart," Representative Maloney says. "He's the least calculating person in the race."
Of course, O'Rourke is not some political naif. He got to Congress in the first place by running a tough primary against an incumbent in 2012, and landed on his no-PACs, no-consultants, no-pollsters pledge for his 2018 Senate campaign in part out of belief, but also in part by reading the political winds and knowing that pledge would resonate.
Likewise, despite flubbing some meetings and outreach, he's been deliberate in calling others, such as former Iowa Governor Tom Vilsack, who's acting now as a party elder and gatekeeper in the caucus process. Even as O'Rourke has made himself out to be just taking in the country on his road trips and journaling about it on Medium, he's been monitoring how people are talking about him on Twitter. He's become agitated by some of the criticism.
And so far it's mostly just been trolls online. While O'Rourke has been operating with a shoestring staff, other campaigns have been massing opposition research on him, most of which he's never had to answer for—Cruz, of course, wasn't looking to paint him as too far to the right. His prospective 2020 opponents are raring to do so. (He got the first taste on Sunday with a video put out by the Republican group Club for Growth, railing on O'Rourke for being a privileged white man and appearing to do government favors for his billionaire father-in-law, who had donated to a PAC that supported his first congressional campaign.)
His fans are raring to go too, said Nate Lerner, the founder of Draft Beto, on Saturday afternoon. The group's Beto Alert online campaign, urging people to sign up to get the news when he announces, nearly doubled its email list just last week, Lerner said, bringing it close to 12,000 addresses. Almost every person who clicked on the list signed up, Lerner said, which is an extremely high conversion rate.
Waiting this long "is a net positive, because while enthusiasm has decreased by a small margin, once he declares, overnight it will be like a switch flipped," Lerner said. "Everyone will forget how long he's waited."
Lerner noted that on Friday, he put in a call to Cano, the aide who signed the email to O'Rourke's list over the weekend, asking about getting involved, and she promised to connect him with a campaign manager in the coming weeks.
Now either O'Rourke will get an eye-popping response to his announcement online, or he won't. Either he will raise millions of dollars in his first few days, or he won't. Either he will draw huge crowds to his first events in Iowa and beyond, or he won't.
"Everybody's waiting with bated breath," says South Carolina Democratic Chairman Trav Robertson, acknowledging how much interest remains in O'Rourke. The 2020 race is just getting going in the state, he says, and the other campaigns are "still all walking with baby steps here."
But after all this buildup, Robertson says, O'Rourke will have to be able to make a lot happen, and quickly, with a team that for the most part will have only been working for him for a few days.
"What kind of infrastructure do you have in place when you make the announcement?" Robertson says. "Because you're going to have to go from zero to 60 in two seconds."