The Voters Democrats Aren't Really Fighting Over
Far more candidates are competing for the youth vote than are trying to appeal to Boomers.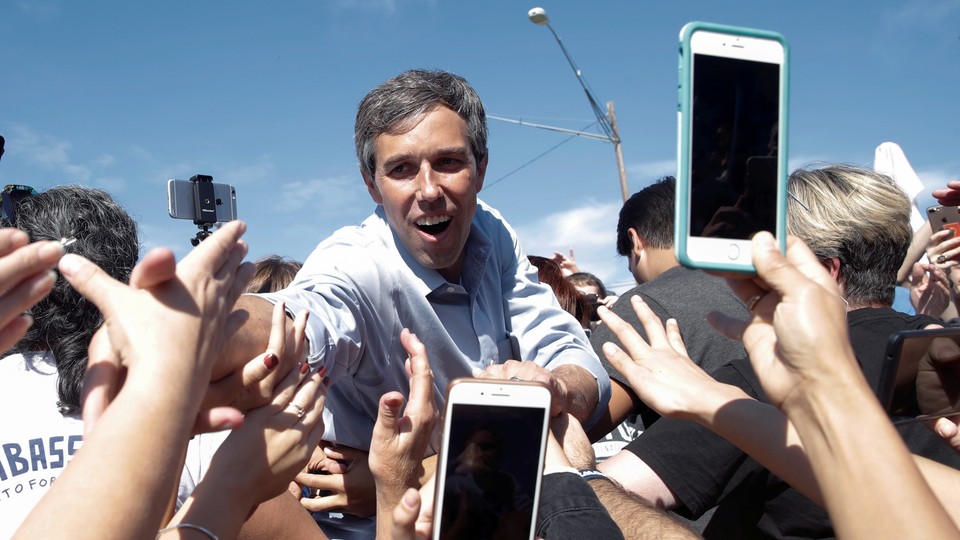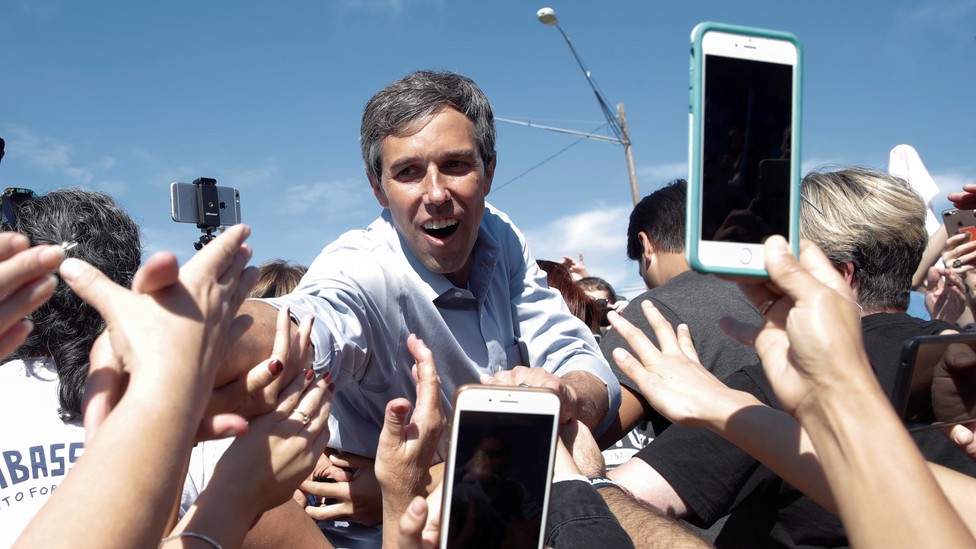 Beto O'Rourke's announcement Thursday that he's seeking the presidency will compound a demographic mismatch that could powerfully shape the outcome of the 2020 Democratic race.
The sprawling Democratic field is already so large, and so diverse in race and gender, that strategists are expecting tough competition in the early stages for almost every group of voters imaginable. But there's one potential exception to that pattern: older voters. Even in a rapidly diversifying party, it's virtually certain that most Democratic primary voters next year will be older than 45. Yet most of the top-tier candidates look best suited to compete for younger voters, an imbalance that grew more lopsided with the announcement from O'Rourke, who connected powerfully with youthful audiences during his narrow loss in last fall's Senate race in Texas.
This divergence could provide an important tactical advantage for former Vice President Joe Biden, who is likely to rely more on older than younger voters if he enters the race. It also suggests that O'Rourke is on a collision course with Bernie Sanders over the allegiance of youthful voters, who fueled the Vermont senator's 2016 campaign.
Strategists working on the 2020 contest almost uniformly agree that no candidate can expect to amass predominant support from any group of voters in the first states on the calendar. "What is so fascinating about this race is a lot of people are going to be competing for the same spaces," says Ben Tulchin, the pollster for Sanders. As a result, breadth of support might be more important for the contenders than depth: The candidates who emerge from the tangled pack in the race's opening laps will likely need to piece together slivers of support from a wide variety of groups. "That's the way the early states are going to be decided: who can tap into the most buckets, instead of the one that owns a whole lane to themselves," said a senior adviser to Senator Amy Klobuchar, who, like some other advisers I spoke with, requested anonymity to discuss the race's dynamics.
But as the field narrows, that equation could flip, many strategists believe. As the number of candidates shrinks, one of the critical variables is likely to be which survivors can consolidate the most support the fastest from the groups most drawn to them. And for all of the candidates already jostling in the race, relatively few alternatives might be able to compete with Biden for middle-aged, middle-of-the-road voters, particularly in the middle of the country.
This potential mismatch between the pools of voters and candidates looms so large because, even amid all of the party's other demographic changes, older voters constitute a surprisingly large share of the Democratic primary electorate. Fully 60 percent of primary voters in 2016 were 45 or older, according to an analysis of all 27 exit polls that year conducted by the CNN polling director, Jennifer Agiesta. And while the Democratic primary electorate is growing more racially diverse, about two-thirds of those relatively older primary voters were white.
In the coming months, before the 2020 field is winnowed, it's easy to envision multiple candidates targeting African American voters (Senator Kamala Harris, Senator Cory Booker, and Biden, with Sanders aiming at the youngest among them); Hispanic voters (O'Rourke, Biden, Sanders, and the former federal housing official Julián Castro); well-educated white women (Klobuchar, Harris, their fellow senators Elizabeth Warren and Kirsten Gillibrand, and maybe O'Rourke); activist liberals (Warren, Sanders, and, to some extent, Harris); and centrists (Biden, Klobuchar, O'Rourke, former Colorado Governor John Hickenlooper, and maybe Booker).
The competition might be especially spirited for younger voters. Sanders, despite his own age, dominated this demographic in 2016 with his crusty authenticity; he won more than 70 percent of those ages 18 to 34, according to the cumulative exit poll. With his mastery of social media, and his skill at framing choices more in terms of values than policies, O'Rourke in Texas displayed an electric capacity to mobilize young people: He carried more than 70 percent of voters under 30 in his Senate race. With that in mind, some Sanders supporters are already privately signaling that they are prepared to attack O'Rourke from the left, arguing that he's too centrist for younger voters.
Harris and Booker, both relatively young, might also find a substantial younger audience, particularly with African Americans. Hispanics are the most youthful portion of the primary electorate (only half of them are over age 45, compared with roughly three-fifths of both whites and African Americans), and Castro in particular is targeting that community. Biden hopes to attract a slice with his aviator-wearing, convertible-driving "Uncle Joe" persona. And former South Bend Indiana Mayor Pete Buttigieg, the first Millennial presidential candidate, is pursuing a youthful audience with his smooth, forceful presentations and calls for bold political reform.
But there are notably fewer candidates who appear naturally positioned to attract older voters. Klobuchar and Hickenlooper, with their appeals to centrism and bipartisanship, appear equipped to play at least somewhat on that field if they emerge as viable contenders in the early states. Sanders and Warren will have an audience among aging liberals, but Sanders's support in 2016 declined precipitously among voters older than 45. O'Rourke's inspirational framing, which has drawn comparisons to Robert and John F. Kennedy, could strike a chord among some voters who politically came of age in the 1960s, though his sometimes ethereal manner might distance others. And both Booker and Harris could run well among older African Americans, especially if one clears the other from the field in South Carolina.
But overall, Biden might confront less formidable competition for older voters than Sanders, O'Rourke, and the rest will face for younger ones. "Biden has a unique opportunity with voters over 45, and this includes whites, blacks, and Hispanics," says one Democratic strategist in close contact with his camp. "I am not really sure who competes with him for older voters directly. I just think he will dominate, and then 10 candidates will nibble around the edges."
Other campaigns are hardly ready to concede that Biden can sustain an edge with older voters if he enters the race. "I am sure he has an advantage right now based on atmospherics, but is there an intrinsic advantage there?" says a senior adviser to one of the other top-tier candidates. "I would say the answer is no. I think … middle-aged and older voters are sometimes the most interested in new leadership."
For now, though, the most recent round of 2020 primary polls, both nationally and in the key early states, shows a clear and consistent generation gap in the race. Polls this far from the actual voting can be of limited value, but three separate new surveys have found Biden and Sanders topping the field while displaying a distinct age divide in their support.
In the CNN/Des Moines Register/Mediacom poll of likely Iowa caucus-goers released last weekend, Sanders led Biden 32 percent to 23 percent among voters younger than 45 years old, with Warren and Harris both capturing around one in 10 of those voters. But among voters older than 45, Biden led Sanders by 15 percentage points, and no one else exceeded Warren's 7 percent.
A University of New Hampshire poll from late February of the state's likely primary voters showed Sanders drawing 51 percent of voters under 35, compared with just 12 percent for Biden and 11 percent for Harris. But Biden led narrowly among voters ages 50 to 64, and he also attracted a strong 38 percent of those age 65 or older, compared with just 7 percent for Sanders. Among those New Hampshire seniors, Harris actually finished ahead of Sanders.
In Monmouth University's national primary poll released this week, Sanders again led Biden among voters younger than 50 (29 percent to 22 percent), while Biden easily outpaced him among voters older than 50 (34 percent to 19 percent). Harris drew 13 percent of voters under 50, but only about half as much among voters older than 50.
Perhaps even more telling than these horse-race numbers might be other early-state assessments of the leading candidates. When the UNH poll asked likely primary voters who has the right experience to serve as president, Biden held only a narrow advantage over Sanders among voters under 50, but a crushing lead among those older than 50. The same pattern recurred when UNH asked voters which candidate is most likely to beat Donald Trump. And while three-fifths of those under age 45 in the Iowa poll said Sanders should run again, a slight majority of older respondents said he should not.
The ebb and flow of the debate among the candidates could reconfigure all of these attitudes by the time the first states vote next February. The other campaigns believe (or at least hope) the backing that both Biden and Sanders are now registering—which is enough to rank them one-two overall in polls—represents their ceiling of support, not their floor. And Tulchin, like other strategists, believes voter turnout will be far higher in the 2020 primaries than it was in 2016—approaching, if not exceeding, the record levels of the Hillary Clinton/Barack Obama contest in 2008. The expanded electorate will almost certainly be more racially diverse than in 2016, and could also be younger.
If Biden enters the race, he will have a massive target on his back as a presumed front-runner who has performed poorly as a presidential candidate in two previous races and who must defend a record of policy positions that have lost support in the modern Democratic Party. But if Biden runs, he might also have a surprising amount of open field to consolidate his natural base of support among older voters.