From a Bogus Website to Bernie Sanders's Inner Circle
David Sirota got fired from a Philly campaign 20 years ago for a racially charged "dirty trick" before he first went to work for the progressive from Vermont.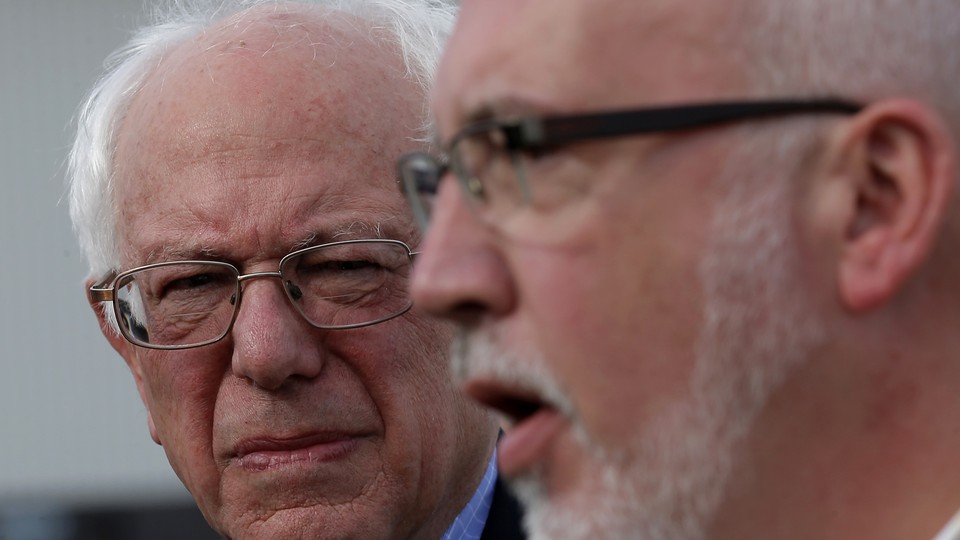 Bernie Sanders first hired his new speechwriter, David Sirota, 20 years ago, shortly after Sirota was fired from a mayoral campaign for his connection to a bogus website that promoted a racially charged quotation, taken out of context, of a black opponent.
In 1999, in Philadelphia, there was a crowded Democratic primary for mayor. Three of the candidates were African American: John White, Dwight Evans, and John Street, all of them friends going back years. But the race got intense early, and David Sirota, then working as the deputy campaign manager for Evans, was part of an effort to cut down White's support: creating a bogus website, purporting to be the official home page of the White campaign, and using it to promote a racially charged quotation, deliberately taken out of context.
The ruse was soon discovered. Evans, who is now a Democratic member of Congress, fired Sirota. He called Sirota "overzealous" at the time. "I do not want this race to be about race," Evans said in 1999, calling the site in question an example of "dirty tricks." The website took a comment that White had made in a broader interview with a Spanish-language weekly, Al Día, and presented the line as if it were an anti-white slogan: "The black and the brown, if we unite, we're going to control this city." Local reporters in Philadelphia received emails directing them to the site as though it were part of John White's campaign.
White, according to news reports at the time, was speaking about the increased political clout African Americans and Latinos could have if they worked together as a coalition. That was February. By the fall, Sirota was hired as the press secretary for Bernie Sanders, then in the House. He was hired by Sanders's then–chief of staff, Jeff Weaver, who went on to manage Sanders's 2016 presidential campaign and remains a senior adviser to the 2020 campaign.
On Friday morning, in response to inquiries from The Atlantic about his 1999 firing, Sirota acknowledged his role in helping create the bogus site. "I deeply regret being involved in this whole incident. I am absolutely ashamed that it happened, and I have felt genuinely terrible about this for 20 years. Even though I was a junior political staffer, I should have known better, and I certainly do today," Sirota responded by email.
Sirota did not acknowledge his role at the time of his firing. Neither Sanders nor his campaign responded when asked for comment.
Sirota did not respond to questions of whether he had told Sanders's House office in 1999 about the full circumstances that led to his firing, or whether he believes his behavior then fits with the values that Sanders is speaking about in his current presidential campaign.
Through website-registration records found at the time, the site was traced back to a friend of Sirota's from their student days at Northwestern University, under the fake name of Brock Landers, a reference to the porn-movie name used by Mark Wahlberg's character in the movie Boogie Nights. According to The Philadelphia Inquirer, an old biography on the Northwestern website listed Sirota's online aliases as "webman," "crowbar," "politicaljunkee," and "dc-dave." The two had graduated the year before. Sirota's degree was in journalism.
"People were shocked, folks were certainly upset," said the former Philadelphia Mayor Michael Nutter when I spoke with him on Thursday night. Nutter was a city councilman at the time who went on to beat Evans in the 2007 mayor's race. Evans did not respond to requests for comment, but Nutter told me he doesn't believe Evans would have approved of the creation of the bogus website. "It was clearly out of bounds and did not represent Dwight's values, and his mind-set," said Nutter, who is also African American and won citywide support across racial lines. The creator of the site, Nutter said, "was really a person who did not understand the racial context of Philadelphia and made a massive miscalculation."
The White campaign discovered the fraud after being alerted to the existence of the imitation site before it had even created a real website of its own—then realized the site was being promoted using the same list of reporters' addresses that the Evans campaign was using. "It looked like a new low in politics that really was designed to get at the issue of race in the city of Philadelphia, and potentially undermine John White's appeal to white voters in the city," a former aide to the White campaign said on Friday morning, reflecting on the incident.
The United States attorney and district attorney investigated the incident after White's campaign filed a complaint. But no charges were ultimately brought. Evans said at the time that Sirota had apologized to him, but White called for Evans to make an apology to the whole city. John Street, who went on to win the mayoral race, told reporters from the Inquirer at the time, "Sometimes in politics people can want to win too badly, but there's no place for these kind of tactics."
In between working for Evans and Sanders, Sirota worked briefly at AIPAC. In a tweet on December 26, 2018, Sirota wrote, "I worked for AIPAC for 4 months right out of college, during the Clinton peace process, when I was 23 years old, as a glorified intern." (He graduated in 1998.) The tweet was deleted along with 20,000 others on Monday evening after The Atlantic initially contacted Sirota about his speechwriting and advising duties for Sanders prior to his officially joining the campaign.
In a 2008 book, The Uprising, Sirota writes of being interviewed by Weaver after applying for a job working for a "progressive" congressman, and not knowing ahead of time that it was for Sanders. He writes that he was "desperate for a way out" of AIPAC, but "I didn't think any politician would hire me because, just a few months prior while working in one of my first jobs out of college, I had been fired from a low-level position on a local political campaign." Sirota provides no further detail in the book about the circumstances of his firing or his role as Evans's deputy campaign manager.
Weaver and Sirota have remained friendly since working together, and it was Weaver who first brought Sirota in as an unpaid adviser and speechwriter for the campaign. Sirota was formally hired on March 11, Sanders's current campaign manager, Faiz Shakir, said in an email on Tuesday night, but by then Sirota's work included collaborating on the speeches Sanders delivered in Brooklyn and Chicago while launching his campaign.
There's an irony in the fact that the speeches Sirota has been writing for Sanders deal with race, given the long-standing criticism of Sanders's record on race and Sirota's own behavior in Philadelphia in 1999. In the recent Sanders speech in Chicago that Sirota helped write, Sanders talked about his work fighting for racial justice as a young man—younger than Sirota was when he got into trouble in Philadelphia—and cited being on the Mall for Martin Luther King Jr.'s "I Have a Dream" speech, as well as being arrested for protesting school segregation, as showing a through line between what he did in his early adulthood and what he stands for now.
Weaver, in an interview with me hours before the Chicago speech, said that Sanders wished to demonstrate "the very real connection between his life, his history, and the policies he advocates."
Shakir did not respond on Friday to email inquiries of whether he had been aware of Sirota's past when he was brought on to the 2020 campaign, or whether he felt Sirota's past accorded with the values Sanders has been talking about. Earlier this week, I wrote about the fuzzy overlap of Sirota's unofficial work for Sanders with his presenting himself as an independent journalist, and how he failed to disclose that he was advising and writing speeches for the candidate while attacking other Democratic presidential hopefuls on Twitter and elsewhere. Sirota and the Sanders campaign have insisted that Sirota did nothing improper. He only went public with his work for Sanders on Tuesday, after repeated inquiries from me about his involvement with the campaign.
In the time between working for Sanders in the House and returning for the 2020 campaign, Sirota wrote for several websites, and was most recently writing for the site Capital & Main, as well as publishing pieces in The Guardian.
In a December 1999 Associated Press article, asked about Sirota's hiring four months earlier, Weaver said that he was aware of what had happened in Philadelphia, but he was satisfied with Sirota's explanation. The Associated Press article continues, "Weaver said such conduct would not be tolerated in a Sanders campaign or the congressional office. 'This is not the type of tactic that would be acceptable in politics in Vermont,' Weaver said. 'It is unfortunate that in many places in the country these types of tactics are resorted to.'"
Weaver did not respond on Friday to email inquiries about whether he was aware of the circumstances of Sirota's firing at the time he hired him in 1999 or whether he had ever informed Sanders. He also did not respond when asked whether he considered those circumstances in bringing Sirota back on board, and whether he feels that Sirota is in line with the values Sanders is speaking about now.