Bernie Sanders's Staffers Want Him to Be Less Grumpy
The senator from Vermont doesn't do "warm and cuddly," and aides think it's hurting his campaign, inside and out.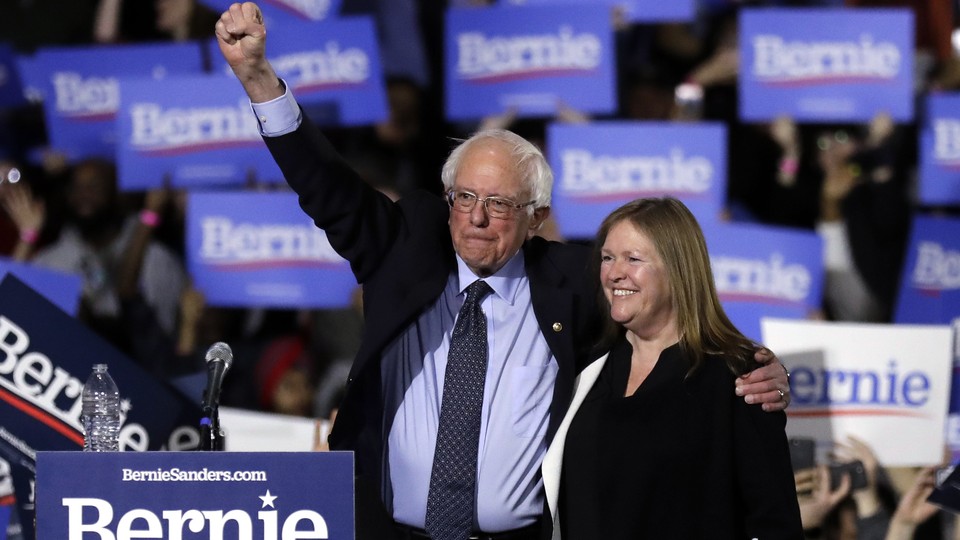 Grumpy has always been Bernie Sanders's brand. But now that he's running for president to win, his advisers keep pushing him to soften up.
The senator from Vermont fought his staff for weeks as they pushed him to get more personal, and be a little less gruff, as he launched his second presidential campaign. He didn't think talking about himself was just stupid—he thought it risked undermining the mission.
But they finally convinced him that the mission was going to fail if he didn't. So he spent the weekend in Brooklyn and Chicago launching his campaign with rallies meant to emphasize the experiences that made him who he is—the son of a paint salesman who fled from anti-Semitism in Poland, and the student at the University of Chicago whose activism led him to get on a bus in 1963 and travel to hear the "I Have a Dream" speech in Washington, D.C. Both rallies went on for almost an hour before he got personal, relating a few memories between long policy sections.
Like the neat trim of his frazzled hair that became part of his logo in 2016, Sanders has been trying to adjust.
This time around, his aides at least feel like they can take advantage of Sanders's name recognition: He was the choice of 26 percent of likely voters, ahead of Joe Biden with 22 percent, in a University of New Hampshire poll from last week of the first primary state. But recent polling isn't all positive: An NBC/Wall Street Journal national survey found that the least popular characteristics voters want in a nominee are being over 75 and being a socialist.
There are internal challenges, as well. Sanders has carried a grudge against Tad Devine, the consultant who helped design his 2016 campaign. The two had a falling out because Devine wanted the senator to more quickly endorse Hillary Clinton. They haven't spoken for two years—and Devine and the other partners in his firm severed ties with the Sanders campaign last week over differences in operational philosophy. On The View last week, Sanders rejected the suggestion of getting advice on the campaign this time around from Clinton. On Sunday in Selma, Alabama, appearing with Clinton at an annual civil-rights breakfast, he only briefly acknowledged her and shook her hand so quickly as he left the stage that some in the room missed the interaction entirely.
Even his loyal staff members at times feel slighted, and have learned not to expect much in the way of small talk or interest in anything but the work they're doing. Pretty much everyone who's worked for him does an impression of "the old man," as many of his 2016 campaign aides referred to him, interrupting them, in his deep Brooklyn accent, to make a point of his own.
This has also carried over to his relationship with reporters, who have become accustomed to being dismissed or ignored by Sanders, or to having him keep fury alive for years over stories that angered him.
"Sanders's remedy for what ails the media—uncritical, stenographic coverage of his agenda—betrays a misunderstanding of the role of a free press," wrote Paul Heintz, the political editor of the Vermont newsweekly Seven Days, in a Washington Post op-ed last week, reflecting a sense that is familiar to many who have covered Sanders over the years. "And his dismissal of legitimate journalism not to his liking as 'political gossip' bears a troubling resemblance to what another politician refers to as 'fake news.'"
To humanize Sanders, the campaign is already planning smaller events, from issue-based roundtables with voters to impromptu stops and meetings with activists. But the stuff that most think of as key elements of crucial retail campaigning—swinging through a diner, taking selfies along a parade route—isn't expected to become part of the normal routine. Long speeches at big rallies will remain his go-to because that's how Sanders feels most comfortable.
Jeff Weaver, Sanders's 2016 campaign manager who is now a senior adviser to the 2020 campaign, was among those who pushed this time around to "introduce Bernie as a person to people so that they understand the very real connection between his life, his history, and the policies he advocates," he says.
Weaver, speaking shortly with me before the rally in Chicago began on Sunday night, said that "it's not about making him likable. It is about making his policies relatable."
Onstage in Chicago, Sanders recalled being involved in fighting racial discrimination in housing owned by the University of Chicago, where he was an undergrad. A student-activist group that he was involved in ran stings, he said, sending in white couples who were offered apartments that black couples were refused. He's rarely told this story before.
Senator Cory Booker of New Jersey, by contrast, has in his campaign made a staple of the story of how his parents, who would have been Sanders's contemporaries, were involved in housing stings themselves. Those who know Sanders best say he will just never feel comfortable being that personal in his campaign, no matter how much his staff might push him to do so.
"There is a difference between the use of personal biography to create superficial relatability versus the use of personal biography to provide a proof point for standing up for a particular vision," says Representative Ro Khanna of California, who is co-chairing Sanders's campaign and who spoke with me ahead of him at the rally in Chicago. "There's so much of an emphasis on relatability, likability, creating a connection for social media, that Bernie totally would reject. I don't think he feels like he wants to win votes by creating some false sense of intimacy, some false sense of relatability."
Sanders's crankiness became a big part of his appeal when he was running as a left-wing outsider in 2016 against Clinton. His first real breakout moment came in the first Democratic debate, when he told Clinton, "The American people are sick and tired about hearing about your damn emails." The "damn emails" complaint wasn't about her decision to use a private server when she was secretary of state; it was about his frustration that the supposed scandal was crowding out policy debates. "Enough of the emails. Let's talk about the real issues facing the American people," he said.
Then there was the time in late March 2016 when a bird landed on the podium while he was speaking at a rally in Portland, Oregon. The moment went viral precisely because of the surprised smile that broke out on his face, throwing him off his prepared remarks and into an unscripted window into his personality.
Yet throughout the campaign, Sanders seemed to bristle at attempts to delve into his life, whether they had to do with his son, Levi; his relationship with an ex-girlfriend; or a series of essays he published before becoming mayor of Burlington.
Congressman Peter Welch understands Bernie the curmudgeon—and why his aides now think it's time to humanize their candidate. Welch has known Sanders since 1981, when he was a state senator and Sanders was mayor of Burlington. "He's a very decent guy. Warm and cuddly, he's not," says Welch, who has endorsed Sanders's presidential campaign.
Welch says there's a consistency to Sanders that stretches from those early political days through today: of empathy for people suffering while keeping them mostly at a distance. He remembers one afternoon in the 1980s sitting outside of city hall in Burlington and listening to some women talking about conditions in Nicaragua. He was surprised to hear Sanders's reaction as he talked about how terrible he imagined their lives had been.
Or there was the time last fall, campaigning for his third term in the Senate, when Sanders stopped for an event in Standard, Vermont, the town where he lived when he first moved to the state. To get there, Welch says, they had to go four miles down one dirt road, and four miles down another. Sanders was clearly excited to be back, to meet a woman who was living in the house where he'd lived decades ago, and to hear people joking about how the town would be like the new Mar-a-Lago if he managed to get himself to the White House.
"He was comfortable with people that were among those who were first here when he came to Vermont, and he didn't want to leave," Welch says. "He gave his speech the way he usually does, but he hung around and sat around and clearly was enjoying the comfort of being in the farthest region of Vermont."
Welch says that he's been on the receiving end of his share of Sanders's complaints over the years, but that he still likes and respects the senator. He says he chalks up his gruffness to a combination of refusing to engage more out of principle and out of discomfort.
But winning elections like this one requires a connection, Welch argues, and he's hoping his friend understands that more and more as the race rolls on.
"His favorite mode is outrage," Welch says, "and I think it's very wise of him to try to show another side."