AIPAC Is Losing Control of the Narrative on Israel
American Jews are very uncomfortable with Trump, but the pro-Israel lobby has embraced him wholeheartedly.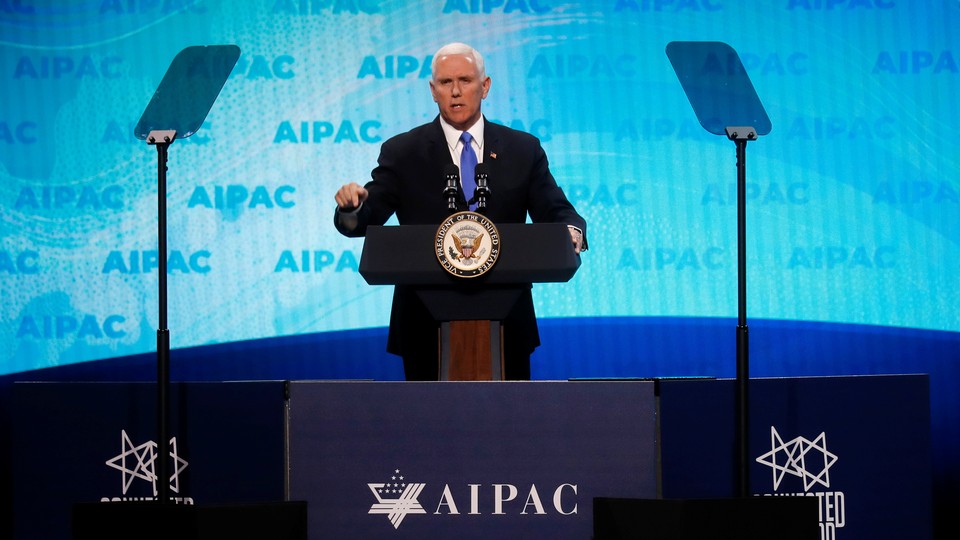 It was the final day of AIPAC's annual policy conference in Washington, D.C., and the star of the gathering had finally appeared: Benjamin Netanyahu. An estimated 18,000 attendees sat in rows in a large downtown convention center, watching the Israeli prime minister address them through a patchy satellite feed on gigantic blue screens; although Netanyahu met with President Donald Trump in Washington this week, he cut short his trip after rockets fired from Gaza struck a home outside Tel Aviv.
It was difficult to hear what Netanyahu was saying at times, but the audience didn't care: The staunch Israel supporters who filled the room gave him standing ovations. The only other speaker who won nearly as much applause on Tuesday morning was David Friedman, the U.S. ambassador to Israel. He brought greetings from Trump, "Israel's greatest ally ever to reside in the White House," as Friedman put it. The whole event underscored the enthusiastic Trump-Netanyahu alliance, even by the standard of the traditionally strong U.S.-Israel relationship. In his meeting with Trump at the White House on Monday, Netanyahu compared him to Cyrus the Great, the Persian king, and Harry Truman, the U.S. president who recognized Israel.
Anxiety was a consistent theme throughout the conference: American and Israeli leaders condemned rising anti-Semitism and consistently took shots at Representative Ilhan Omar, the freshman Democrat from Minnesota who caused an uproar over her use of anti-Semitic tropes and criticisms of Israel. Many speakers wrung their hands over the way Israel is allegedly becoming a so-called wedge issue in American politics, lamenting partisan divisions over support for the Jewish state.
And yet, the two men who have been among the greatest drivers of U.S. political division over Israel, Trump and Netanyahu, were celebrated. Inside the grand ballroom at AIPAC's annual conference, longtime attendees and political leaders forcefully maintained that support for Israel is as strong and unifying as it has ever been. Outside the hermetic world of AIPAC, however, the American political conversation about Israel is shifting, in part because of backlash against America's and Israel's right-wing leaders.
In the lead-up to AIPAC's policy conference, Republican leaders, including Trump, have been pushing the narrative that Israel and anti-Semitism might be defining issues in upcoming elections, and that American Jews might come to feel like their votes—and donor dollars—no longer belong in the Democratic Party. The president quoted a Fox News segment in a tweet, claiming that Jews are leaving the Democratic Party in a so-called Jexodus. At the conference, Senate Majority Leader Mitch McConnell claimed concern over "the growing tide of anti-Israel sentiment," describing it as a movement that is "increasingly shaping the left's agenda."
[Read: The fight over Ilhan Omar is a fight over the identity of the Democratic Party]
Survey data and historical trends suggest that both of these arguments are tenuous. Jews overwhelmingly support the Democratic Party: 71 percent voted for Hillary Clinton in 2016, according to the Pew Research Center, and 79 percent voted for Democrats in the 2018 midterm elections. And Democrats overwhelmingly believe Israel is an important ally of the United States: In a 2016 University of Maryland survey, 70 percent of Democrats said this is the case.
Still, Democratic leaders found themselves, yet again, on the defensive. Across the three days of the conference, party representatives sought to assure attendees that Democrats are staunchly pro-Israel, repeatedly taking thinly veiled shots at Omar's suggestions that American support for Israel conflicts with loyalty to the United States or is motivated by money. AIPAC's leaders were emphatic that their organization is "relentlessly bipartisan," which House Speaker Nancy Pelosi later echoed: "Support for Israel in America is bipartisan and bicameral," she said, "relentlessly."
But even as American political leaders forcefully maintained that U.S. support for Israel hasn't changed, they avoided addressing the incredible discomfort that many American Jews, almost all Democrats, and a wide range of self-described Israel supporters feel about Trump and Netanyahu. Many people who would count themselves among these groups believe that Trump has enabled the rise of right-wing extremism in the United States, including the kind of virulent anti-Semitism that led to the synagogue shooting in Pittsburgh last fall. In 2018, the American Jewish Committee (AJC) found that 71 percent of American Jews rate Trump's performance as unfavorable. (Disapproval of Trump is even higher among Democrats as a whole.) And according to AJC's survey, 57 percent of American Jews disapprove of how the president is handling U.S.-Israel relations. American attitudes toward Netanyahu are less commonly measured in polling data, but anecdotal evidence from events in recent years suggests that American attitudes toward the Israeli prime minister are cold.
[Peter Beinart: AIPAC's struggle to avoid the fate of the NRA]
AIPAC has tried to navigate these tensions among Jews, Democrats, and pro-Israel supporters at several points in recent years, usually awkwardly. In 2016, AIPAC's president, Lillian Pinkus, apologized for a speech made by Trump, who was then a presidential candidate, because he openly criticized President Barack Obama. That same year, an Orthodox rabbi in D.C. stood up during Trump's speech, shouting that he is "wicked" and "inspires racists and bigots."
More recently, AIPAC endorsed a statement by the American Jewish Committee condemning Otzma Yehudit, the far-right Israeli political party of Kahanists, who believe that Arabs are the enemies of Jews and shouldn't have political rights within the state of Israel. Although neither statement said it outright, these were oblique criticisms of Netanyahu, who reached out to Otzma in the hope of cobbling together a winning governing coalition in the upcoming Israeli elections.
"The American Jewish establishment … has conducted itself for decades under the assumption that the right approach to strengthening the U.S.-Israel relationship is by unquestioning support for whatever is going on over in Israel," said Jeremy Ben-Ami, the head of J Street, an organization that often frames itself as the progressive alternative to AIPAC. "Where we are, in 2019, is a world in which the overwhelming majority of the people they're supposed to represent—which is American Jews and others who care about Israel—are deeply upset about what's going on here and what's going on there."
[Read: There's more to being Jewish than fighting anti-Semitism]
Despite its bipartisan aspirations, AIPAC is unable to set a consensus D.C. policy conversation on Israel. One of its main legislative priorities, a bill condemning the boycotts, divestments, and sanctions movement in opposition to Israel, generated partisan backlash earlier this year: "Nothing—nothing—will motivate Americans to exercise their rights more than efforts to suppress them," said Chris Van Hollen, the senator from Maryland. "Trying to suppress free speech, even unpopular speech … will only add momentum." And when Omar criticized AIPAC directly, claiming that the organization's influence in Washington is "all about the Benjamins," or financial influence, Democrats in the House were unable to rally behind a straightforward condemnation of anti-Semitism.
But at AIPAC's policy conference, as attendees posed for pictures with a person in a plush, large-headed Golda Meir costume and applauded wildly at mentions of America's embassy in Jerusalem, Trump's decision to withdraw from the Iran deal, and his recognition of Israel's sovereignty over the Golan Heights, they did not acknowledge that the American conversation about Israel might be fracturing under Trump and Netanyahu. As the pro-Israel activists listened to American and Israeli leaders tell them that support for Israel is as strong as ever, they gamely nodded along.