Walter Jones Was the Real Maverick
The congressman from North Carolina was famous for "freedom fries," but his real signature was unorthodox politics.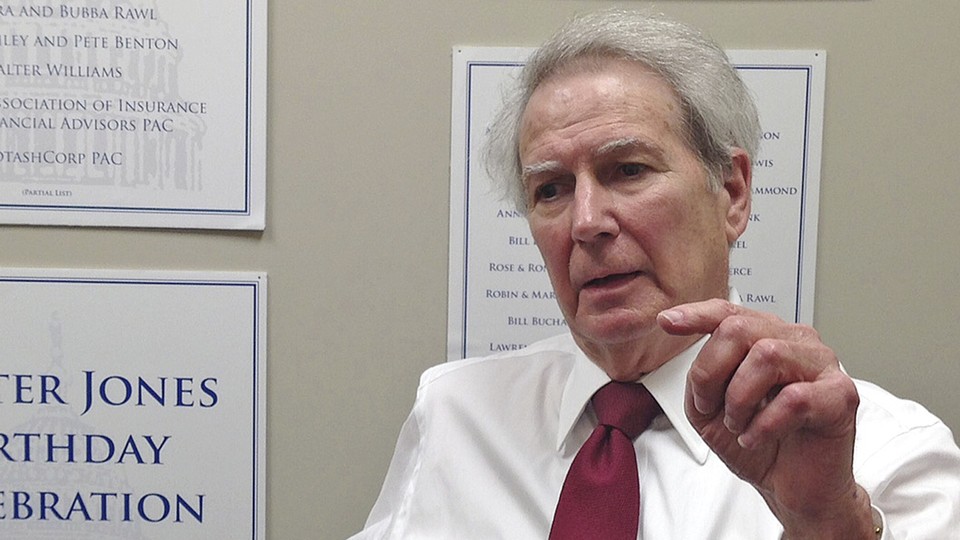 He was a Republican and a staunch conservative, but he often worked with Democrats, and won their affection. He supported the Iraq War in 2003, but was troubled by the human cost. He was one of President Donald Trump's most outspoken critics within the GOP, and his death after a long illness leaves an unfillable hole in Congress.
That sounds a lot like a certain senator from Arizona who died recently, but it's not John McCain—it's Representative Walter Jones of North Carolina. Jones died Sunday, on his 76th birthday. (Jones's illness had kept him from Congress since September, though he was easily reelected in November.) Although the late Arizona senator became identified with bucking his party, Jones, far more than McCain, epitomized the "maverick" sobriquet. It's folly to value heterodoxy for its own sake, but Jones's ability to make friends and allies across the aisle and to buck his own leaders was a clear, rare demonstration of political courage. Jones was the kind of independent-minded, bipartisan-curious politician whom Americans often say they want but seldom actually elect.
Most Americans knew of Jones—if they knew of him at all—as a driving force behind the bizarre 2003 episode in which Republicans directed the U.S. House cafeteria to change the name of French fries to "freedom fries" as revenge for French opposition to the war in Iraq. (The move was inspired by a restaurant in Jones's heavily military district in eastern North Carolina.) But "freedom fries" didn't make for a good epitome of Jones's political career. They made him appear to be a cartoonish lockstep Republican, when in fact Jones was consistently one of the members of Congress most likely to vote against his party. And they made Jones seem like a super-advocate for the Iraq War, yet he eventually became one of its loudest critics.
Jones's background hardly telegraphed the unpredictable politics he eventually adopted. He served in the North Carolina General Assembly for 10 years as a Democrat, but switched to the Republican Party when he ran for Congress in 1994. Jones was one of many southern Democrats to make that switch, as the party became more reliably liberal and they stayed (or became more) conservative—though that switch had an often dark history, especially in North Carolina. Jones's father, also Walter, was a longtime Democratic congressman, but when Jones Jr. ran to replace him after his death in 1992, he lost the primary. Two years later, he ran as a Republican in another district (including large parts of his father's old constituency) and won. His early years in Congress didn't offer much indication of what was to come either.
Jones, a former National Guard member, supported the 2002 congressional resolution that gave President George W. Bush the authority to wage the war in Iraq. As Jones told the Associated Press' Martha Waggoner in 2017, he had a change of heart in 2003, attending the funeral of a marine in his district.
"I will never forget my mistake, because people died because of my mistake," he said. "I bought into believing that President Bush didn't really want to go to war. That's how naive I was at the time … I could have voted no, and I didn't."
Jones's vote was far from the deciding one—the Authorization for Use of Military Force passed by a 296–133 margin—but he set about making penance in ways both large and small. He began writing letters to the families of every U.S. service member killed as part of the American fight against terror. He also posted photos outside his House office of every marine from Camp Lejeune, located in his district, killed in the 21st century. In 2005, Jones joined a motley bipartisan band (including the Republican Ron Paul and the Democrat Dennis Kucinich, both future oddball presidential candidates) in calling for a U.S. withdrawal from Iraq.
As Barry Yeoman wrote in an essential profile last year, it turned out that dissent suited Jones. (It's revealing about Jones's odd place in politics that The Nation published the profile.) He spoke out against presidential deployments of troops without explicit congressional authorization, which he felt violated the Constitution. In 2012, he introduced a resolution to impeach President Barack Obama if he attacked Syria without congressional authorization. In 2017, he—like McCain—was one of the members of Congress who argued that the post-9/11 military-force authorization from 2002 did not give the president the power to attack Syria.
Sometimes he phrased his objections in more colorful language. "Lyndon Johnson's probably rotting in hell right now because of the Vietnam War, and he probably needs to move over for Dick Cheney," Jones said in 2013.
Jones's critiques did not endear him to Bush allies, and in 2014, the former Bush administration official Taylor Griffin ran against Jones in the GOP primary, with heavy financial backing from Washington Republicans. As The News & Observer noted, "Griffin worked full time seeking votes, while Jones continued to work in Congress and wasn't seen much on the campaign trail." Nonetheless, Jones defeated Griffin by almost six percentage points. (Griffin was among two challengers to Jones in 2016, when the incumbent won even more handily.)
With the advent of Trump, Jones found another Republican foil. Yeoman wrote:
Since Trump's inauguration, Jones has joined with Democrats in advocating for an independent commission to investigate Russian interference in the 2016 election. He was the first Republican to demand that House Intelligence Committee chairman Devin Nunes, a Trump surrogate, recuse himself from his panel's Russia probe. He voted against both the tax overhaul and the repeal and replacement of the Affordable Care Act. He was the lone House Republican to oppose the Financial Choice Act, which, if enacted (the measure passed in the lower chamber and awaits a vote in the Senate), would strike down key provisions of the Dodd-Frank financial-reform legislation. He has protested Trump's military escalations in Afghanistan, Syria, and Yemen. And he has called on Congress to demand disclosure of the president's tax returns.
Jones supported a constitutional amendment to overturn the Supreme Court's Citizens United decision, and was also willing to take a swipe at then–House Speaker Paul Ryan. But Jones wasn't an ideological squish. His voting record was consistently rated strongly by conservative groups, though in recent years his ratings slipped a bit. In fact, Jones consistently landed near the top of ProPublica's tally of how often members of Congress vote against their own party. But Jones felt that many of those votes represented truer fidelity to conservatism than following the party line. For example, he voted against Trump's 2017 tax cuts because he worried they'd swell the national debt.
Jones was also strongly religious; he almost certainly didn't mean his comment about Johnson and Cheney metaphorically. Raised a Southern Baptist, Jones became a devout Catholic. He opposed abortion and same-sex marriage. And he viewed the current turmoil in America in biblical terms.
"I am at a point where I just wonder: Are we in the final days of a great nation?" he told Yeoman. "I'm thinking that, going back to the Bible, we're on the verge of Revelations."
Perhaps it was arrogant, if understandably so, for Jones to imagine his own mortality as concurrent with the end times. Yet the reality is even more aggrandizing for Jones. It's not so much that he belonged to a dying breed; it's that he was one of a kind.