The Atlantic Politics & Policy Daily: Next in Line
As Virginia Governor Ralph Northam grapples with scandal, his potential successors, the lieutenant governor and attorney general, now each face their own.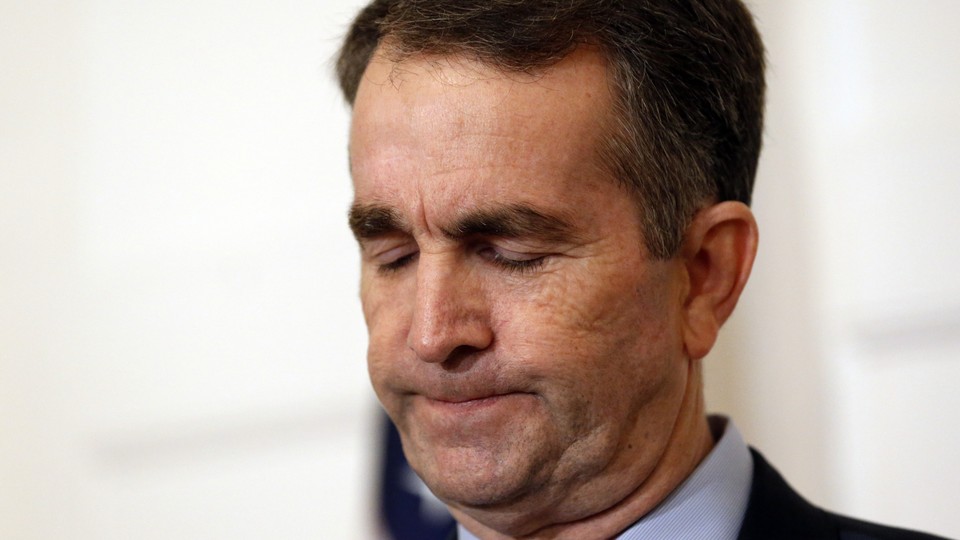 What We're Following Today
It's Wednesday, February 6.
Today in the implosion of top Virginia Democrats: The state's governor, Ralph Northam, still isn't resigning in the aftermath of the scandal over a racist photo from his medical-school yearbook page. Lieutenant Governor Justin Fairfax, who would succeed Northam, is facing his own problems over a serious allegation of sexual assault, which was detailed in a lengthy statement from his accuser today. Then today, Mark Herring, the state's attorney general and third in line for the governorship, released a statement in which he admitted to wearing blackface in college. It's all shaping up to be a catastrophic situation for Virginia Democrats, writes David A. Graham.
The House held a historic hearing on gun-violence prevention—its first in eight years. Also of note: Active-shooter drills may not be effective and may instead be psychologically damaging, Erika Christakis argues in the March Issue of The Atlantic.
Last night, President Donald Trump delivered his second State of the Union address. Here are the main takeaways from the spectacle:
The president called for unity, but he never laid out a strategy, or even a desire, to achieve it. Notably, Trump mentioned the Robert Mueller probe—which he avoided in last year's speech—and pushed once again for a wall at the southern border. But he mentioned lowering prescription drug prices and a grand effort to eliminate HIV, and tipped his hat to last year's bipartisan criminal-justice reform.
Progressive Democrats roundly panned the president's speech—but some moderate Democrats found things to like, reports Elaine Godfrey. These Democrats said they see a path forward for deal making on issues like infrastructure and the opioid epidemic.
Trump condemned abortion using graphic language, jumping on the growing criticism of a recent law in New York that would expand access to late-term abortions. His State of the Union comments might signal the GOP's approach to abortion policy in 2020: the use of "extreme cases as a powerful wedge issue."
---
Snapshot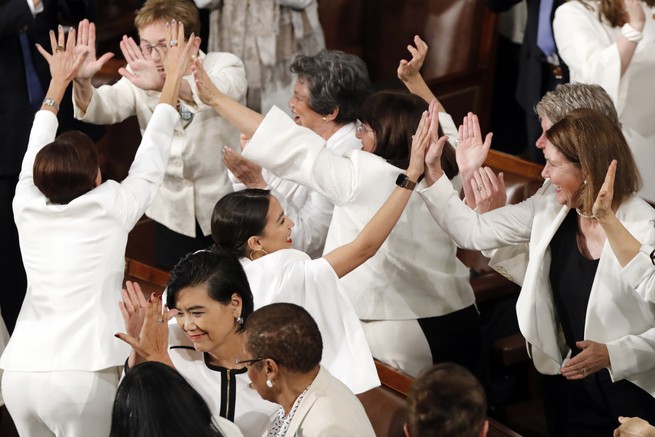 Female members of Congress cheer after President Donald Trump acknowledges the increased number of women in Congress during his State of the Union address on Tuesday. (J. Scott Applewhite / AP)
---
Ideas From The Atlantic
Trump Doubles Down (David Frum)
"Successful State of the Union speeches are backed by considered plans of action. If a president talks about infrastructure modernization, it's because he and his party have an infrastructure bill ready to go. The dysfunctional Trump administration does not." → Read on.
The Vatican and the Gulf Have a Common Enemy (Graeme Wood)
"For the past week, the United Arab Emirates has been preparing for one of the most significant interreligious events in modern memory. A conference on "global fraternity" has featured rabbis, imams, swamis, cardinals, and obscure religious officiaries whose titles I had never heard before." → Read on.
What I've Gained by Leaving the Republican Party (Peter Wehner)
"It would be deeply unfair to claim that most Republicans are bigots. But it is fair to say that most Republicans today are willing to tolerate without dissent, and in many cases enthusiastically support, a man whose appeal is based in large part on stoking racial and ethnic resentments, on attacking 'the other.'" → Read on.
Trump's Revealing Immigration Ad Lib (Reihan Salam)
"Given his propensity toward hyperbole, this could be dismissed as little more than a rhetorical flourish. One wonders, though, if it's a sign of things to come." → Read on.
---
What Else We're Reading
◆Fight the Ship: Death and Valor on a Warship Doomed by Its Own Navy (T. Christian Miller, Megan Rose, and Robert Faturechi, ProPublica)
◆In Need of Water, an Idaho Town Turns to Its Neighbors (Emily Benson, High Country News)
◆It Will Take More Than Congress to Cure America's War Addiction (Gunar Olsen, The New Republic)
◆That's Not Actually True (Kiese Laymon, Scalawag)
---