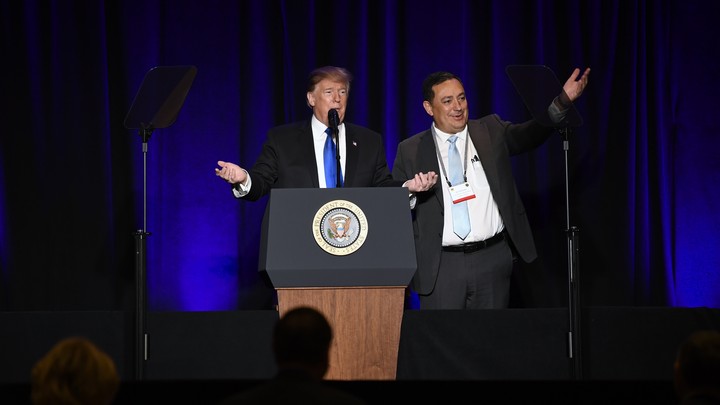 President Donald Trump's appearance this week at a conference of police chiefs and sheriffs demonstrated the peculiar relationship that the president continues to have with law enforcement. On the one hand, Trump styles himself as the foremost advocate and defender of police. On the other, there are serious differences of opinion between the president and prominent cops on some key issues.
The actual content of Trump's remarks on Wednesday was typical for him. He praised police and complained that the "fake news" doesn't convey the deep respect that the American people hold for law enforcement. He lied that "violent crime is now going down for the first time in a while," and that his border wall is under construction. He criticized the Obama administration for blocking sales of military equipment to police departments. He attacked the "radical left" for criticizing Immigration and Customs Enforcement and Customs and Border Protection.
But Trump also praised Art Acevedo, the chief of police in Houston and the president of the Major Cities Chiefs Association, one of the two groups that hosted the conference. He singled out Acevedo for praise early on, saying he was "proud" of him, and later called the chief up onstage briefly for recognition of the Houston Police Department's work during Hurricane Harvey.
Read: Trump's vision of lawless order
This is notable because Acevedo, who is nearly as adept a Twitter user as the president, has been a respectful but fierce and consistent critic of Trump's. Who knows whether Trump is unaware of Acevedo's past remarks or simply doesn't care (though he's not known for magnanimity toward critics), but he didn't mention the past disagreements. The things on which Acevedo has differed from Trump aren't just picayune matters—though Acevedo did pointedly rebut a bogus claim about crowd size at a Houston rally last fall. Many of them cut straight to the heart of Trump's perspective on police.
For example, on Wednesday Trump said, "In my administration, we understand that reducing crime begins with respecting law enforcement. We will not tolerate smears, or slanders, or assaults on those who wear the badge and police our streets. In order to keep every American safe, we are making officer safety a top priority—unless you'd rather not have that."
This is a familiar refrain. Trump has often been more blunt, making it clear that he endorses police brutality. In July 2017, speaking on Long Island, Trump said this:
When you see these towns and when you see these thugs being thrown into the back of the paddy wagon, you just see them thrown in, rough. I said please don't be too nice. Like when you guys put somebody in the car and you're protecting their head, you know, the way you put your hand over? Like don't hit their head and they've just killed somebody. Don't hit their head. I said you can take the hand away, okay?
Acevedo was one of many top cops who criticized Trump at the time:
To be clear, inappropriate attempt at gallows humor does not reflect values of respect & commitment to constitutional policing of profession https://t.co/lGJeLa6nm1

— Chief Art Acevedo (@ArtAcevedo), July 28, 2017
Trump also devoted much of his speech Wednesday to immigration, speaking about the need for a border wall and tough immigration policies.
"It is the core responsibility of government to establish and enforce clear rules for entry and admission into our great country," he said. "These immigration laws exist to protect our families, our communities, and the security of our entire nation. When these laws are violated, innocent Americans—including millions of hardworking legal immigrants—are left to pay a very heavy price."
Here, too, Acevedo has taken issue with the administration's policies, especially separating children from their parents at the border:
American values? Conservative values? Progressive values? Judeo-Christian values? Family values? History & God will be unkind to those who are silent or support this oppressive, inhumane, unGodly policy. God is watching us, we can't hide from him. WWJD? https://t.co/pPsFvLQv57

— Chief Art Acevedo (@ArtAcevedo), June 17, 2018
Acevedo wasn't the only officer whom Trump called onstage. The president also recognized John McMahon, the sheriff of San Bernardino County, California. McMahon praised Trump's support for police as "incredible," but he also said that "the relationships we have with our federal law-enforcement partners are absolutely incredible." That could be read as a veiled criticism of Trump. As much as he has adopted "Blue Lives Matter" rhetoric, Trump has also consistently undermined the rule of law and attacked the integrity of the FBI, the top federal law-enforcement agency.
Read: How Trump radicalized ICE
On this matter, Acevedo has also pushed back against the president. When Trump attacked the FBI on Twitter for executing a search warrant on his former fixer Michael Cohen, the chief had words for him:
As a suggestion, a nation & leaders committed to the "rule of law" would replace "BROKE INTO ATTORNEY'S OFFICE!" with "lawfully executed search warrant" & "Rat" with "cooperating witness". As our Chief Executive I urge you to please do the same Mr. President.

— Chief Art Acevedo (@ArtAcevedo), December 17, 2018
To be sure, Acevedo does not speak for all police. Though reliable polling is hard to come by, all indications are that rank-and-file law-enforcement officers support Trump; several unions, including the Fraternal Order of Police, endorsed him in 2016. Chiefs in big cities and big counties, like the voters in those areas, tend to lean further left than the rest of the country does. Still, Acevedo is the elected president of the Major Cities Chiefs, which makes his outspoken disagreements with Trump noteworthy.
Those disagreements show that while Trump claims to speak for police, his caricatured view of a uniformly macho, tough-on-crime law-enforcement establishment doesn't totally match reality. This is hardly the only case when the president has conflated his own positions with those of people he claims to speak for—witness his consistent overstating of voter support for his wall—but it is one of the most glaring.
Given their differences, Acevedo seemed a bit surprised when Trump called him to the stage on Wednesday. "You are spontaneous, Mr. President," he said. "I think you're off script here." Given the script Trump usually follows, Acevedo may well have welcomed the detour.
We want to hear what you think about this article. Submit a letter to the editor or write to letters@theatlantic.com.