Donald Trump's Broken Promises in Lordstown
On the campaign trail in 2016, the billionaire told GM workers their jobs were safe. Soon the Chevy Cruze plant in Ohio will close.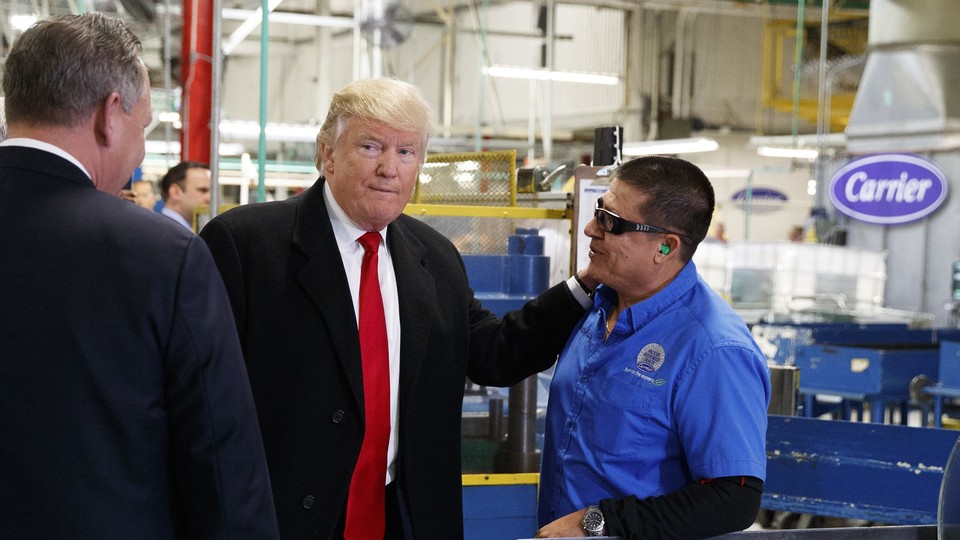 Nanette Senters has worked in the body-shop division of General Motors' Lordstown assembly plant in Lordstown, Ohio, for 20 years. She helps build the shell of what becomes the Chevy Cruze. "Nice little American car, well built, runs very good," she said.
Back in 2016, Donald Trump visited near her community, Trumbull County, on the campaign trail. "[He] told everybody, 'Don't sell your houses. Manufacturing's going to come back to your area,'" she said to me. At a campaign rally that summer in Columbus, Trump promised to make Ohio a "manufacturing behemoth." And at a rally a few months later in Detroit, Trump announced, "My plan includes a pledge to restore manufacturing in the United States."
But the day after Trump was inaugurated, General Motors announced the end of one of the shifts at Senters's plant. Six months later, another shift ended. And last November, GM announced plans to fully close five plants in the United States and Canada, cutting about 14,700 jobs. Senters's plant will close in March. "It was like a kick in the stomach and a slap in the face," she said. So she joined the advocacy organization Good Jobs Nation, which demands that President Trump sign an executive order to deny federal contracts to companies when they outsource jobs. The organization launched a letter-writing campaign to get Trump's attention. "Never heard a word," she told me. "He lied. He doesn't care."
While the commitment Trump made to Senters and her co-workers might have been simplistic, the president's broader efforts to bolster manufacturing, renegotiate trade agreements, and address trade imbalances have been complex and, in some cases, successful, according to half a dozen economists and experts, liberal and conservative. The most recent jobs report showed that 304,000 jobs were added in January, 13,000 in manufacturing. Since Trump's inauguration, the total number of Americans working in manufacturing has risen by at least 473,000. The unemployment rate has fallen to 4 percent. Trump will almost certainly tout these numbers in Tuesday's State of the Union. The White House did not respond to a request to comment on Senters's claims.
On one level, manufacturing is growing because the economy is strong. Economists disagree why: Stephen Moore, an economist for the Heritage Foundation and a former Trump-campaign adviser, pointed to the "pro-business environment" that Trump's election sparked; Robert E. Scott of the Economic Policy Institute, a left-leaning think tank, pointed to the Obama-era stimulus package and years of low interest rates. Regardless, the United States still has 1.4 million fewer manufacturing jobs than it had during its prerecession high in 2006, despite the efforts of both presidents.
Ever since he declared his candidacy, Trump has made sweeping claims about his ability to bring back manufacturing jobs. In 2016, speaking at a Carrier plant in Indianapolis, then-President-elect Trump declared, "These companies aren't going to be leaving anymore," touting a deal he had struck with Carrier to keep nearly 1,000 jobs from moving to Mexico. But in the end, Carrier still laid off 632 Indianapolis-based workers in exchange for a cheaper labor force in Mexico.
A new campaign by the action fund of the Center for American Progress, a liberal think tank, asserts that Trump failed to follow through not only on his pledge to Carrier's workers, but also on his pledge to factory workers across America. The campaign—which launched in anticipation of Tuesday's State of the Union—centers on what CAP describes as "Trump's false promises." CAP argues that while Trump campaigned on issues important to middle- and working-class people, his presidential policy record suggests he instead prioritizes big business and the wealthy. One of the "false promises," according to CAP, centers on Trump's pledge to keep U.S. companies from moving overseas.
Manufacturing jobs are undeniably being created in today's economy. But some companies are still moving overseas. A study of Department of Labor data by ThinkProgress, a left-leaning website, found that in just the four months following Trump's swearing-in in January 2017, at least 11,934 American jobs were moved abroad or were in the process of leaving the country. On top of GM's layoffs, Ford recently announced it would be restructuring and firing workers. An estimated 12 percent, or 24,000 of Ford's 202,000 workers, may lose their jobs.
"To some extent, he was doomed," said Joshua Drucker, an economist at the University of Illinois at Chicago. "There's only so much you can do at the federal level" to stop the closure of manufacturing plants. Matt Bruenig, a progressive economist and the founder of the think tank the People's Policy Project, echoed this sentiment. "Every economy in the developed world has become a service-sector economy," he said. No policy can remake the United States into a manufacturing power like China or India.
Manufacturing is affected by the rest of the economy, and to think Trump has significant enough influence to keep entire factories in the United States is too simplistic, said Timothy J. Bartik, a senior economist at the W. E. Upjohn Institute for Employment Research, based in Kalamazoo, Michigan. Bartik calculated that manufacturing has been growing roughly at the same rate since 2010 under Barack Obama, and said there are lots of other factors, both internal and external, that might drive layoffs and hiring stateside. New technologies such as electric and self-driving cars put pressure on automakers, and to impute management decisions to the actions of one president misses the larger picture of the industry, argued David Swenson, an economist at Iowa State University.
But the fact remains that Trump promised to stop factory jobs from moving overseas. What, if anything, can he do policy-wise? When I asked Swenson about Good Jobs Nation's demand for an executive order, he told me he thinks the president does not have the authority to deny federal contracts to companies that outsource jobs. George Faraday, legal and policy director at Good Jobs Nation, disagreed.
Drucker pointed out that while the president has very little to do with state-level economic development, he can use the power of the presidency to intervene with individual companies. He tried that with Carrier, and it appears he successfully did so last Friday after the Taiwan-based manufacturer Foxconn said it might back out of a deal to build a plant in Wisconsin. Foxconn announced that, after speaking with President Trump, the plant would move forward after all. But, as Bartik put it, "how many cases like this can a president intervene in, really?"
According to Swenson, Trump has pursued three particular avenues to keep manufacturing jobs in the United States: deregulation, tax cuts, and trade negotiations. He described these policies are "one step forward and two steps back." Low labor costs and looser environmental regulations encourage companies to move factories overseas. Trump's renegotiation of the North American Free Trade Agreement—which has yet to pass Congress—would expand protections for capital and investors, but, according to Andy Green, the managing director of economic policy at CAP, would do little to lift labor or environmental standards overseas. In Green's opinion, such trade negotiations only strengthen the pull of globalization.
But some left-leaning economists, such as Susan Helper at Case Western Reserve University and Jared Bernstein, an economist at the Center on Budget and Policy Priorities, a progressive think tank, said the "new NAFTA," now titled the United States–Mexico–Canada Agreement, includes provisions to increase wages and collective bargaining in Mexico, particularly in the auto industry. This could make American manufacturing more competitive. While it's not clear whether those provisions are enforceable, Bernstein said, "I'll give Trump credit for it because you wouldn't have had that under most presidents."
Yet Bernstein argued that Trump has accentuated the United States' trade deficit because he "doesn't understand" the importance of the U.S. dollar. Between tax cuts and big spending, America's deficit has increased under his administration, which strengthens the dollar and makes U.S. exports less competitive. Scott called the strength of the U.S. dollar the "fundamental failure" of Trump's manufacturing policy, estimating the dollar is about 25 percent overvalued. "It's tending to depress the growth of manufacturing employment," he explained. And a report from the International Monetary Fund last October predicted the U.S. trade deficit will nearly double in the next five years.
Perhaps the more obvious aspect of Trump's impact on manufacturing has been his tariffs. In March 2018, Trump enacted a 25 percent tariff on steel and 10 percent duties on aluminum imports. These tariffs were intended to save the steel and aluminum industries in the United States and, in Scott's opinion, were "badly needed" to help save jobs in those industries. "There were half a dozen steel plants that were going to close, and they haven't," he explained. "Same is true with aluminum, which was in even worse shape." However, Scott argued that the tariffs didn't address the root cause of the plants' closures: global excess capacity in both industries. The sheer volume of metal produced in China is lowering prices and causing a trade imbalance even under a tariff regime. He said that if Trump had tried to fight that excess capacity with tariffs, he could have addressed some of the larger global pressures. "[But] he did not. He just put up a wall and wiped his hands and said, 'Okay, job done.'" Scott said. "That's been his style."
Jeffrey H. Dorfman, an economist at the University of Georgia, believes the "single worst" thing Trump has done for manufacturing jobs has been his tariffs on steel and aluminum. Dorfman said that while those tariffs may have saved a few thousand jobs in steel manufacturing, they've hurt a much larger number of manufacturing companies that used those metals for production. "Steel and aluminum are used to make autos, to make tractors, to make skyscrapers," he said. "We're losing jobs in all those industries in the U.S. now." A study at Iowa State University calculated that the ratio of losses to gains in Iowa manufacturing was 2.7 jobs lost to every one job gained. And Roy Cortado, a senior economist at the conservative think tank the John Locke Foundation, told me he thinks Trump's steel tariffs "do nothing for manufacturing and capital-intensive industries in this country."
The famed American brand Harley-Davidson announced last summer that it was moving some of its production to Europe, leading President Trump to call for a boycott of the motorcycle company. In regulatory filings, Harley-Davidson revealed that retaliatory tariffs from the European Union cost the company an average of $2,200 per motorcycle exported to the EU. Though Harley-Davidson never specified whether its relocation was related to Trump's trade war, critics have pointed to the move as an unintended casualty of Trump's tariffs. Ford Motor's CEO, James Hackett, also announced last September that the metal tariffs had cost the car company $1 billion in profits. Ford announced layoffs a few weeks later. Bernstein said he believes these plant closures exemplify how Trump's manufacturing policies haven't worked. "He's basically trying to re-create the 1950s, and that's not going to happen," he said. In Bernstein's opinion, Trump needs to prepare the manufacturing sector for the future by focusing on clean energy.
On the other hand, while he disagrees with Trump on tariffs, Dorfman of the University of Georgia pointed to the administration's deregulation—rolling back environmental, industry-safety, and Obamacare standards—as definite policy attempts to boost manufacturing stateside. The conservative economists I spoke to cited this deregulation as effective policy. However, when I raised this point to Bernstein, he said, "Show me the factories that have returned to America," and argued that the United States still has roughly the same share of factories currently moving abroad as before Trump's inauguration. Scott also pointed out that, down the road, global warming will likely hurt both the U.S. and the global economy, so there's an economic incentive for the federal government to regulate emissions. Scott said the Democrat's Green New Deal would actually create jobs in the domestic economy because it would transition America off oil and onto energy created by capital investment (building wind turbines, solar panels, etc.).
Conservative economists also point to Trump's tax bill, which cut the corporate tax rate from 35 to 21 percent, to exemplify how he has revitalized American manufacturing. "The whole purpose of the pro-business tax cut was to help revive the kind of blue-collar industries in the Midwest," said Moore. Moore also pointed to the immediate expensing provision of the tax bill, which allows businesses to write off a large expense, such as the purchase of a factory or a truck, in the first year. He believes capital-intensive industries such as manufacturing will benefit the most.
However, Stan Veuger, a resident scholar at the conservative think tank the American Enterprise Institute, told me he hasn't seen "massive upticks in business investment or in manufacturing." He explained that manufacturing tends to grow slowly, and the results of the tax bill might not be evident yet. But, he added, "I don't think that the early signs are extremely promising." Green also pointed out that the tax bill actually includes some benefits to having investments abroad: Dividends paid to U.S. corporate shareholders from foreign subsidiaries are, to put it broadly, exempt from taxation in the United States.
To some economists, the major threat to manufacturing is not globalization, but automation. As factory workers are replaced with robots, job retraining and other educational programs for laid-off employees become essential. In Drucker's opinion, the Trump administration has made little movement on this front. In 2017, Trump created the Manufacturing Jobs Initiative, but it was disbanded shortly after multiple members resigned in protest of his comments on the white supremacists' rally in Charlottesville, Virginia.
When I asked Moore about the recent plant closures at Carrier and GM, he responded, "Capitalism is about creative destruction. So you're going to have some industries decline." He said the auto industry is going through a moment of change, and predicted that even more autoworkers might lose their jobs in the coming years. "But the point is that for every job that's lost in the auto industry, we're creating three or four in the chemical industry, in the oil and gas industry, and light manufacturing," he said.
But that doesn't change the fact that in 2016, Trump promised the people of Trumbull County, Ohio, that their jobs were safe. And Senters told me she's already started to see a change in her community from the layoffs at GM—six or seven lost jobs for every one factory job that's gone, she said. The president of her union, Dave Green, has sent President Trump two letters now, and the administration has yet to respond. But Green will be at the State of the Union on Tuesday at the invitation of Representative Tim Ryan, his Democratic congressman.
Updated at 3:10 p.m. ET on February 5, 2019.