The One Time Trump Didn't Blink
Trump has often folded during talks, but he chose to walk away from his summit with Kim Jong Un rather than take a deal he didn't like.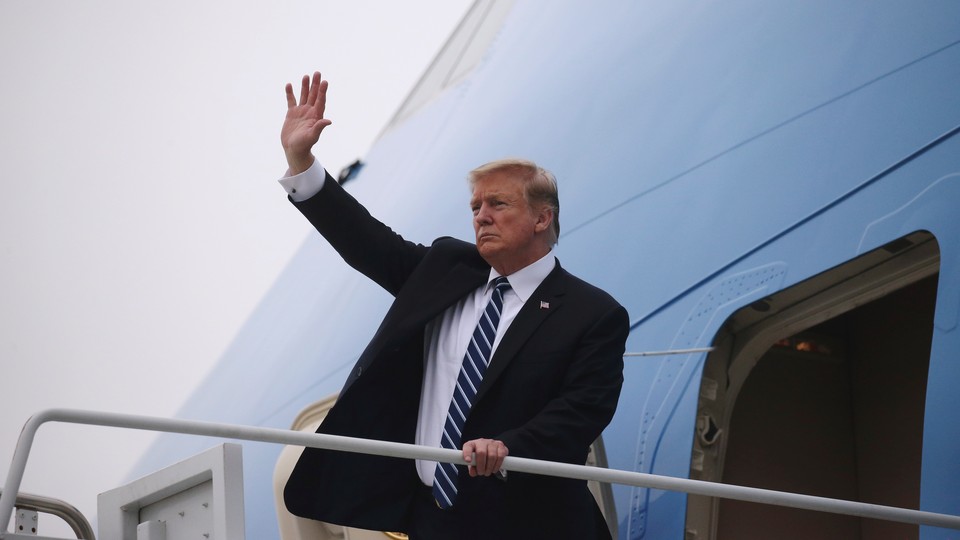 No U.S. president has trained his audience to expect the unexpected as effectively as Donald Trump, so a strange conclusion to his summit with North Korea's Kim Jong Un in Vietnam was always the most likely outcome.
What was surprising was the type of outcome: Trump abruptly left the summit and canceled a signing ceremony on the premise that no deal was better than a bad deal. And he did so, as my colleague Uri Friedman wrote, after raising the stakes sky-high for the summit, and at a time when domestic political considerations meant that he could desperately use a win. Trump ran for president heralding himself as a hard-nosed negotiator, but since taking office, he has often proved a pushover on tense negotiations. In Vietnam, however, Trump didn't blink.
The sticking point, Trump explained in a press conference, was international sanctions. Kim wanted them all removed in exchange for dismantling the Yongbyon nuclear complex. The United States wasn't willing to release all the sanctions absent far more North Korean concessions on its nuclear program. When the men couldn't bridge the divide, Trump walked. (North Korea's foreign minister countered that Pyongyang had asked for partial sanctions relief.)
"Know when to walk away from the table," Trump wrote in his 1987 book, The Art of the Deal. Yet far too often, he hasn't seemed to recognize the moment. As I have written, Trump has folded in nearly every high-stakes negotiation.
This includes his first summit with Kim, in which Trump left Singapore with little to show except a spectacle. It includes the United States-Mexico-Canada Agreement, the as-yet-unratified replacement for the North American Free Trade Agreement that many analysts say is just a slight variation on its predecessor. Gun control, his threats to stop funding to countries that vote against the United States, his showdown with Democrats over border security: Time and again, it's Trump who flinches. Most recently, he has scaled back his calls for a fast, complete withdrawal of American troops from Syria. Within four months of his inauguration, foreign leaders had sized Trump up as an easy mark.
No wonder that South Korean President Moon Jae-in was taken off guard by Trump's decision to shut down the Vietnam summit. Moon had reportedly planned a major speech Friday to build on progress from the talks. It wasn't a bad bet: Trump had hyped the summit as a chance for a major victory, and Michael Cohen's stunning testimony in Washington on Wednesday, which wrenched the spotlight away from Trump, gave the president all the more reason to want to strike a deal. Instead, Trump took his own advice from three decades ago and left when he couldn't get a favorable agreement.
Why hasn't Trump shown this kind of resolve sooner? One reason that Trump is especially vulnerable in negotiations with foreign leaders is that he is neither well informed on the issues nor especially willing to put in the time to learn, meaning he comes to a negotiating table already tilted against him.
Trump has also often started from a position of weakness, especially in domestic affairs. He was the one asking for things. He wanted to repeal and replace Obamacare; he wanted to build the wall. And Congress, for various reasons, had serious hesitations about both. That made walking away harder for him. In real estate, there's always another deal to cut somewhere else. But there's only one Obamacare to repeal, and only one Congress to negotiate with. Trump has much at stake in the North Korea negotiations, but Kim has even more.
The peculiarity of Trump's hard-nosed approach came into relief during a press conference before he departed. The president was asked about Otto Warmbier, the American student who died shortly after being returned to the United States from North Korean captivity in 2017. His family says he was "brutally tortured," and Warmbier returned to the United States in a coma. At the time, Trump was unsparing in his response.
"Otto's fate deepens my administration's determination to prevent such tragedies from befalling innocent people at the hands of regimes that do not respect the rule of law or basic human decency," he said in a statement. "The United States once again condemns the brutality of the North Korean regime as we mourn its latest victim."
Trump said on Thursday that he had asked Kim about the case, but he then went on to absolve Kim of any responsibility, saying that any harm to Warmbier wouldn't be "in his interest at all."
"I did speak to him. He felt very badly. But he knew the case very well, but he knew it later. And, you know, you got a lot of people. A big country," Trump said. "He tells me that he didn't know about it, and I will take him at his word."
Trump added that "those prisons are rough"—which is exactly the problem. Why Trump would trust the word of a dictator who oversees a vast network of brutal prisons is beyond reason, but it is in line with Trump's previous positions, when he has taken the word of Saudi Crown Prince Mohammed bin Salman (on the murder of Jamal Khashoggi) and Russian President Vladimir Putin (on intervention in the 2016 election) over the conclusions of his own intelligence agencies.
Trump's deference earned him an implicit rebuke from Nikki Haley, his former United Nations ambassador. While Haley had policy differences with Trump, she has also been careful to avoid reprimanding him. She tweeted:
Americans know the cruelty that was placed on Otto Warmbier by the North Korean regime. Our hearts are with the Warmbier family for their strength and courage. We will never forget Otto. ❤️🇺🇸

— Nikki Haley (@NikkiHaley) February 28, 2019
The Warmbier remarks go to show that Trump can eventually be persuaded to follow his own advice and walk away, but that shouldn't be taken to indicate that he has lost his ardor for authoritarians or wised up about their wiles. It just means that sometimes the old deal-making reflexes can kick in.