The Atlantic Politics & Policy Daily: Emergency Contact
As a compromise spending bill passes Congress, the White House says the president will commit to signing it, while taking an "executive action" to get funding for his wall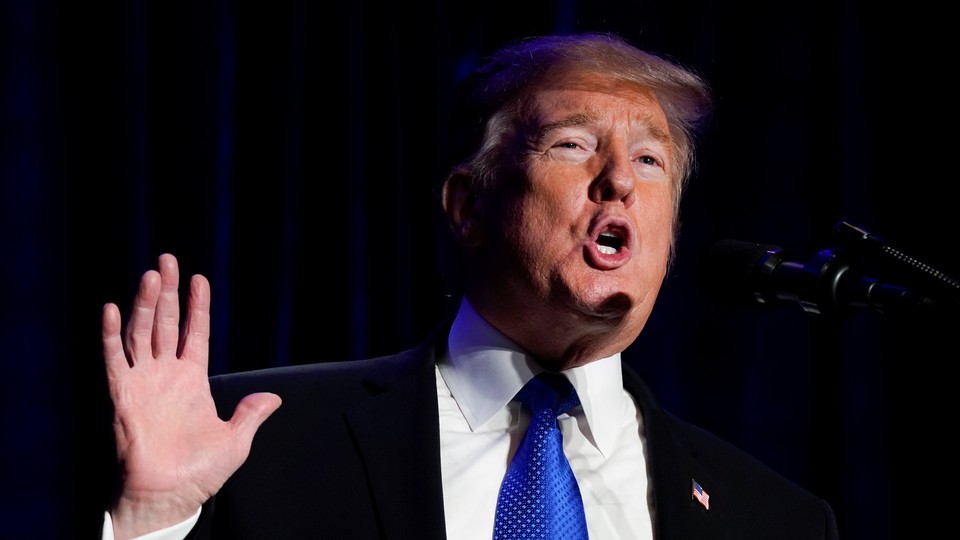 What We're Following Today
It's Thursday, February 14. President Donald Trump plans to sign the congressional deal to avert a government shutdown, but the White House says Trump will "take another executive action—including a national emergency" in order to bypass Congress for border-wall funding. (Here's a refresher on the legal showdown that might result.)
Meanwhile, William Barr was sworn in as the new attorney general after being confirmed by the Senate earlier today. Here's what else we're following:
"A Deliberate Liar": Andrew McCabe writes in an exclusive book excerpt for The Atlantic that "the president and his men were trying to work me the way a criminal brigade would operate." The former acting FBI director describes interactions with Trump himself—including when the president called him on an unsecured phone line to talk about his firing of former FBI Director James Comey—and his conversations with deputy Attorney General Rod Rosenstein about protecting ongoing investigations into Russian interference.
One Year After Parkland: How have students tried to recover from the trauma of a mass shooting, while still keeping the memory of their classmates alive? And although schools across the country have worked to improve security, administrators can only do so much to prevent another attack, Adam Harris reports.
Is This Just Fantasy?: In a speech yesterday at a gathering of police chiefs, Trump praised Art Acevedo, the police chief of Houston, Texas. The only problem? Acevedo has been consistently critical of Trump. His criticisms show that Trump's "caricatured view of a uniformly macho, tough-on-crime law-enforcement establishment doesn't totally match reality," writes David A. Graham.
An Inside Look at the Church in Crisis: Cardinal Seán O'Malley has been at the forefront of the Catholic Church's response to clergy sexual abuse for years. In the lead-up to next week's gathering of top bishops at the Vatican to take steps toward addressing the crisis, O'Malley, in an exclusive interview, told The Atlantic's Emma Green that he has been frustrated by the bishops' inability to respond to the scandals that have rocked the Church for decades: "Every time we thought we were rounding a corner, there will be another explosion."
2020 Vision: How many people are running for president anyway? Warren, Booker, Harris? Biden, Sanders, Clinton? What about de Blasio? O'Rourke? How does one pronounce Buttigieg? Here are the answers to all your most fundamental 2020 questions.
---
Snapshot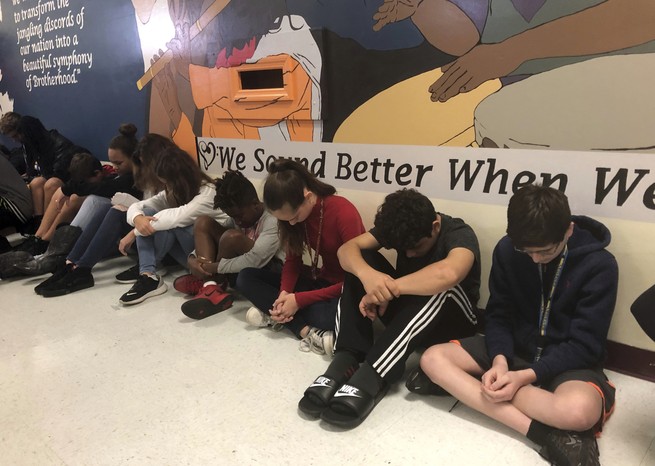 Students at Seminole Middle School in Plantation, Florida, participate in a moment of silence for the 14 students and three staff members killed one year ago at the nearby Marjory Stoneman Douglas High School. They are sitting in front of a new mural, depicting musicians from around the world, that was dedicated to the shooting victims. (Terry Spencer / AP)
---
Ideas From The Atlantic
Amazon Got Exactly What It Deserved—And So Did New York (Derek Thompson)
"New York City doesn't need an Amazon headquarters to be the global capital of advertising and retail, and Amazon doesn't need New York subsidies to expand its footprint in the city. The larger truth is that corporate subsidies, including the $3 billion package offered to Amazon, are often pernicious and usually pointless." → Read on.
How the Parkland Shooting Changed My Life (Sarah Lerner)
"I went to school the morning of February 14, 2018, to give a quiz to my senior English classes. I joked that I was ruining their Valentine's Day by giving them the quiz. To make them smile, I put Hershey's Kisses on their desks. Later that day, 20 minutes before school ended, my world changed forever. I left school shattered, broken, lost."  → Read on.
John Dingell Was a Gift to America (Norm Ornstein)
"This country is a better, more just, and cleaner place than it would have been without Dingell's service in Congress. Which makes our current backsliding even more frustrating." → Read on.
What Will Trump Do If He Realizes He's Lost the Shutdown Fight? (Peter Beinart)
"Preventing the cycle from starting all over again may require allowing Trump to maintain his delusions of grandeur. It's like dealing with small children: It's safer to let them think they've won than endure the temper tantrum that will ensue if they realize they've lost." → Read on.
---
What Else We're Reading
◆A Year After Parkland, a Family Searches for Closure (Gabby Deutch, Politico)
◆ 'Here's the System; It Sucks': Meet the Hill Staffers Hired by Ocasio-Cortez to Upend Washington (Jeff Stein, The Washington Post)
◆ TVA to Close Coal-Run Plants in Kentucky, Tennessee (Jim Gaines, Knoxville News Sentinel)
◆Green New Deal Activists Shift Focus to Vulnerable Republicans Ahead of Senate Vote (Alexander C. Kaufman, Huffington Post)
◆Texas Student After School Shootings: 'I Feel We Are Always on Guard' (Diane Smith and Anna M. Tinsley, Fort Worth Star-Telegram)
◆Inside the Largest and Most Controversial Shelter for Migrant Children in the U.S. (John Burnett, NPR)
---