The Atlantic Politics & Policy Daily: 'Not Happy' as a Clam
Trump said he's "not happy" with lawmakers' proposed border wall deal—but didn't decline to sign it, either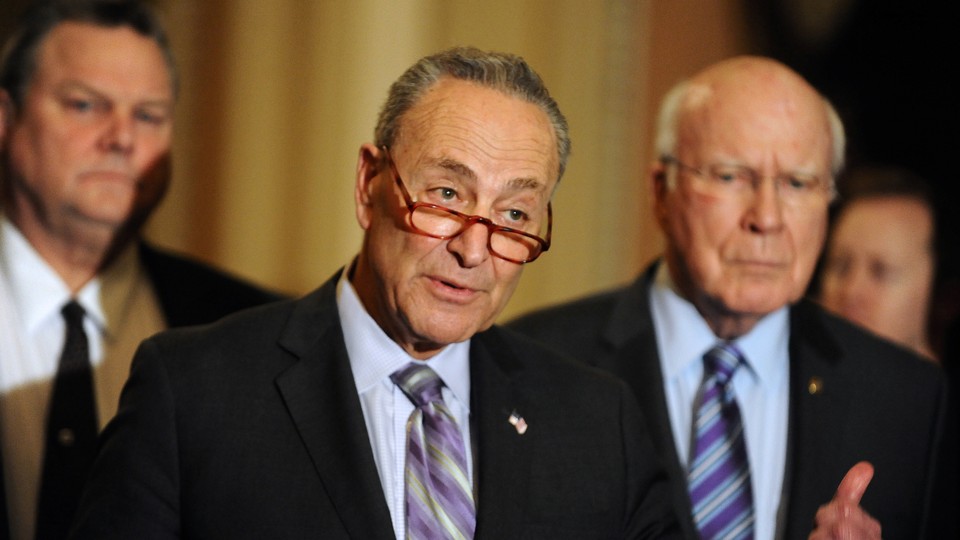 What We're Following Today
It's Tuesday, February 12.
Lawmakers announced late Monday night that they had reached a deal to prevent another partial government shutdown. The final agreement includes $1.375 billion for a 55-mile physical barrier on the border, a far cry from the $5.7 billion for a concrete wall that President Donald Trump demanded before the last shutdown. And the president isn't thrilled: During a Cabinet meeting today, he told reporters that he was "not happy" with the deal and didn't confirm whether he would sign the new compromise before Friday. But he also said he doesn't think another shutdown will happen.
A funeral for Representative John Dingell, the longest-serving member of Congress in American history, was held today in Michigan. Former Vice President Joe Biden delivered a speech at the funeral. A second memorial will be held for the former lawmaker later this week in Washington, D.C.
Noticeably Absent: Not one, but two efforts are under way to reach peace in Afghanistan, one of which is being facilitated by the United States. But the Afghan government isn't at the negotiating table in either of them, reports Krishnadev Calamur.
Twin Cities: A new study found that by 2080, global warming will make American cities feel as if they've moved more than 500 miles toward the south or interior of the country. Imagine if New York City felt like Jonesboro, Arkansas. What will your home city's 2080 climate-change twin be?
The Last Impeachment: It's the 20th anniversary of former President Bill Clinton's acquittal in the Senate. The biggest players of the moment recounted their memories of the impeachment, and the scandalous events leading up to it, for The Atlantic's December issue.
---
Snapshot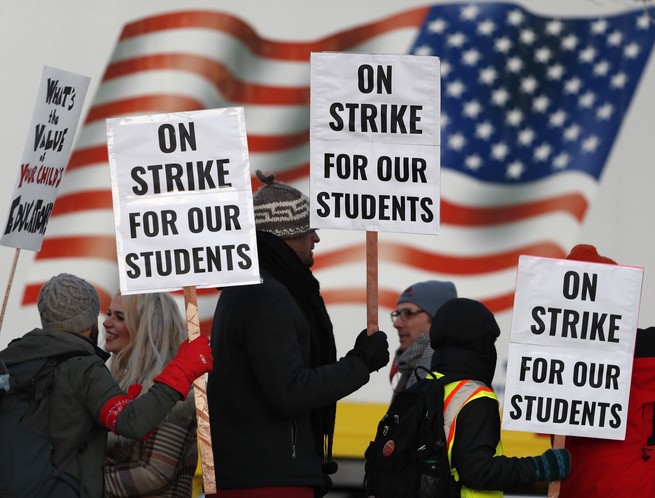 Teachers walk a picket line outside South High School early Monday, in Denver, Colorado. (AP Photo / David Zalubowski)
---
Ideas From The Atlantic
The Much-Heralded End of the Mueller Investigation (Mikhaila Fogel and Benjamin Wittes)
"But there's actually a bigger problem than the possibility that all this eager Mueller-is-wrapping-up chatter may be wrong, just the latest instance of overly hasty anticipation of the Muellerpocalypse: No one knows what Mueller's 'wrapping up' actually means." → Read on.
A Reading List for Ralph Northam (Ibram X. Kendi)
"This list is for people beginning their anti-racist journey after a lifetime of defensively saying, 'I'm not a racist' or 'I can't be a racist.' Beginning after a lifetime of assuring themselves only bad people can be racist." → Read on.
The U.S. Doesn't Deserve the World Bank Presidency (Annie Lowrey)
"American control over the bank is an unjustifiable tradition that harms the institution. Self-determination and a truly meritocratic process for choosing its leadership would be good for the bank, and for the world. It is not a case the Trump administration seems to have any interest in entertaining." → Read on.
One Cheer for Maine's Task Force on Police Killings (Conor Friedersdorf)
"A task force with more investigatory resources, a broader mandate, and more members willing to ask tough questions about police tactics could do useful work, if elected officials in Maine ever see fit to underwrite one. Meanwhile, many states are doing even less to study the problem than Maine." → Read on.
---
What Else We're Reading
◆ It's Christian Politics, Not AIPAC Money, That Explains American Support for Israel (Sam Goldman, The Washington Post)
◆ The Complicated, Always Racist History of Blackface (Sean Illing, Vox)
◆ Border Report: The U.S. Is Sending Asylum-Seekers Back to Uncertainty in Mexico (Maya Srikrishnan, Voice of San Diego)
◆ Federal Shutdowns Cut Deep in Indian Country (Keerthi Vedantham, High Country News)
◆ San Francisco's Accidental Surveillance State and the Future of Privacy (J. D. Tuccille, Reason)
---