The State of the President
Americans don't need anyone else to tell them how the country is doing. So Tuesday's address is really a checkup on Trump.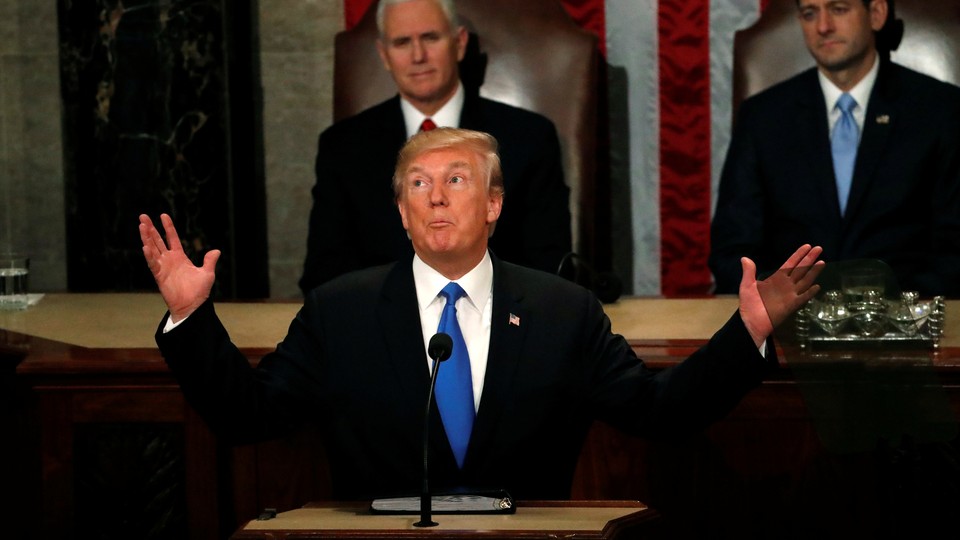 No president in American history has been so deft at capturing public attention as Donald Trump, and yet, paradoxically, he has few tangible political achievements to show for it. In the State of the Union, the president will once more attempt to convert public attention, in the form of his most high-profile speech of the year, into political capital. But he's likely to find that task harder than ever before.
The American people hardly need Trump, or anyone else, to tell them what the state of the union is: The union is a bit of a mess. It has just emerged from the longest government shutdown in history, with a reprise possible next week. It is polarized, angry, and, according to many Americans, on the wrong track. The economy is strong, at least, though there are some rumblings of trouble.
So Tuesday's address will serve instead as a checkup on Trump himself—just as everything else in American politics seems to be these days. Trump's omnipresence is inextricable from the chaotic state of the union. The speech comes at a pivotal time in Trump's presidency. He has gotten his first taste of divided government and found it bitter. His legislative agenda seems moribund. Investigations by both Special Counsel Robert Mueller and House Democrats continue to dog him. And his 2020 reelection campaign will soon begin in earnest. State of the Union addresses seldom have much real impact, but this one should offer some indication of how Trump assesses his own position.
It is already clear that Trump's bully pulpit does not stand as tall as it did one year ago, when he delivered his first State of the Union. Watching the speech—over Trump's left shoulder, fittingly—will be Speaker Nancy Pelosi. After helping lead Democrats to a big victory in the midterm elections, recapturing control of the House, Pelosi quickly moved to show Trump her strength, forcing Trump to reopen the government (temporarily) without getting money for his border wall, and postponing this very speech, over Trump's objections, in the midst of the shutdown.
Trump never really seemed to find a rhythm to working with Congress when both chambers were controlled by Republicans, ending up with little more than a scaled-back tax cut over two years, and he now faces a far more complicated task with a Democratic House. Yet as Trump's dogged pursuit of a shutdown in December showed, he feels pressure to execute on his central campaign promise of building a border wall as the 2020 presidential election approaches.
Ahead of the speech, the White House has telegraphed a mixed strategy. On the one hand, Trump has said he wants to offer a conciliatory, unifying speech. On the other, he also wants to speak at length about immigration, the topic so divisive that it produced the lengthy government closures. It's not clear how, or whether, Trump and his speechwriters can square this circle.
"I really think it's going to be a speech that's going to cover a lot of territory, but part of it's going to be unity," the president said last week. A Republican source told Politico that Trump would even offer an olive branch to Pelosi. It's not unusual for a president to strive for a warm and fuzzy tone in the State of the Union, but it's unusual for Trump to do so in any forum. And any attempts at unity would seem to be at odds with his plans to focus on immigration. Trump has thus far not managed to find a way to lure House Democrats away from their implacable opposition to spending $5.7 billion on the wall, a figure that would fund only a fraction of the barrier. The State of the Union gives Trump an opening to reset his relationship with Congress, but a tentative rapprochement could blow up next week. In recent days, he has said that congressional negotiations to fund the government after a February 15 deadline are a waste of time if he doesn't get the wall money.
Last year's State of the Union was not especially memorable, but it's worth recalling that immigration was one of its central themes. The president described "four pillars" for immigration policy: a path to citizenship for "Dreamers"; the end of the visa lottery; the end of chain migration; and $25 billion for the wall. So far, Trump hasn't gotten any of those things, and while his natural gifts as a campaigner have been discussed unto boredom, there's no indication that he's learning how to marshal his power more effectively. (This year, aides are promising a five-pillared speech, so that's one form of growth.)
Trump might have better luck on grasping for unity when he discusses infrastructure investment and lowering prescription-drug prices, both of which have substantial Democratic support. But Trump has not managed to deliver on either in his first two years as president, and most of his other ideas on health care are likely to elicit nearly unanimous Democratic opposition.
The president will be on more solid ground praising the economy, which remains the brightest spot of his administration, even though White House policy is not the greatest cause of growth, and even though his trade war may be taking a bite out of it. There's been increasing pessimism about the economy, with some experts predicting a recession within the next couple of years, but Trump got a boost on Friday with the release of the most recent jobs numbers, which showed that the economy added 304,000 new positions in January.
By contrast, don't expect to hear much about the Russia investigations. Though the Mueller probe drives Trump to fury on Twitter and in interviews, he avoided it during last year's speech, and he will likely do so again, just as former President Bill Clinton avoided any mention of the Monica Lewinsky affair in the 1998 State of the Union.
That assumes Trump stays on message during the speech, sticking to what's on the teleprompter, which aides have suggested he will do. Last year, there was still a strangeness to watching Trump, an improvisatory speaker, deliver an address straight. By now, the novelty has worn off, as Trump has shown repeatedly he is able to do it—most recently in his first Oval Office address, which was focused on the shutdown. Yet he remains a stilted, somewhat awkward orator in formal settings. "I'm saying listen closely to the State of the Union. I think you'll find it very exciting," he said last week. But that seems unlikely. Trump is more comfortable on a MAGA rally stage, but the spree of events he held before the midterm elections, and the election results, demonstrated how ineffective those speeches are at reaching beyond his core supporters. Worse for him, there are signs of shakiness among those voters post-shutdown.
The State of the Union is a rare forum for Trump to speak to a wider audience, outside his base and beyond the Fox News airwaves. Yet given his oversaturation in public life, the meandering quality of his speeches, and the already-declining ratings he drew last year, it's hard to imagine Trump keeping his numbers up. There's a danger that even as Trump struggles to put the power of the presidency to use, his grip on attention might be eroding, too.