John Dingell Is Gone, but His Politics Are Back
The former congressman helped shape the Democratic Party for nearly 60 years, and he spent just as long pushing universal health care.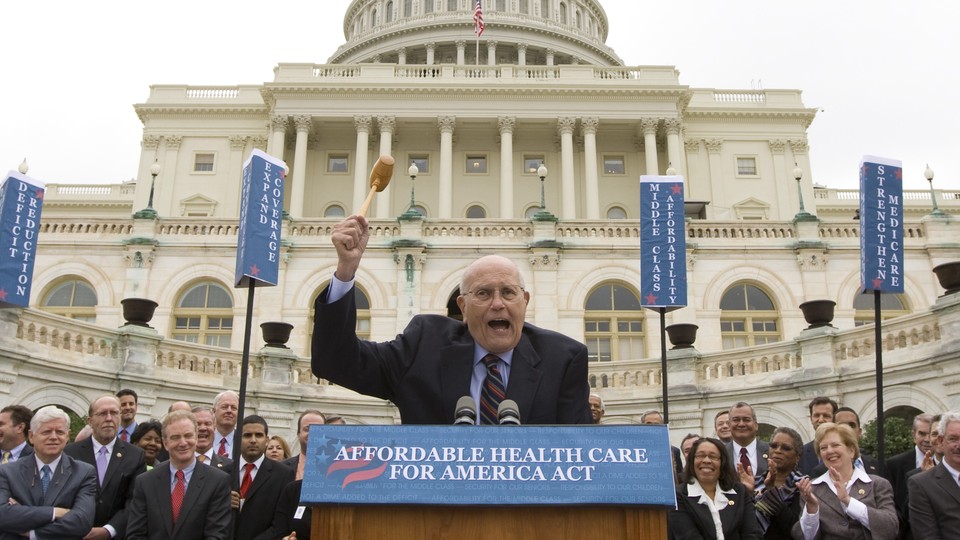 Before John Dingell was a piece of history, he was a witness to it. Dingell, a teenage congressional page, was on the floor of the U.S. House when President Franklin D. Roosevelt called for a declaration of war on Japan, saying the attack on Pearl Harbor a day earlier made December 7, 1941, "a date which will live in infamy."
Almost exactly 14 years later, Dingell would be back in the House, this time as a lawmaker representing the Detroit area. He stayed for more than 59 years—the longest tenure in congressional history. Dingell would see the Red Scare of the 1950s, the golden age of civil-rights legislation, and the end of the Cold War. He would vote for the passage of Medicare, Medicaid, and the Affordable Care Act, pushing toward his father's goal of universal health care. And Dingell would serve with—but never, he would insist, under—11 presidents.
"Dingell has had a hand—a hugely constructive hand—in nearly every major advance in social policy over the past five-plus decades, including civil and voting rights, health, and the environment," the congressional scholar Norm Ornstein wrote in The Atlantic when Dingell retired in 2015.
Dingell's death Thursday at age 92 ends one of the longest and most eventful stints in American public life. Dingell began hospice care at home in Michigan earlier this month, a year after receiving a prostate-cancer diagnosis. His wife and successor in Congress, Debbie Dingell, told The Detroit News that he remained feisty to the end. "He is John Dingell. He is in charge. Ordering everyone around. Doing it his way," she said on Wednesday, noting that he even continued to dictate missives for his unexpectedly funny Twitter feed.
If the renown and power of the Dingell family do not match those of dynasties like the Bushes and Adamses, its longevity impresses. John Dingell Sr. was elected to the House in 1932, and stayed in the seat until his death in 1955. John Jr. was not yet 30 at the time. He had enlisted in the Army when he turned 18 and was preparing for the invasion of Japan when the U.S. dropped two atomic bombs, a decision he later said saved his life. He ran in the special election to succeed his father and won. Then he ran again in 1956, and every two years after that until 2014, when he decided to retire, calculating (correctly) that Democrats were unlikely to retake the majority that year. So instead, his wife ran, and she has occupied the seat ever since. Because she's nearly three decades his junior, Debbie could keep the string of Dingells in the House—85 years and counting—going for years to come.
Dingell Sr. was a die-hard New Dealer and Roosevelt supporter, and his son continued that legacy as an old-school social democrat. The father was a particularly avid proponent of universal health care, and his son worked toward that goal over the course of his career, introducing his father's bill every Congress, even when the idea was dismissed by other Democrats. In the 1960s, he helped push Medicare and Medicaid, and he fought Republican efforts to curtail or privatize the system. When the ACA passed in 2010, Speaker Nancy Pelosi, who was presiding over the chamber, used a gavel loaned to her by Dingell—who'd used the same one when he oversaw the 1965 passage of Medicare.
Still, Dingell told my colleague Steve Clemons in 2013 that his proudest vote was for the Civil Rights Act of 1964. "For the first time, we addressed the problem of seeing that every American had full citizenship," he said. "I almost lost my job over that ... [but] I think that was the vote that really solved a problem that was eating away at the foundation of our democracy." (Dingell was perhaps exaggerating: His share of the vote did tumble from 1964 to 1966—from 73 percent down all the way to 63 percent.)
There are advantages to serving for nearly six decades in the House: the sense of being an institution; the respect of colleagues; seniority; and of course the title of "dean of the House," which Dingell held for a record 20 years—though he also argued, "It ain't how long, it is how well." The disadvantage is that one risks outliving one's era. By the time Dingell left the House, he seemed somewhat out of step with the Democratic Party.
It wasn't that he had drifted in another direction, but that the party had. The New Deal was history to most of the members of his caucus, and while the party remained committed to Medicare, Medicaid, and Social Security, it had little appetite for large expansions of social welfare. Even the ACA was a narrow, market-based measure. If many Democrats had moved right on entitlements, Dingell's support for gun rights and opposition to abortion placed him to their right on social issues. (One of Debbie Dingell's first bills in Congress was a gun-control measure. Asked about her husband's view, she said, "Let's just say we don't talk about this a lot.")
No incident captured the tension like the 2008 contest for chairmanship of the House Energy and Commerce Committee. Dingell had led the committee from 1981 through the Republican takeover in 1995 and then again beginning in 2007. He had helped write the Endangered Species Act and worked with Representative Henry Waxman to pass the Clean Air Act. But Waxman, who had joined the House 20 years after Dingell and was by then an elder statesman in his own right, challenged Dingell for the gavel in the 111th Congress, arguing that Dingell was too resistant to environmental standards that might hurt the auto manufacturers in his district. Waxman triumphed.
Despite retiring long past the age when most people are content to watch daytime TV and play bridge, Dingell remained engaged in politics. Late in his House tenure, he opened a Twitter account that became surprisingly popular—though given Dingell's acerbity and knack for a blunt turn of phrase, perhaps this shouldn't have been a surprise. He remained active on Twitter after leaving office, continuing to singe various public figures (including Howard Schultz and Neil deGrasse Tyson), but most of all President Donald Trump. (December 2017: "I fully support @realDonaldTrump's interest in space travel to Mars, and I wish him the absolute best in his travels." January 2019: "The American people wait with bated breath as their idiot president announces something he could have done 35 days ago to avoid this national disgrace of a shutdown. The Art of the Deal.")
Dingell remained engaged in the finer points of politics, too. In a book published in 2018, he laid out a slate of ideas for fixing American politics. In the current system, "sparsely populated, usually conservative states can block legislation supported by a majority of the American people. That's just plain crazy," he wrote. He offered a solution particularly enticing to a 59-year U.S. representative: the abolition of the Senate.
"It will take a national movement, starting at the grassroots level, and will require massive organizing, strategic voting, and strong leadership over the course of a generation," he wrote. "But it has a nice ring to it, doesn't it? 'Abolish the Senate.' I'm having blue caps printed up with that slogan right now. They will be made in America."
Dingell even lived to see his brand of politics come back into style in the party. No one quite replicates his mix of positions, but a range of politicians are taking inspiration from the past. The New Deal is back as the model for progressive Democrats' "Green New Deal." His style informs politicians such as Senator Sherrod Brown, another pro-labor midwestern liberal, and even politicians who flip his social-democratic approach into democratic socialism. And every time a 2020 Democratic presidential candidate calls for Medicare for all, it will be as though Dingell had never left.