The Virginia Democrats' Warring Factions
Scandals reveal a party beset by infighting and whispers of conspiracies.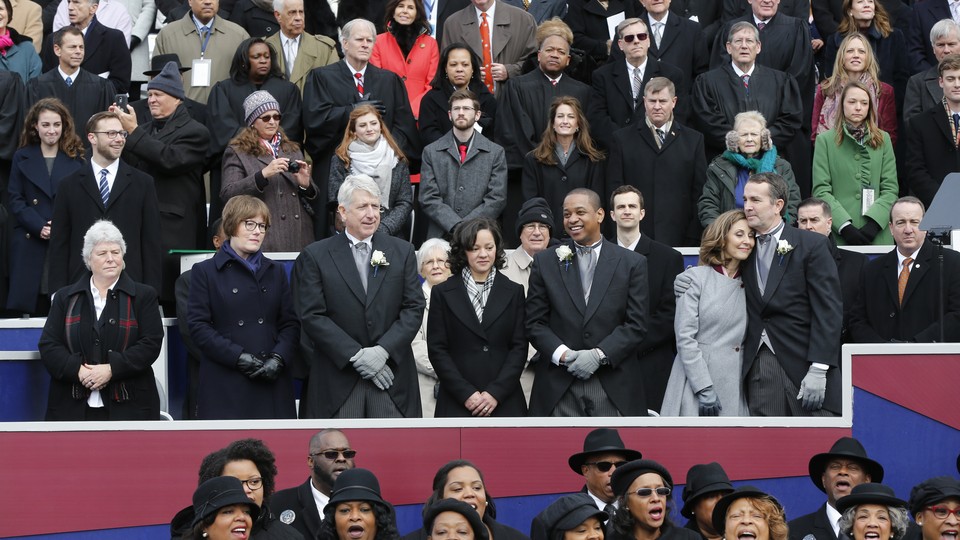 Last week, the drama in Richmond entered a new act. Protesters converged on the Virginia governor's mansion on Wednesday, carrying Ralph Must Resign signs. The crowd wasn't composed of the Republicans who have opposed Ralph Northam's agenda as governor or his recent comments in support of a new bill protecting access to abortion, but from many of the very people responsible for Northam's election. Democratic activists, and even some prominent young Democratic elected officials, including the Charlottesville city-council member Wes Bellamy, continued voicing their demands for the governor's ousting.
The protests came during one of the most tumultuous weeks in recent memory in the state capitol. The day after the protests, Northam proposed changes to the state budget to address systemic racial inequalities, after pledging to travel the state on a racial "reconciliation tour." Those promises came two weeks after he admitted to engaging in blackface, and after a blog found photos from his medical-school yearbook featuring a person in blackface and a person in a Ku Klux Klan robe on his page. Later, Attorney General Mark Herring also admitted to previously engaging in blackface. As of right now, the most serious scandal belongs to Lieutenant Governor Justin Fairfax, who faces two sexual-assault allegations from women who most recently came forward after Northam's drama began.
But despite the protests, and despite public calls since the beginning of February from Democrats in and out of Virginia for all three officeholders to resign, all three remain defiantly in power. The immediate backlash and cascading condemnations from politicians have subsided, giving way to an icy silence from the state legislature and a complicated dance of intrigues in the capital city. The potential disruption of the gubernatorial line of succession revealed rivalries among numerous factions vying to win the office in 2021. In the incestuous and insular world of the state Democratic Party, fragile truces have been broken, and conspiracy theories have tumbled from the dark corners of paranoid minds into the media. Although, for now, no top officials have resigned, the Democratic Party in Virginia is in turmoil.
Democratic factions are perhaps irrevocably divided, and the party has lost much of the moral credibility it has used to counter far-right Republican influence. Without an end to the infighting, a dispirited and disgruntled party base could devastate the Democrats' prospects for continued momentum and future gains.
In Fairfax's orbit in particular, the meltdown of a candidate who was a month ago perhaps Virginia's favorite son has been accompanied by chaos. On February 3, after Northam responded to calls for his own resignation—a resignation that would have made Fairfax the second black governor in state history—the conservative blog Big League Politics first reported that a woman had implied on social media that Fairfax had sexually assaulted her at the 2004 Democratic National Convention. On February 6, that woman, Vanessa Tyson, a professor at Scripps College, in California, released a statement detailing the alleged assault, saying that she had been in "obvious distress" and "never gave any form of consent." Fairfax responded with his own statement, and later told The Root that he was "very confident that the entire encounter was consensual."
On February 8, a second accuser, Meredith Watson, released a statement through her lawyer alleging that Fairfax had assaulted her in 2000, while the two were both students at Duke University. The statement says that Watson shared details of the alleged assault well before she made the allegation public, and that her legal team was in possession of "statements from former classmates corroborating that Ms. Watson immediately told friends that Mr. Fairfax had raped her." Watson said that in 1999 she'd reported a previous alleged assault by a Duke basketball player—later revealed to be former NBA player Corey Maggette—and that she'd told Fairfax about that report prior to the time when she alleges that Fairfax assaulted her.
The situation surrounding Fairfax has changed rapidly. In the five days between Tyson's and Watson's allegations, Democratic calls for his resignation resounded, but didn't quite reach the fever pitch of the calls for Northam's resignation. But the graphic nature of Tyson's expanded description of their encounter, and the emergence of Watson's account, changed that. The outlook also worsened for Fairfax when he allegedly used profanity in an outburst against Tyson during a private meeting with other high-profile Democrats, according to NBC News. Two days later, the Virginia Legislative Black Caucus released a statement calling for Fairfax to resign, saying, "While we believe that anyone accused of such a grievous and harmful act must receive the due process prescribed by the Constitution, we can't see it in the best interest of the Commonwealth of Virginia for the Lieutenant Governor to remain in his role."
Watson's allegation in particular made Fairfax's resignation seem almost inevitable: The potential of contemporaneous confirmation, previous revelation to friends who could verify the account, or even a possible witness bring new dimensions and evidence beyond assessing the credibility of the accusers and the accused. And even Fairfax's own team seemed to see the writing on the wall. On Tuesday, several staffers resigned. They included his policy director, Adele McClure, and Dave Mills, the director of his political-action committee. Fairfax's communications director, Lauren Burke, said in a statement that the lieutenant governor "certainly wishes them well and appreciates their service to the Commonwealth of Virginia." On February 11, the law firm Morrison Foerster, where Fairfax is employed, put him on leave pending an investigation. At that time, associates of Fairfax's told me that he was personally struggling to coordinate a response and that he'd noticeably lost weight, and in an office with a largely ceremonial role and only two remaining staffers, the options in front of him seemed limited.
But since those resignations, calls for Fairfax's own resignation have slowed, and a pledge from Delegate Patrick Hope to begin impeachment proceedings has stalled. According to The New York Times, after a week in which open denunciations were the norm, Democratic lawmakers have avoided speaking to the press. Several Democratic lawmakers in Virginia did not respond to The Atlantic's request for comment, and an aide to Hope said, "We are not scheduling any interviews at this time."
This impasse has given Fairfax and his supporters time to regroup, and several prominent people in the black political establishment inside and outside Virginia have been sympathetic ears to the lieutenant governor. With growing confidence, and with high-powered legal assistance, Fairfax and his allies have sought to poke holes in the stories of the accusers and to make public calls for a criminal investigation, both of which appear intended to question the accusers' credibility. Last week in Massachusetts, the site of the alleged encounter between Tyson and Fairfax, newly elected Suffolk County District Attorney Rachael Rollins indicated that she would be willing to open an investigation should Tyson decide to press charges. Fairfax has said that he is open to both accusers pressing charges as well as criminal investigations.
But efforts to aid Fairfax through less than official means continued last week as well. On February 12, Politico reported that Watson was once the subject of a restraining order in 2008 in Maryland, after she allegedly harassed a man she'd been in a relationship with, and that she'd threatened "tearing him down." Watson's lawyer told Politico that the man "abandoned the effort after hearing from Ms. Watson's lawyer." Prior to Politico's story, an anonymous email account sent scans of the restraining order to several outlets, including The Atlantic, indicating that the documents "might suggest a pattern of behavior."
It's unclear from whom or where the documents originated, but the email does point to the conspiratorial aura that the response to scandals surrounding Fairfax—and Virginia politics as a whole—has taken on, and the real fault lines that have now perhaps irrevocably divided Virginia's Democrats. Fairfax and his allies say the allegations are part of a political attack. After Watson's initial allegation, the lieutenant governor said that "a vicious and coordinated smear campaign is being orchestrated against me." While a conservative blog did make the first reports that damaged both Northam and Fairfax—during a time when national outrage was focused on Northam for an awkward statement he delivered on late-term abortions—Fairfax has seemingly indicated that he believes that the hidden hand here is a Democratic one, not a Republican one.
After Tyson's claims made their way to the Richmond rumor mill, the Collective PAC, which has supported and worked closely with Fairfax, implied that Northam and his allies were behind the propagation, tweeting, "Governor Northam's team and advisors have now decided to start attacking Lt. Gov Justin Fairfax by spreading lies to reporters and state leaders," presumably in order to draw fire away from Northam's own scandal and make the prospect of replacing him less appealing.
Later, Fairfax and his associates pointed to a rival, Richmond Mayor Levar Stoney, as a potential culprit. During a February 4 press conference, after a reporter asked whether Stoney, also a rising star within the state Democratic Party, might have some connection to Tyson's allegation resurfacing, Fairfax responded obliquely, saying, "You're great reporters, and you'll get to digging, and you'll get to make some connections." It has also not escaped the notice of Fairfax's advisers that state Senator Jennifer McClellan, whose husband, Dave Mills, headlined the recent exodus from Fairfax's office after the second allegation, was the odds-on favorite among party insiders to be appointed lieutenant governor should Fairfax resign or be forced out.
Neither Stoney's nor McClellan's spokespeople have responded to requests for comment, although Stoney's spokesperson did tell The Washington Post, "This insinuation is 100 percent not true." But it is clear that—whether or not his claims of political interference and smear campaigns are vindicated—Fairfax's plight exposes the internal workings of Richmond-area politics. The woman whose screenshots of Tyson's claims were forwarded to Big League Politics, Adria Scharf, is married to a former Stoney adviser.* Fairfax's election to lieutenant governor was widely seen as the final stepping stone in his ascendancy to the governorship in 2021, and Stoney—who is also black, and is three years younger than Fairfax—was one of the few politicians with the clout, story, and youth to challenge Fairfax's meteoric rise. And now, with Northam facing an extended lame-duck period in his term-limited governorship, and with Fairfax's and Herring's chances of ever being nominated to become the Democrats' choice for governor most likely undone, the chessboard atop the party now belongs to Stoney and McClellan.
There is now turmoil at the confluence of Virginia's Democratic Party and its black political establishment. McClellan is the vice chair of the Virginia Legislative Black Caucus, which unambiguously denounced Fairfax early on in the controversy. But a growing chorus of black politicians now see a clear racial bias in the treatment of Fairfax, as Northam and Herring have announced that they will continue their terms without disruption.
That chorus was embodied in a statement from the Virginia Black Politicos Executive Committee, a group of elected officials and local leaders, which continued calls for Northam's and Herring's resignation, but called for Fairfax's resignation only if an investigation gives credence to the allegations, saying, "If Mr. Fairfax is guilty of any of the allegations made against him, he needs to resign from his position immediately." According to Bellamy, the contact person for the committee, who spoke with me as he departed for the Ralph Must Resign rally: "He hasn't admitted to anything. He's denied all the allegations at every point. These other two individuals, our governor and our attorney general, have admitted that they participated in one of the most degrading acts specifically in regards to African Americans that you can think of. Point blank. Period."
These dramas touch every part of the state's Democratic Party, and they also put loyal Democratic voters and activists in a difficult spot, as the intrigues among politicians overshadow any sense of a coherent party. According to Jessee Perry, a contributor at RVA Dirt, an online community of Richmond-area activists and muckrakers, the hardest thing for voters about the ordeal has been navigating the conflicts among officeholders. "That is one of the most depressing things to watch," Perry told me. "The attacks and allegations from within." (RVA Dirt independently confirmed the existence of Tyson's account when it first emerged.)
Also, for activists who are often polarized against Republican bad-faith attacks, in favor of believing sexual-assault survivors, and against open bigotry, the fact that Republicans might be behind the revelation of open bigotry make it difficult to draw consistent moral lines. So do Democratic factions accused of bigotry and sexual assault that may be at odds with one another.
For Perry, that difficulty is evinced in the Fairfax scandal. Her first instinct is to believe accusers, and Tyson's account appeared credible to her—much more credible than any reports of intra-Democratic intrigues. "Conspiracy theories are conspiracy theories," Perry told me. "It doesn't change the facts." Similarly to Bellamy, the Charlottesville city-council member, she thinks the facts might work against Northam and Herring, even as they buy Fairfax time. Northam and Herring have admitted to actions that Perry and the other grassroots organizers at the heart of Virginia's political machine consider disqualifying. That—in the middle of a major blowup over the legacy of white supremacy in Virginia—a black man who has not admitted guilt or wrongdoing might be the official facing the real sustained calls to resign is an interesting and challenging dynamic for the base of the political pyramid.
With so much chaos at the top, it's really only that base that is currently stable. And Perry echoes a concern among local elected officials and organizers that disgruntlement and disorganization at this level could spell doom. Fundraising will be difficult for party candidates in the upcoming election, and the openness of the 2021 nomination for governor will only inspire more power plays and more bitterness. Now that the conspiracy theories are out of the bottle, people working across factions will have trouble building alliances or staffs. Regardless of whether Fairfax, Northam, and Herring all resign or none of them do, the traditional pipeline of leadership in Virginia is now disrupted, and the party has lost much of the moral credibility it has leaned on to combat the  far-right influence within the state's GOP. As Perry diagnoses the problem: "Right now it just feels like there's a vacuum, and I don't know if anybody has anyone they are looking to for leadership, and that should scare the Democratic Party."
---
*This article previously misidentified Scharf as the source who provided the screenshots, and did not specify that her husband is not currently Stoney's adviser. We regret the errors.