The Atlantic Politics & Policy Daily: Snow News Day
Government offices in D.C. shut down—for a snowstorm. Plus, in North Carolina, hearings continue for the still-undecided U.S. House seat.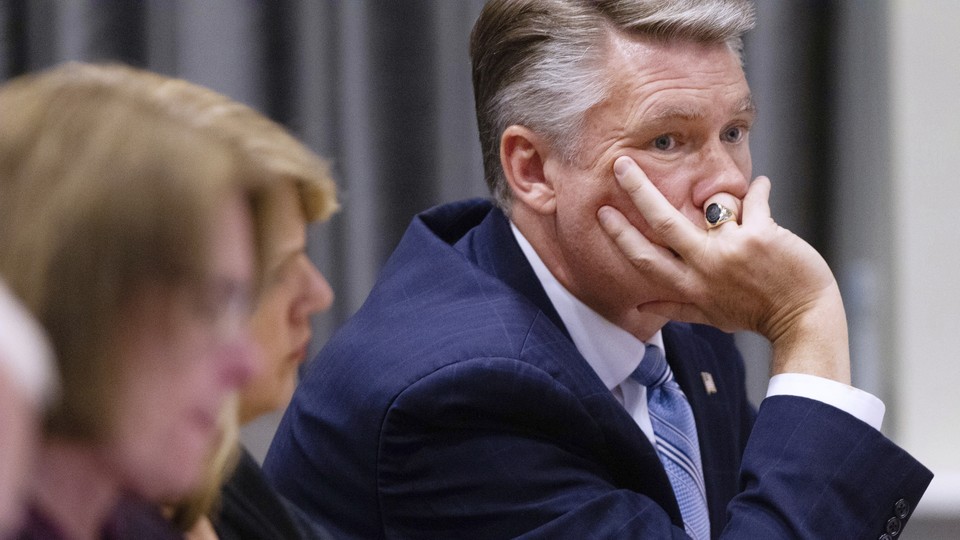 What We're Following Today
It's Wednesday, February 20. Government offices in D.C. shut down today, this time because of a snowstorm. In a unanimous ruling, the Supreme Court limited state and local governments' ability to seize the private property of people suspected of involvement in a crime. Here's what else we're watching:
Fraud in the Old North State?: The North Carolina Board of Elections is on its third day of hearings on allegations of election fraud against the campaign of GOP House candidate Mark Harris in the November midterm elections. Bipartisan support has been growing among North Carolinians for a redo of the election, David Graham reported back in December.
New Red Scare: President Donald Trump has a new favorite talking point: socialism. He has started to use the term as a descriptor for the people and policies he doesn't like, from Senator Bernie Sanders to the Green New Deal. "Socialism promises prosperity, but it delivers poverty," he said in a speech in Miami this weekend. But will this argument be politically useful, or will it fizzle out?
Virginia's Warring Factions: Though they've largely disappeared from the headlines, the controversies surrounding Virginia's governor, lieutenant governor, and attorney general are still dividing the state's Democratic Party. Several of Lieutenant Governor Justin Fairfax's staffers have resigned, but Fairfax himself still seems to believe he's on the receiving end of a smear campaign waged by fellow Democrats who also have designs on the governor's office, reports Vann R. Newkirk II. "Regardless of whether Fairfax, Northam, and Herring all resign or none of them do, the traditional pipeline of leadership in Virginia is now disrupted."
The Vatican's Moment of Reckoning: Pope Francis has convened the world's bishops in Rome this week to address the global crisis of sexual abuse, specifically of minors, within the Church. The meeting is the first of its kind at the Vatican—but will the conference lead to real solutions? Rachel Donadio breaks down questions that, heading into the conference, still need answers.
An Impending Crisis of Care: The number of adults diagnosed with autism in America is rapidly increasing. But when people with autism turn 21, they lose their legal entitlement to a free public education. And for many families, that loss can be devastating: There aren't enough programs and services to meet the demand for care.
---
Snapshot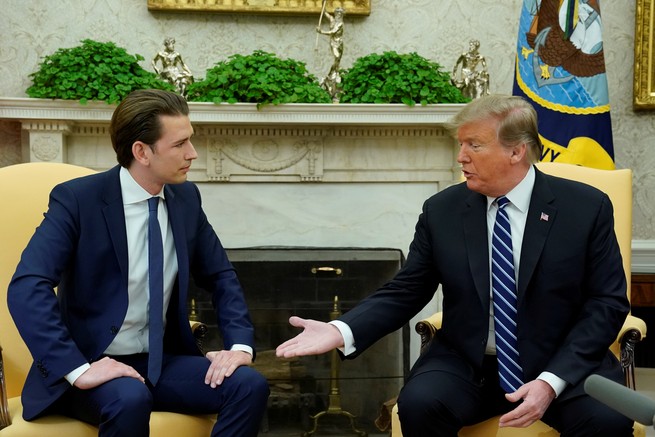 President Trump meets with Austria's Chancellor Sebastian Kurz in the Oval Office. Kevin Lamarque / Reuters
---
Ideas From The Atlantic
The Lessons Southern Baptists Need to Learn (Jonathan Merritt)
"In addition to addressing all of the systemic and institutional components that contributed to this scandal, the denomination must also be willing to have an honest conversation about the way patriarchal power functions to protect those at the top." → Read on.
What the Jussie Smollett Story Reveals (John McWhorter)
"Smollett, if the latest reporting is true, was an eager puppy, jumping with joyous inattention into American social politics as he has encountered it coming of age in the 21st century. He would have known that in this moment, very important people would find him more interesting for having been hurt on the basis of his identity than for his fine performance on an interesting hit television show." → Read on.
Accused College Students Deserve the Presumption of Innocence (Conor Friedersdorf)
"If the attorneys general succeed in persuading the Department of Education to strip the presumption of innocence from the due-process rights of accused college students, they will be undermining a bedrock of Western justice." → Read on.
---
What Else We're Reading
◆ The Supreme Court Just Struck a Huge, Unanimous Blow Against Policing for Profit (Mark Joseph Stern, Slate)
◆ How Museums and Historical Spaces Disrespect Native American History (Somáh Haaland, Teen Vogue)
◆ The Mayor of Jackson Wants to Hold Its Police Accountable. Easier Said Than Done. (Ko Bragg, The Appeal)
◆ Has the Supreme Court Already Decided the Wall Case? (Aziz Huq, Politico)
---