The Second Coming of Nancy Pelosi
"Trump's a silly man, and she knows it," says one admirer. "He's not going to be a problem for her."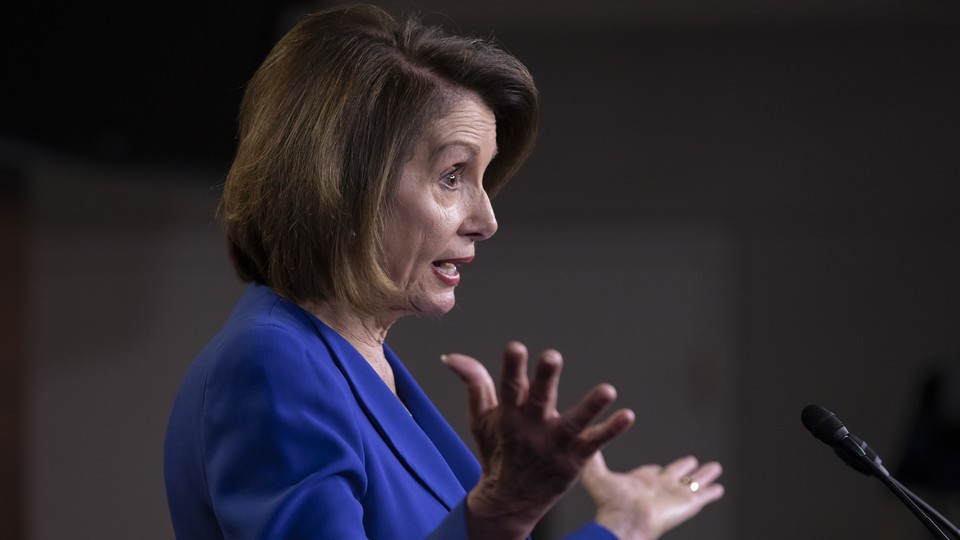 Perhaps it's because as a child she practiced her penmanship by logging the favors owed to and from her powerful politician father in a record book so they'd never get lost. Perhaps it's because she gave birth to five children in six years. Perhaps it's because she first ran for public office at age 47, when her youngest kid was a senior in high school and she knew herself, and her mind, and what she had to offer. Perhaps it's because she never gives up.
Whatever the reasons, Nancy Patricia D'Alesandro Pelosi has clearly not only reemerged as what she already was more than a decade ago—the highest-ranking woman in the history of the republic, as speaker of the House—but as the single Washington leader best able to frustrate, sidestep, stymie, outfox, infuriate, and when it suits her purposes, simply ignore Donald Trump.
"Mr. President, please don't characterize the strength that I bring to this meeting as the leader of the House Democrats, who just won a big victory," she coolly told Trump in December, when he condescended to suggest that she might not be in a position to "talk right now" in an Oval Office negotiation over a looming government shutdown, because her election as speaker was still unsettled. Can anyone now remember that such a time ever happened?
"She'll cut your head off and you won't even know you're bleeding," her filmmaker daughter Alexandra told CNN last month, describing her mother's negotiating style. "That's all you need to know about her. No one ever won betting against Nancy Pelosi. She's persevered."
No kidding.
That analysis could just as easily apply to her deft handling of the restive young Democrats, who just two months ago were grumbling that her day had passed and were all but openly wondering how they might block her from becoming speaker again. Now she's the unquestioned heroine of the anti-Trump left, on par with the iconic Ruth Bader Ginsburg and rapidly climbing to the level of Eleanor Roosevelt, if not Joan of Arc.
Pelosi's own public response to her reversal of fortune has been understated, but sly. Greeting the packed audience at her weekly news conference last Thursday, she simply said, "Wow, full house. Winning is good. Good morning."
Pelosi co-opted the crop of insurgent Democratic freshmen who might have threatened her rule in part by pledging to serve only four years as speaker, but also by listening to their concerns and hearing them out, and addressing them. She has a healthy sense of her own status, but doesn't let her ego get in the way of the task at hand.
"She knows how to count votes better than anybody," says former Representative Tom Downey of New York, who grew close to her after she first came to Congress from San Francisco in a special election in 1987, two years before Alexandria Ocasio-Cortez was born. "She's perfectly politically centered to lead the new dynamic members of Congress, because she was once one of them. She gave her first speech on AIDS when she got to the Congress. She's really absolutely the perfect person for this moment."
Not coincidentally, her face-offs with Trump have solidified and consolidated her power over her own caucus. "That meeting inside the Oval Office where the president said he would own the shutdown elected her speaker that day," Kevin McCarthy, the House minority leader, told me in the middle of the recent shutdown. "She was going to get there anyways, but even if you go out and see the coat she wore, it sold out the next day … She won it because she stood up to him." McCarthy added bluntly, "She wants to break him."
So far, she's doing a pretty good job of it. The writer Aaron Sorkin once called the White House the "single greatest home-court advantage in the modern world," and it's tough to make a president look weak on his own turf, but Pelosi managed to do so. Indeed, the speaker tends to deal with Trump as if brushing a piece of lint off her shoulder.
"It goes to show you," she reportedly told a closed-door meeting of Democrats after her December confrontation in the Oval Office. "You get into a tinkle contest with a skunk, you get tinkle all over you." The Washington Post reported that she added, "It's like a manhood thing for him. As if manhood could ever be associated with him." Still later, she mocked Trump's ever-shifting definition of his proposed border wall, telling USA Today, "He's already backed off the cement—now he's down to, I think, a beaded curtain or something."
Pelosi has a singular ability to get under Trump's skin, and it shows. "I think Nancy Pelosi should be ashamed of herself, because she's hurting a lot of people," Trump said at the White House on Friday as bipartisan negotiations over border security dragged on. By contrast, Pelosi uses the president's most inflammatory statements as a mere foil to talk about whatever she wants to talk about.
"You don't take the bait," says Drew Hammill, one of her deputy chiefs of staff. In last fall's midterms, for example, when Trump suddenly threatened to revoke birthright citizenship, Pelosi declined to be distracted, releasing a statement underlining the issue that polling showed was playing best for Democratic candidates all around the country. "President Trump's new claim that he can unilaterally end the Constitution's guarantee of birthright citizenship shows Republicans' spiraling desperation to distract from their assault on Medicare, Medicaid and people with pre-existing conditions," she said.
"We didn't react to his taunting of her in his rallies," Hammill adds. "What's the point?"
Pelosi's strategy is bearing fruit. The latest Quinnipiac University poll shows that voters trust her over Trump, by a margin of 49 to 42 percent, with women trusting her even more: 54 to 37 percent. (Men trust Trump more.) Voters back a border-security measure that would not include a wall by nearly 2 to 1, 61 to 33 percent. (Republicans oppose the idea of no wall, but all other demographic groups, by race, age, and gender, support it.) And voters overall trust congressional Democrats more than Trump on the issue of border security, by 50 to 41 percent.
Friends say Pelosi's priorities are clear and unshakable, and contribute to her equanimity in dealing with Trump's provocations.
Susan Brophy, a Bill Clinton White House congressional liaison in the late 1990s, remembers traveling on a European trip with Pelosi when Brophy was dating Gerald McGowan, a widowed telecommunications lawyer with seven children. "At one point we were just talking," Brophy recalls, "and I said, 'I don't know … he's got so many kids. It just really makes me nervous. It's so much responsibility, and I really like my job. What do you think?' And she said, 'Are you kidding me? I would give all of this up tomorrow for my family.'" (Brophy soon married McGowan, who became Clinton's ambassador to Portugal, and herself went on to a post–White House career as a prominent lobbyist at the Glover Park Group.)
Republicans might caricature Pelosi as a San Francisco liberal—she moved there after she married her husband, Paul—but her DNA is deep in Baltimore's Little Italy, where her father, Thomas D'Alesandro Jr., was the longtime mayor. Little Nancy and her five brothers took turns manning the desk in the family's corner row house, where they handled constituent service requests. As a child, Nancy was once offered a toy elephant by a Republican poll worker, but recoiled. Decades later, in the run-up to the 1984 presidential campaign, Ronald Reagan went to Baltimore for what was supposed to be some kind of civic event that instead turned into a GOP campaign stop. The White House asked whether former Mayor D'Alesandro would appear with the president; he would not. Instead, the D'Alesandros skipped town, and Nancy's mother, Annunciata, plastered Mondale for President signs in every window in all three stories of the family home.
"She holds some grudges, as you have to in politics," Tom Downey says, "but she's not consumed with it, and it's not a big part of her plan. Trump's a silly man, and she knows it. He's not going to be a problem for her."
The burgundy pantsuit that Pelosi wore when she was sworn in as speaker the first time in 2007 is already in the Smithsonian's National Museum of American History. Curators had better be on the lookout for the iconic item of apparel or personal effects that could symbolize her second tour. She's already well on her way to earning the honor.