The Atlantic Politics & Policy Daily: Schrödinger's Mueller Report
A Department of Justice official is now saying that Special Counsel Robert Mueller's report will not be delivered this week or next.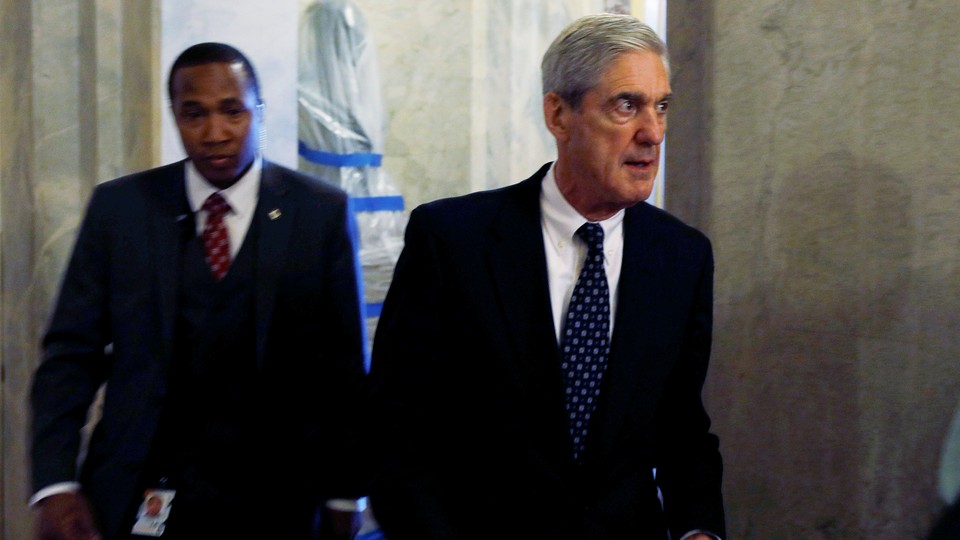 What We're Following Today
It's Friday, February 22. The past few weeks have offered a roller-coaster ride of news reports teasing the Russia investigation's end date: A Department of Justice official is now saying that Special Counsel Robert Mueller's report will not be delivered this week or next. Here's what else we're following:
No Other Option: North Carolina state officials on Thursday ordered a new election in the state's Ninth Congressional District, the only remaining 2018 House race without a declared winner. The official count had the Republican Mark Harris ahead of the Democrat Dan McCready by 905 votes, but Harris's campaign has for months been mired in allegations of fraud. A redo—of both the primary and general election—in other words, has been a long time coming, writes David Graham.
The Last Never-Trump Holdouts: Last month, a handful of former staffers of the now-defunct Weekly Standard magazine launched a brand-new conservative news site. Their mission? Naming and shaming the prominent Donald Trump supporters in the conservative elite, reports McKay Coppins.
2020 Watch: There have been whispers for a while now that Larry Hogan, the moderate Republican governor of Maryland, would challenge President Trump in the GOP presidential primary. But this week, he ruled it out, saying he isn't interested in a "kamikaze run." There is still only one Republican who plans to challenge Trump in 2020, and a whole host of Democrats. Read about them all here.
To Denuclearize, or Not to Denuclearize: Ahead of Trump's second meeting with North Korean leader Kim Jong-Un in Vietnam, administration officials admit they're still not sure if North Korea actually wants to get rid of its nuclear weapons.
---
Snapshot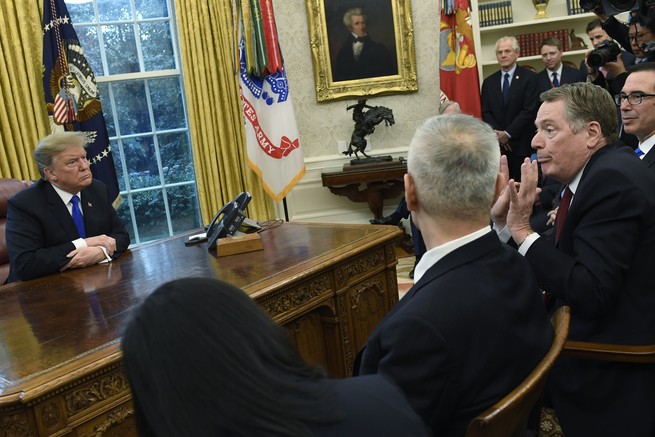 President Donald Trump meets with Chinese Vice Premier Liu He in the Oval Office. (Susan Walsh / AP)
---
Ideas From The Atlantic
The Lesson of the Jussie Smollett Case (Adam Serwer)
"What's striking about Smollett, a harsh critic of the president, using a falsehood to exploit racial and cultural divisions for personal gain, with no regard for how it would affect others, is how positively Trumpian it is." → Read on.
Blame Congress for the National Emergency (Amy L. Stein)
"Although the media have focused of late on emergency powers, the same problems of vagueness, unaccountability, and non-transparency apply with equal force to the more than 2,000 references to 'national security' that plague our laws." → Read on.
America Is Too Impeachment Obsessed (Joshua Matz and Laurence H. Tribe)
"As the Nixon and Clinton cases show, presidents who find themselves in impeachment territory often respond by seeking to maximize partisan polarization across the board. The playbook is familiar: Attack journalists and prosecutors; denounce political opponents as partisan hacks; smear any damaging witnesses; use the bully pulpit to raise issues that sharply divide the public; and manufacture partisan conflict over every step taken by investigators." → Read on.
This Week in Anti-Semitism (Franklin Foer)
"Only last week, France reported a 74 percent increase in the number of offenses against Jews, and German police announced a 60 percent rise in violent anti-Semitic attacks … I started a file of the stories that featured incidents and allegations of anti-Semitism. As the statistics so devastatingly demonstrate, the growing ubiquity of anti-Semitism can't be wished away as stray episodes of fringe behavior." → Read on.
---
What Else We're Reading
◆How Amy Klobuchar Treats Her Staff (Matt Flegenheimer and Sydney Ember, The New York Times)
◆ Build Your Own 'Medicare for All' Plan. Beware: There Are Tough Choices (Austin Frakt and Aaron E. Carroll, The New York Times)
◆ You Can Have Brandeis or You Can Have Debs (Shawn Gude, Jacobin)
◆ Zion Williamson's Knee Injury and the Injustice of College Sports (David French, National Review)
---