The Day Trump Lost Control of the Conversation
Michael Cohen showed he'd learned some tricks from his former mentor.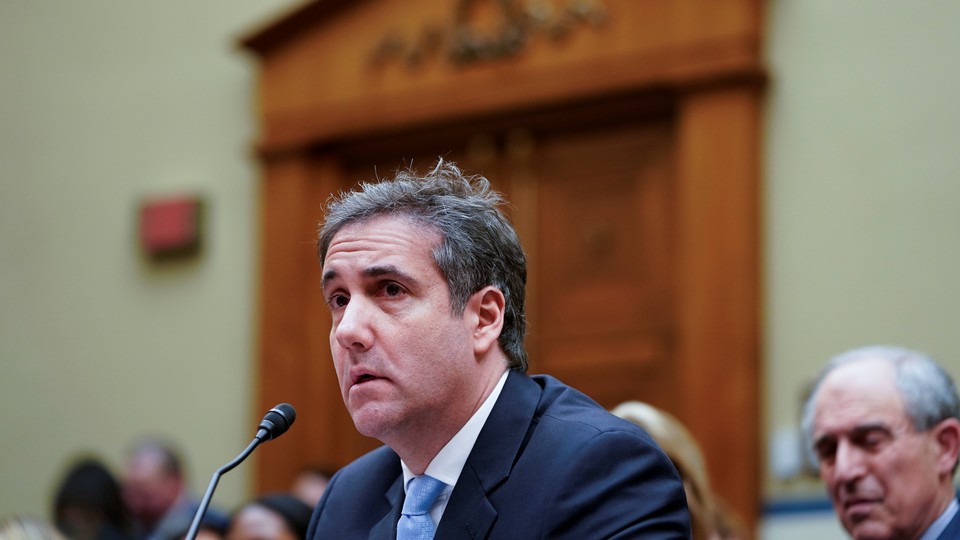 The key to Donald Trump's political career has been his ability to keep control of the news conversation. Sometimes that involves positive stories; more often, it involves outrageous or negative ones. But either way, the effect is to keep Trump at the center.
The president's control of the conversation is not absolute. He has sometimes been shoved aside—by Special Counsel Robert Mueller's filings, by authors such as Michael Wolff and Bob Woodward, or by natural disasters. But on Wednesday, something different happened: One of his political opponents was able to grasp control of the story.
Not only was the man who grabbed the spotlight Michael Cohen, whom Trump has called a "rat." All the more upsettingly for the president, it happened while he was out of the country, at a summit in Vietnam, and in the middle of the night in his time zone. Throughout the day on Wednesday, Cohen held the media's attention, and he did so to great effect—creating new problems for Trump on multiple fronts.
Most of the damage came from Cohen's prepared opening remarks, which leaked to the press overnight. Cohen, who worked for more than a decade for Trump in an all-purpose "fixer" role, made a series of big claims. The public already knew the broad outlines of the hush-money agreements via which Cohen paid women who alleged they had sexual affairs with Trump, but Cohen offered new details. Notably, he testified that Trump had made reimbursement payments to him since taking office, which would represent a crime. And Cohen brought a Trump check to prove it.
Cohen is headed to prison in May, serving three years for bank fraud, tax evasion, and lying to Congress. But on Wednesday, Cohen said he lied to lawmakers at Trump's behest, trying to obscure when a Trump building project in Moscow had really ended. Cohen did not confirm a BuzzFeed report from January saying the president explicitly told him to lie. But he nonetheless implicated Trump in his choice, describing a Mafia-style wink-and-nod agreement. "Mr. Trump did not directly tell me to lie to Congress," Cohen said. "That's not how he operates."
Cohen also said he heard Roger Stone, whom Mueller recently indicted, tell Trump on the phone about impending dumps of leaked emails by WikiLeaks. And he reported an encounter in which he believes that Donald Trump Jr. told his father about his Trump Tower meeting with Russians in June 2016—though Cohen's account was too vague to be convincing.
If Cohen hadn't said anything consequential beyond the written testimony, the hearing would still have been a barn burner. And for large chunks of the afternoon, it seemed like he wouldn't add anything useful. Republicans feuded with Chairman Elijah Cummings from the start over the ground rules—and over the very existence of the hearing. Democrats asked Cohen to speculate about Donald Trump colluding with Russia, which he declined to do. Republican members spent much of their time impugning Cohen. As is often the case in congressional hearings, many of the questions were bad or confusing. One GOP member even said that today's hearing was the first he'd heard of Cohen, though he then backtracked on that claim.
The Republican strategy was to make the focus Cohen's credibility—and indeed, there are serious questions about his trustworthiness. Cohen is going to jail for lying to Congress, to banks, and to the IRS. For much of the hearing, that strategy was successful, but it's unclear to what end. Nearly every punch Republicans landed was simply proving something that had already been proved. Even Cohen doesn't dispute that he lied repeatedly, and showing that he was a bad lawyer seemed superfluous the day after he was disbarred. Cohen said that he was chastened by his convictions, and that while he had lied to protect Trump before, he now had no motive to do so. Cohen also had an answer for those who doubted his reliability.
"It is for exactly that reason I spent the last week searching boxes to find the information that I did so you don't have to take my word for it," he said, referring to evidence he'd provided Congress. "I don't want you to. Look at the documents and make your own decision."
But Republicans made more headway in another area. They accused Cohen of attacking the president out of revenge for not getting a White House job. (Why Cohen's primary motive for revenge would be this slight, rather than his impending jail term, is unclear.) Cohen, disputing a slew of news reports, said he had never wanted a White House position. GOP members argued that constituted a lie.
Overall, Republicans did little to debunk Cohen's specific claims or to defend the president on substance. Democrats also struggled to break much new ground early on, but managed to extract fresh information later in the hearing.
One of the most effective questioners was Representative Alexandria Ocasio-Cortez, who asked a concise and effective series of inquiries toward the end of the session. Under Ocasio-Cortez's questioning, Cohen said that Trump had submitted inflated estimates of his assets to insurance companies, which could constitute fraud. He also told her that Trump had deflated the value of properties to lower his tax bill.
Trump has broken long-standing precedent by refusing to release his tax returns. (Democrats have vowed to use congressional power to obtain them.) The president has claimed that he cannot release them, because they are under audit, although the IRS has confirmed that there is no legal impediment to his doing so. But Trump has also never proved that he is under audit, and Cohen told Representative Jimmy Gomez that he didn't know of any proof that the president's claim is true.
"I don't know the answer," he said. "I asked for a copy of the audit so that I could use it in terms of my statements to the press, and I was never able to obtain one."
Cohen indicated that his previous, false testimony had not only been reviewed but also edited by White House lawyers. Specifically, he said Jay Sekulow, who represents the president, and Abbe Lowell, who represents Ivanka Trump and Jared Kushner, had edited it. (Sekulow, in a statement, called Cohen's claim "completely false.")
Most intriguingly, Cohen on several occasions declined to answer questions, citing ongoing investigations by the U.S. attorney for the Southern District of New York. He said he was aware of improper conduct or violations of the law by Donald Trump but could not describe them in detail.
While Cohen's past lies make all of his testimony subject to close scrutiny, he performed well on the stand, remaining mostly calm in the face of Republican attacks that sought to rile him. And Cohen bolstered his credibility by declining to speculate about collusion and some other topics about which he said he had no knowledge. He said Stone was acting as a free agent, not at Trump's direction. He also rejected claims of a secret Trump love child and the existence of an alleged video of Trump striking his wife, saying the president would not do such a thing. These moments undermined the idea that Cohen is an implacable Trump hater.
It's too early to assess the impact of Wednesday's hearing. While it produced a long list of interesting leads and new information, many of those will require careful investigation. While some observers likened the hearing to former White House Counsel John Dean's testimony against Richard Nixon, there's no way to tell if it will be similarly consequential. Given the vast attention paid to Cohen's remarks, the hearing might refocus public attention on many of the scandals surrounding Trump, some of which have only gradually built—or they might be lost on a public already numb to Trump's behavior.
What is already clear, however, is the effect of Cohen's messaging. Trump tweeted several times about his summit with North Korea's Kim Jong Un, but he was effectively a nonentity on Wednesday. And as The Washington Post's Philip Bump noted, Google Trends showed Cohen swamping North Korea throughout the day, one metric of public interest. As my colleague McKay Coppins wrote in 2017, imitating Trump has proved perilous for many of his former associates; I wrote last May that Cohen was the latest to fall into this trap. Yet while Cohen was not as capable of withstanding scandal as his former boss and mentor, his star turn in Wednesday's hearing showed that Cohen had learned a few things about showmanship and messaging during his decade as Trump's right hand.
When Trump loses control of messaging, it sometimes has dangerous results. If he feels marginalized, the president will often act more outrageously. That has great risks, especially with Trump in the high-stakes setting of his summit with Kim, where he might be tempted to reach for a dramatic gesture. Cohen's testimony not only spotlighted some of Trump's biggest exposures to scandal, but also showed how tenuous his grasp on the national conversation can be.