Will Cohen's Remarks on Trump's Racism Change Anything?
The president has somehow proved resilient to accusations that he is a racist.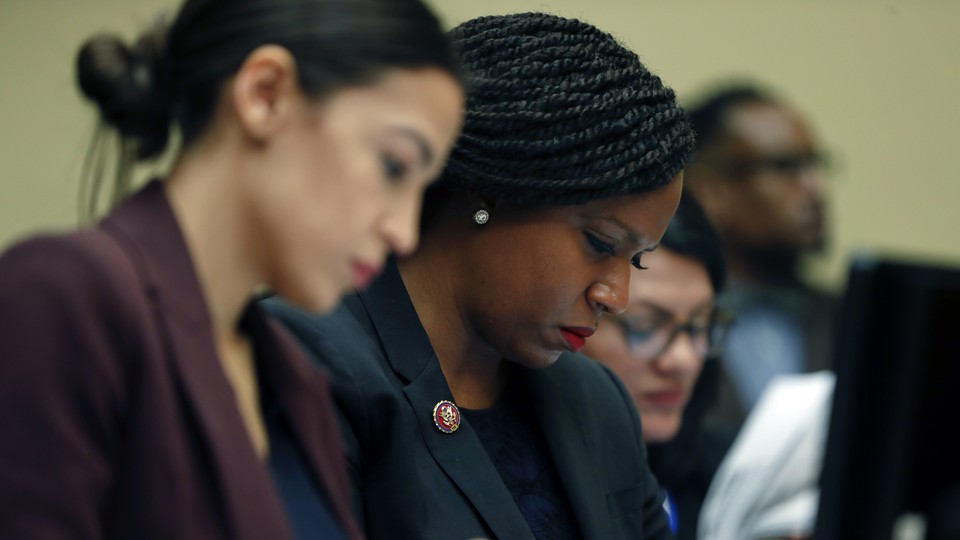 During Wednesday's House Oversight Committee hearing, Michael Cohen lobbed several bombshells in his opening statements, including allegations that Trump had direct knowledge of campaign interactions with Russian actors and WikiLeaks, and paid hush money while in office. But as far as revelations about anything tied to Special Counselor Robert Mueller's probe, that was pretty much it.
The remaining day's worth of testimony was full of theatrical moments and seemingly smaller revelations, including a running conversation about race and racism. One line of questioning centered on Cohen's descriptions of alleged racist actions and beliefs by Trump, which resulted in the hearing's most explosive moment—a showdown involving two freshman Democratic congresswomen and Republican Representative Mark Meadows of North Carolina. But even though those moments added drama to a day of high anticipation, they were all driven by the constant reckoning over the president's racism. It seems to infect everything it touches.
When the written version of Cohen's opening statement surfaced online the night before the hearing, it promised drama. Not only did Cohen outline seriously damaging tidbits pertinent to the Russia investigation, but he labeled Trump a "racist, a conman, and a cheat." According to Cohen, the president made riffs on his infamous "shithole countries" remark, employed bigoted language about black people living in Chicago, and said that black voters were "too stupid" to vote for him.
Those allegations were enough to provoke Meadows's ire. During his time for questions, early on in the hearing, Meadows had a black woman, Lynne Patton—an appointed official at the Department of Housing and Urban Development and a former employee at the Trump Organization—stand up while he talked, and objected to Cohen's characterization. "You made some very demeaning comments about the president that Ms. Patton doesn't agree with," Meadows told Cohen. "She says that as a daughter of a man born in Birmingham, Alabama, there is no way that she would work for an individual who was racist." And then, at the end of a truly bizarre Q-and-A session, Meadows asked that Patton's testimony be entered into the record. Patton hadn't spoken.
But Meadows's theatrics were exactly what kept the issue of racism front and center at the hearing. In her questions to Cohen, freshman Representative Ayanna Pressley, the first black woman elected to the House from Massachusetts, referenced Meadows's stunt, asking Cohen: "Would you agree that someone could deny rental units to African Americans, lead the birther movement, refer to the diaspora as 'shithole' countries and refer to white supremacists as fine people, have a black friend, and still be racist?" Cohen said, "Yes."
A bit later, freshman Representative Rashida Tlaib of Michigan, one of two Muslim women elected to Congress in 2018, entered the fray. In one of the most controversial moments of the hearing, Tlaib argued that Trump's racism itself compromised his ability to do his job on behalf of all Americans. Then she turned her criticism toward Meadows himself. "The fact that someone would actually use a prop, a black woman, in this chamber, in this committee, is alone racist in itself," Tlaib said. Meadows objected, calling for her words to be stricken from the record. Committee chair Elijah Cummings stepped in to moderate a tense back-and-forth between Meadows and Tlaib, in which Tlaib doubled down on calling the act of using Patton as a "prop" racist, but ultimately apologized and denied that she'd meant to call Meadows himself racist.
That standoff was indicative of a larger conversation around race and fitness for office that has followed Trump everywhere he goes. In a January 2018 meeting with lawmakers, Trump referred to a collection of mostly black countries, asking, "Why do we want all these people from shithole countries coming here?" A 2017 New York Times report indicates that he told Nigerian immigrants to "go back to their huts." He has called Representative Maxine Waters, who is black, an "extraordinarily low IQ person," attempted to block FEMA funds for Puerto Ricans, blamed "both sides" for racist violence in 2017 in Charlottesville, Virginia, and regularly called undocumented immigrants "animals." He has a pattern of racism that goes deeper than his campaign and time in office. At this point, open bigotry seems to be the substance of much of his engagement with people of color. Cohen's assessments speak to private motives, but the policy indications are already clear.
It remains to be seen whether any of Wednesday's events will actually hurt the president. Cohen's testimony on the particulars of the Russia investigation might add more pressure for the president to clarify what he knew and when, and the production of a check potentially indicating that Trump orchestrated hush-money payments while in office might have real legal or impeachment ramifications. But for now everything travels on Cohen's reputation. He started his testimony by apologizing for previously lying to Congress. The Republican mode of attack against Cohen involved mostly scrutinizing his credibility. That strategy—while transparent—has an obvious logic behind it.
But on the issue of racism, Trump has somehow proved resilient. He unwittingly practices a form of bigoted mithridatism, building up a superhuman tolerance for scandal himself, and desensitizing voters with continued regular exposure to doses of racism. It's hard for many people to keep up with every single unprecedented breach of norms coming out of the White House, and for the president, each new outrage makes each previous outrage seem a bit smaller.