The Furor in Virginia Has Quieted
Public opinion might help the state's embattled Democratic leaders survive.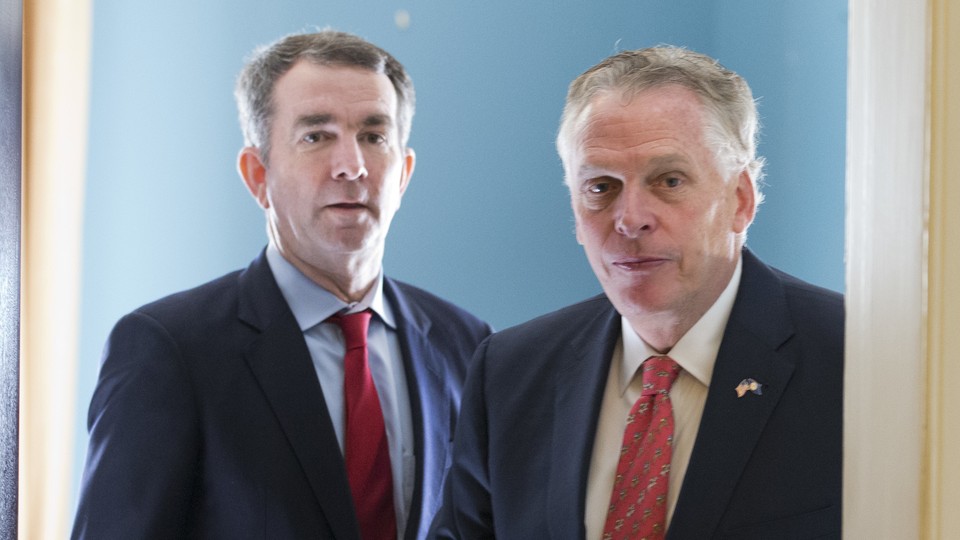 The bonfire of scandals in Virginia politics has seemingly burned down to embers as top Democrats have come to accept that their tainted leaders will not be leaving office, at least not anytime soon. While most party elites have not withdrawn their calls for resignation, a week of détente and two television appearances on Sunday suggest that the furor has quieted.
Governor Ralph Northam faced near-universal demands to step down over a picture on his medical-school yearbook page that showed a man in blackface and another in Ku Klux Klan garb; he initially admitted to appearing in the photo, then reversed himself and said he was not either of the people in costume, though he recalled a separate incident when he wore blackface for a Michael Jackson impersonation. Lieutenant Governor Justin Fairfax drew some resignation calls and an impeachment threat after two allegations of sexual assault in the early 2000s, both of which he denied. Attorney General Mark Herring stepped up and confessed that he, too, once wore blackface to a party as a 19-year-old, though he has largely avoided calls to step down.
One of the leading Democrats who quickly urged both Northam and Fairfax to leave office was Terry McAuliffe, the commonwealth's previous governor and a former Democratic National Committee chairman who is mulling a 2020 presidential run. He called for Northam's resignation the same day the yearbook photo became public two weeks ago, and Fairfax's departure within hours of the second sexual-assault allegation a week later. The former governor's position was, depending on your perspective, either more authoritative or more awkward because Northam had served as his lieutenant and because he has a book coming out titled Beyond Charlottesville: Taking a Stand Against White Nationalism.
Yet in an interview Sunday on CBS's Face the Nation, McAuliffe said not a word about resignations, seeming to accept Northam's plan to redeem his governorship with a "focus on race and equity."
"I think he's made a decision he's going to stay in," McAuliffe said of Northam, "but the way that Ralph survives and brings Virginia back together, he's got to lean in on these very important issues." Northam is seeking proposals on mass transit and affordable housing as he embarks on an "apology tour" that starts this week at the historically black Virginia Union University. As for Fairfax, McAuliffe said, "Very serious allegations have been made. They need to be investigated … So we will go through that process."
The current Democratic National Committee chairman, Tom Perez, had also called for Northam's resignation shortly after that scandal erupted. But in a Meet the Press appearance on Sunday, Perez didn't mention Virginia. In a lengthy question about disciplining Democrats who make mistakes, the moderator, Chuck Todd, mentioned Virginia's governor and lieutenant governor but focused on Representative Ilhan Omar, the first-term Minnesotan who apologized after an outcry over her comments suggesting that the American Israel Public Affairs Committee buys politicians' support for Israel. Perez spoke about Omar, but didn't bring up Northam or Fairfax.
Instead, the party chairman tried to turn these recent incidents into something positive: "The difference between Democrats and Republicans is, when we see people within our own ranks do things or say things that are antithetical to our values, we are not reluctant to call them out. On the other side, unfortunately, they are enablers." (Perez said nothing of Republican denunciations of Representative Steve King of Iowa, for his recent comments about white nationalism, or President Donald Trump, after his comment that there were "fine people" on both sides of a white-supremacist demonstration and counterprotest in Charlottesville in the summer of 2017, during which a protester was killed.)
Perez's and McAuliffe's remarks on Sunday suggest that Democratic leaders are coming around to accepting the status quo in Richmond. It leaves the party in a position to still claim the moral high ground on issues of race and gender, having denounced Northam, Fairfax, and Herring, without handing the governorship to the Republican speaker of the state House, who would be next in line if the three top Democrats all resigned. Conservatives question whether the Democrats actually possess the high ground, asking what, aside from party affiliation, distinguishes Fairfax's situation from that of Supreme Court Justice Brett Kavanaugh.
National party leaders are not the only ones who have been quieted, for now. The chairman of the Virginia Legislative Black Caucus, who had urged both Northam and Fairfax to resign, showed an openness to meet with Northam if he would help advance the caucus's priorities. "My caucus, I can tell you, they're fired up to get this stuff done," Delegate Lamont Bagby said last week. The Associated Press also reported that a group of black pastors and community leaders announced their forgiveness of Northam, who tried to work on typical state business such as budget negotiations. The governor also received steady support from local donors and others from the fraternity of Virginia Military Institute alumni, as The Washington Post reported over the weekend. Meanwhile, although Fairfax faced setbacks, including the departure of top aides, the state delegate who had promised to start impeachment proceedings backed down. The current legislative session ends Saturday, offering the embattled leaders time to recover.
Public opinion may have allowed the state's leaders to survive despite a loss of support in their own party. A Washington Post poll found Virginians deadlocked on Northam's future in office, with 58 percent of African Americans saying he should stay in office. After the first accusation against Fairfax, two-thirds of all respondents said they didn't know enough to judge. Only a third said Herring, the attorney general, ought to step down. Despite the stream of condemnations and calls for resignation, it seems Virginia's top three elected Democrats will hold on to their positions for now. Whether any of the three can go on to win higher offices remains to be seen; Northam must leave the governor's mansion because of term limits, but the two others could seek reelection. The other big question mark facing Virginia Democrats is whether the trio of controversies hurts the party as it looks to take control of both houses of the legislature in November's elections, following its 15-seat gain in the House of Delegates in 2017. Republicans currently control the state Senate 21–19 and the state House 51–48, with one seat open. In presidential elections, Virginia flipped from a reliably Republican to a reliably Democratic state in 2008, driven in part by Washington's dependably blue suburbs in Northern Virginia. If the GOP holds the legislature this year, it may have the state's Democratic leaders to thank.