Iowa Will Make or Break Both Amy Klobuchar and Kamala Harris
The candidates are taking extremely different approaches to answer one question: Who is best to beat Donald Trump?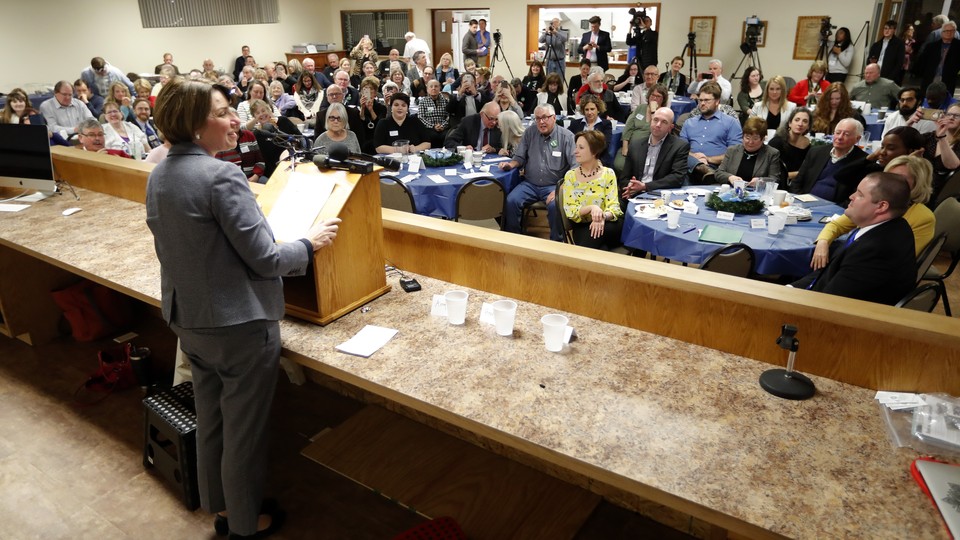 WEST DES MOINES, Iowa—Demographically and economically, Iowa isn't actually that representative of the country as a whole. But even as the demographics and economics make it less like the rest of America, Iowa's absurdly outsize role in picking the leader of the free world remains.
Enter two candidates, in the space of 48 hours, who both see the state as crucial: two women, two senators, two former local prosecutors, two people who had breakout moments during Brett Kavanaugh's Supreme Court confirmation hearings last fall, two presidential hopefuls on their second trips to Iowa since launching their campaigns.
Amy Klobuchar and Kamala Harris need the same thing, but they need it for opposite reasons.
Literally dozens more Democrats are in or circling the race. But the dynamics between these two, both doing well in early polls, contrast familiar Midwest pragmatism with diverse Left Coast progressivism. And most important for the ultra-energized voters here: Who is best to beat Donald Trump?
For Klobuchar, Iowa is her neighbor to the south—"We can see it from our porch in Minnesota" is the line she uses—conveniently located in geography and order on the primary calendar. A win in the Iowa caucuses could validate her pitch that the 2020 election is calling out for someone who can link the years her grandfather spent working in a mine to the "grit" to stand in a snowstorm for her own campaign announcement two weeks ago, and connect a purported hard-nosed pragmatism to years of big wins in her home state. For Harris, the state is the essential test of whether the parts of the country far from the square in Oakland where 22,000 stood in the streets for her announcement rally last month are really ready for a half-Jamaican, half-Indian woman from California who speaks bluntly about what's gone wrong with America.
On Thursday night, Klobuchar was at the United Auto Workers hall, the featured guest at the Ankeny County Democrats annual dinner. On Saturday night, Harris was on the other side of town at the United Steelworkers hall, keynoting the Iowa Democratic Party Black Caucus. Klobuchar, as she always does, built her speech up to a quote from Walter Mondale, talking about Jimmy Carter's presidency: "We told the truth, we obeyed the law, we kept the peace." Harris, as is her custom, progressed to a paraphrase of Coretta Scott King: "The fight for justice and the fight for civil rights must be fought and won with each generation."
Afterward, I asked Klobuchar what she thought being a senator from Minnesota, compared with being a senator from California, would mean to Iowa.
"It means that for me, going south for the winter is going to Iowa. It's easier to get here," she said. "It's important to have a lot of people running, but I am a candidate from the heartland, and it's an important part of our path to success in the general election."
Was she arguing that senators from the coasts—not just Harris, but Cory Booker, Elizabeth Warren, Bernie Sanders, and Kirsten Gillibrand—wouldn't be able to win?
"Senators from the coast have won in the heartland in the past. So I don't think it's that. It's that my No. 1 request was to be on the Agriculture Committee. I served on that committee for 12 years. I've played a major role in getting the farm bill passed," she said. "I know these issues here."
Klobuchar likes talking about herself as an underdog, and structurally that's how she started a campaign that many people thought she wasn't actually going to go through with. She's short on campaign staff, here and nationally, and arrived with just one person on her payroll and a handful of others who'd come in as volunteers. She had a surge of online fundraising after she announced, but aides have acknowledged in conversations with others that money is going to be a scramble and that her best hope is to scrape by enough to make it through Iowa, and then count on an explosion of interest if she wins to carry her over.
And so she lays it on thick, talking about the two states' main agricultural exports, or how they both put a premium on butter-carving contests. On the list of ways the states are similar that she read from on Thursday evening: "You have the world-famous matchstick museum, and we have the only museum in the world devoted to Spam—or, as we call it, the 'Guggen-ham.'"
But her main argument is that the country needs a pragmatic president, and that starts with making a pragmatic argument for why she should be the nominee.
"We need to win. So here's my deal: I have won every single congressional district in the state of Minnesota, including Michele Bachmann's, three times," Klobuchar said, referring to the former congresswoman and 2012 Republican presidential candidate who helped popularize Tea Party politics in the run-up to a campaign that got much more attention than actual votes. With Democrats nationally nervous that Minnesota is in danger of slipping away—in a shocker, it had the smallest margin of any state Hillary Clinton won in 2016, and Trump's campaign has been public about Minnesota being at the top of its 2020 target list—Klobuchar leaned in.
"He has said to me several times, 'I would have won Minnesota if I went back there again,'" she said, attempting a Trump impression that leans more on making the president sound dumb than making him sound like he's from Queens, New York.
Harris landed here after two weeks of a sublimated freak-out, churned by Republican websites, that all tracked back to her being black. Just a sampling of the stirred-up controversies: Is she black enough? What does it mean that her husband is not black, but Jewish? How does she use hot sauce? What were the circumstances when she smoked pot? How extensive and authentic is her knowledge of rap music? Did she really order chicken and waffles at a famous soul-food restaurant?
Harris had only briefly passed through Iowa since making her candidacy official, popping in to do a CNN town hall on her way back to Washington after the Oakland kickoff rally. But the state is key for her too: She wants a top finish here next February that would solidify her as a front-runner and give her the momentum going into a four-week blitz around the country in which most of the delegates will be awarded. Her expectation is that there wouldn't be enough time or money for even the best political organization to keep up with her if she racked up enough early wins to create the momentum and a sense of inevitability.
This second trip was a full weekend of town halls and local Democratic events that she kicked off by greeting Asians and Latinos at the state capitol. She was trailed everywhere by the cameras and the staff entourage that mark a candidate being thought of as a front-runner.
Already in two weeks as a candidate, Klobuchar has started wearing creases into some of the lines she keeps using. Harris, meanwhile, has been delivering the same stump speech almost verbatim since hitting the midterm trail (including here in Iowa) in October, telling the same jokes, as if each time an ad lib has just come to her, like when she mocks smooth-talking candidates for sprinkling "lovely dust." Beyond the performance skills as a candidate that Harris is demonstrating as she continues to introduce herself to voters who've never seen her in person before, she notably does not vary the speech much, no matter who's in the crowd. Some bits get cycled in more frequently when she's in front of minority audiences, like when she hammers the wage gap for black and Latino women, or mentions the radically higher mortality rate for new mothers, but nearly every audience hears her talk about Russian interference, just like nearly every audience hears her say that parents of 12-year-old black boys shouldn't have to sit down with their sons and have "the talk" about how police are more likely to harass them because of the color of their skin.
Everywhere, Harris keeps to her "Let's speak some truths," rhetorical spine, and every time, it builds up to the same one: the truth that there is more that unites Americans than divides them, despite the efforts of Trump.
"Part of our strength as a nation is we are aspirational," she said in her opening remarks at her town hall on Saturday afternoon. "Part of our strength is we will always fight to get to that place. Let's hold on to our nature."
It's a call to unite behind her, and to believe that others will unite behind her, specifically because she is different and can piece a broken nation back together.
Maybe it was that the town hall was on a college campus in Ankeny, or that no one had to pay for a seat, or maybe that Harris is already being treated as a political celebrity, but the crowd was not only bigger—it was younger and significantly more diverse. By Saturday night, when she drove through a blizzard from a soup dinner in Ames to make it to the United Steelworkers hall for the Black Caucus event in West Des Moines, the crowd wasn't as big as Klobuchar's sold-out dinner two nights earlier. But those in attendance responded more enthusiastically to having Harris in the room.
Based on the questions they're getting and the conversations they're having while shaking hands in the crowds, Klobuchar is still being treated as an interesting person voters want to get to know, while Harris is being looked at as someone people are trying to squint at and see as a nominee.
That's how Klobuchar and Harris are putting themselves out there as well.
"I have grit," Klobuchar said on Thursday night. "And I have friends and I have great neighbors in Iowa. And I have every reason to believe I can do this."
"I intend to spend a lot of time in Iowa," Harris said on Saturday afternoon, doing her best to project strength. "I intend to win."