Kevin McCarthy's Pyrrhic Victory
The California Republican has a thankless job leading an outgunned minority, but says, "We gotta try harder."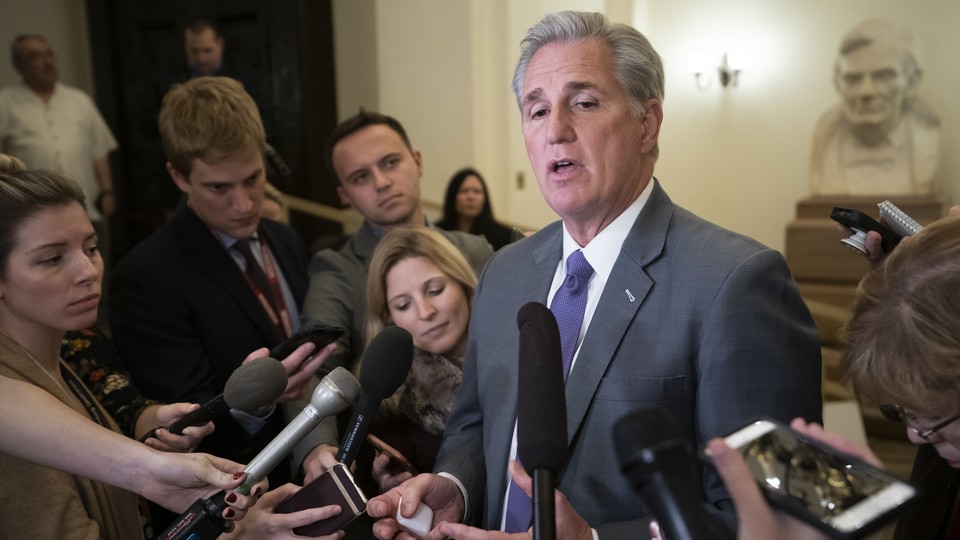 Kevin McCarthy finally has the job he's dreamed of—chief of his Republican Party in Congress—yet it's anything but his dream job. He is the leader of the minority in a legislative body in which the minority has no juice. He is not the speaker of the House.
So, I ask him, on a recent cold morning in the middle of the government shutdown—a confrontation in which his powerlessness gave him virtually no public role—with a fire crackling in his spacious office on the second floor of the Capitol, and a larger-than-life-size impressionistic portrait of Ronald Reagan staring down from the Williamsburg blue wall, "What's second prize?"
McCarthy lets loose with a lengthy, unforced laugh before turning serious. "Well, it's the old Hertz commercial," he says. "We gotta try harder."
Well, it's the old Avis commercial, actually, but McCarthy's rueful answer seems somehow appropriate, even a bit endearing, coming from a man who is often pigeonholed as a likable and ambitious, if not ready for prime time, leader. He made a candid point; it just didn't come out of his mouth quite right. After all, this is the man who lost his chance to succeed John Boehner as speaker in 2015 in part because of his inelegant suggestion that House Republicans had launched hearings into the attack on the United States mission in Benghazi, Libya, to drive down Hillary Clinton's poll numbers.
It was also McCarthy who was caught on tape in 2016 telling a group of House Republicans that Donald Trump might be on Vladimir Putin's payroll, only to become derided (or praised) as one of Trump's biggest boosters in Congress, ("My Kevin," Trump calls him), and so devoted to the president that he says he talks to Trump three, four, even five times a day and once sent him a jar of Starburst candies containing only the president's favorite two pink and red flavors: strawberry and cherry.
Conventional Washington wisdom may wonder whether McCarthy has the smarts and savvy to succeed as a leader in Trump's Republican Party—much less return House Republicans to power. But underestimating him might be a risk. Few people understand better than McCarthy, who turned 54 last week, the challenge he faces, and if he thinks that people doubt his mojo, he's not inclined to let it show. Just as he did when he led Republicans in the California State Assembly more than a decade ago, McCarthy has made sure that the sign outside his office suite reads not Minority Leader but the less modest Republican Leader, despite his party's humbling loss of 40 seats in last fall's midterms.
More than 70 percent of the members in his newly constituted Republican conference have never served in the minority, but McCarthy is not among them. He arrived in Washington 12 years ago, when his party had just lost its congressional majorities and was smarting under Nancy Pelosi's first reign as speaker. "There was only 13 of us, the smallest class since 1914 in the Republican Party," McCarthy remembers, "and I always felt like we could weather any storm."
He then rose faster through the ranks of his party's House leadership than any of his predecessors, and in 2010 was a principal architect of the GOP's successful recapture of the majority.
Just two years ago, the Democrats were in even worse shape than McCarthy is in now, because they'd lost the House, the Senate, and the White House. "They got passionate, they got motivated, and it forced them to change what they had done in the past, because it had failed enough," McCarthy says.
Does the GOP now have the same opportunity? "Very much so. The question will be, will we allow it? And that's what I've got to make sure we allow to happen."
That won't be easy, with the conservative House Freedom Caucus still skeptical of McCarthy's ideological purity on the one hand, and many senior party strategists urging a more moderate appeal to minorities and swing voters on the other. Jack Pitney, a former House Republican policy adviser who is now a professor at Claremont McKenna College, notes that McCarthy's predicament is especially difficult. "He is in the worst possible position for a congressional leader," Pitney told me. "Being in the House minority, yet being in the president's party, he'll take all the blame for every bad thing that happens in national politics now, but being in the minority has absolutely no influence over legislation. When it comes to fundraising, he's at a disadvantage. He has almost no power to reward or punish members."
One top California Republican, speaking on condition of anonymity, told me, "I like Kevin, and I'm intimately familiar with his personality and his M.O. But it's all about Kevin."
Some of McCarthy's allies are not so sure. The Republican pollster Frank Luntz has known him for 25 years, and occasionally served as an informal adviser. "I think Kevin has a great opportunity to redefine the Republican Party as a party of kindness and decency because that's who he is," Luntz says. "And I think he's the right guy at the right time to say to skeptical voters, 'Look, we do have principles and we do have values.'''
McCarthy points to his swift removal of Representative Steve King from committee assignments after he made comments in support of white supremacy as evidence that he's up to that task. But he punts when I ask him about Trump's own long history of racially charged remarks. "I look at it like this," he says. "Steve King sits in the House. It's my responsibility in the House."
A former House Republican leadership aide, speaking on condition of anonymity, sums up McCarthy's existential dilemma: "He's basically trying to square the circle by claiming to be a forward-looking leader while also staying close to Trump."
When I ask McCarthy what his relationship with Trump has gotten for California, he offers a small but instructive example. When wildfires were raging through the state last fall, McCarthy heard from emergency-management officials in California that a disaster declaration was languishing on Trump's desk. The president had threatened on Twitter to revoke federal funds for the state over what he called its mismanagement of its forests. So McCarthy immediately called the president to explain that the fires' victims weren't just Malibu movie stars but the middle-class residents of Paradise, where 13,000 homes had been destroyed. Trump signed the disaster declaration that same night, and later toured the fire scenes with McCarthy and California's newly elected Democratic governor, Gavin Newsom. McCarthy and Newsom have a close working relationship, and McCarthy has helped foster an open line of communication between Newsom and Trump, one that Pelosi, for example, could not have forged.
But McCarthy has already paid a steep price for cleaving to the president, effectively forcing his home-state delegation to walk the plank by voting for Trump's tax cuts, which capped the deductibility of state and local taxes and home mortgage interest, and thus amounted to a tax increase for many voters in a high-tax state like California. In the process, McCarthy solidified his own position with House conservatives, but lost all of the seven Republican-held districts in California that Democrats had targeted as vulnerable. The state Republican delegation was cut in half, to the lowest percentage since 1883, barely 13 percent of California's 53 House seats.
"This very well could be the year you look back [at] as the year the Republican Party ends in California as a viable force," says Rob Stutzman, a veteran Republican strategist who worked for former Governor Arnold Schwarzenegger. "I continue to think that might very well be the case, especially if Trump's on the ballot in 2020. We also have to look to 2022 to see what kind of redistricting maps we get. I think if Trump's not on the ballot in 2020, I wouldn't foreclose the potential to win back some of those seats."
To be fair, Stutzman says, Republicans in California would be worse off without McCarthy, who has helped raise money for the party and tried to recruit a stronger gubernatorial candidate than John Cox, who lost by nearly 25 points to Newsom. But McCarthy's strategy to spur statewide Republican turnout with a ballot measure to repeal recent gas-tax increases and vehicle-registration fees was a bust. In our interview, McCarthy ticks off a raft of reasons for the Republican defeats, from the historic pattern in any new president's first midterm election, to fears about health care, to recent changes in California law that allow same-day voter registration and the so-called harvesting of absentee ballots, in which organizers are allowed to collect vote by mail ballots and deliver them to polling places on Election Day, making it easier for people to vote.
But McCarthy also acknowledges the shifting demographic realities that have hurt his party in places like Orange County, where once reliable Republican strongholds are now much more diverse. "We've got to solve the suburban area," he says. "We have a definite problem whereas we've shrunk in our representation for women and minorities. We've got to look more like America."
Stuart Spencer, who at 92 is the grand old man of California Republican strategists, with experience dating back to Nelson Rockefeller's 1964 presidential primary and Ronald Reagan's runs for governor and president, has been warning for 25 years that the GOP's harsh anti-immigration stance would hurt it with emerging Hispanic voters. In 1994, Governor Pete Wilson promoted Proposition 187, a ballot measure to withhold public services from undocumented immigrants. It passed and helped him win reelection, but was later mostly overturned in court and started the Republican Party's long decline in the state.
"By 2025, a majority of the state's going to be Hispanic," Spencer says. "If you're a politician, you'd better look at this stuff. Ronald Reagan won 35 percent of the Hispanic vote. Today, a Republican statewide would be lucky to get 18 percent. You don't need them all. You just need in that 35 percent range, and you're competitive."
Former State Senator Jim Brulte, who is ending a six-year stint as chair of the California Republican Party, notes that the party's decline in the state began well before Trump. "Republicans have to deal with issues that resonate in the nonwhite communities, and that doesn't mean we have to walk away from our philosophies," he says. "I don't think we spend nearly enough time talking about school choice, for example. The worst schools in this country are in poor and minority neighborhoods and the Democrats are captives of organized labor."
There's scant evidence so far that McCarthy is inclined to tackle such policy issues, or that he would have the clout to move legislation if he did. "He's not driven by ideology," one old friend says. "He's driven by politics." McCarthy comes by his own support for Trump honestly; his district in Bakersfield, an oil town just over 100 miles northeast of Los Angeles, is about the reddest in the state. Trump carried it with 58 percent of the vote. The son of an assistant fire chief, McCarthy grew up in a family of Catholic Democrats, but was drawn to Ronald Reagan after he started a deli with $5,000 in lottery winnings and grew frustrated at the regulations governing small businesses.
He used profits from the deli to put himself through college at Cal State Bakersfield, where he later also earned an M.B.A. and rose through the ranks of the California Young Republicans, later heading the national organization. He cut his teeth working for Representative Bill Thomas, the longtime chair of the House Ways and Means Committee, who was often ranked among both the smartest and meanest members of Congress. McCarthy's own temperament could hardly be more different. After winning election to the State Assembly in 2002, he quickly made friends and, helped by term limits, was elected his party's leader in the chamber before his freshman year was out. He enjoyed a similarly swift rise after being elected to succeed the retiring Thomas in Congress in 2006, and became one of the "Young Guns," including Paul Ryan, who helped the GOP retake Congress in 2010.
In Sacramento, McCarthy lived in a group house with other members, and it was not only a place where colleagues could gather to play pool and poker, but also to be drilled by McCarthy in legislative procedure and electoral maps. And because he is a nondrinker, he says, "I learned things." When I ask if he doesn't drink because he worries it might be a problem for him—he had a grandmother who drank too much—he says, "We didn't really drink growing up, so it's just not my deal." Then he adds, "But if you drink, amongst elected officials, I have an advantage over you. Why would I want to get so … Look, I couldn't get into Princeton. I don't come from a background that's all Republican. I've had to scrap for everything. And so I need advantages to get where I'm at. And the advantage I have over other people is I don't give up, and I think I'll work harder than you. Why do I want to give an advantage to somebody of doing something stupid?"
In the short term, McCarthy says, he intends to take a personal hand in recruiting Republican candidates for 2020. He still sleeps on his district-office couch in the Rayburn Building and flies home to Bakersfield most weekends to stay in touch with his constituents. It's a long trip, with a connecting flight through Denver. It's the price he has to pay for his position, a position that is likely to only get harder as House Democrats hold Trump's feet to the fire over the next two years.
"Whatever he does in his life," says Spencer, the longtime GOP strategist, "if he wants to keep his district happy, he's going to have to be in one place. If he's going to be a leader, he has to be in another place. So he has some major policy and philosophical decisions to make."