Joe Crowley Just Played Into Alexandria Ocasio-Cortez's Hands
Since the start of her campaign, the freshman Democrat has railed against special interests. Now the lawmaker she defeated is becoming a lobbyist.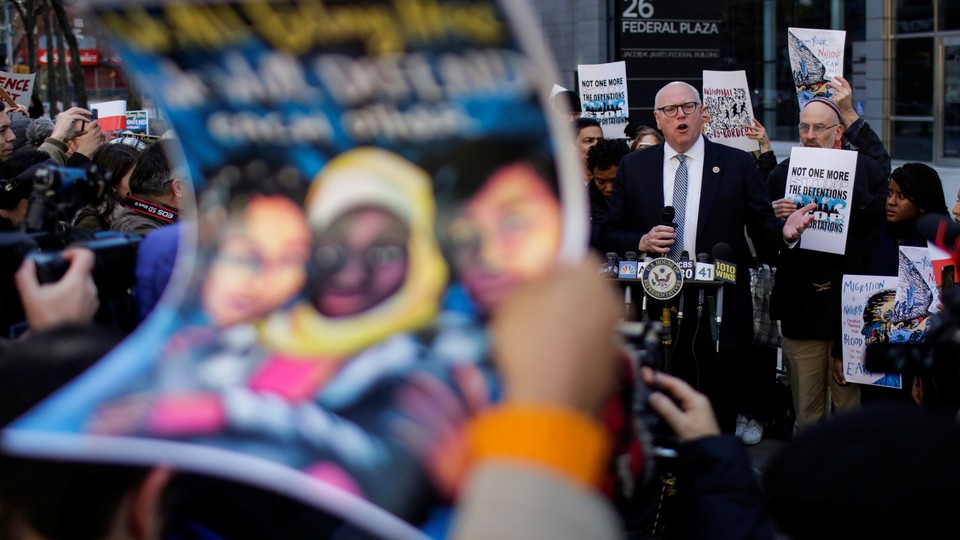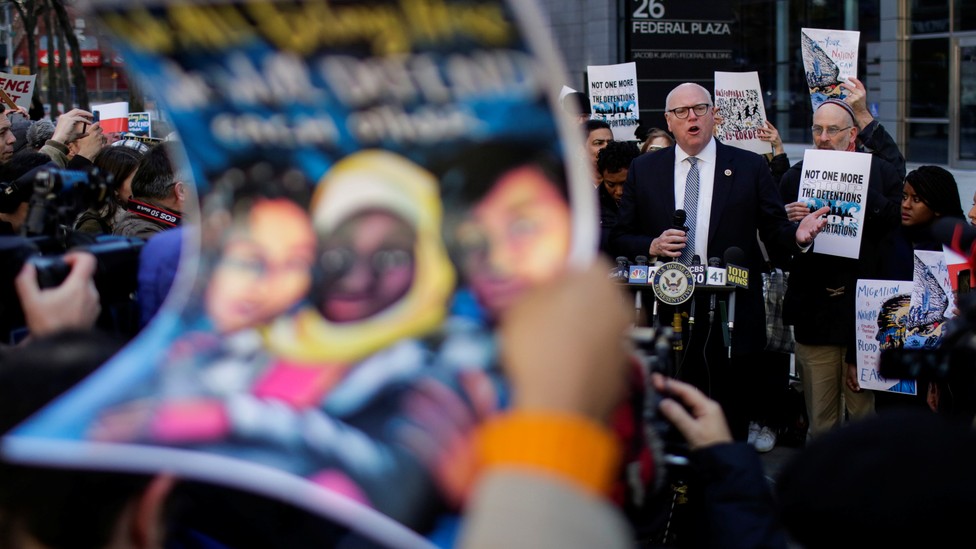 It shouldn't really come as a surprise to anyone that former Representative Joe Crowley, the New York Democrat who was famously dethroned last summer by the progressive political rookie Alexandria Ocasio-Cortez, is taking on a new role as a government lobbyist. It's a pretty standard career move in Washington, D.C., with many retiring lawmakers from both parties getting hired to stick around Capitol Hill.
But Crowley's decision is noteworthy because it's exactly the sort of move that Ocasio-Cortez and her fellow progressives have been advocating against—and offers a tidy encapsulation of the system they say they're trying to upend.
Crowley had been in Congress for two decades before he was toppled by Ocasio-Cortez in a primary election in late June. He had become one of the most influential figures in New York City politics, and was viewed by many as the possible next speaker of the House. But while Crowley was sharply critical of President Donald Trump and a proponent of some progressive policies, Ocasio-Cortez accused him of being out of touch with his majority-minority district, and labeled him a corporate Democrat for accepting support from Wall Street. The 29-year-old styled herself as a more authentic, progressive alternative, pointing to her small-dollar donations and publicly rejecting contributions from corporate political-action committees.
"This [race] is actually about electing Democrats whose financial interests are aligned with their communities' interests," Ocasio-Cortez told The Intercept in May.
Given this history, any job Crowley chose that was related to lobbying would have been easy bait for Ocasio-Cortez's allies. When it was reported earlier this week that Crowley, along with former Republican Representative Bill Shuster, will be joining the lobbying and law firm Squire Patton Boggs, some members of Ocasio-Cortez's camp say they weren't surprised. "It exposes what AOC talks about a lot," says Arthur Tarley, a progressive activist who volunteered with Ocasio-Cortez's 2018 campaign. "It neatly fits in with the narrative that most politicians, whether it's in Washington or Albany or wherever, are in it for themselves, for their donors, for those with means." A representative for Crowley declined to answer questions about his career transition.
Crowley won't be alone this year in moving through the so-called revolving door. At Squire Patton Boggs, he and Shuster will join other prominent former lawmakers such as former House Speaker John Boehner of Ohio, former Senate Majority Leader Trent Lott of Mississippi, and former Senator John Breaux of Louisiana. And dozens of other members who left Congress last month have either headed to lobbying firms or are starting their own, according to reporting from Politico.
In fact, lobbying is the single most popular career choice for retiring members of Congress. Of the nearly four dozen lawmakers who left office after the 2016 election, one-fourth stayed in Washington, and one in six became lobbyists, according to an analysis by The Atlantic. The job allows former lawmakers familiar with the players and processes of government to use their expertise to their, and their companies', advantage. The transition to lobbying is called "cashing in" for a reason: Members of Congress, who typically make about $174,000 a year, can make hundreds of thousands—even millions—working at lobbying firms.
Of course, former lawmakers need to make a living, too. And many members turned advocates say that lobbying allows them to continue pushing for the causes they believe in—including Crowley. "Serving in Congress was an honor of a lifetime and I look forward to working on many of the same issues in this new role," the Democrat said in a press release.
Lobbyists can also serve something of a public service: Members of Congress and their staff don't have the time or capacity to become experts in every issue they encounter. "Lobbying is the world's second-oldest profession. It's always going to be there," says Zach Wamp, a former U.S. representative from Tennessee and the co-chairman of Issue One's ReFormer's Caucus, a collection of 200 former lawmakers who advocate to reduce the influence of money in politics. "If your child is killed by a drunk driver, and you start a group called Mothers Against Drunk Driving, you of course want the best lobbyist there to talk to lawmakers about this issue," Wamp says.
But for good-government groups such as Wamp's, the problem isn't lobbying, necessarily—it's money. These organizations argue that it's unethical for former members of Congress to exploit their personal connections to earn a paycheck and influence policy at the same time. (Current law requires a "cooling off" period of at least one year before ex-lawmakers can lobby their former colleagues.)
"The thing that is challenging is the additional access former members have to other members [and to] high-level chiefs of staff," says Lisa Gilbert, the vice president of legislative affairs at Public Citizen, a progressive think tank and advocacy group in D.C. "They are able to be heard in a way that other members are not." Squire Patton Boggs touted the benefits of Crowley's and Shuster's legislative background in its press release. "The skills and experience Bill and Joe bring will be an asset for clients all over the world who are seeking to navigate the challenges of modern-day Washington," the release read.
Gilbert called Crowley's choice to join a lobbying firm "particularly optically problematic" given how he was unseated by someone "who has made it a point to try to distance herself from lobbyists and corporate influence." Ocasio-Cortez was one of roughly 185 Democratic candidates in the 2018 election cycle who promised not to accept money from corporate PACs. The pledge was mostly symbolic for a first-time House candidate—most nonincumbents aren't offered corporate PAC money—but it's quickly become a political litmus test among 2020 contenders. As an elected lawmaker, Ocasio-Cortez has also continued to rail against the role of corporate influence in politics, most recently labeling an orientation program at Harvard for freshman members of Congress a "pro-corporate lobbyist project" for the way it prominently features lobbyists and bankers as speakers.
Crowley's new job has struck some of her allies as a vindication of her arguments on the campaign. "We were right," says Vigie Ramos Rios, Ocasio-Cortez's former campaign manager. "It's a nice feeling, but it'd be a nicer feeling if seeing this wakes a few more people up … If there were way more people going, Oh my God, I just realized this is what's going on."
Young progressives' continued emphasis on lobbying and government reform suggests that the issue isn't going away. In the Democratic-led House, the party has proposed a new bill that would, among other things, enact tighter lobbying-registration requirements. But if progressives are to ultimately get their way, concern over influence in politics will expand to more than just legislation or campaign promises—it will forever stigmatize career moves like Crowley's.