Democrats' Two Roads to Beating Trump
The biggest battlegrounds in 2020 might require very different candidates.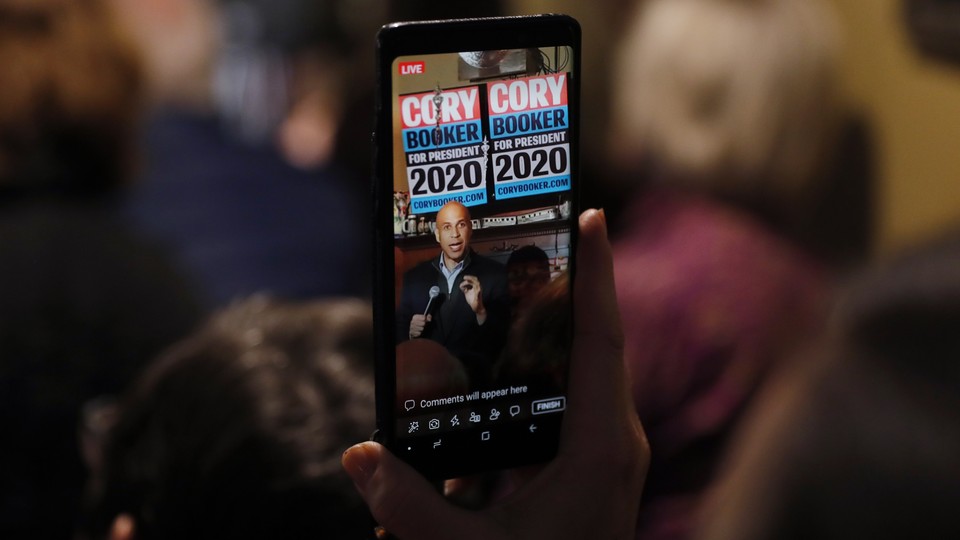 Two distinct paths are emerging for Democrats to beat Donald Trump in 2020, each presenting different challenges—and perhaps demanding a different kind of nominee.
The paths are through the Rust Belt and Sun Belt battlegrounds, which both parties consider most likely to decide the next presidential contest. New state-level polling from Gallup signals that Democrats face very different equations in those two regions.
In the key Rust Belt states that Trump captured in 2016, his job-approval rating during 2018 was consistently worse than his national average among whites with and without a college degree, according to detailed figures provided to me by Gallup. This suggests that the most straightforward path for Democrats to recapture these states—particularly Pennsylvania, Michigan, and Wisconsin—may be to find a nominee who can reassure white voters who are cooling on Trump.
In almost all the Sun Belt states that Democrats are hoping to contest, by contrast, Trump's approval rating among both college- and non-college-educated white voters exceeds his national average, according to the same previously unpublished results. This suggests that to flip targets such as Arizona, Florida, and North Carolina, Democrats must find a nominee who can mobilize much greater turnout among those states' large and growing populations of nonwhite voters.
The devastating testimony about Trump to a House committee Wednesday by his former lawyer and fixer Michael Cohen might depress the president's approval rating and widen the 2020 opportunities for Democrats. But Trump's support has rebounded to a narrow range just below or slightly above 40 percent after earlier body blows, from the Access Hollywood tape, in which he boasted about groping women, to his "very fine people" comments about racist violence in Charlottesville, Virginia.
Democratic strategists and liberal media commentators are already debating whether a focus on swing states in the Rust Belt or the Sun Belt offers the most promising road to ousting Trump in 2020. Some have argued that it's a false choice for Democrats to prioritize one over the other. They say a strong economic message could allow them to simultaneously appeal to disaffected white voters in the Midwest—especially from working-class families with slow-growing incomes—and excite greater turnout among nonwhite voters in the Sun Belt, particularly young people.
"Health care and wages matter to everyone," said Josh Schwerin, the communications director for Priorities USA, a Democratic super PAC that's researching the potential 2020 electorate. "If Democrats are focusing on those issues, they are talking to everyone."
But while the same message could prove equally effective in both regions of the country, it's difficult to argue that the same candidate can deliver it as effectively to both audiences. Most analysts would probably agree that Amy Klobuchar, the senator from Minnesota; Joe Biden, the former vice president; and Sherrod Brown, the senator from Ohio, may be best positioned to reel in white midwestern voters already retreating from Trump. But each seems less likely to excite younger, nonwhite voters than others in the field, including Senators Kamala Harris of California and Cory Booker of New Jersey, both of whom are black; former San Antonio Mayor and federal housing official Julian Castro, who is Latino; and former Representative Beto O'Rourke of Texas, who showed an electric capacity to inspire younger audiences during his losing Senate bid against Republican Ted Cruz. Vermont's Senator Bernie Sanders, though much older than those four, also has a record of energizing young people, including African Americans and Latinos.
The new Gallup data, based on more than 73,000 interviews conducted throughout 2018, highlight the clear differences between the opportunities—and challenges—Democrats face in the Rust Belt and Sun Belt. Gallup's numbers, which track results among all adults, generally show Trump with a slightly poorer job-approval rating in these states than did the Edison Research exit poll conducted last fall among actual voters in the midterm elections. But the Gallup figures could be revealing of attitudes in the larger pool of Americans who usually vote in presidential elections.
In 2016, Trump captured five Rust Belt states that Barack Obama won in 2012: Ohio, Iowa, Michigan, Wisconsin, and Pennsylvania. The latter three, which Trump won by a combined 80,000 votes, had been part of the Democrats' blue wall: the 18 states they had won in six consecutive elections from 1992 to 2012.
In Gallup's 2018 polling, Trump's overall approval rating stood at 48 percent in Ohio, 45 percent in Iowa, and just 42 percent in each of the three former blue-wall states. In Minnesota, the sole Rust Belt state that Hillary Clinton won, which Trump's team hopes to target next year, the president's approval rating reached just 39 percent. These patterns largely tracked with the results of the 2018 election: Republicans held the governorships in Iowa and Ohio, but they lost gubernatorial and Senate contests in the three former blue-wall states, as well as in Minnesota. Brown also won reelection to his Senate seat in Ohio.
Both the 2018 election results and the Gallup findings suggest that Ohio, and to a slightly lesser extent Iowa, remain very difficult climbs for Democrats against Trump. But these same numbers show distinct cracks in the president's support across the former blue-wall states. Among whites holding at least a four-year college degree, Gallup placed Trump's 2018 approval rating at 39 percent in Michigan and Wisconsin, and at only 36 percent in Pennsylvania—each slightly below his national average of 40 percent among white-collar adults. Among his core supporters, whites without a four-year college degree, Gallup placed his 2018 approval rating at 54 percent in Michigan and Pennsylvania, and at 50 percent in Wisconsin. Those were each below his national average of 57 percent with blue-collar whites.
Trump's relatively weak numbers among white voters in Minnesota—combined with the decisive midterm results in that state—suggest he has little prospect of genuinely contesting it. At the same time, his strong showing among white voters in Ohio underscores the Democrats' challenges there. Democrats remain cool on Iowa after the Republican gubernatorial win there last fall, and after Trump's solid victory there in 2016, but Gallup's results suggest that Trump has not put the state away: Just over half of Iowa's blue-collar whites, but only about one-third of whites with degrees, approved of his performance in 2018.
Almost all of these numbers were essentially the same in comparable Gallup results from 2017. This continuity suggests that it may be difficult for Trump to significantly expand his support in these Rust Belt states before 2020, especially if the economy slows its growth, as many forecasters predict.
Across the potentially competitive Sun Belt states, Trump's position among whites is consistently much stronger. In particular, his support among non-college-educated whites was much higher than it was in the Rust Belt: Gallup found that he drew positive job ratings from 73 percent of these voters in Georgia, 67 percent in North Carolina, 66 percent in Texas, and 61 percent in Florida. Likewise, among college-educated whites, Trump ran well above his Rust Belt numbers in all four states.
Trump's position with whites was more uncertain in the two southwestern states most likely to be hotly contested next year. In Nevada, which Clinton narrowly carried in 2016, Trump drew positive job marks from just 50 percent of blue-collar whites (well below his national average), but from 45 percent of college-educated whites (above his national average). In Arizona, which has moved into play for Democrats in 2020 after Democrat Kyrsten Sinema's Senate victory there last fall, 59 percent of non-college-educated whites said they approved of Trump's performance, but only 42 percent of those with degrees said the same.
In potentially competitive states in the Sun Belt and Rust Belt, Gallup found that Trump drew anemic support from nonwhite voters last year. In Michigan, Wisconsin, Pennsylvania, Georgia, and North Carolina—all states where the minority population is primarily African American—no more than 17 percent of nonwhites approved of the president's job performance. Trump rated slightly better among minority voters in Texas (22 percent approval), Florida (25 percent), and Arizona (28 percent), three states where the nonwhite population is primarily Hispanic.
But while Trump's absolute approval ratings were lower among minority voters in the Rust Belt, it's the Sun Belt where nonwhite voters likely offer greater opportunity to Democrats. The reason is that in the Rust Belt states, the minority populations are growing only slowly, while in the Sun Belt they're growing more rapidly. In each of the Democrats' target states except North Carolina, nonwhites are expected to comprise a majority of the state population under 30 by 2020, according to projections by the Brookings Institution demographer William Frey.
In Nevada, Trump's relatively weak numbers among whites, his anemic 19 percent approval rating among nonwhites, and the Democratic sweep of the Senate and gubernatorial races last year all indicate that the state is evolving from its current shade of purple toward reliably Democratic blue. But in the other competitive Sun Belt states, Trump's considerable strength among whites means Democrats are likely to fall short without igniting significantly more turnout by nonwhite voters, especially younger ones.
Considering all these factors, Democratic strategists generally agree that any road to 270 Electoral College votes begins by recapturing Pennsylvania and Michigan, the two former blue-wall states that reverted most sharply toward Democrats last November. But even if the party retakes both, it would still need to win one more state to beat Trump.
Priorities USA, the Democratic super PAC, recently released a strategy memo in which it reaffirmed this consensus by identifying Pennsylvania and Michigan as the two states Democrats are most likely to regain from Trump in 2020. The group then pinpointed Wisconsin as the state most likely to push the Democratic nominee's vote count over the edge, with Florida ranking next as the state most likely to tip toward the Democrats. The group announced that it will shortly launch a $100 million advertising and organizing effort in those four states.
Josh Schwerin said that toward the end of 2019, the group will also invest in a second tier of states: North Carolina, Arizona, and Georgia, three Sun Belt states that Trump won; and Nevada, which Clinton carried. Notably, Iowa and Ohio, which Obama won twice, did not crack the group's top tiers of states to target.
Though Schwerin's group doesn't believe Democrats have to choose between the Sun Belt and the Rust Belt, it does believe targets in the latter region may be "somewhat closer" in 2020. "These are states that were blue before," Schwerin explained. "As Arizona is moving towards us, we are making sure that some of these states don't move away from us."
A logical response for Democrats might be to pick a 2020 ticket that combines one candidate best suited to reassure older whites cooling toward Trump with another best positioned to mobilize younger nonwhites who are more unreservedly hostile to him but less inclined to turn out. The new polling results signal that either path could beat Trump—but that neither is guaranteed to do so.