The Real Significance of Michael Cohen's Testimony
The response to his appearance on the Hill could offer a preview of the Mueller report's aftermath if the findings are anything less than earthshaking.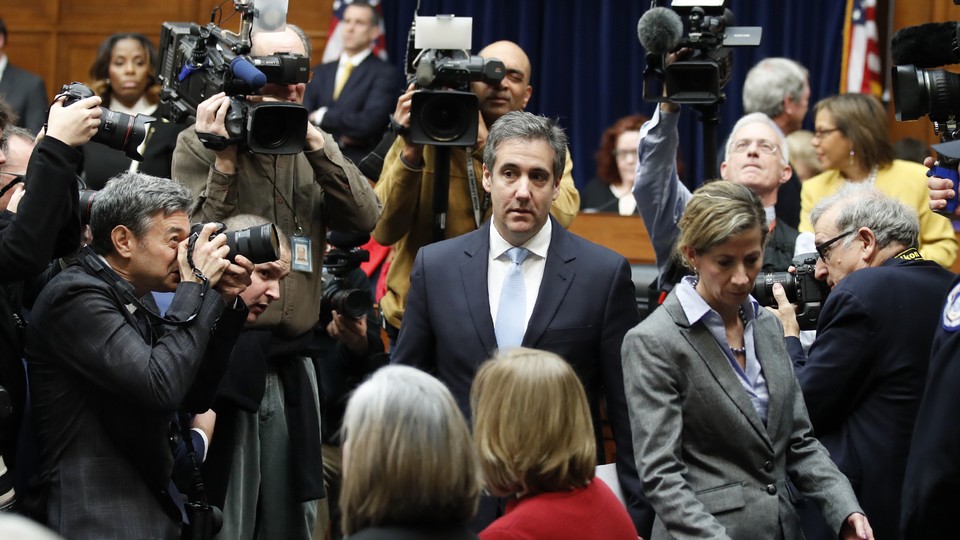 It helps to put it in plain terms: Donald Trump's longtime fixer Michael Cohen offered crucial evidence on Wednesday that the president was kept in the loop on conversations with WikiLeaks about releasing emails related to Hillary Clinton. He also told lawmakers that, as president, Trump reimbursed him for hush-money payments made to the adult-film star Stormy Daniels, producing a copy of a check.
On the whole, Cohen's testimony in front of the House Oversight Committee contained some of the most explosive details yet in the investigation of potential crimes committed on the part of Trump or his presidential campaign. But both Republicans and Democrats say his appearance won't change their political strategies going forward, nor do they believe it will have major consequences for the president himself.
"Cohen's hearing was good TV, but I don't know that it necessarily changes the ball game in any way," said an aide to a senior House Democratic leader, who requested anonymity because they were not authorized to speak with the press. "He's not credible," said a source close to the Trump campaign, who spoke on the condition of anonymity for the same reason. "This will sizzle today and then cool off."
In contrast to Democrats, Republicans have an incentive to downplay Cohen's appearance and its potential ramifications for the president. But the two sides' similar response is a possible reflection of other factors. For one, as the Democratic aide put it, "a lot of what [Cohen] said was corroborating things that had been pretty widely corroborated in the media." The nature of Trump's presidency might have an influence, too. In any other administration, Cohen's claims would be bombshells. Evidence that a president facilitated payments to his alleged porn-star mistress would likely have all but guaranteed his demise. But in reality, the country's definition of scandal is more relative than ever. After three years of a campaign and a White House breaking taboos large and small, the bar for genuine shock has become much, much higher. And that could have implications for how Congress and the public receive future revelations about Trump.
"Accepting things like this was a big part of the buy-in on Trump," explains the GOP operative and former Republican National Committee spokesman Doug Heye, referring to Cohen's testimony on the hush-money payments. Even if supporters are willing to concede that the president committed a campaign-finance violation, he adds, the argument will quickly become "Everyone does it."
Multiple House Democratic aides say that, at least in the near term, the party's approach to investigating the president won't change in light of the hearing's revelations. Cohen, who is testifying before the Senate Intelligence Committee in a closed-door hearing on Thursday, might have revealed details that could strengthen Democrats' case against the president. But most Democrats still want to read Special Counsel Robert Mueller's report before considering impeachment. Cohen's testimony on Wednesday only "further incentivizes Dems to get to the truth," said another Democratic House staffer, who also spoke on the condition of anonymity because they were not authorized to talk to media. "To continue to pursue other witnesses [in order] to have more to share." After the hearing, Majority Leader Steny Hoyer told reporters, "Let me repeat: We need to wait for the Mueller report and see what it says."
Those close to the president, for their part, say they aren't worried that Cohen delivered a lasting blow. His legal team's messaging game plan, according to Trump's lawyer, Rudy Giuliani, is to focus solely on moments when they allege Cohen lied yet again to Congress. (Trump's former lawyer pleaded guilty in November to lying to lawmakers about a Moscow real-estate project Trump was pursuing in 2016.) The approach is an indication that Trump's allies are not recalibrating their strategy ahead of the release of Mueller's findings: They'll continue to attack the credibility of the special counsel's witnesses and dismiss any threats they might pose to the president's standing.
"He fell apart with at least 2 or 3 new perjurious statements," Giuliani said in a text message, referring to Cohen. "Maybe more." When asked for examples, he pointed to a statement released Wednesday by Trump's lawyer Jay Sekulow: "Today's testimony by Michael Cohen that attorneys for the President edited or changed his statement to Congress to alter the duration of the Trump Tower Moscow negotiations is completely false."
The former Trump campaign aide Michael Caputo says the telephone lines between longtime Trump associates "lit up" when Cohen claimed early on in the hearing that it had been his idea that Trump run for president back in 2012. "Everybody who had a role in Trump's past was choking on their coffee," Caputo says. "The idea for Trump to run for president in 2012 came from Trump alone, and it was Roger Stone who put that team together."
Caputo also dismisses claims that Cohen definitively proved that the president had broken the law with the payments to Daniels: "None of that was new."
The response to Cohen's testimony could offer a preview of the Mueller report's aftermath if the findings are anything less than earthshaking, with Democrats displaying caution and Republicans waving it all away. Already, more than 30 people have been indicted as part of Mueller's probe. Yet with each day over the past two years has come a greater expectation, among Democrats especially, that something more damning is still out there—something that ties Trump's campaign directly to Russia and puts the president on a sure path to impeachment. Democrats on the Oversight Committee followed this instinct on Wednesday, spending much of their time attempting to goad Cohen into speculating about collusion, and spending less time engaging with the material substance of Cohen's testimony. Yet by setting the goalposts at collusion, Democrats helped ensure that anything revealed during Cohen's hearing that was short of proof of a conspiracy, no matter how damning, landed with less of a bang.
That's in large part because of how the hearing was sold: The president's former fixer, who's going to prison and has nothing left to lose, would come blow the lid off the whole thing. And the hearing was dream viewing for liberals. The dozens of people who packed into an overflow room outside the committee chamber cheered every time Cohen insulted the president or sassed one of the Republican lawmakers questioning him.
Even though professional Republicans and Democrats don't believe much has changed, several attendees at Wednesday's hearing were optimistic about what's to come in the Russia investigation, still clinging to the hope that something new, somewhere along the line, will be enough to force the president to resign—or force Congress to impeach him.
Cohen's testimony provides "enough momentum to keep things moving forward, to hopefully push him out," said a young woman passing out Impeach Trump stickers to other hearing-watchers, who gave her name only as Adrian because she feared consequences at work. "Of course, there's other testimony that we haven't heard from the intelligence committees."