Cory Booker Launched His Presidential Campaign in the Most Cory Booker Way Possible
The senator received prayers from the congregation at his Baptist church in a small service in Newark on Thursday night. Twelve hours later, he told the world.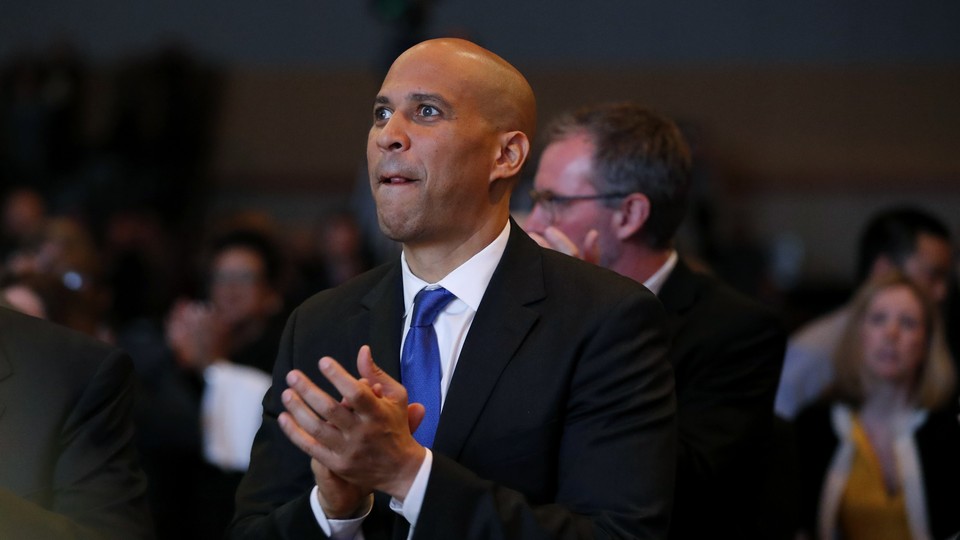 NEWARK, N.J.—At a small service here Thursday night, people prayed for what Cory Booker was about to do.
With each prayer, hands clasped and hands released. The congregation at Metropolitan Baptist Church, Cory Booker's small home church, in the middle of the ward he started out representing on the city council, grasped hands Thursday night as the Reverend Dr. David Jefferson called up preachers and congregants. A prayer for consecration. A prayer for guidance and direction. A prayer for Esther, for the women in the room.
"Let this nation see that something good comes out of Newark, New Jersey," a woman from the congregation said. "Let Cory know that everything he does, as it abides with you, blesses the future as much as it blesses the past, as much as it honors the future." Over 40 minutes, no one made any kind of official announcement. But by the end of the prayer service, they all knew why they were there.
The New Jersey senator announced his presidential campaign hours later on Friday morning, the first day of Black History Month, with a run of early-morning appearances on black and Spanish-language radio. His first big interview would be across the river in Manhattan for The View.
After a break for the Super Bowl, there will be more next week, then a swing to South Carolina and Iowa next weekend. His launch video, set to the snare drums of a high-school marching band, runs through his own family's story of white lawyers helping his family break through a pattern of local housing discrimination in a way that changed the course of his life. It splices together clips of resistance marches and civil-rights marches, and talks about collective action and interwoven destiny, panning from shots of the homeless on a city street to a field growing corn.
Booker's campaign will roll out big lists of staff hires and supporters in all the early-presidential-primary states, years of preparations unleashed for a show of force he and his aides think is going to pave the way for a traditional ground game, despite being built around a black man obsessed with the "conspiracy of love" who is not a traditional candidate at all. But before it began, he brought together a group of friends, supporters, and current and former aides for what the reverend described on Thursday night as an intimate prayer service. Booker's Senate office in Washington is filled with religious books; last week he quoted the Torah in a speech to the U.S. Conference of Mayors. He's comfortable sitting for six hours in a church service, head bowed, nodding along. Even as other plans shifted, he knew he wanted this to be where he spent the night before everything became official.
Still, the evening was such a secret that some of the invitees weren't even sure why he was there and asked whether he was really about to announce his White House run. Aides alerted just three reporters. The only sign from the outside that anything special was happening inside Metropolitan Baptist was two police cars, parked on the street and in the parking lot. Their flashing lights shone through the stained-glass windows as the prayers went on.
Booker sat in a chair by himself, most of the time leaning forward with his eyes closed. His mother, Carolyn, was called up to sit next to him.
After each prayer, he stood and patted his heart twice, the way he always does, and gave a hug. The reverend sent someone for his oil—this was going to be old school, he told them—and he literally anointed Booker, drew a cross on his forehead, and then laid his hand on the senator's head while his wife grasped the back of the neck. "We don't believe, God, that you took him so far to leave him now," the Reverend Jefferson said.
"I just feel this sense of blessed," Booker told me in the hallway outside the chapel, after he'd finished all the hugs and selfies. "A quiet confidence about the road ahead, every risk I've taken, every leap into the unknown, God's always blessed me with people who are there, who are here, who've allowed me to be used for something much larger than myself."
He said he was humbled. I pointed out to him that running for president is about the most egotistical thing a person can do—decide that you and only you should be in charge of the country and the world.
He put his head down and laughed, and then, without prompting, looked up and compared himself with Donald Trump.
"What is real strength? Is it bombast? Is it swagger, braggadociousness? Is it strut? No, I think strength is seen in vulnerability. It's seen in those people who stood before fire hoses and armed troopers unarmed," Booker said. "I think it's people who are willing to let the truth be told. We're all imperfect folks trying to make a better nation, and I look forward to offering up a very strong spirit of love and kindness and grace and decency, along with my policy ideas, and put that before the American public. And I trust and have faith in America, and if that's not what folks want right now, so be it. But I feel this sense of liberation tonight."
For weeks, as other big-name candidates jumped in, "Where's Cory?" became a running joke among Democratic operatives. He'd seemed like he was ready to go. Some figured he'd even announce in December. Then Elizabeth Warren announced her candidacy on New Year's Eve, with the kind of big online launch that could have come out of him. Some figured he'd try to get out ahead of Kamala Harris, at least, seen as prime competition because they're both black and both know that heavily black South Carolina, home of the third primary, will almost certainly be essential to their hopes of getting into the final round in the fight for the nomination. When people heard he was spending Martin Luther King Jr. Day in South Carolina, they assumed that was going to be announcement day. Then word spread that Harris was going to announce on King Day, picking that symbolism, and it seemed like she had boxed him out, though Booker's team insists that it was a head fake all along.
The jokes were still going around through Thursday afternoon, after a small group of reporters had been quietly alerted to Friday's plans and Booker was leaving Washington to head back home here. They were confused. Had he blinked? And if he hadn't blinked, what was he waiting for? January was over. Big donors already knew the numbers of the other candidates. Joe Biden and Bernie Sanders loom large with the potential to redefine everything, but the dynamics within the rest of the field seemed like they were beginning to set.
The answer, according to Booker's people, was that they were building. Building and watching. Whatever benefit they would have gotten from moving more quickly, they decided, wouldn't have matched the benefit of having more time to finesse their organization and plan.
Internally, as the other announcements piled up, Booker would repeat a line about how the process was like a hurdle race: "If you're looking to the lanes to your left or your right, you're going to trip."
True, he's a month behind Warren, two and a half weeks behind Kirsten Gillibrand, and a week and a half behind Harris, Booker figures, but he's ahead of Biden, Sanders, and Mike Bloomberg.
"It's February. It is very, very early," Booker said after the church service. Running through all the pieces that have been put in place, he added, "I think we're going to run the best campaign we could possibly run."
All of Booker's love talk, his tendency to give sermons—rather than speeches—that count as short if they're under 40 minutes, the wide eyes, and the constant hugs can make people forget that the documentary about his first big campaign, against incumbent Newark Mayor Sharpe James in 2002, was called Street Fight, and that he has been defined by ambitious, hard-edged politics. Watch the movie now (it's streaming on Netflix), and it's notable how much, 17 years later, Booker looks the same and sounds the same, talking about his philosophy of walking every street that he wants to represent, getting into fights with the cops James sent out to harass him.
"No disrespect to Sharpe James, but he's had 16 years to show you what he could do. And anything he could have done, he should have done by now. It's time for some new, young blood," Booker says to one voter early in the movie. Talking to his consultants during a scene in the final stretch, he pushes back on running negative ads.
"I'm not going to lose this race because we're afraid to punch Sharpe in the nose. I just think there's a way to do it with dignity—you're still rolling up your sleeve and slugging this guy in the face, but there's a way to do it with dignity," he tells them on speakerphone.
On Thursday night, Booker said his opponents are making a mistake if they think he's going to be all about hugs and preaching unity. The password for the preview of the launch video his staff sent to reporters was BringIt.
"I came up through Brick City," he told me, using the old nickname for Newark. "But we have this, we have this, we have this mistaken sense that being strong is being mean, that being tough is being cruel. It's just not. Separate those things for a moment. You can be a strong, tough street fighter and still be a person of grace and love and kindness and empathy and vulnerability."
He paused. "We all yearn for a nation that comes back together and fights for each other."
Booker lost that race against James, but came back and won four years later. These days James's son, John, is on the Newark city council. He's a close-enough political ally in town to have been invited Thursday night (but not close enough to be ready to jump on board Booker 2020). Booker is "going to go for it on his own," John James said. "He doesn't need my endorsement."
James stood for the whole service, clapping when he was asked to help.
Booker has been making real moves to run for president for the better part of a year, but his plans crystallized the first weekend in October, when he flew straight from the Senate floor vote on Brett Kavanaugh's Supreme Court confirmation to the big annual Iowa Democrats' dinner in Des Moines. It surprised him just how much appetite there was for a spiritual, single black vegan from New Jersey in a state that's about as different from downtown Newark as you can get without leaving the country.
"I saw that people didn't just want a politician who's going to say, 'I'm going to punch Trump in the face,' when I saw that people really wanted to rise above it and pull people back together to our common ideas and common principles," Booker said.
His mother walked out of the service on Thursday night with a big smile on her face.
The moment, watching her son be anointed with oil 11 hours before launching his presidential campaign, was huge. She didn't seem fazed.
"It's a journey," Cory Booker's mother said, "and today was the first step of the journey."