9 Striking Moments From Michael Cohen's Testimony
In his first public appearance before lawmakers, Donald Trump's ex-ally took questions about the president's conduct and his own credibility.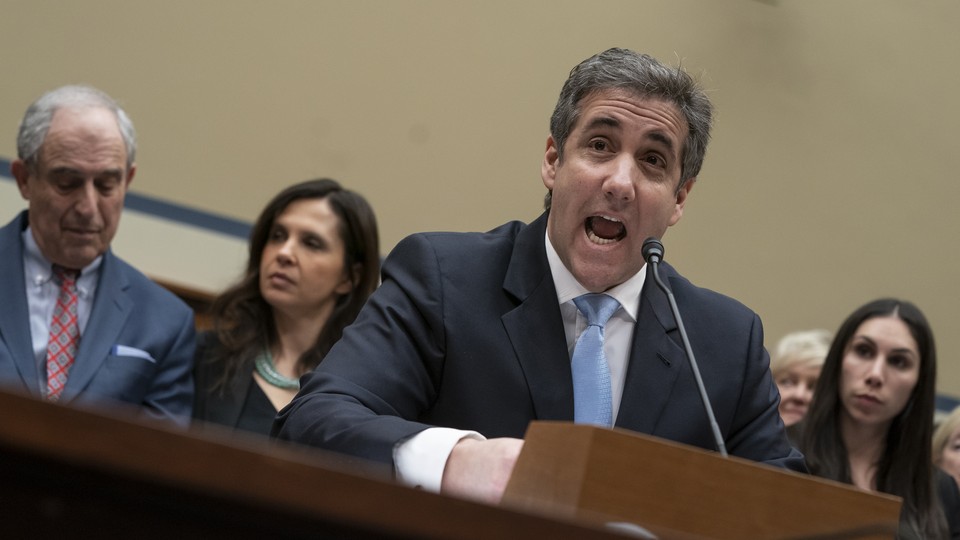 Updated at 5:52 p.m. ET on February 27
In his long-awaited testimony before the House Oversight and Reform Committee, Michael Cohen summed up his former employer this way: "I know what Mr. Trump is: He is a racist, he is a con man, and he is a cheat."
The comment from President Donald Trump's former lawyer and fixer was one of many striking moments in Wednesday's hearing, Cohen's first public appearance before Congress. His opening statement touched on the Russia investigation, Roger Stone's connection to WikiLeaks, Cohen's payoff of the adult-film star Stormy Daniels, and Trump's very character itself. He also took hours of questions from lawmakers: Democrats focused their inquiries on the president's conduct while Republicans zeroed in on Cohen's record of previously lying to Congress.
Below, Cohen's most noteworthy exchanges with members of Congress:
1. Cohen explains what business as usual looks like in Trumpland.
Democratic Representative Carolyn Maloney of New York: In your 10 years of working for Donald Trump, did he control everything that went on in the Trump Organization, and did you have to get his permission in advance or report back after every meeting of any importance?
Michael Cohen: Yes. There was nothing that happened at the Trump Organization … that did not go through Mr. Trump with his approval and sign-off, as in the case of the [hush-money] payments [to women who claim to have had affairs with Trump].
2. The committee's ranking member, Jim Jordan, accuses Cohen of holding a grudge against Trump for not hiring him at the White House, after Cohen's years of working for Trump in the allegedly "bad" environment described in Cohen's opening statement.
Republican Representative Jim Jordan of Ohio: If it's that bad, I can see you working for him for 10 days, maybe 10 weeks, maybe even 10 months, but you worked for him for 10 years. Mr. Cohen, how long did you work in the White House?
Cohen: I never worked in the White House.
Jordan: That's the point, isn't it?
Cohen: No, sir.
Jordan: Yes, it is.
Cohen: No, it's not, sir.
Jordan: You wanted to work in the White House.
Cohen: No, sir.
Jordan: You didn't get brought to the dance.
3. Democratic Representative Debbie Wasserman-Schultz of Florida wants, as she put it, to "connect more of the dots" on the Trump campaign's possible collusion with Russia.
Wasserman-Schultz: Mr. Cohen, is it your testimony that Mr. Trump had advanced knowledge of the Russia-WikiLeaks release of the [Democratic National Committee's] emails?
Cohen: I cannot answer that in a yes or no. He had advance notice that there was going to be a dump of emails, but at no time did I hear the specificity of what those emails were going to be.
Wasserman-Schultz: But you do testify today that he had advanced knowledge of their imminent release?
Cohen: That is what I had stated in my testimony.
Wasserman-Schultz: And that he cheered that outcome.
Cohen: Yes, ma'am.
Wasserman-Schultz: Did Mr. Trump likely share this information with his daughter Ivanka, son Don Jr., or Jared Kushner?
Cohen: I'm not aware of that.
Wasserman-Schultz: Was Ivanka, Jared, or Don Jr. still involved in [a deal to build a Trump Tower in Moscow] at that time?
Cohen: The company was involved in the deal, which meant that the family was involved in the deal.
Wasserman-Schultz: If Mr. Trump and his daughter Ivanka and son Donald Jr. are involved in the Russian Trump Tower deal, is it possible the whole family is conflicted, or compromised with a foreign adversary in the months before the election?
Cohen: Yes.
4. Inside the hearing room, Republican Representative Mark Meadows of North Carolina introduces Lynne Patton, a black former employee of the Trump Organization and current federal housing official. He offers her as proof that, contrary to Cohen's claims, Trump is not racist.
Meadows: I asked Lynne to come today in her personal capacity to actually shed some light. How long have you known Ms. Patton?
Cohen: I'm responsible for Lynne Patton joining the Trump Organization and the job that she currently holds.
Meadows: I'm glad you acknowledge that because you made some very demeaning comments about the president that Ms. Patton doesn't agree with. In fact, it has to do with your claim of racism. She says that as a daughter of a man born in Birmingham, Alabama, that there is no way that she would work for an individual who was racist. How do you reconcile the two of those?
Cohen: As neither should I, as the son of a Holocaust survivor.
Meadows: But Mr. Cohen, I guess what I'm saying is, is I've talked to the president over 300 times. I've not heard one time a racist comment out of his mouth in private. So how do you reconcile it? Do you have proof of those conversations?
Cohen: I would ask you to ask …
Meadows: Do you have tape recordings of those conversations?
Cohen: No, sir.
[…]
Meadows: Where's the proof?
Cohen: Ask Ms. Patton how many people who are black are executives at the Trump Organization? And the answer is zero.
5. Cohen offers clarity on Trump's hush-money payments to Stormy Daniels.
Chairman and Democratic Representative Elijah Cummings of Maryland: Now, here's another [check].  This one appears to be signed by Donald Trump himself. Is that his signature?
Cohen: That is Donald Trump's signature.
Cummings: So let me make sure I understand. Donald Trump wrote you a check out of his personal account while he was serving as president of the United States of America to reimburse you for hush-money payments to Ms. Clifford? Is that what you are telling the American people today?
Cohen: Yes, Mr. Chairman.
Cummings: One final question. The president claimed he knew nothing about these payments. His ethics filing said he owed nothing to you. Based on your conversations with him, is there any doubt in your mind that President Trump knew exactly what he was paying for?
Cohen: There is no doubt in my mind, and I truly believe there is no doubt in the mind of the people of the United States of America.
6. Cohen says he regrets working for Trump and warns others not to.
Democratic Representative Jim Cooper of Tennessee: Mr. Cohen, several times in your testimony, you state the bad things you did for Mr. Trump. And at some point, you apparently changed your course of action. There is a recurring refrain in your testimony that says, "And yet, I continued to work for him." At some point, you changed. What was the breaking point at which you decided to start telling the truth?
Cohen: There are several factors. Helsinki, Charlottesville, watching the daily destruction of our civility to one another, putting up silly things like this, really unbecoming of Congress. It's that sort of behavior that I'm responsible for. I'm responsible for your silliness because I did the same thing you [referring to the Republican members of the committee] are doing now for 10 years. I protected Mr. Trump for 10 years … And I can only warn [that] people that follow Mr. Trump as I did, blindly, are going to suffer the same consequences that I'm suffering.
Cooper: What warning would you give young people who are tempted as you were? Would you encourage them not to wait 10 years to see the light? What advice would you give young people, in particular young lawyers so they do not abuse their bar license as you did?
Cohen: Look at what happened to me. I had a wonderful life. I have a beautiful wife and two amazing children. I achieved financial success by the age of 39. I didn't go to work for Mr. Trump because I had to. I went to work for him because I wanted to. And I've lost it all. If I'm not a perfect-picture example of what not to do—that's the example that I'm trying to set for my children. You make mistakes in life, and I've owned them and I've taken responsibility for them. I'm paying a huge price as is my family.
7. Cohen then explains why he fears for his family's safety.
Cooper: A recurring theme is the concern for your family's safety. What specifically are you most concerned about?
Cohen: Unlike my [Twitter account] that's got 1,000 followers, [the president]'s got over 60 million people. When Mr. Trump turned around early in the campaign and said, I can shoot somebody on Fifth Avenue and get away with it, I want to be very clear: He's not joking. He's telling you the truth. You don't know him. I do. I've sat next to this man for 10 years and I watched his back. I'm the one who started the campaign, and I'm the one who continued in 2015 to promote him. So many things I thought that he can do are just great. And he can and he is doing things that are great. But this destruction of our civility to one another, it's out of control. When he goes on Twitter and he starts bringing in my in-laws, my parents, my wife, what does he think is going to happen? He's sending out the same message—that he can do whatever he wants. It is becoming his country, and he's becoming an autocrat. And hopefully something bad will happen to me, my family, my children, or my wife, so that I will not be here to testify—that's what his hope is, to intimidate me.
Cooper: Have you seen Mr. Trump personally threaten people with physical harm?
Cohen: No. He would use others.
Cooper: He would hire other people to do that?
Cohen: I'm not so sure that he had to hire them. They were already working there. Everybody's job at the Trump Organization is to protect Mr. Trump. Every day, most of us knew we were coming in and we were going to lie for him on something. And that became the norm. And that is exactly what is happening right now in this country and it is exactly what's happening here in government, sir.
8. Cohen notes that Jim Jordan and the other Republican members of the committee hadn't asked him about Trump.
Cohen: I just find it interesting, sir, that between yourself and your colleagues that not one question so far since I'm here has been asked about President Trump. That's actually why I thought I was coming today—not to confess the mistakes that I've made. I've already done that. And I'll do it again, every time you ask me about taxes or mistakes. Yes, I made my mistakes. I'll say it now again. I'm going to pay the ultimate price … The American people don't care about my taxes. They want to know what it is that I know about Mr. Trump. Not one question so far has been asked about Mr. Trump.
9. Cohen suggests Trump's tax returns might show evidence of fraud.
Democratic Representative Alexandria Ocasio-Cortez of New York: To your knowledge, was the president interested in reducing his local real-estate bills, tax bills?
Cohen: Yes.
Ocasio-Cortez: And how did he do that?
Cohen: What you do is you deflate the value of the asset and then you put in a request to the tax department for a deduction.
Ocasio-Cortez: Thank you. Now, in October 2018, The New York Times revealed that, "President Trump participated in dubious tax schemes during the 1990s, including instances of outright fraud that greatly increased the fortune he received from his parents." It further stated [about] Mr. Trump, "He also helped formulate a strategy to undervalue his parents' real-estate holdings by hundreds of millions of dollars on tax returns, sharply reducing his tax bill when those properties were transferred to him and his siblings." Mr. Cohen, do you know whether that specific report is accurate?
Cohen: I don't. I wasn't there in the 1990s.
Ocasio-Cortez: Who would know the answer to those questions?
Cohen: [Trump Organization Chief Financial Officer] Allen Weisselberg.
Ocasio-Cortez: And would it help for the committee to obtain federal and state tax returns from the president and his company to address that discrepancy?
Cohen: I believe so.