The Atlantic Politics & Policy Daily: Bern Again
A few hours after his announcement, Senator Bernie Sanders of Vermont had already out-fundraised his 2020 competitors.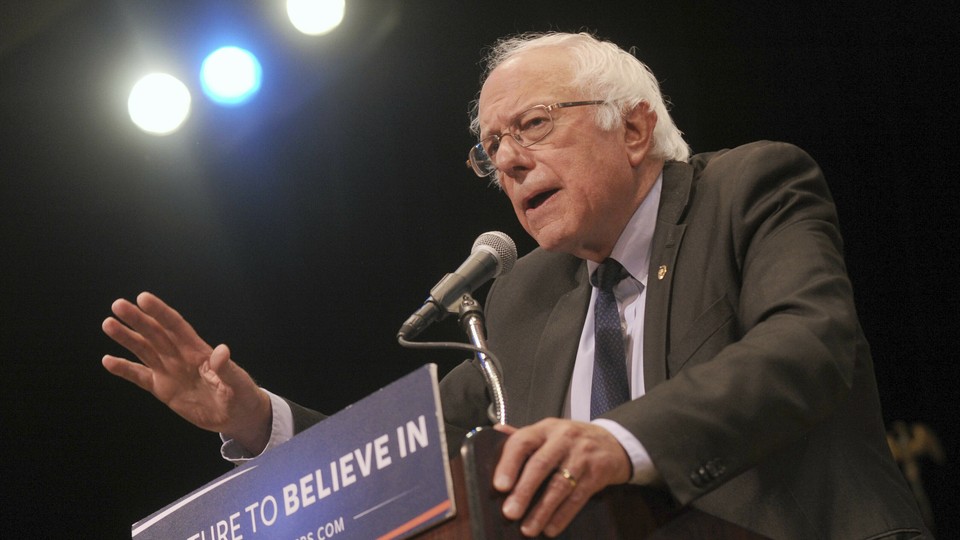 What We're Following Today
It's Tuesday, February 19. Sixteen states have officially signed on to a lawsuit against the Donald Trump administration over his plans to use emergency powers to divert funds to build a southern border wall. The suit argues that shifting funds meant for drug interdiction, law enforcement, and military construction will hurt these states' residents.
Here's what else we're following today:
He's …: You guessed it, running. Senator Bernie Sanders of Vermont announced that he, too, will be running for president (again). He's the 12th candidate to officially throw his hat in the ring for the Democratic nomination, and his candidacy is sure to bring back memories of the 2016 primary. The big difference this time? He's the front-runner. A few hours after his official announcement, Sanders had already out-fundraised every other candidate. The big question now is, can he maintain the lead?
+ Need a refresher on who's running for president, who's not, and who might be? Check this continually updated 2020 cheat sheet.
With Friends Like These: Former acting FBI Director Andrew McCabe told The Atlantic's Natasha Bertrand that he couldn't believe how much President Trump trusted Russian President Vladimir Putin and that concerns about whether Trump posed a national-security threat were building "for some time" before they came to a head, when Trump fired former FBI Director James Comey. Read their full conversation here.
State of Virginia: The political firestorm that shook the state's Democratic Party seems to have cooled down, and calls for Governor Ralph Northam to resign over a racist photo on his yearbook page have abated—in part because public opinion is on his side, writes Andrew Kragie.
A National Emergency: Lashonda Sharreice Childs, Courtlin Arrington, and Izzy Marie Helem are among the 1,200 children who have died from gun violence in the past year. While mass school shootings tend to get most of the attention, the majority of children killed by guns die in smaller-scale incidents, such as accidental shootings in their home or drive-by shootings on the street. And these incidents get far less media coverage.
'The Daddy of It All': To understand the Green New Deal, you need to understand the philosophy of Alexander Hamilton.
---
Snapshot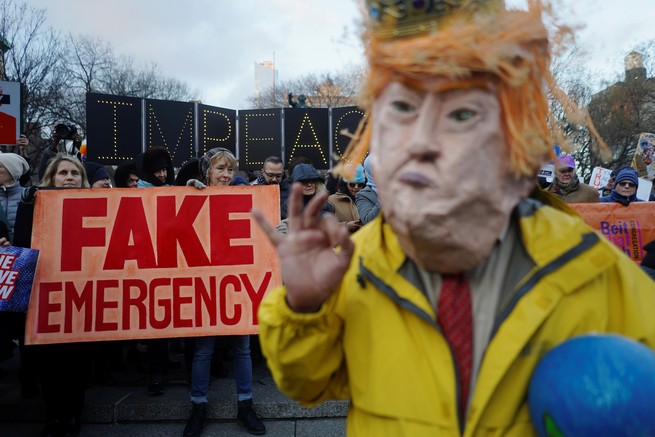 Protesters hold signs during a demonstration against President Trump on Presidents' Day in Union Square in New York City, on February 18, 2019. (Go Nakamura / Reuters)
---
Ideas From The Atlantic
Why Is This Cross-Shaped Memorial Constitutional? (Garrett Epps)
"The answer will shape how courts around the country respond to monuments, official and 'voluntary' public prayer, and other official and semiofficial manifestations of popular faith and belief."  → Read on.
What Presidential Announcements Reveal About the Candidates (John Dickerson)
"A look at the announcements of the past 70 years shows that one change is obvious: Presidential hopefuls used to declare their candidacy in a single speech; now the process is drawn out with peekaboo hints, social-media announcements that lead to explorations, and talk-show teases. It's like an Advent calendar, but no one gets a square of chocolate." → Read on.
Reckless Even by Roger Stone Standards (Ken White)
"This surreal chain of events began—as many do—on Roger Stone's Instagram page, where he has been relentlessly decrying his prosecution and soliciting defense funds." → Read on.
Kamala Harris's Blackness Isn't Up for Debate (Jemele Hill)
"Just like Obama, Harris has exposed narrow-minded views of blackness with her presidential run. Harris is a multiracial woman who was born in Oakland, went to high school in Montreal, and worshipped with both Hindus and Baptists. She's a member of the Alpha Kappa Alpha sorority, and yet, by her account, knows how to make an incredible Bolognese and a mean pot of collard greens. If the criterion for running for president is being authentically American, people have to accept that this is what that looks like." → Read on.
---
What Else We're Reading
◆ Trump's Emergency Declaration Is Contemptuous of the Rule of Law (David French, National Review)
◆ Trump the Pundit Handicaps 2020 Democratic Contenders (Zeke Miller, Associated Press)
◆ Klobuchar Opts for Pragmatic Approach in Town Hall (Elena Schneider, Politico)
◆ A New Law Made Him a 'Free Man on Paper,' but He Died Behind Bars (Mitch Smith, The New York Times)
◆ Intimidation, Pressure and Humiliation: Inside Trump's Two-Year War on the Investigations Encircling Him (The New York Times)
---