Why Republicans Finally Moved Against Steve King
Elections have consequences, and the Iowa conservative's sudden vulnerability back home gave House GOP leaders the permission they needed to act against his latest racist comments.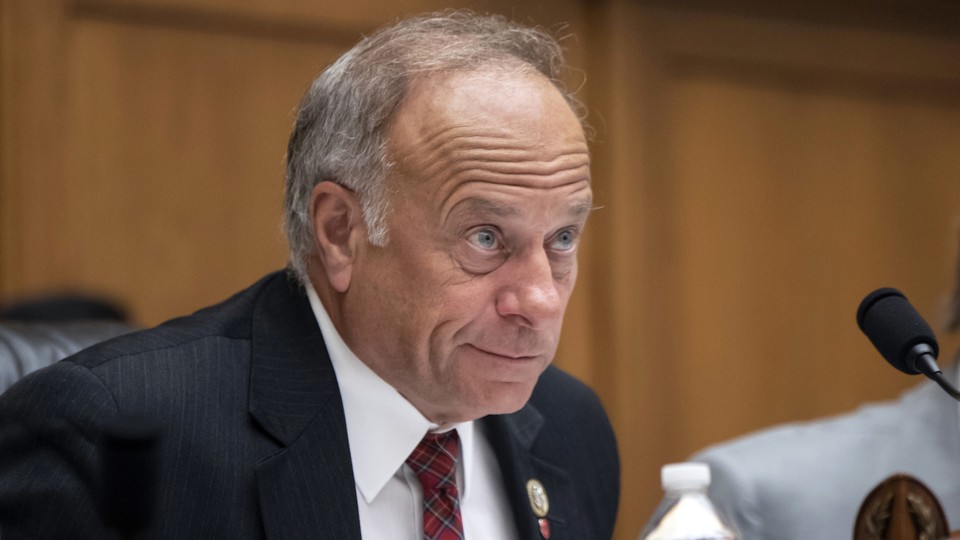 There are but a few guarantees about what each new session of Congress will bring: One is that Republicans and Democrats will bicker over government spending, and another is that Representative Steve King will say something deeply offensive about race, religion, or immigration.
So when House Republicans moved aggressively on Monday evening to kick the Iowa conservative off his two prized congressional committees, the logical question to ask was, why now? Why, after King's 16 years in Congress and, in the words of one former top GOP aide, "a lifetime achievement award of awful comments," did the party leadership finally decide to punish a lawmaker whose racism has long been obvious for all to see?
Officially, Republicans were rebuking King for his latest embrace of racist ideology, delivered during an interview with The New York Times. "White nationalist, white supremacist, Western civilization — how did that language become offensive?" the congressman said. By defending a phrase that explicitly holds whites above all other races, King had seemingly stepped over an invisible rhetorical line for Republicans. Never mind that the statement was wholly consistent with—if slightly more blunt than— views King has expressed repeatedly in the past, when he's aligned himself with neo-Nazis, disparaged the values of diversity and "multiculturalism," backed racial profiling of immigrants, and argued that whites have contributed more to "civilization" than nonwhite groups. Or that his implied defense of the term white supremacist is arguably no more or less offensive than the pejoratives about immigrants, American Indians, African nations, and others that President Donald Trump voices daily in his Twitter feed or in White House meetings.
King initially beat a hasty retreat, insisting during a speech on the House floor that he was neither a white nationalist nor a white supremacist. "I reject those labels and the evil ideology they define," he said.
It was too late. This time, apparently, King had gone too far.
Mitt Romney, the one-time party standard-bearer who is now a freshman GOP senator, called on him to resign. Senate Majority Leader Mitch McConnell effectively agreed, suggesting he "find a new line of work." And on Monday evening, the newly minted House Republican leader, Kevin McCarthy, directed his members to block King from continuing to serve on either the Judiciary or Agriculture Committees, where he had been one of the party's most senior members.
With that move, McCarthy had done something that neither of the past two Republican speakers, John Boehner and Paul Ryan, had managed to do: taken substantive action to strip King of legislative authority.
"I am a brand-new leader," McCarthy explained on Tuesday when a reporter asked him why he had moved against King now and not before. "I listened to what Steve said. I brought Steve in and met with him. I also did research on what Steve has said in the past. I believe this party is the party of Lincoln."
"There is no room for white supremacy," McCarthy continued. "That's why I took a strong action."
What McCarthy neglected to mention is that the political circumstances have also changed, both for Republicans as a party and for King personally. In the past, House GOP leaders like Boehner and Ryan have dispensed no more than rhetorical rebukes of King while allowing him to keep his perch on key committees and waiting for each successive controversy to fade with the churn of the news cycle. But with Democrats now in charge in the House, McCarthy could not stop Democrats from bringing a vote on resolutions either disapproving of King's comments or formally censuring him. The House on Tuesday afternoon voted, 424–1, on a resolution "rejecting white nationalism and white supremacy." King cast a yes vote on the measure, which cited but did not specifically condemn him. (The one "no" vote came from Democratic Representative Bobby Rush of Illinois, who was protesting the resolution's toothlessness.)
"It was important for Republicans to stand up and say this is unacceptable, because if the Democrats had done that for them, that would have sent a terrible message to voters, not just in King's congressional district but voters throughout the country," says Doug Heye, a former spokesman for the Republican National Committee who also served as a top aide to then–House Majority Leader Eric Cantor.
Yet what might have been an even bigger factor in McCarthy's decision was King's own suddenly precarious political standing back in Iowa. For more than a decade, King had been, well, a kingmaker in his home state: He regularly won reelection to the House by more than 20 points, and he was one of the most sought-after endorsements for conservative presidential contenders campaigning ahead of the first-in-the-nation caucuses. (In 2016, King's nod went to Senator Ted Cruz, though the congressman eventually became a close ally of Trump's.)
Last fall, however, King was nearly swept out in the Democratic wave. He eked out a win by just three points over a little-known opponent, as voters in Iowa's reliably Republican Fourth District—which covers the state's rural northwest—sent an unmistakable message that they were tiring of their longtime congressman's penchant for controversy. And last week, just six days into King's new term, a leading Republican in the state senate, Randy Feenstra, cited his "caustic nature" in declaring that he would challenge King in next year's primary. In a sign of how seriously Feenstra's candidacy was being taken, Iowa's Republican governor, Kim Reynolds, declined to endorse King despite having named him a ceremonial co-chairman of her campaign last year. "The last election was a wake-up call for it to be that close," Reynolds told a local television station in declaring her neutrality.
In Iowa, and now in Washington, King is invincible no more. "If you're dealing with a member who's going to win with a large majority, then perhaps you turn them into somewhat of a martyr," Heye told me. "That's clearly not the case now. The reality is very different."
In our interview, Heye called King "a lifetime achievement award of awful comments" and recalled how his earlier inflammatory remarks would prompt "a lot of eye-rolling" from Republican leaders. After King compared young border-crossers to drug mules in 2013 and said they had "calves the size of cantaloupes," Boehner publicly criticized him and privately called him "an asshole." But Boehner's grasp on the speakership was already slipping at the time, and conservatives had revolted over a previous attempt to kick disloyal members off committees. "The reality is that in that situation, given the tenuous hold that we had, substantively there wasn't a lot that leadership could do," Heye said. "And that made things difficult."
McCarthy, who was then serving as the third-ranking House Republican, did not publicly call for more punitive action to be taken against King at the time. What has changed, then, since 2013? It's not the views of GOP leaders, which on immigration have moved closer to King's and the party base. And it's certainly not King, whose language now is simply a more candid expression of the opinions he has long espoused.
The difference is that in November, King's constituents spoke up with their ballots. They made a once-powerful politician suddenly vulnerable and gave Republican leaders a permission slip to act in ways they didn't before. Iowa voters didn't quite oust Steve King from Congress, but as the GOP's action on Monday evening demonstrated, the election had consequences all the same.