Jason Rezaian Hopes His Iranian Captors Read Prisoner
The Washington Post correspondent jailed for 544 days describes in his new memoir a world that's more complicated than good versus evil.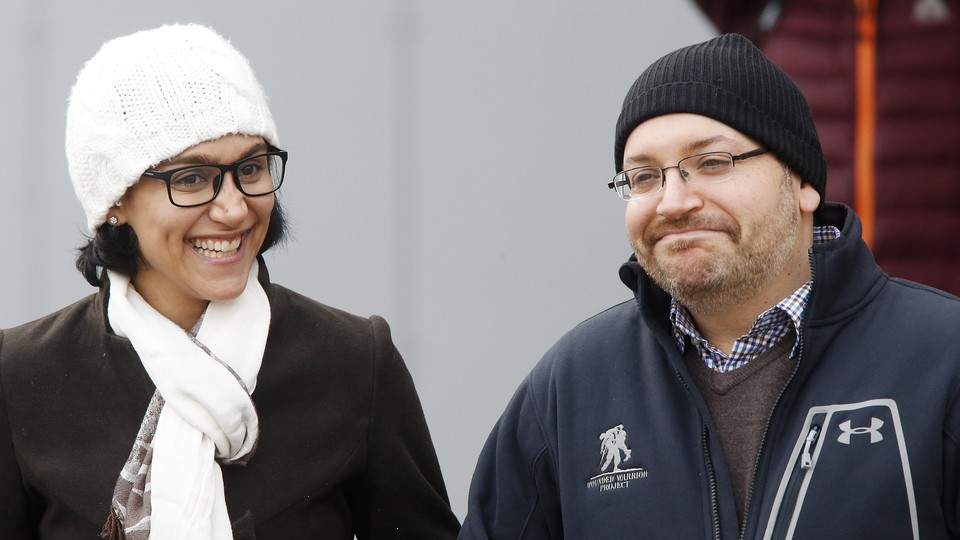 In 2014, America was reintroduced to Iran through the eyes of the bad-boy chef turned TV travel host Anthony Bourdain. As his still-nascent CNN docuseries Parts Unknown transported him, and his audience, to Iran, the world traveler was in disbelief.
"I am so confused," Bourdain remarked as Persian music played in the background. "It wasn't supposed to be like this. Of all the places, all the countries, all the years of traveling, it's here, in Iran, that I'm greeted most warmly by total strangers."
In that opening line, Bourdain touched on the irony of how Iran and Iranians view the United States: While many of the people share a not-so-secret infatuation with Hollywood, with McDonald's, and with rock and hip-hop music, the government still views America as the "Great Satan."
It's a jarring discrepancy that brings Bourdain, and his audience, to a bright and hopeful Jason and Yeganeh Rezaian. The two foreign correspondents who appear on his show are wide-eyed—they glow like a young couple in love, who have finally, after many years, created a life for themselves. For the American-born, dual-national Jason, then the Tehran bureau chief for The Washington Post, and the native Yeganeh, then a correspondent for the UAE-based The National, this life was characterized, and soon enough dominated, by the friction between their two countries of origin.
"You like it? You happy here?" Bourdain asked them bluntly.
"Look, I'm at a point now after five years where I miss certain things about home," Jason said, referring to the U.S. "I miss my buddies, I miss burritos, I miss having certain beverages with my buddies and burritos in certain types of establishments," he joked. Mexican food is impossibly hard to find in Iran, and alcohol is outlawed for all Muslims. "But, I love it. I love it and I hate it. It's home … It's become home."
"Are you optimistic about the future?" Bourdain asked Yeganeh, who goes by Yegi.
"Yeah. Especially if this nuclear deal finally happens," she said. "Yeah. Very much, actually." She smiled, nodding her head repeatedly.
The narration that set in next was subtle, but infinitely darker. "Despite the hopeful nature of our conversation, six weeks after the filming of this episode, Jason and Yeganeh were mysteriously arrested and detained by the police," Bourdain said. "Sadly, in Iran this sort of thing is not an isolated incident." The Iranians accused Jason of being a spy at the beginning of tense negotiations with the United States over the country's nuclear program. He was released a year and a half later once those negotiations had been wrapped up, after a sham trial in which it became clear that Iran had no evidence of any kind to back up their charge that he had been involved in espionage. Yegi was imprisoned separately for 10 weeks before she was released.
In so many ways, Jason Rezaian is a very normal guy. In so many ways, he is like no one I've ever met before—except, maybe, for Yegi. I first met the couple in August of 2016, two years after Bourdain's segment aired and nine months after Jason had been released from Tehran's notorious Evin Prison, where he spent 544 days locked up, a pawn in the diplomatic chess match between the U.S. and Iran. Jason and Yegi were beginning fellowships at George Washington University, where I was starting my senior year of college. I was struck by how they lit up a bland conference room. Not only were they the still-vibrant couple I had seen on Parts Unknown, but they were also uncompromisingly down-to-earth, humble, and generous: rare qualities for any person, let alone two individuals who had been at the center of a highly publicized international incident.
Now, more than two years since we first met, a lot has changed in the global order and in America's foreign policy. Since his election, President Donald Trump has boasted a hostile attitude toward journalists, withdrawn from the Iran nuclear deal that President Barack Obama brokered and with which Jason's release was entangled, and doubled down on the U.S. relationship with Saudi Arabia and the vilification of Iran. Saudi Crown Prince Mohammed bin Salman's alleged role in the assassination of Jason's Washington Post colleague, the exiled Saudi journalist Jamal Khashoggi, has dominated press-freedom and diplomacy conversations for the past few months, as the president has sided with the crown prince over the consensus of the CIA.
Bourdain, who became a tireless advocate for Jason's release following his arrest, died last year in an apparent suicide. The two were close—it's no coincidence that Prisoner, Jason's new memoir, is one of the final books published under Anthony Bourdain/Ecco, an imprint of HarperCollins.
Banned from returning to Iran, Jason, who still writes about Iran (among other places) for the Post's Global Opinions section, offers in the book perhaps his final dispatch from his life there. Much of this stranger-than-fiction story takes place inside the mind of the prisoner, in solitary confinement and eventually in a shared cell, in the scarce meetings he's allowed with Yegi and his mother, and in the courtroom of an insultingly phony trial. But Jason intersperses deeper memories: weaving in family histories (from a father born in Iran and a mother born in Illinois), his love story with Yegi, his observations from growing up in Northern California, even a story of his friendship with the late Christopher Hitchens, a professor and mentor.
In so many ways, Jason is a larger-than-life figure: a symbol of press freedom and the often tenuous position Americans put themselves in when reporting from places where journalism is, by nature, an act of resistance against the state. But his story, which at times reads like a thriller, consistently shocks the reader  with the reminder that this really happened. Jason's is a deeply American story: the son of an immigrant father who, after a long personal journey, succeeds in his ancestral land, reporting on its people for a global audience. In the end, Jason is punished for his work—for doing journalism—by a government scared beyond measure of what that means. Prisoner is a harrowing account of one man's imprisonment, and of resilience: not only that of the prisoner himself, but of his entire family, who tirelessly campaigned for his freedom.
Jason and I sat down last Wednesday at a coffee shop in the Park View neighborhood of Washington, D.C, a day shy of the three-year anniversary of his release. What follows is our discussion of his life, his memoir, current U.S.-Iran relations, and his concerns about press freedoms in today's world.
This interview has been edited for clarity and length.
Scott Nover: Jason, tomorrow is the three-year anniversary of your release. Three years later, in what ways are you still trying to settle back into life here in Washington, D.C.?
Jason Rezaian: I never lived here before this, so we're new residents in this town. And we're just getting to know the place still. Fortunately, our reception, going back to three years ago this week, has been a really positive one across the board. People are really kind to us. The city's been kind to us. The citizens of this city have been kind to us. The Post has been incredibly kind to us. Other people in the journalistic community and also folks in the government—in the previous administration and in the current one—and in Congress on both sides of the aisle have been extraordinarily kind to us. So, it feels like home. But it's not a home Yegi and I ever knew. So we're building a life here together. And I feel like we're part of the town.

Nover: The memoir is Prisoner, which comes out Tuesday. I want to start by talking about the concept of writing this memoir about something so painful. And how difficult it is to put yourself back into that room, at times you might want to forget, in order to get your story on paper.
Rezaian: I mean, I'm not somebody that ever wants to forget anything that's happened to me. I think I've always been about interrogating my experience. This is the first time I've had the opportunity, for publication, to write about myself in this kind of way and write about my life in this kind of way. But it's not as though I haven't written about my life for myself for years. So I think it was challenging figuring out how to tell this story in a way that conveyed everything that I wanted to convey: the experience of it, the painfulness of the experience, the deep love I had for Iran, for my wife, for my family. But also, what does this mean in the larger context? Why does it matter? So that was my challenge going into it and if I pulled those things off, I'm happy.

Nover: It's kind of your last story, for now at least, from Iran.
Rezaian: I guess! Yeah, I mean I think that someday I'll go back ... under very different circumstances, I'm sure. But, yeah, this kind of closes the chapter on that era of my life. It was a really important era. Not the only era of my life, of course, but the five years that I lived there and the year and a half I lived there as a "guest" without a lot of choices … It's a really important part of my experience in this world. And how often do you get the opportunity to share your experience with a large number of people?

Nover: While telling the story of your time in prison from 2014 to 2016, you have a chapter all about 2011, a year you call, in ways, the "hardest year" of your life: a year in which you lost your young nephew, your father, and your mentor Christopher Hitchens. What did you want the readers to get out of these two very different, but very troubling, times in your life—very upsetting for very different reasons—and how those two times in your life have defined you?
Rezaian: I don't think that they define me, but I think that they define pain in my experience. Look, everybody goes through the trials and tribulations in their life. And it's not for us, even our closest relations, to judge what's difficult for somebody else. And while I was going through this experience of being in prison, as hard as it was—and as I knew it was for my wife, her family, my family, and me—I also knew that in my not-so-distant past, my family in America went through a really kind of cataclysmic set of losses and four years later, we were battered and we were scarred, but we weren't defeated. And I wanted people to be able to see that I've taken a lot of kicks in my life before this, which is not something that people necessarily think. I grew up in a wealthy part of Northern California, a pretty easy upbringing from an outsider's point of view, but as an Iranian American—a person of Iranian descent in this country—at that time, there were other challenges that, if you weren't from that background, [you] wouldn't think about. The other thing that I wanted to say was that this thing that happened to us, in the same prison that I was in, much worse fates were being suffered by people near me. And I never want to discount that.

Nover: This year you experienced another loss, with your friend Anthony Bourdain passing away. I know it means a lot to you that this is one of the final books printed under his imprint, Anthony Bourdain/Ecco.
Rezaian: It means everything. I got word that the [publishing] house had accepted the manuscript just three days before he died. The fact that he wanted to support me in telling this story was a kind of fuel and support that anybody would wish to have. It's heartbreaking for Yegi and I that he's no longer here, and it always will be. But the fact that he stood with us in our hardest times—while we had no voice, he gave us a voice. He added to those choruses of people calling for our freedom. But then afterwards, that he was there as a friend to us. We got to know him within the context of being on the show. That was our first encounter with him. We didn't know we had this tremendous friend and advocate. And then when we got out, for him to continue [supporting us] to the point that he wanted us to get behind telling this story, I think that "rare" is probably the best way to put it.

Nover: It's a loud statement.
Rezaian: Yeah. At a time when we were not that confident walking through this world, he gave us confidence. Who else do you want in your corner? I had Muhammad Ali, I had Anthony Bourdain, I had [the Washington Post executive editor] Marty Baron. I mean, who else do you want?

Nover: So I want to turn to one or more complex relationships in Prisoner, which is that of you and Kazem, your interrogator. Despite being foundationally cruel for psychologically torturing you, he is in some ways a jovial, likable character in a weird way. And you purposely paint him as such: He can seem friendly to you sometimes, he cracks jokes, he's got a funny accent, he says he wants to be played by Will Smith in the movie of your life. How do you reconcile a person like that in your head?
Rezaian: When you hear a story of someone being wronged or abused, especially when there's this power dynamic of captivity—captor and captive—our automatic instinct is to not want to sympathize in any kind of way with a captor. I don't want you to necessarily sympathize with him, but I want you to understand that he's a complicated character. Although you and I, and millions of people, would agree that he represents pretty evil forces, he's still a person. I can't get past that. It's not something that I can wash out of his narrative. It wasn't as though he was sitting on my shoulders with a cattle prod trying to induce me into saying things I didn't want to say—he was trying to do that in other ways. So what I was trying to do in writing him was to paint a portrait of a relationship where it's more than meets the eye. It's not just that this is my captor, my punisher, my tormentor—he's all of those things. At the same time, he's a person. And if I just look at him as a bad guy, I'm not gonna be able to get anything out of the situation. And I'm not going to be able to tell you anything about the situation afterwards. And this is where it's really important: If I'm gonna sit down and write a book about this experience, I want you to be able to walk away with some different understanding of the power dynamics inside Iran than when you started reading the book.
Nover: You have a powerful moment at the end of the book, and I won't disclose exactly what happens, but you comment, "Yes it's even possible to develop an attachment to your tormentors, and no, asshole, it's not Stockholm syndrome. It's called being human."
Rezaian: Look, people accuse me all the time of having Stockholm syndrome any time I say something that's not disparaging about Iran. And I have talked with plenty of psychologists—and not just people treating me, other ones that I went to in reporting this—about the notion of Stockholm syndrome and these relationships that grow [between captor and captive]. It becomes a symbiotic relationship in a way. My goal as a captive is to survive—to survive and get out of that situation. So, you know, I tried to do things that would make that more possible. I'm not ashamed in any way to say that over a year-and-a-half period of time, I formed relationships with people—not necessarily people that I would choose to form a relationship [with], but I was forced to. And I hope that, in reading this book, people that are interested in Iran as a subject will learn something out of that relationship. And it's not that the Islamic Republic is good. Or the Revolutionary Guard is justified in their actions. It's not that at all. It's just that this is a little more complicated than good versus evil. Let's interrogate it.

Nover: Do you have a desire to see him or talk to him?
Rezaian: Deeply. But on my terms.

Nover: If he were here, what would that conversation look like?
Rezaian: I mean, I think it would look a lot like some aspects of this in this book. I hope that he reads it someday. He's probably waiting to get a copy of it right now.

Nover: He wanted you to write it! ... And "make that money," as he tells you in the book.
Rezaian: Make the money! I'll tell you this. My mom was visiting a few weeks ago. And I gave her a copy. It was the first time I gave her a chance to read anything except the part about her own upbringing, because I wanted her to fact-check it. I sent her a passage that was about 1,200 words long, and she wrote back with 7,000 words in notes. I said, "Mom, this is exactly why I didn't let you read the whole thing."

Nover: That's exactly what my mom would do, too.
Rezaian: That's why you and I are journalists now! So I let her read it. And she said, "You know your interrogators and [Iran Foreign Minister Mohammad Javad] Zarif will see themselves if they read this. Good. They should see themselves. If this is a mirror for them—and I think it should be because it's [an] honest accounting of that—from my point of view, I hope it makes them question their own actions."

Nover: I'm glad you brought up your mom, because in addition to being your story, Prisoner is very much a family history. It's your story, and a love story between you and Yegi, but it also gives the backstory of both sides of your family—Iranian and American. How important was this in explaining why you were there in the first place?
Rezaian: I think it was critical. And if we just wrote a story about me being in prison and my years in Iran, and it didn't delve into the whys of how I got there, it wouldn't have any impact whatsoever. It would just be a prison memoir, or a foreign-correspondence memoir. I hope that this book is more than that. I hope that this is a story that encompasses those things that happened to me and the same experiences in my life, but also sheds light on the complicated relationship between the two countries that call me their citizen. And I think that when Iranian Americans read it, a lot of it will resonate, especially for people who have one American parent and an Iranian one. And also, people from other mixed backgrounds. Because this is not just the story of Iranians, it's also a story of immigrants.

Nover: In the book you write, "Barack Obama had become president. Moving to Iran, to me, felt to be the most American thing I could do." What do you mean by that?
Rezaian: It was a moment, in 2008 and early 2009, of incredible hope about the direction that we could take as a country. Obama represented, especially in his early months, a vision of openness and a desire to engage with other countries, including Iran. And to me, that was an aspiration that I share. It was the first time in my adult life that  sort of foreign policy was being actively talked about. So I think that was a moment for me, especially given all of the other challenges that I was having in my life financially and professionally—I felt like I had a green light. And if I didn't hit the gas and hightail it to Tehran, then it was never going to happen again. And people ask me all the time, "You went through this horrible experience. Don't you regret moving there?" It's a question that I have a very succinct answer to: "No, I don't regret any of it." It's 10 years since I moved to Iran. In this moment, there's absolutely no way that [I] or anybody else would be picking up and moving to Iran to do these sorts of things that I did in 2009. And that's not an indictment of the U.S. government and it's not an indictment of the Iranian one, per se. It's just a more treacherous situation now for people like me who are dual nationals. But also for journalists. You've written about Jamal [Khashoggi]: We're living in a moment where the stakes for journalists are incredibly high. And the support structures in place, by governments of free societies, are not doing their jobs. They're deficient. And that's a scary set of circumstances.
Nover: In the final moments of the epilogue lies the only real mention of Donald Trump. It's subtle, but it's powerful foreshadowing. I want to know why you stopped short of including that era, the Trump era, in this book.
Rezaian: One, I don't think that this book was about that. Everything that happens in this book—the bulk of what happened happened during the Obama era. And I wanted to end the narrative there. It very easily could have extended into these last couple of years. The book could have been a lot longer: Maybe it's a second book. The period of time after our release and the inauguration of Donald Trump, [Yegi and I] spent most of that time between here and Harvard. I lived the first seven years of Obama's presidency in Tehran and the last one here, mostly in Washington, D.C. And our experience of that was a pretty positive one. But, on the Trump presidency and how it plays into this—I didn't write about this in the book, but I do write about the fact that I had Iranian state television available to me. And they were covering the heck out of the Trump campaign. I remember, it must have been two or three weeks before my release, there was a [Trump] campaign rally where an American Muslim woman went to the rally wearing a T-shirt that said Salaam, I come in peace, and she was booed out of the place. And Trump was actively supporting her removal. That sort of image lasts in the minds of people around the world—and their leaders. But also the people. The damage that we've done to our overall perception in the world is hard to quantify. I can read through a 300-page book just on that. And maybe you just gave me an idea for the next one. Thanks, Scott!
Nover: It did read like a cliff-hanger, and I think that readers might feel the same way that I did. But I think there's a really interesting juxtaposition, even without you saying it, that you are in prison for committing acts of journalism in Iran and come home to a country that, when you left, was not this hostile toward the free press. And I want to know what coming home to that was like, and if there's a lesson that we should internalize from your time in Iran.
Rezaian: I was pretty outspoken in the first weeks of the Trump administration, when he called us the "enemy of the people." It should be a warning sign to all, and I think it is. But not as much as it should be. You and I are still able to do our jobs. We're here in Washington, D.C. We both work for well-funded media organizations. We have access to the resources and people that we need to … It's a slow dissolution. It's not gonna be in Washington and New York City and London where the corrosion of press freedom is first visible. Yes, in the White House we see it … But if we don't keep an eye on this stuff and we don't keep calling it out—it's on us. And I think that for me it's been a really hard thing to stomach watching over the last couple years. More than that, hard to stomach the response from some aspects or some segments of our society who no longer trust the job that we're doing. And I don't know how we counteract that right now.
Nover: In the book, I think it's really interesting that Yegi's out of prison and she's visiting you and bringing you uplifting books by Paulo Coelho and other inspirational novels, and she means well, but you ask instead for her to bring you Orwell. You ask for the dystopian warning signs. Is your book kind of a warning sign of what happens when we don't pay attention?
Rezaian: I will let other people judge that, but I hope that there are lessons to be learned in reading this book, for Americans, for Iranians, for journalists, for people in power in both countries. But ultimately, my main message is that we need to keep the lines of communication open always. With everybody. I was cut off from those lines of communication for a year and a half. I have them back now. I hope to never lose them again. And as long as I'm able to communicate, these issues—especially around press freedom, but also, you know, the overall issues between the U.S. and Iran, and very directly the issues of Americans being detained in Iran—are the things that keep me up at night and that I'll keep using my platforms to talk about.

Nover: You mentioned Jamal Khashoggi earlier. The major press-freedom story of the era we're living in right now is that the Trump administration seems to be turning a blind eye to the ordered assassination of your colleague, Jamal Khashoggi, who also wrote for the Global Opinions section with you at The Washington Post. How have you grappled with that loss from the extent that you knew him personally, but also, what do you think of the diplomatic responses?
Rezaian: First of all, I'll say I was just getting to know Jamal. We first met last summer and we had several encounters—long encounters. We sat down and had a conversation that we recorded about Saudi Arabia and Iran. And it was really interesting, I think for both of us, to see somebody across the table who had been so wronged by the governments of these countries that they care so much about. But still wanting the best for the people of those countries in the future. So I felt, in some ways, a kindredness in our interactions. Although I'm no fan of Saudi Arabia and he's no fan of Iran.
Nover: But you both had been silenced effectively, you through imprisonment and he through exile.
Rezaian: Yeah. And so that was a common bond, and one that neither one of us wanted to see repeated on other people. So I think we had a common purpose in giving voice to people who had been denied voice. Our last encounter was during Ramadan. We were both invited to … Iftar, a breaking-of-the-fast meal, at the home of a mutual friend. He was there with his daughter, and Yegi and I were there, and just two other people: just six of us having a very nice meal together. And he was just such a thoughtful and smart person. To have somebody like that, who was really just giving voice to ideas and people that didn't have the opportunity to express themselves, and really calling for the right of the Saudi people and other Arabs to have a better way forward, to have been murdered in such an insane, grisly way shocked us. When I say us, I mean both my colleagues and I, but also Yegi and I—really to our core. It was a very difficult time for us. And to see the way the Post sprung into action in the early hours after news that he had gone missing was also very surreal for me, but gratifying to see my news organization, the same way that they sprung into action for me, springing in for somebody else.
I think the public response has been the right one. I think the media's response has been the right one. The government's response has been the most appalling and wrongheaded response to just about any crime against a human being. We're on the wrong side of this. The administration and the State Department are on the absolute wrong side of it and everybody knows it. What kind of precedent does that set? For journalists, for people living in Saudi Arabia who look to America as a beacon of human rights, and to people in other parts of the world who always thought of America as the land of opportunity, but more than that, a land where you're safe to express yourself and be yourself? It's inconceivable to me that, as a government of the United States, we would be standing with this policy of, "Hey, you know what? Saudi Arabia is doing their investigation and we're satisfied with the results." It's mind-boggling. It's not the first time that something like this has happened, but we live in 2019. It's an era of some measure of transparency. It's really hard to conceal things these days. We know what happened to Jamal Khashoggi. We know all too well what happened to Jamal Khashoggi, and the fact that the president of the United States and his various subordinates and people in the government are saying we don't know what happened, or are questioning their own intelligence reports on it, should boggle everyone's mind. And I think that's a big part of why it stayed in the news this long. Because people can't just accept it. It's beyond time for demanding actual justice in this case, but I don't think we're going to see it.
Nover: In that episode of Parts Unknown, which was filmed right before your and Yegi's arrest, we, the audience, see you and Yegi express sentiments that you're hopeful about U.S.-Iran relations. Do you still have any hope for this relationship?
Rezaian: Not in the short term. My hope for Iran has always been and remains with the good people of that country. They're talented, they're educated, they're thoughtful. And they have aspirations to live in a society where they have the same opportunities as people in the rest of the world. It's a country with incredible resources, both in terms of natural resources and wealth. But also human resources. Internal Iranian forces and external forces have been getting in the way of those aspirations for decades. I would love to see a path open for the Iranian people to just express their desires about the sort of future that they want. But for that to happen, there's going to need to be a huge change internally inside Iran and also a big change in how the United States deals with Iran. And I don't see that happening on this administration's watch.