Jay Inslee Is Betting He Can Win the Presidency on Climate Change
The Washington governor believes his focus on the environment will resonate with voters. But can he persuade enough Americans to pay attention to him?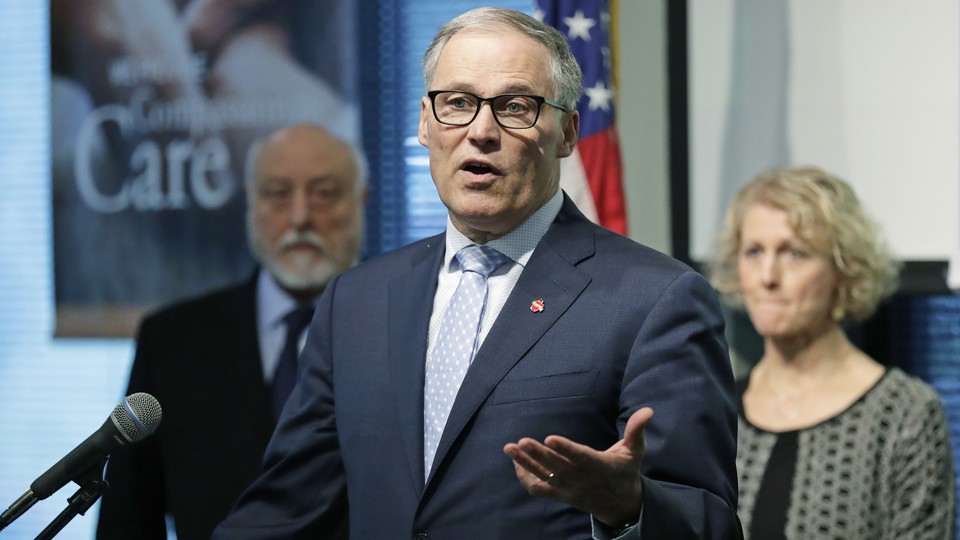 OLYMPIA, Wash.—What if a meteor were hurtling toward the Earth, about to kill millions and reshape life on the planet as we know it?
And what if the president, instead of doing anything to help, made it worse in just about every way, and called it a hoax (and any solutions a scam) instead of the very real, very clear disaster taking shape?
And what if all the Democrats running to beat him in the next election went on and on about how concerned they were and how it's our most pressing problem—but none had ever done much more than talk about the problem, and for the most part only started doing that in just the past few years?
That's where Jay Inslee thinks America is when it comes to climate change. And that's why he's going to run for president. The question is whether he can convince anyone else that he's a big-enough player to be a serious candidate.
"When you've been working on something for over a decade, and now seeing people awakening to that, it's just really gratifying and heartening," the Washington governor recently told me, sitting in his private study on the top floor of the governor's mansion. When it comes to climate change, there now appears to be "an appetite for someone who has credibility and a long track record and, most importantly, a vision statement. It's changed to show an opening in a Democratic primary, I believe."
Inslee has been on the expansive list of would-be Democratic presidential contenders since the 2016 election, mostly because he was then one of the few Democratic governors left in the country. He didn't take the talk seriously at first, nor did anyone else, and he certainly wasn't doing anything to help it along. But as the 2018 midterm campaigns came to an end, he read through searing international and federal climate-change assessments, took a trip to view the wildfire damage in California, and thought through the larger moment for the country—and he shifted.
Now "we're laying the groundwork that would make this a feasible thing in the relatively short term," Inslee told me.
If there is a new Democratic president come 2021, he or she will get pulled in all sorts of policy directions. Inslee says he has one priority: global warming. It's not theoretical, or a cause just for tree huggers anymore. Putting off dealing with it for a year or two or kicking it to some new bipartisan commission won't work, he says. He plans to focus on the threat that climate change poses to the environment and national security—the mega-storms and fires causing millions in damages, the weather changes that will cause mass migrations, the droughts that will devastate farmers in America and around the world.
Even more so, he wants to talk about the risk to American opportunity. "We have two existential threats right now: one is to our natural systems, and one is to our economic systems," he said.
As he did in Washington State, Inslee would propose a mix of government investments and incentives to spur other investment, restrictions on power plants and emissions, and programs to promote R&D and job growth. An endless number of jobs can be created in the climate arena, Inslee says. It's the way to make a real dent in income inequality and have the Democratic Party bring tangible solutions to communities in rural America that have been left behind. With his inaction, President Donald Trump—Inslee calls him "the commander in chief of delusion"—is engaged in a "disgusting selling-out of the country," a "crime" against the aspirational optimism of America.
Inslee is lining up donors and adding them to the political-action committee he launched in December. An official presidential exploratory committee is next. Aides note that he's attracted new supporters and fans after serving as the Democratic Governors Association chair last year; with Inslee at the helm, Democrats in November picked up seven governorships. He's put together an email list of 200,000 climate advocates, which could become a beachhead of support around the country. Friends have offered to move to Iowa for him.
His campaign, such as it is, seems a lot more seat-of-the-pants than the machines Senators Elizabeth Warren, Cory Booker, and Kamala Harris have slowly assembled. For now, he seems to be counting on being able to stand out on his record—and preparing for future battles with Trump by testing out zingers like "I wish nothing but the best for Donald Trump, including having the top bunk."
Inslee has been in politics for 30 years. He started off in the Washington State legislature and served for more than a decade in Congress. He was elected governor in 2012 and has, without much national notice, pursued arguably the most progressive and greenest agenda in the country, with fields of solar panels, fleets of electric buses, and massive job growth to show for it. And years before anyone was tweeting about the "Green New Deal," Inslee wrote a climate-change book while he was in Congress: Apollo's Fire, a 2007 blueprint for how much economic and entrepreneurial opportunity there is in saving the planet.
Other Democrats are, suddenly, talking about climate change. Bernie Sanders prioritizes it in all his speeches, and a few weeks ago he held a "national town hall" on what he called "the great crisis facing our planet, facing humanity." Michael Bloomberg used a screening of a documentary on clean-energy alternatives as the feint for a trip to Iowa last month, and says he'll push his fellow candidates to develop climate-change plans. Booker, Harris, and Warren have all voted in the Senate on progressive environmental bills, and Tom Steyer has written huge checks to many green causes.
Inslee is the only one who has actually run a government that has made climate-change policy central. He points to the towns in Washington that have become solar-cell farms, among other accomplishments. There's also his plan to expand the use of electric ferries. "Without having a vision and having a sense of what could be, we would not be launching that effort right now," says Brian Bonlender, the outgoing director of the state commerce department and Inslee's longest-serving aide. "As a country, we're certainly not going to be able to do it if we're hiding from facts from the world around us."
A poll from September caught the governor's eye. Among the qualities that 500 Iowa caucus-goers said they were looking for in a candidate, "someone who will reestablish America's leadership in the fight against climate change" scored highest. True, Inslee wasn't listed among the 13 possible candidates they could choose from in the poll. But he sees good news anyway. This is like gay marriage, he figures: America is at a tipping point. Things are about to change. And voters will be looking for leaders who were already out front on the issue.
"Forty years ago, it was not easy to get people's sustained attention for this looming crisis. It's much easier now," says former Vice President Al Gore, who spent years getting made fun of for talking about global warming.
Gore and Inslee met on the House basketball court in the early 1990s and have stayed in touch. Recently, they've been checking in with each other on the phone and talking about plans for the future. "He's demonstrated leadership on this issue for a long time, both in the Congress and as a successful governor," Gore told me. "He's written about it, he's spoken about it, he's legislated about it, he's made bold proposals."
Gore said he won't be endorsing a candidate in 2020—at least not yet. But he is eager to see Inslee's candidacy and how it will boost the conversation about climate change.
"This election in 2020 is almost certainly going to be different from any previous presidential election in that a number of candidates will be placing climate at or near the top of their agenda," Gore said. "I think that by the time the first primary and caucus votes are cast a year from now, you're going to see a very different political dialogue in the U.S."
Inslee wants to be the climate guy. But some of the people around him worry that if he is actually going to do this, he can't be only the climate guy—written off as an issue candidate who's not a serious contender to be president. In a field this big, with candidates running hard against Trump, the rest of the field could try to pigeonhole him as a flake who's not really part of the top tier.
Inslee's answer to that anticipated attack is "the other Washington": the experiment in progressive governance that he's led for the past six years that's cut against the conventional wisdom of economics. On his watch, the state has boosted health care, increased access to early-childhood education and college, raised the minimum wage, expanded paid family leave, invested in infrastructure, and established in-state net neutrality, all while leading the country in job growth, overall personal-income growth, and GDP. As other states shed residents, people are moving to Washington. It's hard to drive through the parts of Seattle where Amazon has sprouted neighborhoods of coffee shops and artisanal seafood kitchens and argue that the lefty policies Inslee's been pushing have had the kind of economic downside that their opponents always warn they will.
"We have blown up that myth," Inslee said. "That's a fundamental message that many Democratic politicians can talk about, but I have the unique ability to show the proof in the pudding that we've actually done this."
Mark Schoesler, the Republican state-Senate leader, says Inslee is trying to claim credit he doesn't deserve. "I don't think things would be appreciably different if he never would have been elected governor," Schoesler says. "Market forces, consumer demands, commonsense policies would have done about the same thing that we've had under six years of Jay Inslee."
Schoesler argues that Inslee is incidental to most of the state's environmental policy, too. Inslee calls this kind of argument sour grapes coming from an out-of-touch Republican.
Inslee's voice, even on the attack, sounds like he's constantly marveling, his midwestern accent from a few generations back crossed with the northwestern spruce trees. He has an ever-present good-natured goofiness. He likes to brag that Washington has "the best weed in the United States of America," and he paints Christmas books for his grandchildren every year. (In the 2017 edition, he and his wife, Trudi, his high-school sweetheart, appear as colorful bears.)
He can come off as the happy, easygoing jock. But he has always been hard-edged about winning. When I told him I'd found out that his nickname on the high-school basketball team was "The Black Hole" because he never passed the ball, he said it was simple: He would have happily thrown the ball if he'd seen anyone on the court with a higher shot percentage, but he never did. "I tried passing once, but the ball didn't come back," he said.
To him, a key part of the formula for running against Trump is being ready to take him on directly. He's had some experience in that. It was March, during the National Governors Association meeting in Washington, D.C., and he was at the White House with the other governors for a lunch. Every year, a few governors get up and ask questions, and so the night before the event, Inslee and a few staffers brainstormed how to make the best use of the chance.
The governor didn't like any of their suggestions, and ended up improvising a question inspired by his brother-in-law, a teacher, about the proposal Trump was pushing after the Parkland shooting to arm teachers with guns. Inslee called it ridiculous. He told the president to stop tweeting and start listening. He watched the president's arms cross into his telltale grumpy self-hug, his hands shoved back behind his armpits, elbows up, lips pursed. ("If he's ever carved on a mountain, it won't be Mount Rushmore, it'll be Mount Petulant," Inslee told me later. "And that's the pose.") Other governors in the room were considering jumping into the presidential race. None of them confronted Trump like that.
Want to know what Inslee 2020 would be like? Like that, he says.
"I'm really happy to be in a confrontation with this person. I'm comfortable in that conversation," Inslee said. "You have to do two things in beating Donald Trump: One, you have to show dignity and that you can help America to become united again, and you can help America rise to the better angels rather than our lower behavior—[while] at the same time, demonstrating a strength of character and a core conviction that you're not going to be pushed around or bullied, and you've had it with his lower human behavior."
People who love Inslee—who have been loyal to him for years, who gush about him and his record—know this is all a bit kooky. Come on: He has no name recognition. He's done nothing to prepare for running. There's no team of consultants; there's no operation.
But … maybe?
"He wasn't ever working to become president. That was not his operational goal," says Bonlender, the outgoing commerce-department director. "He would observe what the president was doing, any given president, in particular those that he wasn't fond of, and would have no problem viewing himself doing a better job."
Truth is, Inslee might not be in a much worse position than the so-called front-runners in the race. They're barely known, so he's not that far behind. He's not showing up in any polls, but neither are most of the people the D.C. crowd has been playing fantasy baseball with for years.
One factor that could be a liability is his identity as an older white guy at a time when many in the party say they've had enough of those. When I bring the matter up, he notes that he just did a 30-mile bike ride, and that his record of reaching out and working with minority communities is long—it goes all the way back to one of his first votes as a young state legislator, when he supported extending unemployment benefits to the mostly Latino farmworkers in the Yakima Valley.
"I've never had somebody refuse to look at my résumé because I had a name that sounded like it was African American. I've never walked into a store and had someone follow me around because of my ethnicity," Inslee said. "I've never had those experiences. You have to recognize the humility of that—and that humility leads you then to be really dedicated to doing everything you can to embrace what you have to do to deal with our implicit biases."
If he'd been cooking this campaign for a while, Inslee said, he might have schemed a little better. He might have had the Democratic Governors Association invest more in the New Hampshire governor's race. Or he might have spent the midterms parked in Iowa or Nevada or South Carolina. Instead he spent the Friday morning before the election on a side trip to Miami Beach, where he went on a private tour with the mayor to see how the city has already had to raise the boardwalk to deal with sea-level rise.
Scheming is what he's up to now—and not only for the presidential race. When Inslee first became governor, the state Senate was under Republican control. A 2017 special election gave Democrats a one-seat majority, and 2018 was even better. Inslee now has a 10-seat majority, and a chance to further build a legislative agenda that he can tout to American voters while his competitors in Washington, D.C., keep talking about what they might do, what they'd want to do, if only they had power.
"He's obviously got his eye on the shiny object in Iowa," Schoesler scoffed.
Around the conference table in his office at the end of December, Inslee and his top aides held a brainstorming session for his State of the State address. Washington's spike in homelessness and the local orcas facing extinction were both on the table. The time might be right, they discussed, to tease his plan for a public health-insurance option, or to explain how he's going to pay for the green agenda he announced earlier that month.
"How do you argue, at the same time, unbelievable success and urgency? Is that too discordant in the human mind?" Inslee asked.
"Is the rallying cry that we're the state that steps up?" an aide offered.
Before breaking for the morning, his deputy chief of staff quickly ran through the state's contingency plans to handle the federal shutdown.
The governor was seated in his chair at the head of the table, the high leather back embossed with the worn-in seal of the state: George Washington's softly caricatured head, framed in a circle. He marveled at what had become of the negotiations in D.C.
"I want to play poker with Donald Trump," Inslee said. "I really do."