Why Mike Pence Couldn't End the Shutdown
The vice president has led negotiations to reopen the government. But even after the White House's state-of-emergency threat, he doesn't appear to have the authority to do much about it.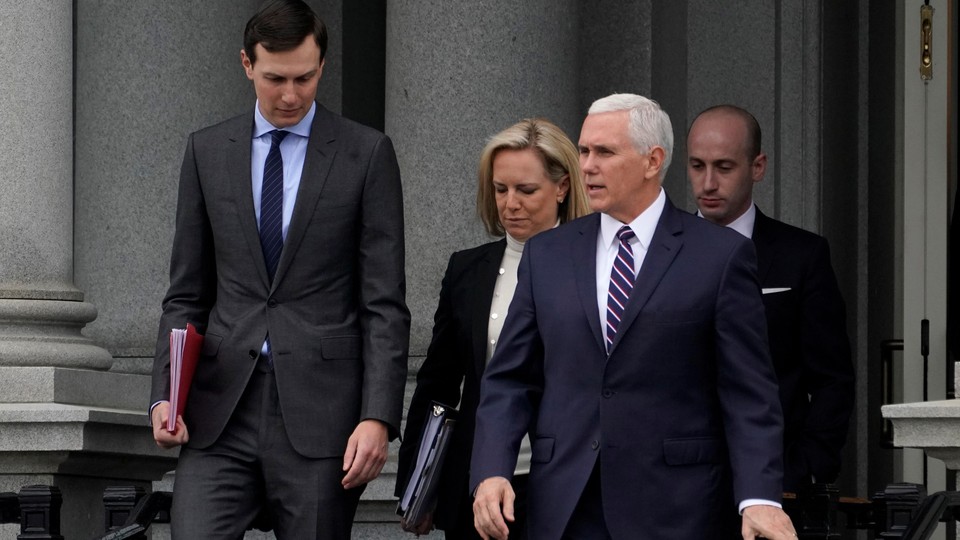 Mike Pence was set up to fail.
It seemed that way a lot over the past three weeks. In the days ahead of the federal funding deadline in December, it was the vice president who told Senate Republicans that the president would back a short-term spending bill to keep the government open. (The president then announced that he would not.) And it was Pence who, once the partial government shutdown was under way, told Senate Minority Leader Chuck Schumer that the White House would downsize its request for border-wall funding. (The president then announced that it would not.)
The shutdown had reached its third week when the vice president convened bipartisan meetings with congressional staffers to discuss, ostensibly, a path forward. Yet in those gatherings on Saturday and Sunday in the Eisenhower Executive Office Building, Pence, joined by Department of Homeland Security Secretary Kirstjen Nielsen and the White House senior adviser Jared Kushner, was likely reluctant to engage in the kind of detailed negotiations needed to break the impasse. Indeed, as The Washington Post first reported, he had not been authorized to pitch new funding levels for the border wall, as he had in his meeting with Schumer. (The vice president's office disputed this to me, noting that the meetings resulted in a revised budget request from the White House.)
The president underscored the futility of Sunday's confab before it even took place: "I don't expect to have anything happen at that meeting," he told reporters that morning, before heading to Camp David. "Ultimately, it's going to be solved by the principals."
In other words, Pence entered the talks under no illusion that progress lay waiting. The result was that Pence's negotiating partners saw him as a man sidelined, a status that has increasingly defined the vice president's tenure, according to interviews with lawmakers, aides, and current and former administration officials, many of whom requested anonymity in order to speak frankly and reveal confidential details.
In Sunday's meeting, for example, Democratic staffers made clear that they would not negotiate border-wall funding until the government reopens, maintaining the position House Speaker Nancy Pelosi had staked out days before. According to two congressional staffers in the room, Pence responded by discussing funding for border-security items both parties might agree upon, such as drone technology. For Pence, the sources said, it appeared an attempt to maintain a smooth and congenial discussion. Nevertheless, with regard to the sticking point—$5.7 billion for a wall—both parties remained dug in. "I wish he'd been a bit more forceful," lamented one Republican aide who was in the room.
Pence has never been an outwardly aggressive negotiator on behalf of the president, preferring to project a calm, respectful, and reasonable demeanor to contrast Donald Trump's bombast. It's a posture that most lawmakers and aides I spoke to appreciated, praising Pence as a valuable sounding board for their frustrations with the White House, notably at Senate Republicans' weekly policy lunches, which he attends frequently. Yet when it comes to reaching a deal with Democrats to reopen the government, it has mattered almost none: On Monday, day 17 of the partial government shutdown, the White House announced its most serious threat yet to declare a national state of emergency over what it claims is a crisis at the U.S.-Mexico border.
Pence signaled his readiness to abandon talks with Democrats in favor of this move, telling reporters on Monday that the border represents a "humanitarian and national-security crisis."
"He's investing in GOP solidarity," a senior aide to a GOP member close to Pence told me, "not deal making with Democrats."
Should the administration declare a state of emergency, Pence's reputation as a mediator between the White House and Congress would likely take a hit. Such a declaration would symbolize the administration's failure not only to pick off Democrats, but also to maintain the total support of its own party: In the past week, moderate Senate Republicans such as Susan Collins of Maine, Cory Gardner of Colorado, and Thom Tillis of North Carolina said they were prepared to back the government's reopening with or without wall funding.
It was Pence who was supposed to help the Trump administration evade such situations. In the first year of Trump's tenure, the vice president was granted a wide berth to quietly craft deals with Republican lawmakers and guide the White House's messaging in Congress. It was, after all, much of the professed reason he'd been brought onboard, with the Trump campaign pitching him as an experienced Hill denizen who could make up for what Trump lacked in legislative know-how. Pence served for more than a decade in the House, holding leadership positions such as chair of the Republican conference. (Not all were convinced of Pence's legislative savvy: As my colleague McKay Coppins reported last year, some members who served alongside Pence referred to him as "Mike Dense.")
Pence's supporters point to some early wins in Trump's administration as evidence of his skill as a Hill navigator. Multiple House Republican members and aides say the vice president was critical in helping pass legislation to repeal Obamacare, despite the effort's unpopularity with much of the public. (The measure ultimately died in the Senate.)
According to multiple current and former administration officials, however, as Trump's friction with Congress has increased, Pence's clout has suffered. Two sources, one close to the vice president and the other close to the president, both of whom requested anonymity in order to discuss internal conversations, affirmed to me that Pence was leading the Trump administration's negotiations on border security. Yet the fact remains that this weekend, the president gave his lead negotiator very little room to negotiate, sending Pence to a meeting that Trump himself said would yield nothing. This, coupled with the moments over the past month when Trump has publicly undermined Pence's messaging, has helped create a portrait of a vice president with diminishing influence.
A meeting on Wednesday of top White House officials and congressional leadership in the Situation Room illustrated this well. At one point, according to a source familiar with the matter, Pence claimed that Schumer never responded to the White House's downsized request for border-wall funding. Schumer responded that it was hard for him to take the figure seriously. He noted that at the same time Pence made the ask, two Saturdays before, a senior administrative official holding a background briefing call with reporters said the president would accept no less than $5 billion.
Even the president had said that day that he would only accept $5.6 billion, Schumer noted. "Didn't you, Mr. President?" he asked, according to the source.

"The president, with his arms folded, smirked and nodded," the source said.
The exchange represented another swipe at Pence's credibility, with the president declining to defend his vice president's motives in front of Democratic leadership. "If you were Nancy or Chuck, why would you spend time cutting a deal that may be dismissed out of hand by the ultimate decider?" one former senior White House official said.
Despite Trump's response at the meeting, Pence told reporters on Monday that the president had buy-in on his offer to Schumer. "I can neither [confirm] nor deny the numbers that have floated around about what was offered on the first day of the shutdown," he said. "But I can assure you, it came from the president of the United States. And Senator Schumer knows that." (As the former White House legislative-affairs director Marc Short put it to me: "Pence does not go rogue.")
Lawmakers and aides I spoke to sympathized with Pence's position. According to one veteran House Republican aide, it was almost always a "given" that when former Vice President Joe Biden communicated the White House's agenda to the Hill, Barack Obama would be quick to follow through. Conversely, when Pence communicates the president's position, "it ends up being accurate maybe 50 percent of the time." When a president deals more in "spontaneity" than in specificity, the aide added, legislative talks are bound to break down.
Representative Mark Walker, the House Republican conference vice chair, echoed that sentiment: "The more specificity you have, the better you can negotiate.
"President Trump has a unique style of leadership," Walker added. "He's never really answered to a board, which allows you to cut on a dime. So people who work for him have to remember flexibility comes with the job description."
White House allies on the Hill and former administration officials acknowledged privately that the vice president may be more hamstrung than ever, unable to capitalize on many of the strengths he was originally chosen for. But crucially, those sources said, Pence has never expressed any displeasure with his circumstances, and would never suggest, even privately they say, that Trump's whims have made shuttle diplomacy difficult. "There's a reason Pence has avoided the fate of so many others," another former senior White House official told me. "He acquiesces entirely to the will of Trump 100 percent of the time."
According to the White House, Pence remains valued by his boss. "The President and Vice President could not be more closely aligned," White House Press Secretary Sarah Huckabee Sanders told me in an email. "They speak multiple times a day, discussing a wide range of issues. Since taking office, the Vice President has been an effective messenger for this Administration at home and abroad, and his over-10 years in Congress makes him a natural and valuable negotiator for the President as he works to secure the border and open the government."
Pence's ability to steer Trump toward compromise will be tested even more in the months to come, as House Democrats settle into the majority. For the first time in this presidency, the success of Trump's legislative ambitions will hinge almost entirely on Democratic buy-in.
Having a vice president who knows the Hill should be helpful in this respect: Biden and then–House Republican Majority Leader Eric Cantor, for example, enjoyed a close relationship that helped ease tensions during legislative battles. But House and Senate Democratic aides I spoke to don't foresee Pence forging a similar bond with Schumer or Pelosi, in large part because their bosses may not see the point. "I don't know that he has any authority whatsoever," one House Democratic leadership aide told me. "It's perplexing."
True or not, it's an impression that Pence doesn't seem to mind. As with many White House officials, Pence's favor with Trump—and with many of his voters—will likely depend more on loyalty than accomplishment.
One congressional Republican staffer I spoke to recalled a policy meeting with Trump and Pence in which the vice president said little. One of the few times he spoke, the source said, was to flag another staff member. "The president," he said, "would like a Diet Coke."