The Atlantic Politics & Policy Daily: Wall They or Won't They
Could the president's determination to build a southern border wall cost him 2020 votes?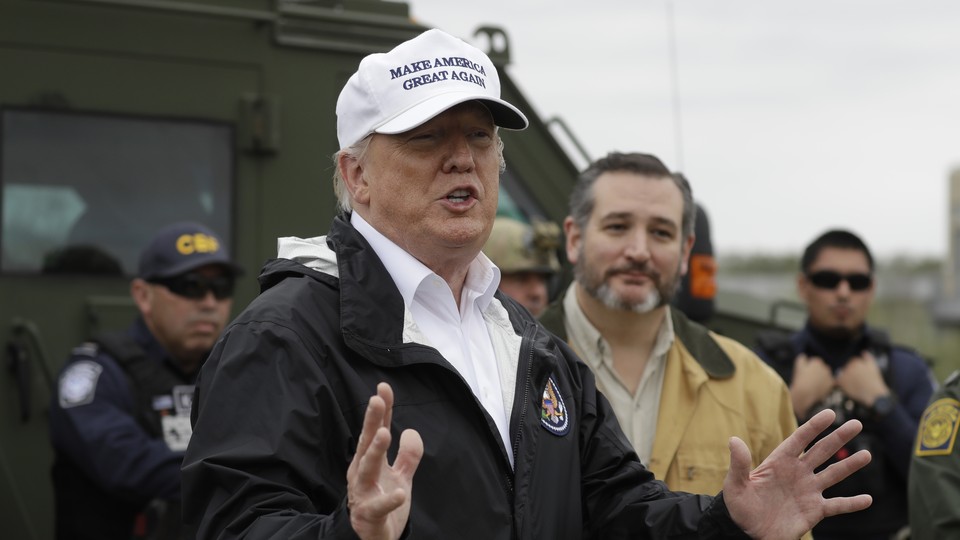 What We're Following Today
It's Thursday, January 10, and the partial government shutdown has been going on for 20 days. President Donald Trump visited the southern border in the town of McAllen, Texas, where he continued to push for his proposed wall; before he left, he told reporters he was prepared to declare a national emergency to unlock funding for the project.
In a Holding Pattern: Even after Trump's highly publicized Oval Office address on Tuesday and his two negotiating meetings with congressional leaders on Wednesday, the terms of the shutdown debate haven't changed. And some Republicans, such as Cory Gardner of Colorado and Lisa Murkowski of Alaska, are starting to squirm.
Sticking to His Guns: The president's determination to build the wall demonstrates his willingness to appeal to his base. But this strategy could cost him some of the more ambivalent supporters he had in the previous election. For example, 25 percent of non-college-educated whites who said they opposed the wall still voted for Trump in 2016. But in a recent survey, only 9 percent of that group now say they approve of Trump's performance.
Issuing Threats: On Wednesday, Trump threatened to cut off funding for survivors and communities affected by California wildfires amid a political dispute with state politicians, turning an ordinary duty of the federal government into a partisan cudgel, writes Robinson Meyer.
Obama 2.0?: During a trip to Cairo, Secretary of State Mike Pompeo drew a stark contrast between Trump and former President Barack Obama. But the two have something in common: They've both struggled to extract Egypt from conflicts in the Middle East.
---
Snapshot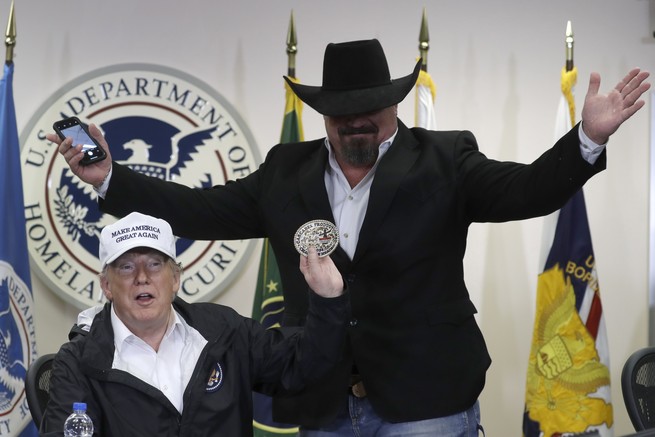 President Donald Trump holds up a belt buckle given to him by the rancher Monty Awbrey during a roundtable on immigration and border security at U.S. Border Patrol McAllen Station, while on visit to the southern border, in McAllen, Texas. (Evan Vucci / AP)
---
Ideas From The Atlantic
How the Housing Crisis Could Imperil Trump's Presidency (Derek Thompson)
"Young Americans don't seem remotely interested in becoming cement masons or carpenters. That means the housing industry would vastly benefit from an influx of immigrants—precisely the thing Trump wants to stop at all costs with a giant border wall." → Read on.
Trump the Toddler (Adam Serwer)
"If Democrats allow Trump to use the well-being of the American people as a hostage, then he will do it again every time he is denied. As any parent knows, rewarding misbehavior only invites more of it." → Read on.
A Border Is Not a Wall (Alexis C. Madrigal)
"Borders are an invention, and not even an especially old one. Predated by the printing press by a good 200 years, borders are constantly under revision. Even the zone of the border itself, the Supreme Court has held, extends far beyond the technical outline of a nation. Imagine the border as the human-made thing that it is, and it's no longer surprising that it takes a multitude of forms: a line on a map, a fence, a bundle of legal agreements, a set of sensors, a room in an airport, a metaphor." → Read on.
Paul Whelan, the U.S. Citizen Arrested in Moscow, Is Not a Spy (John Sipher)
"In any event, Putin certainly knows that Whelan is not a U.S. spy. He knows how the United States operates in Moscow. He has been in the middle of the many cases, arrests, flaps, defections, and efforts to deceive and thwart U.S. intelligence efforts. He is well aware that Whelan's activities are not consistent with U.S. practice. While there may be any number of motivations for Whelan's arrest, most attention has centered on the notion of a potential swap for the recently arrested Russian operative Maria Butina." → Read on.
---
What Else We're Reading
Steve King Set the Agenda for the Wall and Anti-immigrant Politics (Trip Gabriel, The New York Times)
Robert Mueller Met With Trump's Pollster (Sara Murray and Katelyn Polantz, CNN)
Freshman Dems Feeling the Heat as Shutdown Drags On (Heather Caygle and Sarah Ferris, Politico)
Alexandria Ocasio-Cortez Takes the Democrats Back to the Future (Isaac Chotiner, The New Yorker)
---