Trump's 'Major' Border Deal Is No Deal for Democrats
The president offered three-year protection for "Dreamers" and immigrants with protective status in exchange for $5.7 billion in border-wall funding. Democrats rejected it out of hand.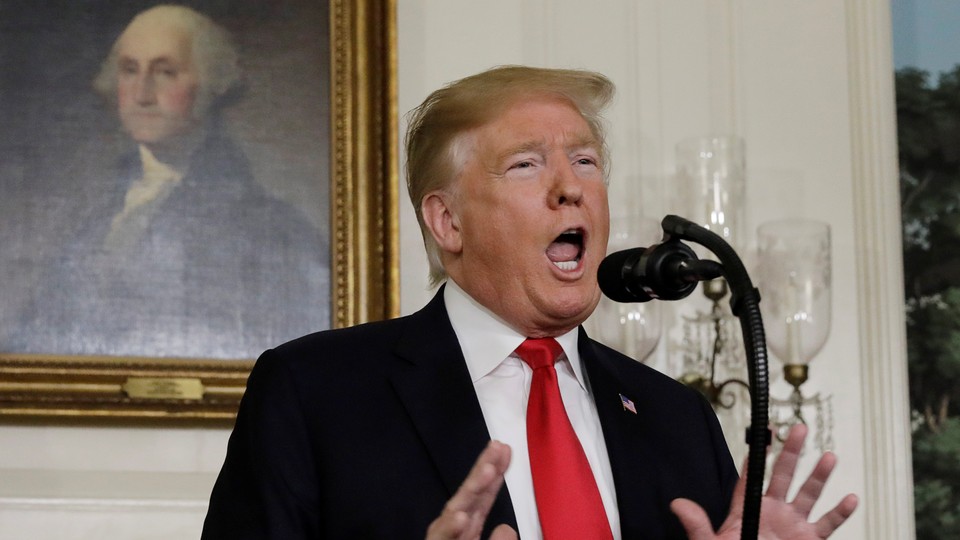 The 29th day of the partial government shutdown, the longest in U.S. history, has been virtually indistinguishable from the first.
On Saturday, President Donald Trump entered the Diplomatic Reception Room in the White House to reveal the "major announcement concerning the Humanitarian Crisis on our Southern Border" he had teased on Twitter on Friday. In some respects, it could be viewed as a major step toward ending the shutdown, with Trump outlining a new proposal to break a logjam that has left hundreds of thousands of federal workers without pay. And yet in other ways—with Democratic leaders roundly rejecting the plan before it was even aired—it may as well have never happened.
The White House proposed three years of protection for two categories of immigrants. The first group comprises about 700,000 young adults, known as "Dreamers," who were brought to the United States as children without authorization; they had been protected by the Deferred Action for Childhood Arrivals program, the Obama-era policy that Trump sought to end before federal courts intervened. The second category, temporary protected status, covers people who were allowed to move to the United States after disasters hit their home country; Trump has similarly sought to cut back these protections, only to see his actions stopped in court.
In addition to three years of protection for Dreamers and TPS recipients, Trump also proposed $800 million for humanitarian assistance, presumably to the Central American countries where poverty and violence push migrants to leave for the United States; $805 million for drug-detection technology at the border; an additional 2,750 Border Patrol and law-enforcement agents; 75 new immigration-judge teams to reduce the backlog of nearly 1 million cases; and a system for Central American minors to apply for asylum from their home country.
And perhaps most important, the White House's offer includes $5.7 billion for the "strategic deployment of physical barriers, or a wall"—the price tag that in many ways catalyzed the current impasse.
"This is not a 2,000-mile concrete structure from sea to sea," Trump said. "These are steel barriers in high-priority locations," covering about another 230 miles of the southern border.
Trump cast his proposal as a medium-term stopgap that buys time for Congress to negotiate a full-scale immigration-reform package, the sort of compromise that has eluded lawmakers for more than a decade. (In February, Democrats offered $25 billion for wall funding in return for a path to citizenship for the Dreamers, but the deal crumbled when Trump insisted upon further cuts to legal immigration.) A source familiar with the ongoing negotiations said that Senate Majority Leader Mitch McConnell would have the latest White House proposal ready for a floor vote by next week.
But a proposal that offers only temporary protections for DACA and TPS recipients—without a path to citizenship—has historically been viewed as a nonstarter by most Democrats, in part because it was Trump himself who has tried to revoke protections for both groups. And sure enough, as details of the president's offer leaked out ahead of his address on Saturday, Democrats were quick to pour cold water on it. "Initial reports make clear that his proposal is a compilation of several previously rejected initiatives, each of which is unacceptable and in total, do not represent a good faith effort to restore certainty to people's lives," House Speaker Nancy Pelosi said in a statement before Trump's remarks. "For one thing, this proposal does not include the permanent solution for the Dreamers and TPS recipients that our country needs and supports."
"It's clear the President realizes that by closing the government and hurting so many American workers and their families, he has put himself and the country in an untenable position," Senate Minority Leader Chuck Schumer said in a statement following the president's address. "Unfortunately, he keeps putting forward one-sided and ineffective remedies. There's only way out: open up the government, Mr. President, and then Democrats and Republicans can have a civil discussion and come up with bipartisan solutions."
Trump's offer changes nothing, Democrats concluded. They remained firm in their demand that the president first reopen the government before entertaining further talks on immigration policy. "His 'major announcement' was just the exact same racist demand for a wall," said one House aide, who requested anonymity in order to speak candidly. "Let his legacy be two more years of closed government if he won't be reasonable."
But Republicans were nonplussed by Democrats' swift refusal. According to multiple GOP lawmakers and aides, party leaders are newly confident that blame for the shutdown—which polling thus far has shown sits mostly with the president—will shift to Democratic leaders. The way Republicans see it, the White House is attempting to engage in good-faith negotiations with a party whose members still refuse to come to the table (quite literally, they point out, reiterating that moderate House Democrats all rebuffed Trump's lunch invitation to discuss the shutdown last week). The onus, they said, is now on Democrats either to advance Trump's proposal or to counter it with their own—simply rebuking it, they feel, is no longer politically viable.
"The question they never answer is: What is their offer, and when will they come back to the table to deliver it?" Representative Rodney Davis of Illinois, a moderate Republican who engaged in talks with the White House last week, told The Atlantic.
And even conservative lawmakers, who've traditionally been a hard sell on legislative deals that include protections for DACA recipients, praised the president for attempting to move negotiations forward. "This is the latest and most significant step yet of POTUS showing his willingness to negotiate and compromise with Democrats on the issue of wall funding," the House Freedom Caucus member Mark Meadows of North Carolina, a close ally of Trump's, tweeted. "At this point, if Democrats refuse to come to the table, it will show they are not at all serious about solving this impasse."
The source familiar with the negotiations told The Atlantic that the White House's offer began to come together shortly after Pelosi proposed postponing Trump's State of the Union address, originally scheduled to take place on January 29. It was then that McConnell, the source said, urged Trump to announce a comprehensive offer to end the shutdown—and quickly. "The leader said to POTUS, 'Start thinking about what you want to do to shake things up.' Because it was clear to him then that Democrats just weren't going to move."
So on Thursday, Vice President Mike Pence and the senior adviser Jared Kushner met with McConnell in his Capitol Hill office to begin ironing out the proposal. The source said the meeting was publicized intentionally, as a way to showcase the White House's continued efforts to reach a solution in the midst of the standstill.
But even in the lead-up to Saturday's remarks, Democrats felt that the administration's efforts were disingenuous, as they'd rejected similar offers from the administration in the past. And several took issue with the president framing the proposal as a bipartisan solution, when Democrats hadn't been consulted on it beforehand.
"We're bad at negotiating, but we're not that bad," said one House Democratic staffer. If the president had instead offered a more permanent solution—say, a pledge to sign the DREAM Act, a measure first introduced in 2001 that would allow undocumented immigrants who attend college or serve in the military to eventually gain legal status—Democrats might have been on board, the source said.
Saturday concluded as yet another day in which several things happened—a televised address, a flurry of statements from lawmakers and aides—but nothing changed. Ultimately, for all the dressings of a shiny new proposal, the White House's request for $5.7 billion for a border wall stayed firm. And it's unclear whether Democrats plan to respond to Trump's offer with a proposal of their own, or whether their demand that the White House reopen the government sans a new immigration policy remains absolute, like their opposition to the wall.
Early signs indicate that it will.
"Democrats," as one senior House Democratic aide told The Atlantic, "are not willing to negotiate at gunpoint."