What to Expect From Trump-Kim Take Two
If the first summit accomplished little, the second could be the same—but there are many wild cards.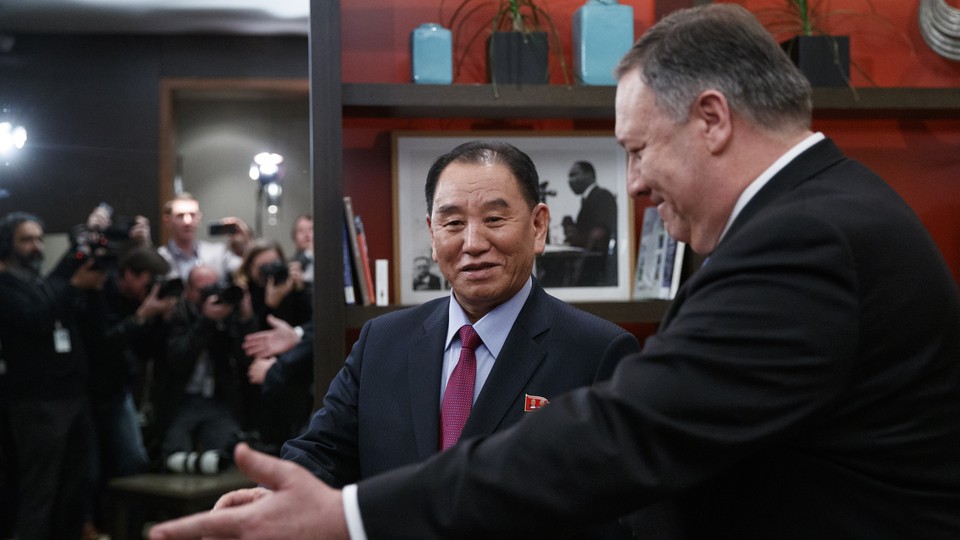 For roughly 40 minutes on Friday, a sleepy boutique hotel in Washington, D.C., burst to life as the epicenter of nuclear talks with North Korea.
As reporters and camera crews crowded into the lobby of the Dupont Circle Hotel and spilled outside to the street, Secretary of State Mike Pompeo briefly met with his North Korean negotiating partner, Kim Yong Chol, before emerging from an elevator, smiling ever so slightly, ignoring shouted questions of "How did it go?" and speeding off in a three-car motorcade to the White House. Kim, who slipped out of the hotel more surreptitiously, wasn't far behind.
The payoff came later. After huddling with Pompeo and Kim for 90 minutes at the White House, President Donald Trump has announced that he will hold a second summit with the North Korean leader, Kim Jong Un, in late February at a yet-to-be-announced location.
In a sign perhaps of how cautiously the two sides are going into this meeting, however, the news wasn't grandly announced to the press on the White House lawn as it had been ahead of the first summit. Instead, it came via a two-line email from Press Secretary Sarah Huckabee Sanders.
Here's a rundown of where the negotiations stand and what the sequel to the June 2018 Trump-Kim Singapore summit could bring:
What has—and has not—been accomplished
The Trump administration says its diplomatic engagement with the Kim regime has already produced significant achievements. The parties have retreated from the brink of war (albeit a brink Kim and Trump steered their countries toward). North Korea has halted tests of nuclear weapons and long-range missiles that could reach the United States. The two countries have established direct dialogue at the very highest levels of government and, along with South Korea, are experimenting with a new model of top-down talks (after decades of ultimately failed bottom-up negotiations) in which meetings between political leaders serve as the catalyst rather than the capstone of the process. There have been some meaningful gestures of goodwill: The United States has suspended major military exercises with South Korea, while North Korea claims to have destroyed a nuclear-test site.
But seven months after Trump became the first American president to meet with a North Korean leader, boasting afterward that "there is no longer a Nuclear Threat from North Korea," Pyongyang's nuclear-weapons program remains at least as formidable as it was the day before Trump and Kim shook hands in Singapore. Even as North and South Korea have made remarkable strides in reconciling—demilitarizing parts of their heavily fortified border, for example, and exploring ways to connect their railroads—efforts to achieve the "final, fully verified denuclearization of North Korea," as the administration likes to refer to it, have gone nearly nowhere.
The Kim government has not taken any steps that U.S. officials once hoped would occur early on in talks, such as providing an inventory of its nuclear-weapons program, dismantling a portion of its nuclear arsenal in a manner that can be independently confirmed, or offering a timeline for fully giving up its nukes. The Trump administration's new envoy for North Korea, Stephen Biegun, has not been able to get any face time with his Pyongyang counterparts.
Trump likes to describe the negotiations as a great success, but the president's own government has at times been more candid. A report on U.S. missile defenses, released this week by the Pentagon, notes that North Korea "continues to pose an extraordinary threat" to the United States.
In other words, no progress has been made so far, and the Trump administration is hopeful that a second summit may jump-start negotiations again. (Critics of course say the meetings give Kim international credibility without any concessions from his side.)
What could be accomplished at the next meeting
U.S. officials appear to be going into the next summit with an understanding that their original approach to the talks—withholding concessions until Kim gives up his nuclear weapons—has so far proved a dead end. Instead, they may follow the more reciprocal formula that North and South Korean officials have long advocated: taking steps to establish peace and new relations with North Korea (the first two commitments made in the statement Trump and Kim signed in Singapore) in exchange for Pyongyang taking corresponding steps toward denuclearization (the third commitment). Skeptics caution that this may amount to falling for North Korea's old tricks, in which it pockets rewards without giving up anything of value.
In a New Year's Day speech, Kim hinted at one possible deal: capping the country's production of nuclear weapons and promising not to use them first in a conflict or transfer them to others in return for relief from international sanctions. "We declared at home and abroad that we would neither make and test nuclear weapons any longer nor use and proliferate them," the North Korean leader noted, but none of that could happen while the United States persisted in pressuring his country.
When Pompeo was asked about the proposal in a recent interview with Fox News, he didn't rule it out. He said he was exploring ways with the North Koreans to "decrease the risk to the American people"—a more modest goal that wouldn't necessarily require eliminating the nuclear program outright.
The half-measures agreed to at the next summit could come in a variety of forms. The United States and North Korea could, for instance, join with China and South Korea in symbolically declaring an end to the Korean War as a prelude to a peace treaty, or establish liaison offices in Washington and Pyongyang. The United States could ease sanctions against North Korea or carve out humanitarian and other exceptions to those sanctions, while Kim dismantles the intercontinental ballistic missiles that directly threaten the U.S. mainland or facilities such as the Yongbyon nuclear complex.
The details of whatever agreement Trump and Kim reach in their next summit—assuming they reach one at all, or even meet in the first place—will represent the clearest indication yet of what exactly the Trump administration is up to with North Korea. Are these talks still really about denuclearization? Have they morphed into arms-control negotiations? Or have U.S. officials come to the realization, as they have in the past with countries such as Pakistan, that the best they can do is learn to live with a nuclear-armed North Korea so long as it isn't overtly threatening?
Wild cards
Then, of course, there's the wild card of Trump himself, who at the last summit decided off the cuff to cease U.S.-South Korea military exercises and could have other surprises in store for when he and Kim meet again. Even if his advisers believe a declaration ending the Korean War is premature, the president could go ahead and promise it anyway. Even if the North Korean leader doesn't request that the United States reduce its military presence in South Korea, Trump might see fit to do it anyhow, since he thinks it's a rip-off for the United States.
Kim is hardly the most predictable leader either—his government has blown off meetings with American officials and he's ominously threatened to go "a new way" if the United States doesn't let up pressure on his country.
Regardless, U.S. officials will spend the next month seeking to line up "deliverables" for the summit. But there's no accounting for what happens when their boss gets in the room with Kim Jong Un.