The Atlantic Politics & Policy Daily: Wall or Nothing
President Donald Trump has been flirting all week with the idea of declaring a national emergency to unlock funding for his border wall.
What We're Following Today
It's Friday, January 11. Congress has adjourned for the weekend, ensuring that the current partial government shutdown will be the longest in U.S. history. President Donald Trump has been flirting all week with the idea of declaring a national emergency to unlock funding for his border wall, a move that some Republican senators support: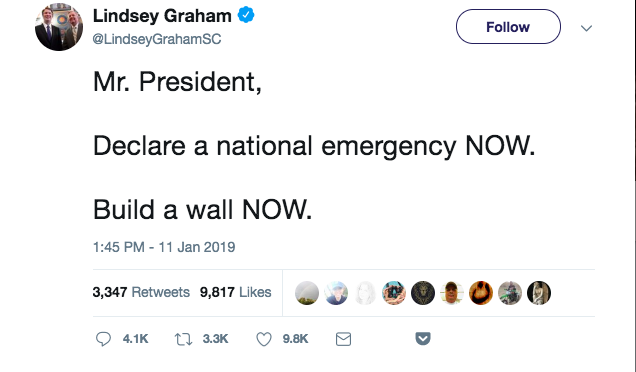 The State of Play: After a frenzied week of nationally televised speeches, meetings, and press releases, Republicans and Democrats are even more entrenched in their positions. "It's as though the writers of Groundhog Day, Towering Inferno, and VEEP got together over a drink, and this is what they came up with," one House Republican aide told Elaina Plott. Meanwhile, the president is defending his use of the word crisis to describe the situation at the southern border.
What Could Happen Next: The consequences of the current standoff will only get worse after today, when many federal workers miss their first paychecks. But Trump has one potent option left on the table: declaring a state of emergency. That the president can circumvent Congress to declare a national emergency shows just how much executive power has expanded.
2020 Watch: In her new book, The Truths We Hold, California Democrat Kamala Harris tries to endear herself to a diverse readership. But the potential presidential contender leaves out important details about her punitive track record as state attorney general, and lacks a soaring political vision, argues Hannah Giorgis.
---
Snapshot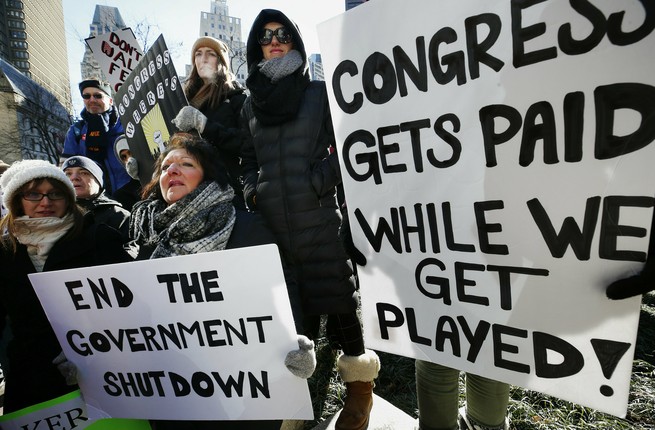 Government workers and their supporters hold signs during a protest in Boston on Friday. (Michael Dwyer / AP)
---
Ideas From The Atlantic
Can Trump Use a National Emergency to Build a Wall? (Bob Bauer)
"The administration's lawyers cannot even reach these questions, and the president cannot access funding on which the answers turn, unless he can proclaim an emergency." → Read on.
Trump's Typos Reveal His Lack of Fitness for the Presidency (John McWhorter)
"Trump's admirers might see him as a straight shooter, focused on telling us what's on his mind, too busy doing the right things to bother with niceties. The tragedy is that in his hurried, lexically impoverished blurts, Trump almost daily shows us that what's on his mind is very little." → Read on.
$5 Billion Could Buy a Lot of Border Security (Krishnadev Calamur)
"Part of the $5 billion could be spent on technology to detect drugs and weapons, which are concealed in compartments in cars or mixed with legitimate cargo in semi trailers and trains. It could also be used to hire more CBP officers to enhance detection and ease traffic delays caused by the time it takes to inspect vehicles that carry goods into the country." → Read on.
---
What Else We're Reading
Trump Sold $35 Million of Real Estate in 2018 (Dan Alexander, Forbes)
Exasperated Democrats Try to Rein in Ocasio-Cortez (Rachael Bade and Heather Caygle, Politico)
Left-Wing Group Creates Fund to Oust Texas Democrat From Congress (David Weigel, The Washington Post)
How the Left Will Learn to Love Trump (Noah Rothman, Commentary)
Is the President Making Middle School Worse? (Michelle Goldberg, The New York Times)
---