The Atlantic Politics & Policy Daily: Stone Cold
A close Trump associate was indicted in the Mueller probe. Plus: The shutdown is poised to end—for now.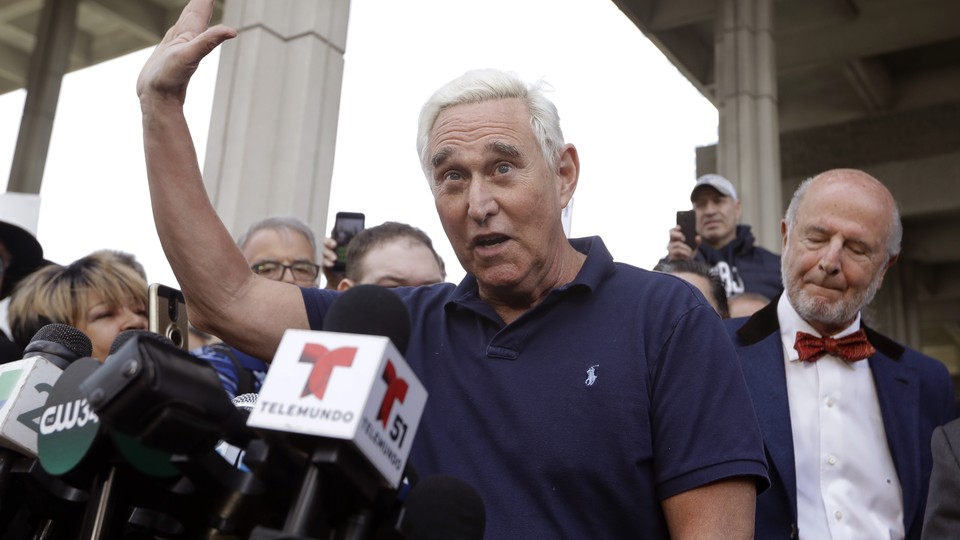 What We're Following Today
It's Friday, January 25. On the 35th day of the government shutdown, federal employees missed their second consecutive paycheck, and travel was delayed across the country after the Federal Aviation Administration temporarily halted incoming flights at New York's LaGuardia Airport, citing a staffing shortage. Escalating consequences appeared to cause President Donald Trump to capitulate.
Too Much Pressure: In an afternoon address from the Rose Garden, Trump agreed to sign a continuing resolution to fund the government through February 15, without $5.7 billion in funding for a border wall—the same deal that the president rejected before. Both the House and Senate are expected to pass the legislation on Friday night.
No Stone Unturned: Special Counsel Robert Mueller indicted and arrested the Trump ally and former campaign adviser Roger Stone, alleging that he had served as a go-between for the campaign and WikiLeaks, to coordinate the release of damaging information about Hillary Clinton.
Stone, the self-described "dirty trickster" of Republican politics, has a long history of involvement in Trumpworld: He and Trump met—and hit it off—in the 1980s. In an interview on Friday, Stone pledged to never turn on the president, and called the charges against him "bogus."
---
Snapshot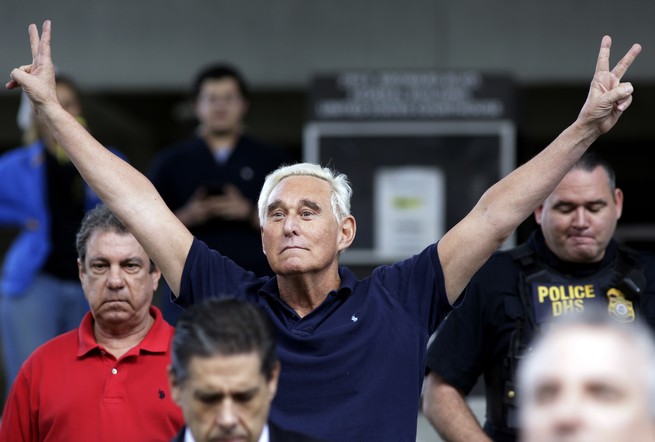 Roger Stone, a former campaign adviser for President Donald Trump, walks out of the federal courthouse following a hearing in Fort Lauderdale, Florida. Lynne Sladky / AP
---
Ideas From The Atlantic
Pelosi Defeats Trump (Alex Wagner)
"Trump's pugilistic impulses … have been virtually unchecked—especially these days, when he is without administration minders. But Pelosi has rendered Trump unable to employ his traditional weaponry." → Read on.
Trump Associates Keep Taking Notes on Conspiracies (Adam Serwer
"If Donald Trump's advisers had only watched The Wire, many of the president's aides and associates might have saved themselves a great deal of legal trouble." → Read on.
Roger Stone's Arrest Means Congress Must Act (David Frum)
"But now—now!—the country is in danger. Now—now!—it is headed by a president whose fundamental loyalty to the United States cannot intelligently be trusted. Waiting for Mueller has always been a slow option. That slowness more and more appears a danger that the country cannot safely risk." → Read on.
The Trump Administration Is Proving Blind to the Shutdown's Damage (Annie Lowrey)
"Trump's top staffers have argued that the damage is temporary and that the lost economic activity is recoverable. In this telling, the shutdown is an economic event like a hurricane … But this shutdown has gone on for so long, and has affected so many families and businesses, that its effects might be more permanent than in the past, economists have started to argue." → Read on.
---
What Else We're Reading
◆ How Grief Became Joe Biden's 'Superpower' (Michael Kruse, Politico)
◆ Elizabeth Warren to Propose Spreading the Wealth Around (Eric Levitz, New York)
◆ On Venezuela, 'Democratic Socialists' Are More Socialist Than Democratic (Noah Rothman, Commentary)
◆ If Alexandria Ocasio-Cortez Were a Conservative (Marc A. Thiessen, The Washington Post)
---