The Shutdown Was Never Really Going to End This Week
For all the frenzied activity in Washington, the American government is running in place.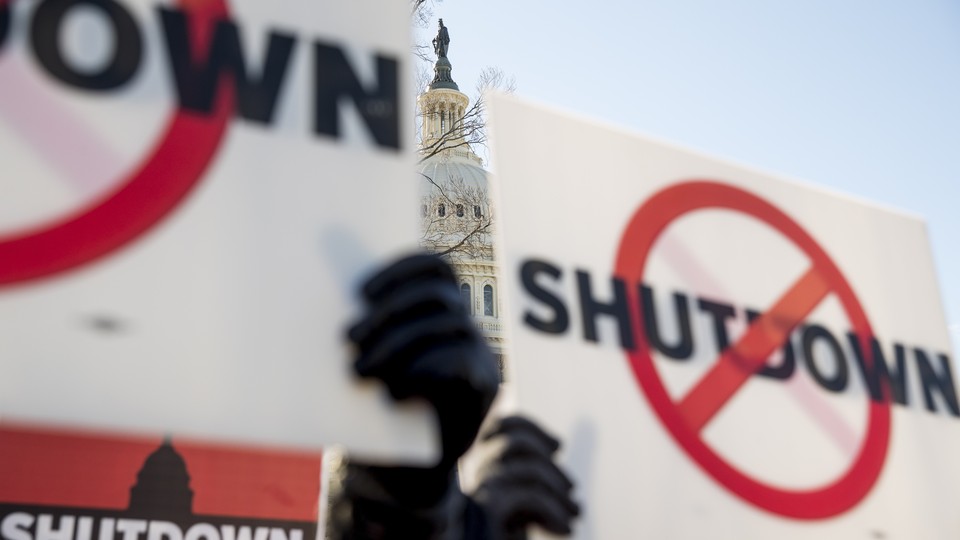 It was Thursday around lunchtime, and Lindsey Graham was over it.
"Right now I am going to the gym," the South Carolina senator told reporters in the Capitol. "I have never been more depressed about moving forward."
There was reason to be depressed. Thursday was day 20 of the partial government shutdown, and despite the flurry of speeches, meetings, and press releases that had marked these weeks, no end to the furlough was in sight. By Friday, the shutdown would be tied for the longest in U.S. history.
It's unlikely, however, the gym offered the relief Graham was hoping for. Because while you can run as hard as possible on the treadmill—maxing out your pace, punching up the incline—you still won't move forward.
That's been the theme of this shutdown, a frenzied running in place that has left a growing number of federal workers unpaid, White House and congressional aides exhausted, and both political parties more deeply entrenched in their demands than ever.
On paper, this week seemed to foretell progress: multiple visits by the vice president to Capitol Hill, bipartisan gatherings at the White House, the president's first address from the Oval Office, a visit via Air Force One to the border. Political leaders were keeping busy, or at least attempting to appear so. And yet by week's end, almost nothing had changed, with Republicans and Democrats recycling their same arguments and proposals from nearly three weeks before, and with the president's threat of a national emergency still looming over the negotiations.
"It's as though the writers of Groundhog Day, Towering Inferno, and VEEP got together over a drink, and this is what they came up with," said one senior House Republican aide, who spoke on the condition of anonymity because they were not authorized to speak with the press.
Taking a closer look at the many events of this week, however, it's clear how they were never really designed for reaching compromise—but rather, for shoring up support within one's own party.
Late Tuesday afternoon, Vice President Mike Pence arrived with a cadre of aides and Secret Service agents to the Hill to update the House Republican conference on the status of the shutdown. Joining him were Department of Homeland Security Secretary Kirstjen Nielsen and Office of Management and Budget Acting Director Russell Vought.
As the scenario might imply, it's not often that such high-ranking officials simultaneously trudge across town to brief the lower chamber. Accordingly, several optimistic aides I spoke with ahead of the meeting mused that officials were there to lay out a path forward—whether to announce that a new deal with Democrats was in the works, or prepare lawmakers for the declaration of a national emergency.
Yet Pence and his cohort did not plant the seeds of a cease-fire. Instead, they reiterated a call to arms. "He's investing in GOP solidarity," a senior aide to a GOP member close to Pence told me that day. "Not deal making with Democrats."
Indeed, at the time, the White House was antsy over cracks forming in the Republican conference, according to two House GOP aides with direct knowledge of communications from the West Wing, who asked for anonymity to discuss the private calls. On Monday and Tuesday, the sources said, President Donald Trump had phoned allies on the Hill asking for estimates on just how many Republicans could potentially defect and side with Democrats' effort to reopen the government piecemeal. He tasked Pence with keeping that number in check.
For administration officials, Tuesday's Hill visit was thus an effort to maintain a unified front, not present new paths toward reopening the government. According to aides in the room, who spoke on the condition of anonymity to share details of the private gathering, Nielsen spent much of the conference laying out crime statistics related to illegal immigration at the U.S.-Mexico border. It was a way to encourage GOP lawmakers that this was a crisis worth standing firm on.
The lawmakers received no guidance on when, or how, the partial shutdown may end. Which helps explain why Tuesday night was even more confusing for some Republicans: By the end of a day that saw a vice-presidential briefing and formal remarks from Trump in the Oval Office, officials were no closer to a solution.
According to a New York Times report, Trump told an off-the-record gathering of television anchors on Tuesday that he had little interest in delivering the speech that evening. It wasn't hard to see why: Viewers tuned in to hear the president reiterate many of the same talking points that have fueled his lobbying for a border wall since the days of the campaign. He made no mention of whether he was considering declaring a national emergency, or whether talks were progressing with Democrats. A television special that put network executives and political observers in a frenzy left everyone still running in place.
Trump's visit to the border in McAllen, Texas, on Thursday capped off the week of Kabuki theater. There, he met with Border Patrol agents and held a roundtable that included a display of cash, guns, and drugs seized at the border. But Trump had expressed disinterest ahead of this event, too: "It's not going to change a damn thing," the president lamented to the television anchors on Tuesday, according to the Times, "but I'm still doing it."
All the while, House and Senate Democrats have continued to dig in on obstruction. On Wednesday, the day before the border visit, Trump met with House Speaker Nancy Pelosi and Senate Minority Leader Chuck Schumer in an apparent last-ditch effort to reach an agreement. The president asked Pelosi whether she would be willing to deliver wall funding within a month if the government was reopened immediately. When she swiftly said no, Trump ended the meeting.
With negotiations still at a stalemate, a national-emergency declaration—followed by Trump likely reopening the government—may yet be inevitable. For even some of Trump's staunchest allies in the conservative House Freedom Caucus, however, the outcome is less than ideal. Three senior aides to HFC members, who spoke on the condition of anonymity because they were not authorized to talk to press, articulated to me their bosses' concerns. "The dread is that it will immediately be tied up in the courts, and that we will lose," confessed one. "Meanwhile, the government has reopened and Congress is off the hook to figure this out."
After a week of no change, though, it may be Republicans' only out that also allows them to save face with Trump's base, and indicate, ahead of 2020, that they fought to secure the president's key campaign promise. That is, at the very least, how Lindsey Graham seems to see it. A few hours after that presumably unsatisfying gym session, Graham became the first lawmaker to urge Trump to declare a national emergency. In other words, to move forward. "Mr. President, the Democrats are not working in good faith with you," Graham tweeted on Thursday. "Declare emergency, build the wall now."