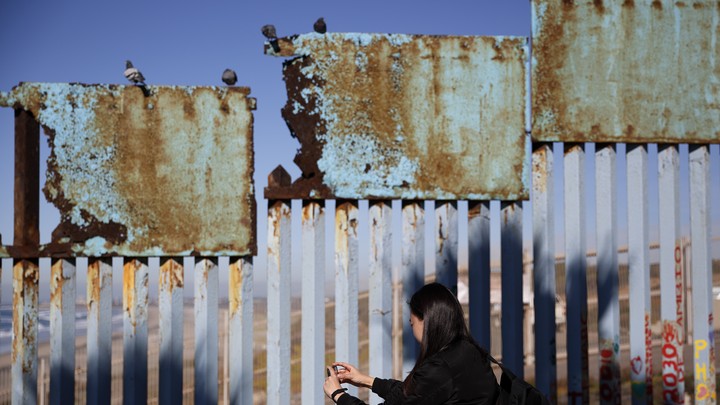 What We're Following Today
It's Tuesday, January 8. President Donald Trump will address the country at 9 p.m. ET about immigration, his proposed border wall, and the ongoing government shutdown, which is now in its 18th day.
House Speaker Nancy Pelosi and Senate Minority Leader Chuck Schumer will deliver a joint response from the Capitol, and Vermont Senator Bernie Sanders will live-stream his own separate remarks.
We'll Do It Live: All the major television networks are expected to carry the president's broadcast. This is a mistake, argues James Fallows, because "nearly everything Trump says on this topic is intentionally inflammatory and either carelessly or deliberately untrue."
Destined to Fail: Vice President Mike Pence spent the weekend leading negotiations to reopen the government, but he was never really expected to succeed. "Pence's negotiating partners saw him as a man sidelined," writes Elaina Plott, "a status that has increasingly defined the vice president's tenure."
An Ominous Sign: A report published today shows that carbon-dioxide emissions from the United States spiked in 2018, making it more likely that the country won't meet its Paris Agreement goals. (Though President Trump withdrew the U.S. from the agreement, the U.S. is still technically subject to the terms until next year.)
@PowerTransfer: With a new House majority comes the necessary transfer of ownership of government Twitter accounts. But there was an interesting wrinkle in the handover process.
---
Snapshot
A Federal Aviation Administration employee, Michael Jessie, who is currently working without pay as an aviation-safety inspector, holds a sign while attending a news conference at Newark Liberty International Airport on Tuesday in Newark, New Jersey.
---
Ideas From The Atlantic
The Lincoln Memorial During a Government Shutdown (George Packer)
"Shuttered museums, federal workers who can't pay their bills, national parks with stinking toilets: This is what Trump thinks of American republicanism. This is what the suicide of a great democracy looks like." → Read on.
The U.S. Isn't Really Leaving Syria and Afghanistan (Dominic Tierney)
"In the modern era of complex civil wars and counterterrorism operations, a world power like the United States never really leaves." → Read on.
Despite Shutdown, Trump Pays to Deport Mauritanians (Franklin Foer)
"Anyone who has logged on to the internet this year knows of Trump's obsession with drumming up an artificial immigration crisis … But his government has the same single-minded fixation on removing immigrants who are long-term residents of the United States." → Read on.
The Case for Inbox Infinity (Taylor Lorenz)
"According to a recent study by the Radicati Group, a market-research firm, people across the globe sent and received 269 billion emails a day in 2017. By 2021, that number is projected to reach more than 333 billion. In 2019, I suggest you let it all go. There is simply no way for anyone with a full-time job and multiple inboxes to keep up with the current email climate." → Read on.
---
What Else We're Reading
Here's the Offer Trump Is Making to Democrats to End the Shutdown (Dara Lind, Vox)
Second Man in Two Years Found Dead at Home of Democratic Activist (Matthew Haag, The New York Times)
Hill GOP Support Grows for Trump to Make Emergency Declaration (Politico)
The Moral Superiority of Markets (Noah Rothman, Commentary)
How Cities Make Money by Fining the Poor (Matthew Shaer, The New York Times Magazine)
Why Centrists Are Obsessed With Alexandria Ocasio-Cortez (Ryan Cooper, The Week)
---
We're always looking for ways to improve The Politics & Policy Daily, and will be testing some formats throughout the new year. Concerns, comments, questions, typos? Let us know anytime here.

Were you forwarded this newsletter? Sign up for our daily politics email here.
We want to hear what you think about this article. Submit a letter to the editor or write to letters@theatlantic.com.
Elaine Godfrey
is a staff writer at
The Atlantic
, where she covers politics.