Why Democrats Picked Stacey Abrams to Deliver Their Trump Counterpunch
The decision to tap Abrams for their State of the Union response reflects the importance of this year's address to the party.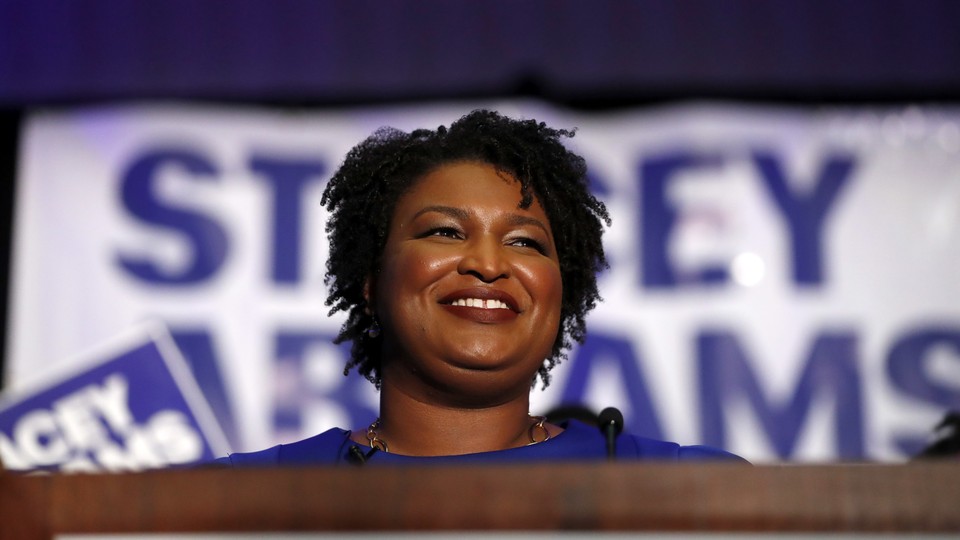 Usually, the only things that most Americans can remember about the annual response to the president's State of the Union address are the memes: the extremely awkward sips of water; the shiny lips and weirdly prominent sports car; the stilted, staged setup. The speaker's actual remarks, which represent the messaging of the president's opposition party, are usually secondary—earnest, perfunctory, and then, mercifully, over. The real function of these televised speeches, sandwiched between hours of nitpicking commentary, is to signal that a party has identified its chosen speaker as a rising star.
That's why the Democrats' selection of Stacey Abrams to deliver this year's response is so intriguing. Abrams, who narrowly lost the Georgia governor's race to the Republican Brian Kemp in November, has perhaps become more prominent and integral to the party since her defeat. The speech will likely function less as an acknowledgment of her potential, and more as a genuine rebuttal to President Donald Trump—one delivered by a politician who's already become an avatar of effective anti-Trumpism messaging, thanks to her campaign against Kemp, and at a time, days after the government shutdown, when the president is newly vulnerable.
"At a moment when our nation needs to hear from leaders who can unite for a common purpose, I am honored to be delivering the Democratic State of the Union response," Abrams said in a statement Tuesday, after her speech was announced. "I plan to deliver a vision for prosperity and equality, where everyone in our nation has a voice and where each of those voices is heard."
Those themes are core pieces of Abrams's message. On the campaign trail last year, her stump speech was notable for the way it outlined policies in terms of how they'd practically affect voters' lives and pockets, whether it was connecting a proposed Medicaid expansion to black infant and maternal deaths, or identifying climate change as a culprit in natural disasters in southern Georgia.
Abrams also focused on several issues that are critical to the national political conversation right now, a record she could lean on in trying to create an effective counter to Trump. According to a recent Gallup poll, immigration, health care, and race relations are among voters' most urgent concerns. In 2018, Abrams became one of the most prominent politicians to promote Obamacare's Medicaid expansion, and she backed that expansion as a "starting point" for achieving universal health-care coverage. Her immigration platform included opposition to law-enforcement crackdowns on sanctuary cities and undocumented immigrants. And she is—after losing a race haunted by allegations of voter suppression—undoubtedly the national face of the Democrats' pro-voting-rights movement; her focus on expanding the electorate undergirded the racial-justice platform that was central to her campaign. "Stacey Abrams reflects our party's shared values of equality and inclusion," Alabama Representative Terri Sewell, who is leading the House Democrats' voting-rights efforts on Capitol Hill, said in response to Abrams's selection.
The invitation to Abrams comes at a critical time for Democrats. The longest government shutdown in history ended just last week, but not before it exposed new weaknesses in Trump's public support, as well as deep faults in the American economy. Describing why Abrams was chosen to give the Democrats' address, Senate Minority Leader Chuck Schumer identified a "lack of leadership" from the administration "as American families are still feeling the impacts of [Trump's] self-imposed shutdown." While Americans do largely blame the president for the closures, according to public polling, the shutdown has sharply lowered their opinion of government as a whole and their faith in the economy.
Democrats, at this precarious moment, will be trying to deliver a strong, coherent alternative to the chaos emanating from the White House. And they evidently think Abrams can achieve that: She's functioning as a sort of political leader in exile, commanding influence among Democrats and being tapped to represent the party despite not holding an office or being officially involved in national-committee leadership. And she is considering running for office again; she told me in a recent interview that she's weighing her options for either a Senate run in 2020 or a gubernatorial rematch in 2022.
Abrams is far different from the past two speakers whom the Democrats have chosen to rebut Trump. Last year, Massachusetts Representative Joe Kennedy III was tapped to deliver the counter-speech, but he wasn't as publicly well known: Though Kennedy was and is a rising star, Abrams has already managed to turn a statewide race into a national profile. In 2017, former Kentucky Governor Steve Beshear rebutted Trump's first address to Congress. In a speech staged at a diner in coal country, he delivered a symbolic, heavy-handed appeal to white heartland voters that was once thought to be the most viable path forward for Democrats. In contrast to Beshear, Abrams represents a new electoral strategy for the party, rooted in expanding the Democrats' voting base and deemphasizing the voters who flipped to Trump.
And unlike the previous two speakers, Abrams is also, noticeably, a black woman. She will be the first black woman to ever deliver such an address, and the first black politician since former Representative J. C. Watts in 1997. Her selection suggests that the Democratic Party wants to keep up with its changing coalition. The elected officials in the national Democratic Party are more racially representative than they've ever been, more women are in Congress than ever before, and the field of 2020 Democratic contenders already looks to be the most diverse in any major-party presidential primary. But beyond matters of representation, Abrams's selection signals that the party views her message as the best encapsulation of its vision in the era of Donald Trump—and as the best counterpunch to a president who's fighting to remain in control.
---
Elaine Godfrey contributed additional reporting to this article.