Why Federal Workers Still Have to Show Up Even If They're Not Being Paid
The law prohibits public employees from striking, forcing them into what one union leader called "involuntary servitude" during the government shutdown.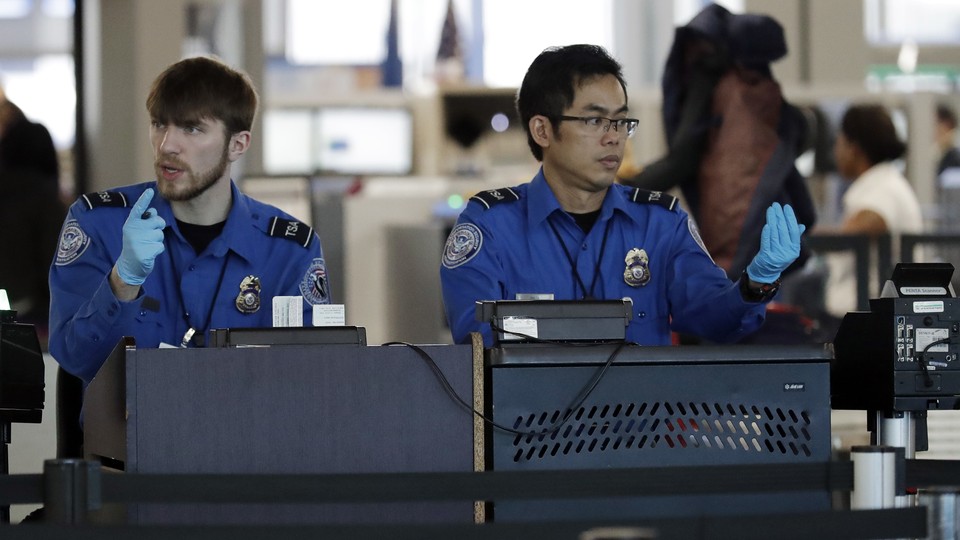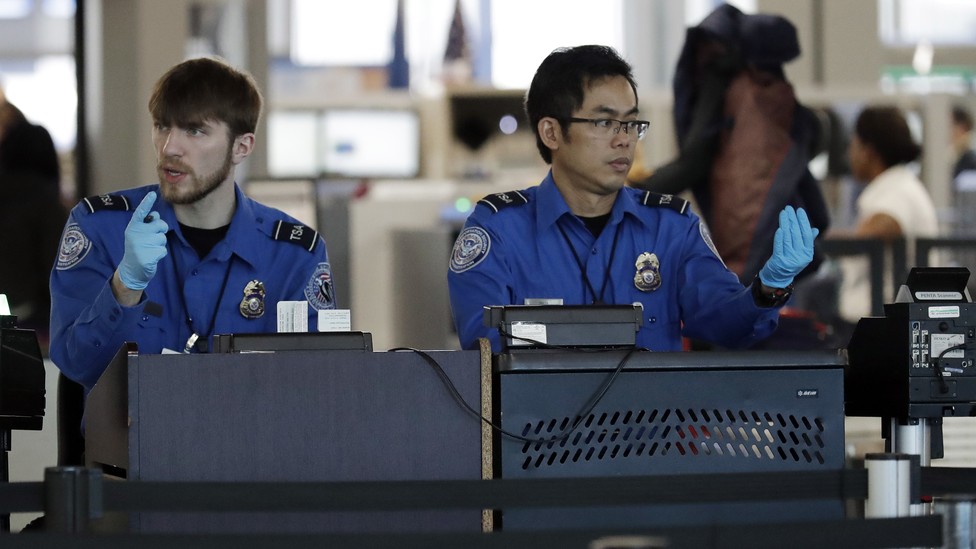 Eric Young is the president of the union that represents the approximately 30,000 employees of the Federal Bureau of Prisons who are working during the government shutdown.
Young's members, scattered at 122 facilities located in largely rural areas across the country, aren't being paid and don't know when their next paycheck will come. Like the leaders of virtually every federal-employee union during the past three weeks, he has condemned the shutdown and its toll on innocent workers as "unconscionable."
"My personal opinion," Young told me over the phone from his office in Arkansas, "is that it constitutes involuntary servitude."
Neither Young nor any of his partners in union leadership, however, will urge their members to do the one thing that would seem most natural for employees facing the same treatment in the private sector: If they don't pay you, stay home.
"We can't call or advocate for a strike," Young said.
Since the enactment of the Taft-Hartley Act in 1947, federal employees have been legally prohibited from striking. That law was intended to prevent public-sector workers from leveraging a work stoppage that could cripple the U.S. government or major industries in negotiations for better pay, working conditions, and benefits. But it likely did not envision a scenario where the government would require its employees to work without paying them, as is the case now.
For hundreds of thousands of federal employees, the "involuntary servitude" that Young describes could continue indefinitely. President Donald Trump warned Democratic leaders last week that he could keep the government shuttered for "months or even years"—a scenario that union leaders told me they had never before contemplated. "A lot of things are possible under this president, so I think we have to start preparing," said Randy Erwin, the president of the National Federation of Federal Employees.
Government shutdowns have only been a feature—or, more accurately, a bug—of fiscal impasses since the enactment of the modern congressional budget process in the 1970s. The current shutdown is a partial one affecting roughly 800,000 federal employees. Roughly half of them are on furlough, while the other half, whose jobs are considered essential to public health and safety, must report to work even though Congress has not appropriated the funds to pay them. This category includes the Secret Service agents who protect the president and his family, the Transportation Security Agents, pilots, and air-traffic controllers who keep the aviation system running, the corrections officers who staff federal prisons, and, yes, the Border Patrol agents who guard the southern divide with Mexico along which Trump wants to build a wall.
If they don't show up, "they'd be considered absent without leave," said Jacque Simon, the policy director for the American Federation of Government Employees, by far the largest union representing federal employees. "When they're told to come to work, they are required to come to work." An AWOL designation could lead to disciplinary action, including termination. For longtime government employees, that could put in jeopardy a federal pension they've spent a career accruing, union leaders said.
By and large, federal employees have been reporting to work. The TSA has acknowledged, in response to a CNN report last week, that its agents have called out sick at higher rates since the shutdown began, but the TSA spokesman Michael Bilello said that the sick calls have had a "minimal impact" on air travel or wait times. The sick calls do not, as yet, appear to be widespread. Bilello said that 4.6 percent of employees had called out sick on Monday, compared with 3.8 percent of employees on the same date in 2018. "We understand that the current lapse in funding may be causing added stress for our workforce and want to continue to express that we are grateful to the more than 51,000 officers across the country who remain focused on the mission," he tweeted.
Faced with a potentially indefinite shutdown, the unions have turned to the courts for relief. The American Federation of Government Employees has filed a lawsuit against the Trump administration alleging that by requiring employees to work without pay, the government is in violation of the Fair Labor Standards Act, a 1938 law that mandates a minimum wage and overtime pay both to public- and private-sector workers. Another federal labor group, the National Treasury Employees Union, has filed a similar suit.
The unions are also holding rallies, highlighting the impact of the shutdown on federal workers who live paycheck to paycheck, and publicly urging Trump and congressional leaders to come to an agreement that reopens the government. That, however, is about as far as they'll go to protest the shutdown.
Despite taking the government to court, neither union is encouraging its members to take part in any kind of work stoppage. "We encourage everyone who is being told to come to work to go to work," Simon told me. "We are never going to advocate for something that's illegal."
As for reports of higher levels of sick calls by TSA agents, Simon said: "We aren't coordinating that. We aren't condoning that, and we don't even really think it's happening. We think it's been greatly exaggerated in the press."
Federal employees generally haven't tested the prohibition on strikes since President Ronald Reagan famously fired more than 11,000 air-traffic controllers who refused his order to return to work during contract talks in 1981. The controllers walked out in demand of higher pay and a shorter workweek. Federal workers have never staged a mass walkout to protest the lack of pay during a shutdown. But even in that circumstance, the anti-strike law would probably hold up, said Zachary Henige, an attorney representing two federal employees in their lawsuit agains the government over the current shutdown.
The law "is going to prohibit these employees from striking," Henige said. "And I don't think whether they're being paid or not paid is going to impact that."
"The statute doesn't make a distinction about what they're protesting," he added.
A federal shutdown has never lasted more than three weeks, and Congress has always promptly approved retroactive pay for both furloughed employees and those who had to work through the impasse. "Even for shutdowns this length, they've been through it," Erwin said.
But Trump's threat to keep the government closed for "months or even years" could test the willingness of federal employees to remain on the job, especially as missed paychecks mount. "In theory," Erwin said, "you'd have to say, How long can I keep working with no paycheck? It's kind of unrealistic. At some point, there would have to be some kind of change to the status quo if this really is an unprecedented shutdown.
"I don't know when that would be at this point," he said.
The burden on corrections officers is particularly acute, Young said, because they are, along with TSA agents, among the lowest-paid federal employees still required to work. Federal prisons had been suffering from staffing shortages and budget cuts even before the shutdown. Many employees, he said, learned on Christmas Eve that their leave plans had been cancelled.
"You're going to have a lot of people starting to call in because they don't have gas money," Young warned. "It's going to be a real big problem in the near future if not right now."
"Basically, they're between a rock and a hard stone."