Is This the Year for a Redistricting Revolution?
Arnold Schwarzenegger and Barack Obama don't agree on much—but they've both turned redistricting reform into their main political cause for the years ahead.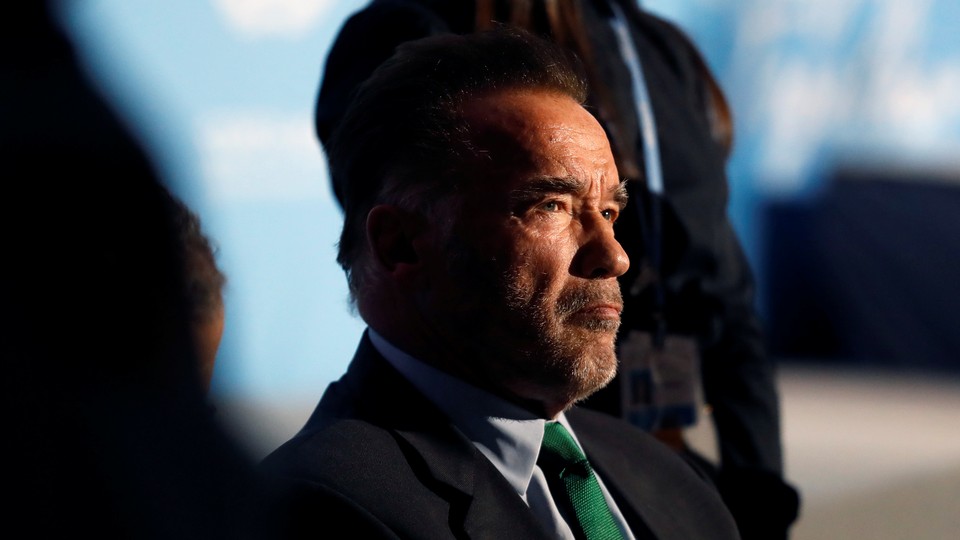 LOS ANGELES—Barack Obama and Arnold Schwarzenegger agree: Neither thinks Donald Trump has any business being anywhere near the White House, but the main political issue they're going to focus on for the next two years is redistricting reform.
The clock is ticking. The 2020 census, and the nationwide 2021 redistricting right after, are around the corner. Deadlines for ballot initiatives and legislation are already on the horizon for some states to change their procedures before then. Meanwhile, the Supreme Court could soon take up a case that would gut most of the efforts at redistricting reform that have, over the past 10 years, changed how states draw the maps that determine who runs where for Congress and their own legislatures.
To hear the redistricting-reform advocates tell it, democracy is on the line. But, they say, the attention to the issue that's exploded since the 2016 election came at the perfect moment to tap into the anger at a broken system and fundamentally change how the country works.
"The people became more and more frustrated. They decided that the system was fixed, there's nothing they can do about it. So they look for outsiders to save them—outsiders like myself, or like Trump, or like [Representative Alexandria] Ocasio-Cortez," Schwarzenegger said at an event at the University of Southern California last Thursday. "But unless outsiders are willing to take on gerrymandering and truly fight the establishment, the people will find no salvation."
Standing in a conference hall, with complicated chandeliers and the flag of every state that has passed an independent redistricting commission framing the stage, Schwarzenegger unveiled his latest move in the wonky fight that has oddly become a decade-long obsession for him since changing the California laws while he was governor: the creation of an organization he's calling the Fair Maps Incubator, run out of the Schwarzenegger Institute on campus.
Schwarzenegger has eagerly been deploying his celebrity to call attention to the topic for years. Now he says he wants to accelerate the fight, bringing together those who've won nonpartisan redistricting ballot initiatives to create an ongoing nexus of advice, information, and connections for people in other states putting together their own campaigns.
The ballot initiatives passed in November in Colorado, Utah, Missouri, and Michigan put one-third of all congressional districts under independent redistricting. Now, with movements to create independent commissions in Virginia and, more distantly, South Carolina, Florida, Arkansas, and New Jersey, Schwarzenegger announced from the stage, his goal for 2020 is to get two-thirds of all House seats drawn by independent commissions.
In a conversation afterward, Schwarzenegger acknowledged that this probably wasn't possible. But he kept comparing his crusade to when he started bodybuilding. It, too, was an obsession of out-there enthusiasts, but ended up going more mainstream, and eventually laid the path for him to become a multimillionaire Hollywood icon and a governor for seven years.
Realistically, Schwarzenegger said, he's hoping for movement in four to six states over the next two years. "I shoot for the stars. It's always easier to be short, and by accident go further. That's not going to happen," he said.
At the end of last year, Obama announced that he was folding his Organizing for Action group into the National Democratic Redistricting Committee (NDRC), chaired by his former attorney general, Eric Holder. In doing so, he blamed gerrymandering for the lack of action on everything from climate change to immigration reform. Schwarzenegger agrees. If there were more competitive House districts, he said, members of Congress might actually feel compelled to compromise and deliver for the voters, instead of retreating into their partisan corners.
Look at the shutdown standoff, Schwarzenegger said. It's become wall versus no wall, without anyone talking about the Dreamers or border patrol, let alone anything like comprehensive immigration reform. The politicians don't move for close to a month while workers don't get paid.
"How stupid of a dialogue is that? How do they get away with this crap?" he said. "Because they get reelected."
Politicians have been using gerrymandering to entrench their own power for 200 years, deciding which voters get to vote for them and crystallizing party control by cutting up neighborhoods and counties to make them less competitive. Digitizing maps and voter-registration records has accelerated that process. Because Republican operatives prioritized gerrymandering efforts long before Democrats started paying attention, the Republican wave in 2010 enabled the GOP to create nearly insurmountable structural advantages.
Democrats won more votes statewide for the state Senate and assembly in Michigan, North Carolina, Pennsylvania, and Wisconsin, but because of maps drawn to split Democrats between districts, they didn't win a majority in any of those states. In the Wisconsin assembly, for example, Republicans won 63.6 of the seats despite winning just 47 percent of the votes cast—and then went on to do a major power grab ahead of the new Democratic governor taking office.
In a way that no one was anticipating, over the past two years, it's become an issue that's moved closer to the mainstream and started driving votes. The ballot initiative that created an independent commission in Michigan, for example, started with a Facebook post by a woman, who had no experience in politics, griping about how politicians controlled the process. The post, she noted, wasn't so different from one she'd written after the 2014 elections, though that one didn't get anywhere near the same reaction.
And the issue has moved mostly for Democrats, many of whom have landed on gerrymandering as a prime reason the makeup of government doesn't seem representative. Democratic operatives in Michigan credit the ballot initiative last year with helping to drive some of the turnout that led to their sweep of statewide offices in November. And Democratic turnout didn't surge only in Michigan. According to data compiled by the former Obama campaign analyst Andrew Claster, the four independent-commission ballot initiatives that passed last year—in Colorado, Utah, Missouri, and Michigan—saw Democratic support ranging from 72 to 83 percent, heavy support among independents, and much lower support from Republicans.
Obama and Holder argue that if the lines are fairer, more Democrats will win, but the only way to get the lines to be fairer is to back Democratic campaigns and Democratic lawsuits. Obama used redistricting reform to guide many of his endorsements and some of his 2018 fundraising, and he's expected to keep that up over the years ahead.
"President Obama believes gerrymandering is one of the most important structural problems currently facing our politics because it touches every issue. When politicians choose voters rather than the other way around, you end up with Republican elected officials at a national level who consistently ignore the will of voters on everything from health care to gun safety to climate change," said Katie Hill, a spokesperson for Obama. "Fairly drawn maps are key to ensuring that the arc of history bends toward justice."
There's been the pushback against independent redistricting reform from Democrats in several states. In Virginia, for example, the process for getting an initiative on the ballot would require it to pass the legislature in two consecutive sessions. With Democrats hoping to take the majority in November 2019 races, though, Democratic leaders in the state aren't eager to give up the power right at the moment when they might get to use it to their own advantage.
"We'll do everything we can to take as much of the politics out and do it fairly," Virginia Governor Ralph Northam said at an event in December promoting Democratic efforts in the state, when pressed about whether he'd support an independent commission.
This year, the Obama-backed NDRC group will back candidates in state races in Kentucky, Louisiana, and Virginia, as well as one for a seat on the Wisconsin state supreme court. Next year, the emphasis will be on Florida, Georgia, Texas, Ohio, and North Carolina, in the hope of at least chipping away at the massive Republican advantages in those states. The nonprofit affiliated with the group is also already supporting litigation around changing the districts in North Carolina and Pennsylvania.
"The fight against gerrymandering is about fairness," Holder said, adding that he sees the next two years as a crucial opportunity. "It is about ensuring that every American has an equal say in our government and that our elected officials truly represent the will of the people. We will continue using every tool at our disposal to make real a fair redistricting process in the states."
Schwarzenegger and the NDRC backed many of the same efforts in 2018. But Schwarzenegger said he's not looking for an official partnership.
"It's the definition of what is fair. I don't want them to define what is fair. I'm the only one that I know, having been around the country and done this, that really does not care. I don't even ask anybody when I come to a state, 'Is this favoring the Democrats or the Republicans?' I never even talk about that. It doesn't matter to me," he said.
The Schwarzenegger event was a mix of activists who'd flown in from all over the country, a collection of operatives from Common Cause and other groups, curious USC students, and a few stragglers who seemed to have come by for the free food and a glimpse of the old movie star.
Claster, the data analyst, walked the crowd through voter data and broke down the elements of the winning campaigns. Wording such as "Voters Not Politicians" (the name of the Michigan campaign) helps, or lines such as "Voters should pick their elected officials, not the other way around," which he said polled well in every state. He advised targeting Republicans with endorsements from Republican leaders and Democrats with Democratic leaders. It takes cash. The Utah campaign featured commercials starring the actors Ed Helms and Jennifer Lawrence.
"We can't just take the California model and pass it in each state. We can't just take the Michigan model and pass it in each state. We need to customize," Claster said. "Just because we can win everywhere doesn't mean we will win everywhere—but we will win if we have the right strategy."
Still, advocates are running out of states where they can reasonably pass ballot initiatives. For all the activist talk of trying to create an independent commission in Florida, most looking at the situation there pragmatically say they don't expect an effort to be successful. Others note that the emphasis on creating the commissions often overlooks the details of how those commissions will be structured.
"Once you've had the baby," said Kathay Feng, the national redistricting director of Common Cause, "you've got to have the commitment 24/7 to make sure it grows up."
In 2017, the Supreme Court heard a case that began in Wisconsin that some thought might lead to the declaration of gerrymandering as unconstitutional. It didn't. Now there's fear among redistricting-reform advocates that the new makeup of the Court will do pretty much the opposite and take a case that would declare the independent commissions unconstitutional. Feng said that if that happened, it would lead to a revolution. "I'm calling us to arms," she joked. Others believe that it could have a boomerang effect, forcing Congress to address the issue nationally—the same thought process that had people believing that Congress would update the Voting Rights Act after the Supreme Court struck down a key section of it in 2013.
It hasn't even come up for official debate in the years since.
Even on that front, Schwarzenegger said he's optimistic. The justices, he believes, will see the tide toward reform in the country and not move so starkly against it.
"You have to use momentum, but you also have to understand that everything's not going to happen from one day to the next," Schwarzenegger said. "But we're on to something good."