Trump and Cohen May Have Discussed the Moscow Project. 'So What?'
Rudy Giuliani, on the Sunday shows, says the president never told Michael Cohen to lie about pursuing Trump Tower Moscow during the 2016 campaign.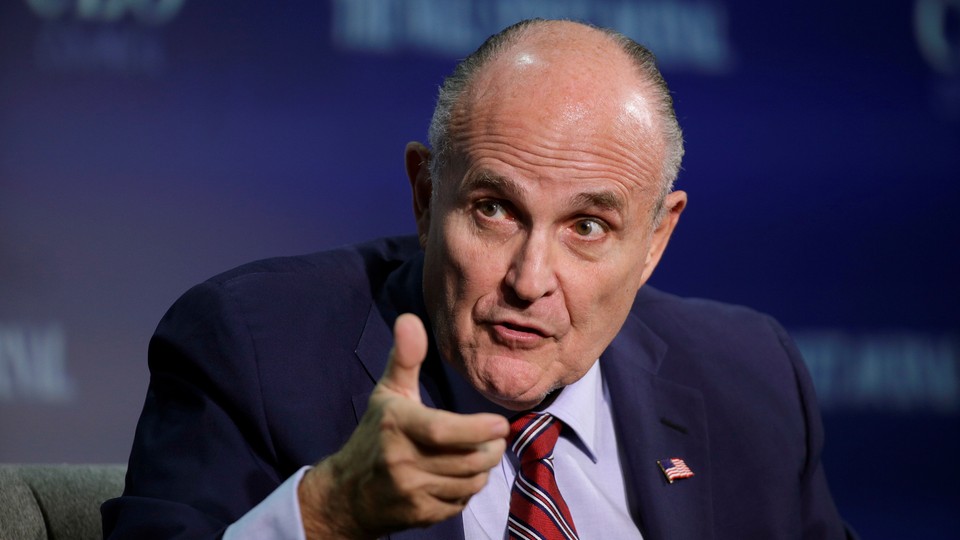 Rudy Giuliani, the former New York City mayor who's representing President Donald Trump for free, is keeping up his public-relations war on Special Counsel Robert Mueller's investigation. In a pair of appearances on Sunday-morning talk shows, he stuck to the playbook: Attack Mueller's credibility, and insist that all of Trump's statements and actions were legal. Giuliani admits a fair amount but always insists that no crime was committed.
The president's attorney once again said that discussions about a Trump Tower Moscow project may have continued as late as November 2016, contrary to the president's previous statements that he had nothing to do with Russia, where he had long sought to do business. On NBC's Meet the Press on Sunday, Giuliani said talks may have gone on "as far as October, November" 2016. That matches his statement last month that Trump's written answers to Mueller's questions "covered up to November 2016."
This is the timeline that first landed Michael Cohen, Trump's former personal lawyer, in legal trouble. Cohen originally testified to Congress that talks had ended by January 2016, before the GOP primary, and he has since said in court filings that he lied to stay consistent with Trump's "political messaging."
That false testimony was the subject of BuzzFeed News' contested report last week that alleged Trump had directed Cohen to lie. The story went unconfirmed by other journalists and, in a rare rebuke, was challenged by the special counsel's spokesman, who said, "BuzzFeed's description of specific statements to the special counsel's office, and characterization of documents and testimony obtained by this office, regarding Michael Cohen's congressional testimony are not accurate." (In a story Sunday on Giuliani's comments, the news outlet said it continues to stand by its reporting.)
After Giuliani said BuzzFeed should be "sued" and "under investigation"—though any government probe would likely violate the First Amendment—he addressed the details of the story and conceded that Trump may have talked with Cohen about his testimony, though not to plan a lie.
"As far as I know, President Trump did not have discussions with [Cohen about his testimony], certainly had no discussions with him in which he told him or counseled him to lie," Giuliani said on CNN's State of the Union. "If he had any discussions with him, they'd be about the version of the events that Michael Cohen gave them, which they all believed was true."
"And so what if he talked to him about it?" Giuliani added, seeming to argue that Trump could not have told Cohen to lie, because the president didn't independently remember the details of Russian negotiations but instead depended on Cohen for the timeline. "Michael Cohen was the guy in charge of this," Giuliani said. "President Trump was running for president. So … you go to Michael Cohen, you say, 'Michael, what happened?'"
Cohen is expected to testify again before both houses of Congress, beginning February 7 with an appearance before the House Oversight Committee. Representative Adam Schiff, the California Democrat who this month took charge of the House Intelligence Committee, said on CBS's Face the Nation that he's "given Michael Cohen a date that we'd like him to come in, either voluntarily or, if necessary, by subpoena." Senator Mark Warner, the Virginia Democrat who's the vice chairman of the Senate Intelligence Committee, said on NBC that he and Chairman Richard Burr, a North Carolina Republican, got Cohen to agree to a public hearing.
Warner also dismissed Giuliani as a spokesman for a client whose account keeps changing. "I almost feel bad for him," the senator said. "He keeps having to readjust his stories as more facts come out."
Democrats have charged that Trump misled Americans about his pursuit of business in Russia, but Giuliani quibbled over semantics to deflect that criticism.
In July 2016, then-candidate Trump tweeted that he had "ZERO interests in Russia" and said he had nothing to do with the country. In an October debate with Hillary Clinton, he said, "I don't deal there. I have no businesses there. I have no loans from Russia." About a week before his January 2017 inauguration, he tweeted in capital letters that "I HAVE NOTHING TO DO WITH RUSSIA—NO DEALS, NO LOANS, NO NOTHING!"
Cohen's continued discussions with Russians about a Trump Tower Moscow, and the letter of intent Trump himself signed in October 2015, seemed to contradict those claims. However, Giuliani argued that there was nothing incongruent about Trump's statements, since the "project … never went anywhere," he said on NBC. "There was one letter of intent that was nonbinding. That's the whole thing. So I don't know if you'd call it a project even."
The defense lawyer characterized the Trump Tower Moscow letter as an "active proposal" that did not constitute a deal or a business. He compared it to the proposals under consideration by his security consultancy, which continues to develop lucrative contracts abroad while Giuliani represents the president for free, drawing ethics criticism, since foreign governments may see him as a conduit to the Oval Office.
"It's like my business," Giuliani said. "I make proposals to do security work, probably got six of them out right now. If you were to ask me what countries am I doing business in, I'd just tell you the two I'm doing business in. Not the other six, because I may never do business there."
In addition to defending Trump legally and politically, the former federal prosecutor also continued to sow doubt about the special counsel's ethics. He claimed that Mueller's team is pressing witnesses to lie about Trump and Russia. Jerome Corsi, a conservative conspiracy theorist, claims that the prosecutors are offering him leniency if he pleads guilty to lying about his conversations concerning WikiLeaks and hacked emails with the Trump confidant Roger Stone during the campaign.
"I have the documents. It was leaked to me," Giuliani said on CNN. "They gave him a script. If he reads from the script, no jail. If he doesn't read from the script, he gets maybe five years in jail."
Giuliani decried Mueller's treatment of Paul Manafort, the former Trump-campaign chairman who was convicted of tax fraud last year before he pleaded guilty to conspiracy and witness tampering. In November, the special counsel's office said Manafort broke his plea agreement by continuing to lie to investigators. While awaiting sentencing, he's been jailed alone due to his high profile, but Giuliani sees a strong-arm tactic by Mueller: "He's got the man in solitary confinement now for six months, and he keeps questioning him and trying to pressure him to say things that are not true."
Giuliani also defended Trump's cryptic call last week for law enforcement to investigate Cohen's father-in-law, which critics see as threatening to use government resources to intimidate a witness. Giuliani claimed that Cohen was lying to protect his father-in-law from prosecution, which justified an attack.
"That is a defense to a criminal accusation," Giuliani said on CNN. "And if we can't do that, we're not in America."
On the subject of whether the Mueller probe should be overseen by William Barr, Trump's nominee for attorney general, Representative Schiff said the answer is no. The House Intelligence Committee chairman said senators should vote against Barr's confirmation because of two statements he made about the probe during last week's hearings.
First, Schiff said, Barr "would not commit to following the advice of ethics lawyers if they urged him to recuse himself" from overseeing the investigation. Jeff Sessions had taken ethics officials' advice and recused himself, outraging Trump. Barr did say that Sessions was right to recuse himself, breaking with Trump, but he also said it was an "abdication of his own responsibility" to commit in advance to following the recommendation of ethics officials. "I will seek the advice of the career ethics personnel," Barr said Tuesday, "but under the regulations, I make the decision as the head of the agency as to my own recusal."
Schiff also objected to Barr's position on releasing Mueller's final report. The nominee said in his opening statement that "it is very important that the public and Congress be informed of the results of the special counsel's work. For that reason, my goal will be to provide as much transparency as I can consistent with the law." However, under questioning from Democratic senators, he would not commit to publishing the report or even sending it to Congress. "I don't know, at the end of the day, what will be releasable," he said at the Senate Judiciary Committee hearing, pointing to possible issues with executive privilege. The Washington Post's Aaron Blake noted that while the committee's top Democrat, Senator Dianne Feinstein, seemed to find his position reasonable, others in her party might not. Schiff falls into that camp.
"Either one of those ought to be reasons not to confirm him," Schiff said, "but the combination of both should be completely disqualifying."