Mitt Romney's Noisy Arrival in Trump's Washington
The incoming senator from Utah never wanted to define himself by his relationship with Trump. But with his new op-ed, Romney has signaled that a confrontation with the president is inevitable.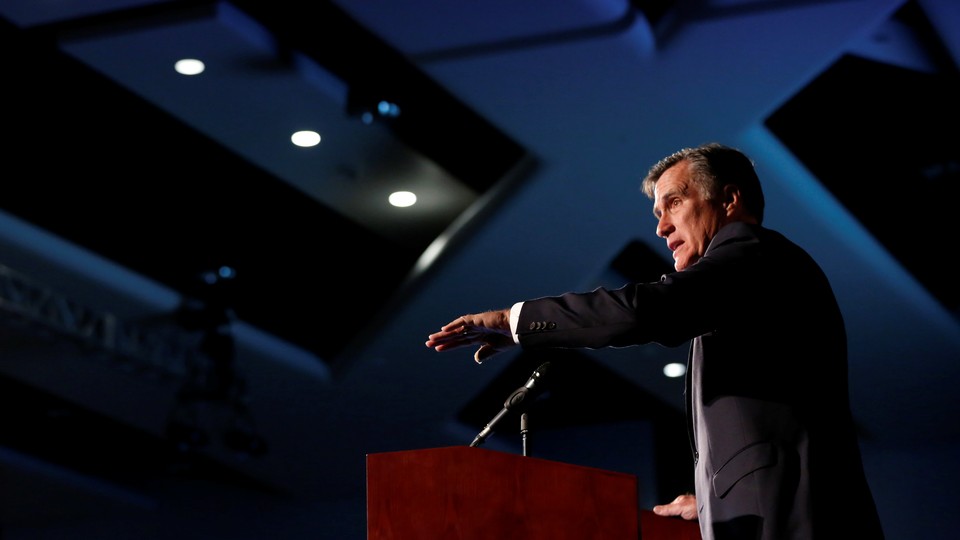 As Mitt Romney prepares to join the U.S. Senate on Thursday, this much at least seems clear: He's not worried about being friends with Donald Trump.
In a sharply critical op-ed published Tuesday night in The Washington Post—notably, one of the president's least favorite news outlets—Romney took aim at what he considers to be the president's defective moral character:
On balance, his conduct over the past two years, particularly his actions this month, is evidence that the president has not risen to the mantle of the office …

With the nation so divided, resentful and angry, presidential leadership in qualities of character is indispensable. And it is in this province where the incumbent's shortfall has been most glaring.
The immediate reactions to the op-ed were predictable enough, with Twitter pundits from across the political spectrum lining up to play their part.
The MAGA crowd rushed to dismiss Romney as a sore loser consumed with resentment that he never got to be president. "I won big, and he didn't," Trump tweeted Wednesday morning. "Jealously is a drink best served warm and Romney just proved it," Trump's campaign manager, Brad Parscale, wrote mysteriously.
Never Trump conservatives, meanwhile, rejoiced at the incoming senator's gauntlet-throwing, with Bill Kristol declaring him "the leader of the Republican resistance to Trump." And skeptics on the left rolled their eyes at the whole spectacle, predicting that Romney would end up voting for the president's agenda when it really mattered.
This is not how Romney envisioned his arrival in Washington going when he launched his Senate bid back in February. In conversations over the past year with allies and advisers close to the then-candidate—many of whom requested anonymity to speak candidly—I heard repeatedly that Romney was determined not to define himself by his roller-coasterlike relationship with Trump. He had his own ideas, his own agenda, and he wanted to devote his energies toward advancing a Republican alternative to Trumpism without wading into endless Twitter fights and feuds with Trump himself.
Romney didn't necessarily shy away from criticizing the president on the campaign trail. In a Salt Lake Tribune op-ed published in June, he made essentially the same pledge he made Tuesday in the Post: that he would support Trump's policies when he agreed with them, oppose them when he didn't, and continue to speak out against the president's behavior when he deemed it significantly "divisive, racist, sexist, anti-immigrant, dishonest or destructive to democratic institutions" (as he put it in both op-eds).
Still, Romney had hoped to enter the Senate on at least relatively good terms with Trump, in the interest of working with the White House on areas of common ground. (In the Post, he expressed support for the president's corporate tax cuts, his confrontational approach to China's trade policies, and his support for criminal-justice reform.) But Romney was apparently alarmed enough by recent events in the White House to sacrifice that conciliatory approach in favor of speaking out.
"The Trump presidency made a deep descent in December," Romney wrote in his op-ed. "The departures of Defense Secretary Jim Mattis and White House Chief of Staff John F. Kelly, the appointment of senior persons of lesser experience, the abandonment of allies who fight beside us, and the president's thoughtless claim that America has long been a 'sucker' in world affairs all defined his presidency down."
Romney, of course, must have known that Trump—obsessed as he is with loyalty—would interpret this op-ed as an assault. That he chose to write it anyway suggests, at the very least, that the incoming senator is not prioritizing his relationship with the president. Nor is he laboring under the delusion that he can simply ignore Trump as he goes about his business in the Senate. To some extent, everyone in Washington eventually gets sucked in to the Trump vortex. Romney, it seems, is preparing for that inevitability.
How long the senator from Utah will maintain this posture is anyone's guess. But if he continues to keep the president at arm's length, it's unlikely he'll face electoral repercussions back in Utah, where Trump has never been as popular as he is in other red states. According to polling data published recently by the Associated Press, 64 percent of voters in the state want to see Romney stand up to Trump in the Senate.
This is a nonideal scenario for Trump—and one he probably didn't expect to face. After the 2016 election, in which Romney famously refused to endorse his party's nominee, Trump made a show of dangling the secretary-of-state job in front of his adversary, only to yank it away.
"Judas Iscariot got 30 pieces of silver; Mitt Romney got a dish of frog legs at Jean-Georges. And even at that, it was the appetizer portion," a high-ranking White House official boasted to my former colleague Molly Ball in 2017. "We've sort of taken out his larynx—how can he criticize [Trump] now?"
Two years later, Senator-elect Mitt Romney is coming to Washington, his larynx very much intact.